Young Architects Competitions, in collaboration with Italian Government, invited entries for the Castle Resort competition last year. Young architects and designers from different countries participated in the event and presented unique ideas for transforming the medieval Roccamandolfi castle into a one-of-a-kind holiday destination. Elias Terzitta and Eugenia Bordini of Italian design studio BSoD won the first prize of €10,000 for The Floating Hotel, while Italian firms RGB and Vitia won second and third prize respectively. Every contestant came up with a unique idea, but we are featuring the best entries from the competition below.
The Floating Hotel by BSoD (1st Prize Winner)
Members: Elias Terzitta, Eugenia Bordini
Country: Italy
This award-winning residential treehouse is elevated from the ground amidst trees and supported through with a sturdy structure. Its design looks inspired from Arctic treehouse hotel that looks like floating in the mid air. To get best out of the mountain terrain, the treehouse façade has large glass windows that bring in loads of natural light and merges it with the surrounding area.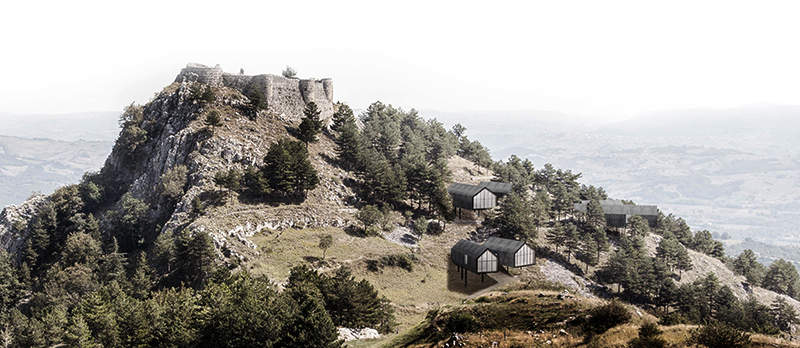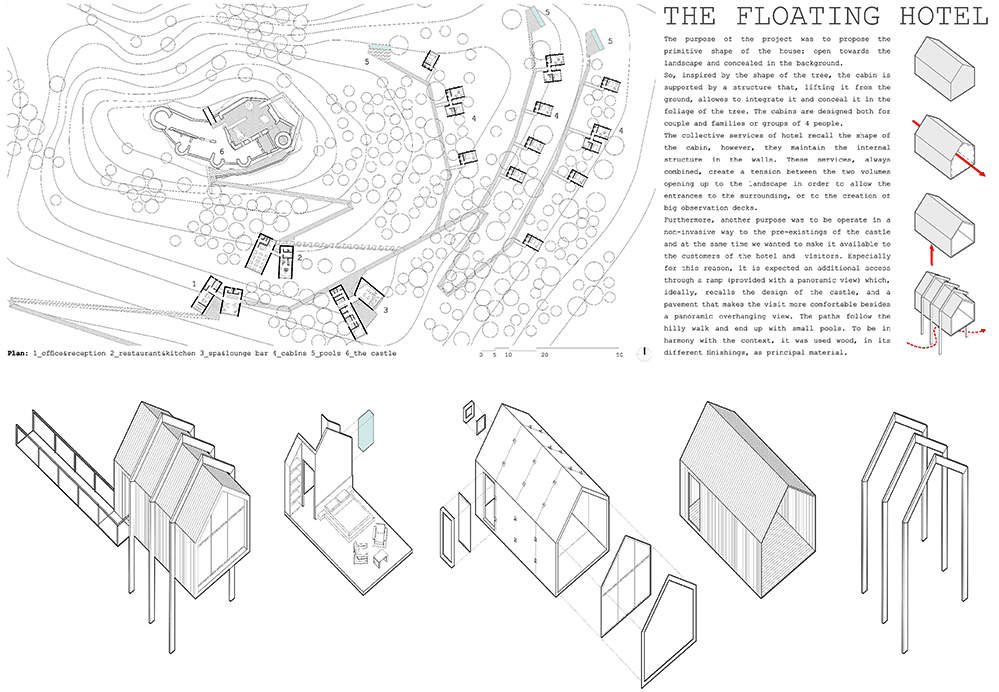 Sightline by RGB (2nd Prize Winner)
Members: Monica Bramanti, Stefano Gatti, Anna Rossi
Country: Italy
Design team proposed a pathway comprised of entertainment, accommodation and other elements molded into the surrounding landscape of the site. The design team wanted to create a connecting nature-filled pathway that visitors need to cross every time they are going to cabins and castle at the top. There will be black cabins and multi-functional units in between the pathway to the top for reading, relaxing and enjoying the panoramic views.

Rest by Vitia (3rd Prize Winner)
Members: Marco Testi, Sergio Vedovelli
Country: Italy
This concept revolves around creating tiny cabins where visitors can rest for a while and enjoy the mountain landscape. Over time, these cabins will dilapidate, and become a shelter for shepherds and trekkers to the ancient Rocca. In near future, these cabins will also turn into ruins to match with the castle and the surrounding landscape.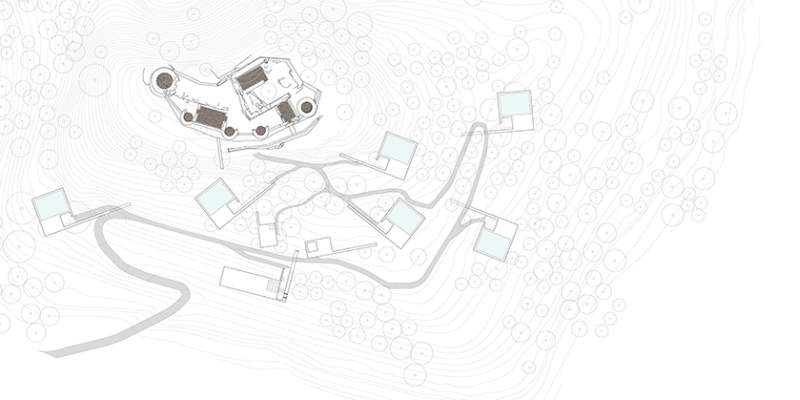 Pedestal bridge by Aida (Gold Mention Team)
Members: Thibaut Etcheverry, Romain Gaillard
Country: France
In the mission to create a tourist spot, the design team proposed to make a lightweight pedestrian bridge around the fortress that offer exceptional points of view of the pre-historic building to visitors. It will be elevated using less number of supports in order to make minimal impact on the surrounding environment. Moreover, there will be adjustable prefab shelters for travelers to relax.


A landscape of folds by EFesto (Gold Mention Team)
Members: Gaia Cella, Gaspar Canepa, Juan Octavio Ferreyra, Aleksandra Lukianova
Country: Mexico
In this project, the design team proposed to create a meandering corridor that can be used to navigate through the resort. Along with the walking platform, there will be hotel rooms, library, and restaurant in deep serenity. The cabins are integrated into the landscape to offer tranquility without disturbing natural beauty of the site.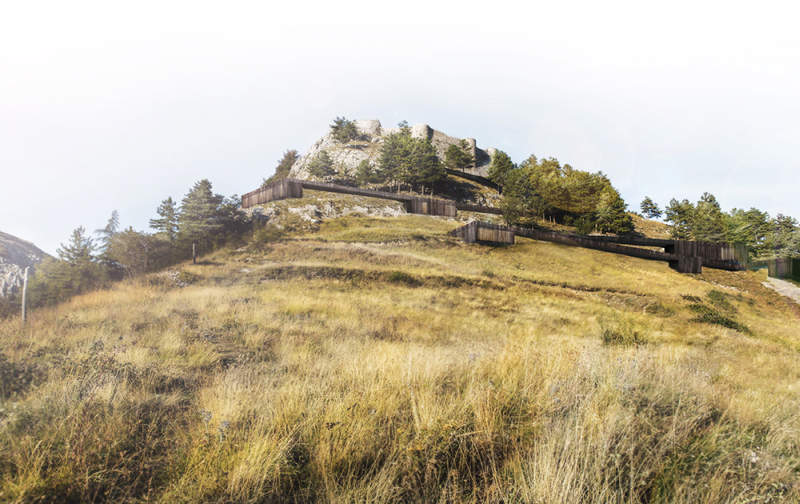 Bulb-shaped cabins by Alessandro De Nigris (Gold Mention Team)
Members: Alessandro De Nigris, Marco Ansalone
Country: Italy
This project tries to establish a relation between architecture and nature. The design team has thought of placing bulb-shaped structures all around the construction site, so that visitors have full freedom to stay at desired locations.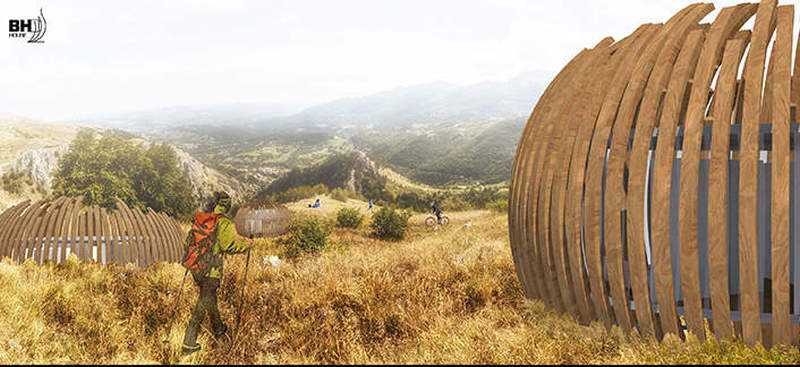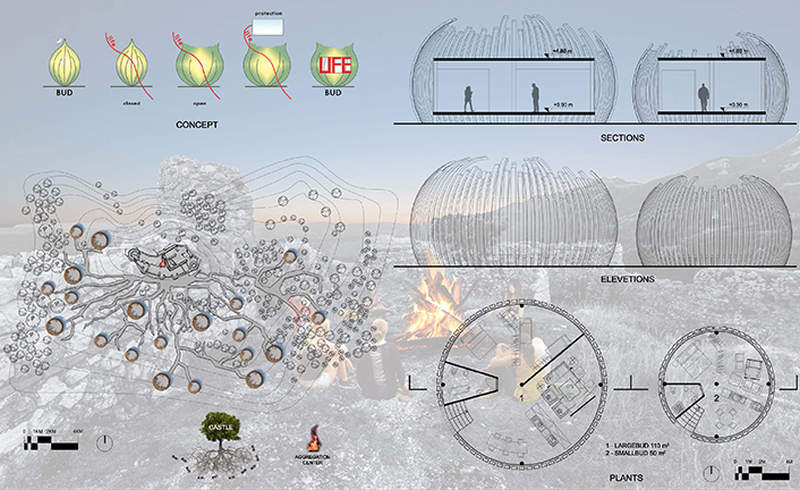 New Castle Resort by Gregory De Giacomi (Gold Mention Team)
Members: Gregory De Giacomi
Country: Italy
The designer's approach is to place main accommodations as a single recognizable building while Castle apartments, treehouse hotels, and tiny landscape hotels are meant to be hidden from the immediate sight, so that guests have to search for them. A plinth and pavilion on the top are two simple additions to connect all things together with the ruined castle.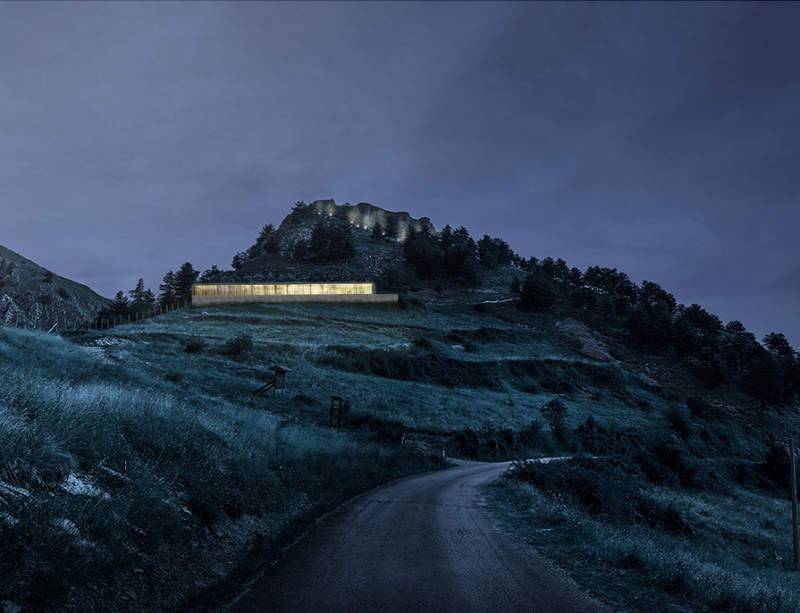 Under The Tree by 2SN (Honorable Mention Team)
Members: Nicholas Canargiu, Sara Montis, Nicola Melis, Simone Langiu
Country: Italy
For Castle Fort renovation project, the design team has proposed suspended structures to make optimal use of the mountain topography. These accommodations will be open and can be covered with curtains in need of privacy.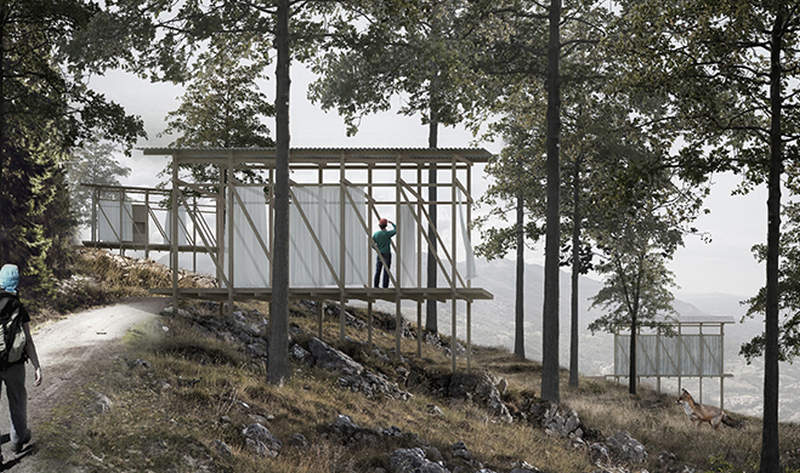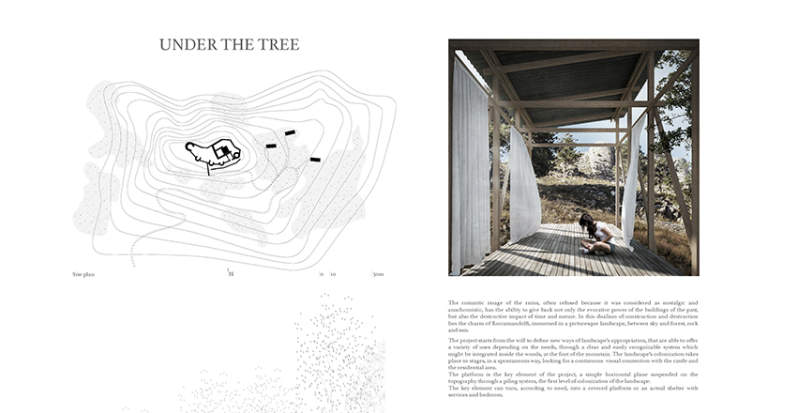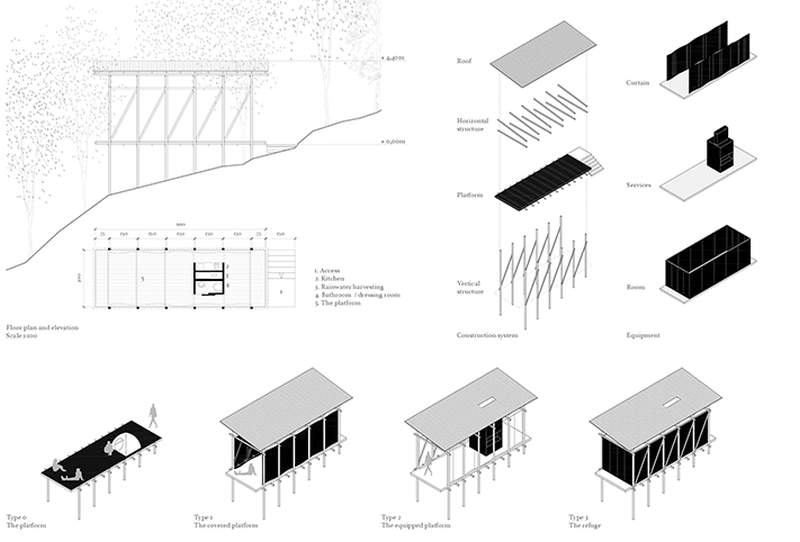 Suspended in Time by Whyassociati (Honorable Mention Team)
Members: Stefano Lanotte, Laura Mantegazza, Matteo Frangi, Emanuele Narducci, Camilla De
Camilli
Country: Italy
In this concept, there were plans to build elevated accommodations in midst of trees. The roof of cabins will serve as a platform to walk on and enjoy the surrounding nature.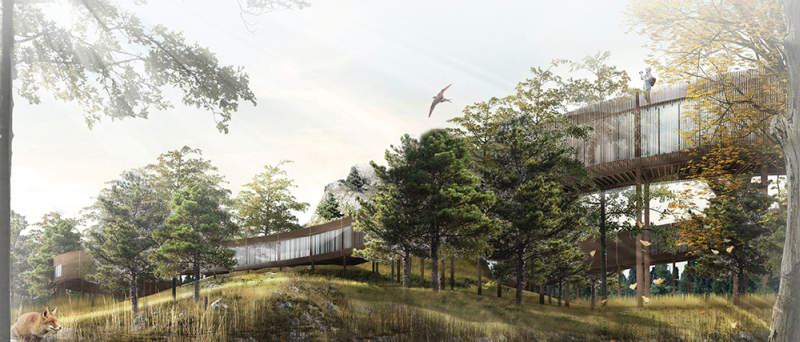 Searching The Altrove by abcp (Finalist Mention Team)
This project comprises of various elements. Reception, eco space studios, and landscape cabins are spread all through the path while restaurant, viewing platform and meditation area are located at the top. Viewing platforms are stacked into hilly terrain which gives them unique look of cliffside homes.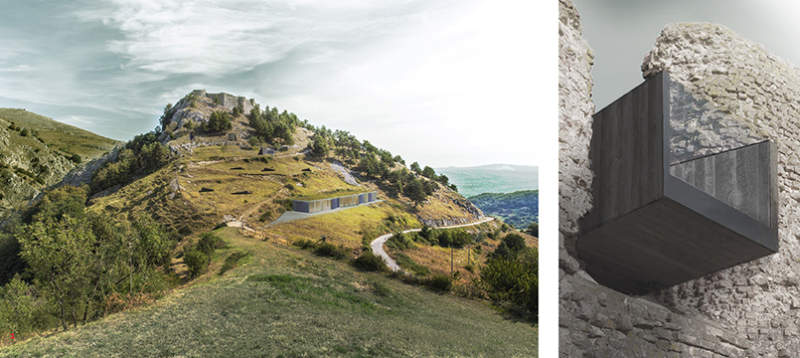 Guiditta by Atelier Panthéon (Finalist Mention Team)
With the goal to create a breath-taking tourist resort, the project allows a connection between nature and architecture. Landscape cabins with mirror exteriors are perched on the rocks that reflect its surrounding environment such as trees, plants, and sky. This way, the structure blends with the surrounding landscape nicely.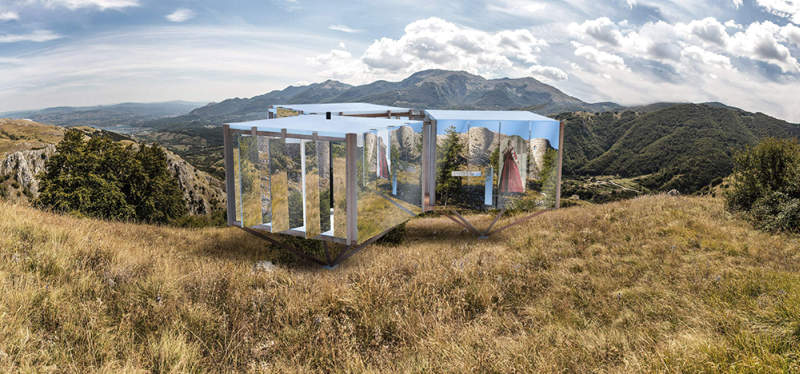 Catapulta by Boq Architekti (Finalist Mention Team)
It is also an interesting concept that deals with placing roundish elevated pods all around the Castle, and the main way to the resort. The pods have large glass windows that offer amazing views of the surrounding valley.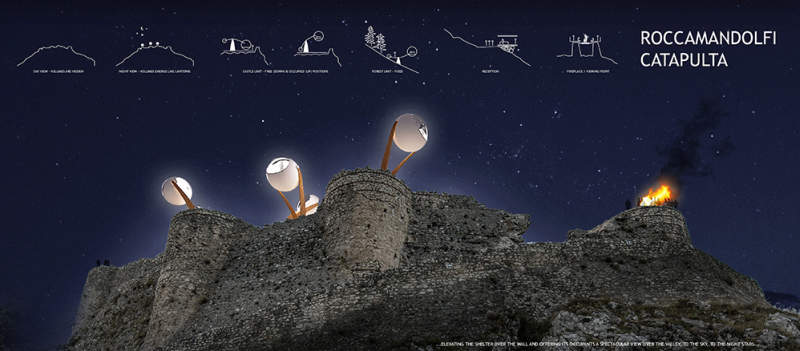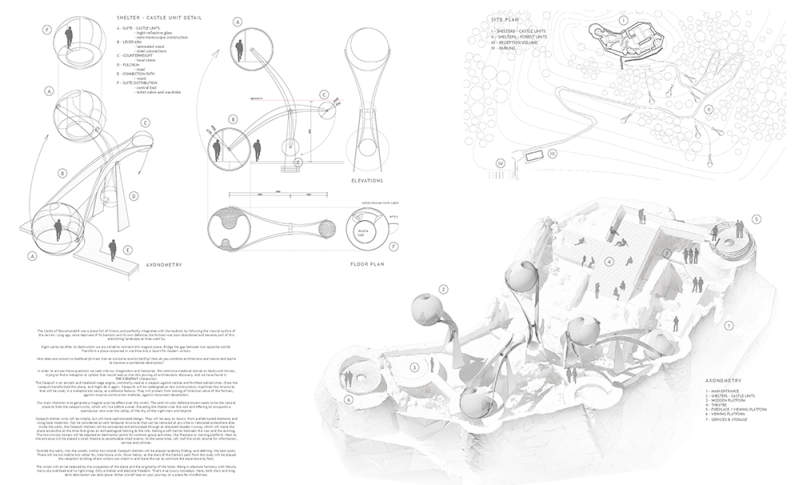 Woods Module by NIV (Finalist Mention Team)
In order to attract more tourists, this concept intends to build floating accommodations just like Czech Republic-based firm Studio H3T Architects has built under the remaining arch of an old railway bridge. The idea is to hang accommodations in mid-air through metal cables.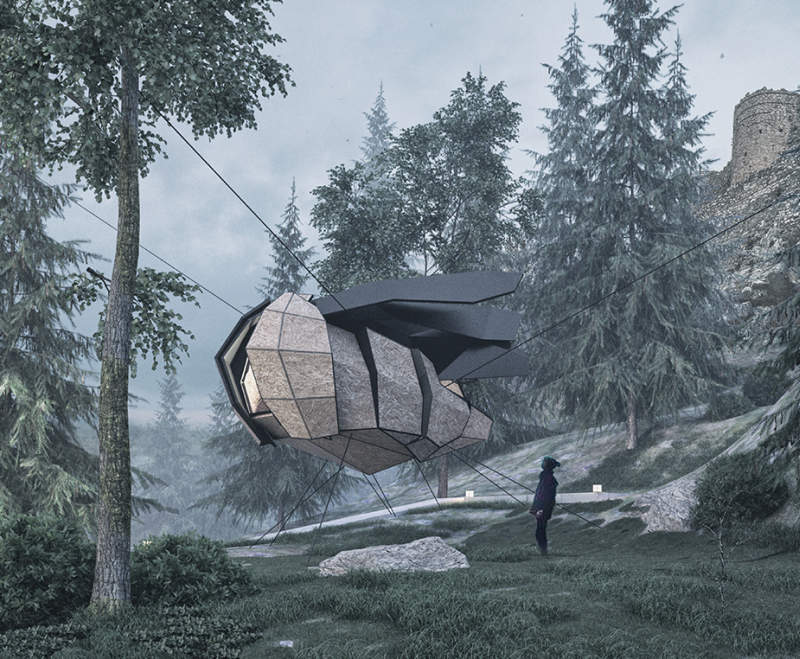 Rocca's Secrets Resort by G + M (Finalist Mention Team)
In this project, simple structures made of Corten steel serve as cozy accommodations with special rooftop vaults for star-gazing. These nature-inspired accommodations will be placed under trees to limit the incoming sunlight and took them away from the sight.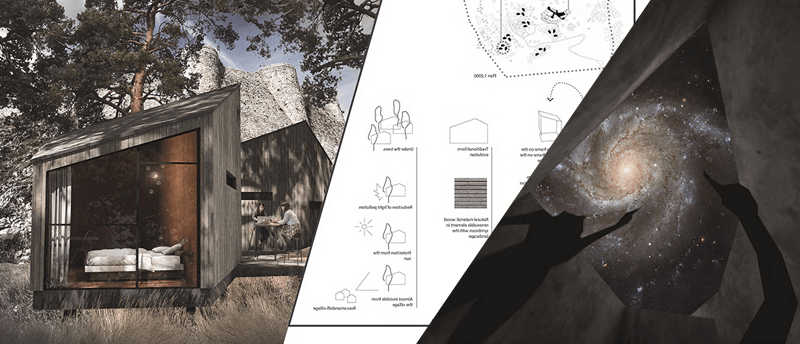 Shell by Patrizia Bazzarelli (Finalist Mention Team)
The purpose of the project was to propose accommodations that resemble with the dilapidating landscape of the site. Inspired by the shape of the stone, the designer has come up with crystal-shaped accommodations with a lot of glass windows on its roof.