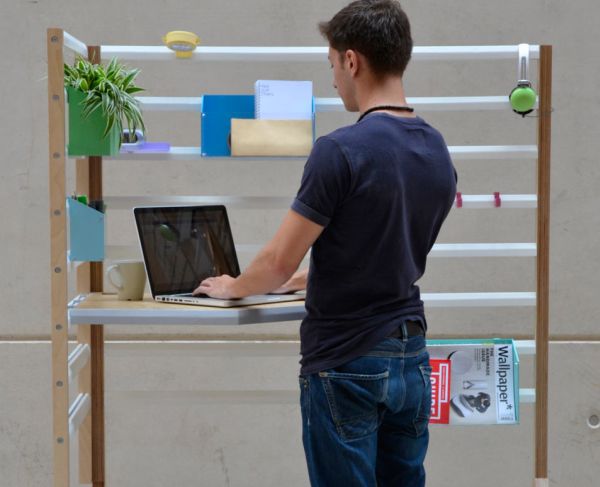 Most of the people dream to have a vibrant home office with splash of color here and there, appealing photo frames, intriguing looking lamps and above all neatly organized creating a welcoming space. But, let us all accept the fact that a home office is meant to be a place where you can be productive and feel good whenever you use it. Secondly, people who live in small apartments, often have to compromise with their working space and settle for boring working desks with storage compartments. Well, with the Your Position adjustable work desk, they would no longer have to compromise with their work space as this product tends to provide physical and mental well being, while providing enough space to adjust planters, lighting and racks for placing your photo-frames and other objects.
Your Position is an ingenious workspace solution designed by David Manning of Not Just Chairs. The system can be adjusted according to the needs and preferences of the user. As more and more people will be 'hot desking' in the future, this product is a perfect creation for the upcoming trends of work space. This office space can be used in different ways as well as stored flat to save space. A standing desk, a LED task light, a planter, a bulletin board, and racks for storing documents and office supplies are featured in the system, all of which can be rearranged according to their requirements. These component can be secured into position by virtue of a locking mechanism and can also be slid along the rails.
Being adjustable, the user can alternate the position of the desk according to his comfort while working in a sitting or standing manner. This way it can help in improving the physical health of a person. As everything required by the user is within his reach and is properly placed on the storage compartments, this helps them to be mentally sound and concentrate better on their work. Plus, the system also gives an additional advantage of acting like a room divider when the desk is removed.
Via: Inhabitat