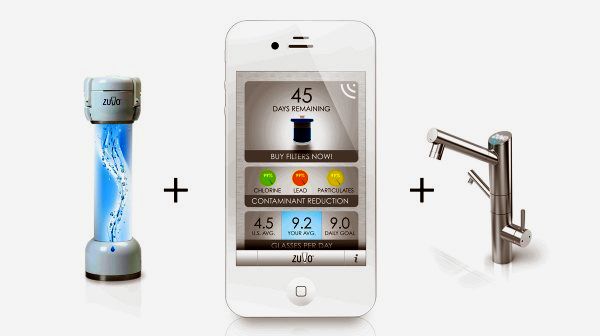 A few days ago we talked about how LG is contriving to bring cloud-based 'smartness' to all our home appliances. And, now it seems the level has been kicked up to a few notches with even our home's water filtration system. Zuvo has just unveiled their Stratus through Indiegogo: the world's very first cloud-connected water filtration and faucet system (for both countertops and underneath the sink), which remarkably replicates the 'naturalized' cleansing process.
The intelligent yet highly stylish Stratus comprises of a load of features directly offered by its cloud-based pedigree. For example, the system transmits crucial info (via Wi-FI) to your smartphone regarding various water-related conditions, including the reduced level of contaminants in the water, the water consumption per person of the family and also the battery life of the filter.
The scope of the cloud, however, is not just limited to your house. There is a specialized Stratus app that keeps updating on real-time filter diagnostics and water quality information around the world. The software also acts as a health improvement app that provides you with your daily hydration target and hydration balance, based upon your personal criteria like age, weight and even the exercise you take part in.
Finally, the design language follows the conscientious dictum of green technology. Crafted from non-painted and BPA-free plastics, the materials used by the Stratus are recyclable. Moreover, the intelligent mechanism does contribute to lower consumption of bottled water, where containers mostly result in landfills.
Via: Zuvo