Wheel House – A mobile housing unit 'driven' by human motion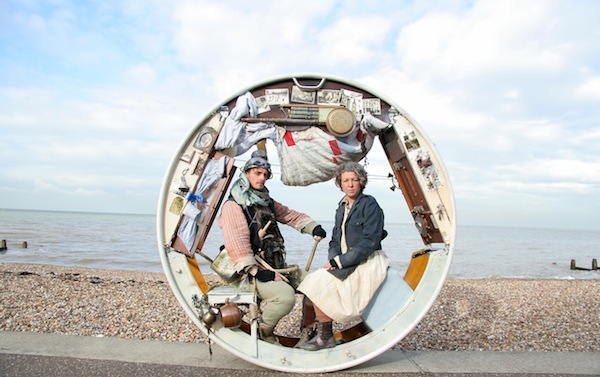 We have previously come across homes that have wheels. However, this is surely the first time we are witness to a home which IS a wheel! Christened aptly as the 'Wheel House', this fascinating mobile structure is a part of a live performance shown by the acrobatic duo Acrojou (comprising of performers Jeni Barnard and Barney White). The house as can be comprehended from the images, can 'travel' by virtue of its circular form that simply rolls along the ground level. And, the inertia needed for this rolling motion is provided by the performers themselves, as they acrobatically climb over each other in a dynamic pattern.
Coming to the attributes of the housing element, the circular component comprises of its special 'interior space'. This space has all the home oriented zonal demarcations including doors, windows, curtains, a bed and a slew of utensils for daily usage. Now, we are not sure if the Wheel House is a solution for long term habitation; but the carnival-esque scope does entice us with its eccentric uniqueness fused with some deft spatial efficiency.
Via: DesignTaxi
The following two tabs change content below.
A proud native of the beautiful steel township of Durgapur, West Bengal, Dattatreya's fascination lies within a range of diverse matters. With a bachelor's degree in architecture, he is quite fond of his hardcore strategy gamer as well as amateur historian tag. Of course, with over two years of blogging experience under his belt, he also likes to write about the latest updates on home based technology and gizmo oriented products.
Latest posts by Dattatreya (see all)
Comments