Fully-equipped kitchen is one of the priorities when it comes to purchasing a new home or apartment, but in tiny apartments with limited space accommodating full kitchen can be quite challenging. However, you can a variety of stylish and fully-functional compact kitchen units that offer a creative and practical way to prepare meals within a small space.
From tiny circular-shaped kitchen to coin-inspired cooking pod, here are ten functional kitchen designs that will impress any cooking enthusiast.
Gali by Ana Arana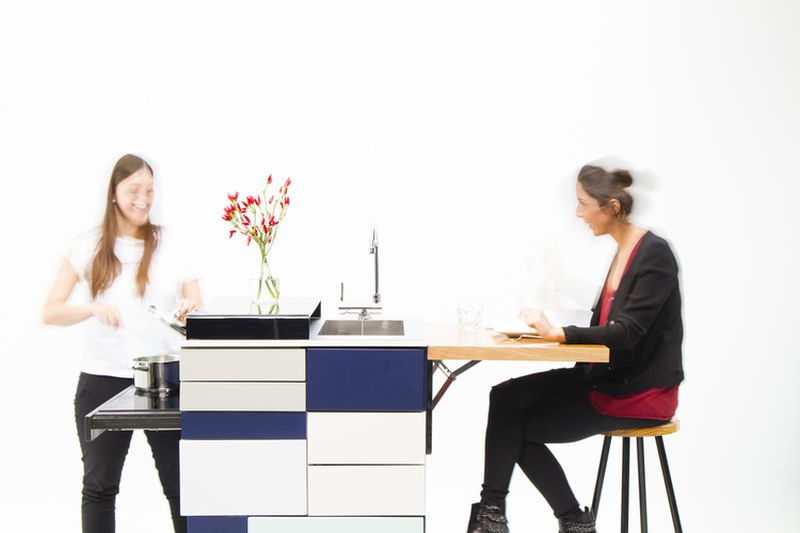 Gali modular kitchen is made up of four luggage-sized modules so it can easily be transported from one location to the next, eliminating the need for a built-in kitchen all together. While unusual, this kind of setup makes interiors far more versatile, enabling residents to make use of the space the way they really need it instead of dedicating a big chunk of an apartment to a function that's not used very often.
Also Read: 8 Modern Kitchen Design Ideas for Your Next Renovation
Miniki compact modular kitchen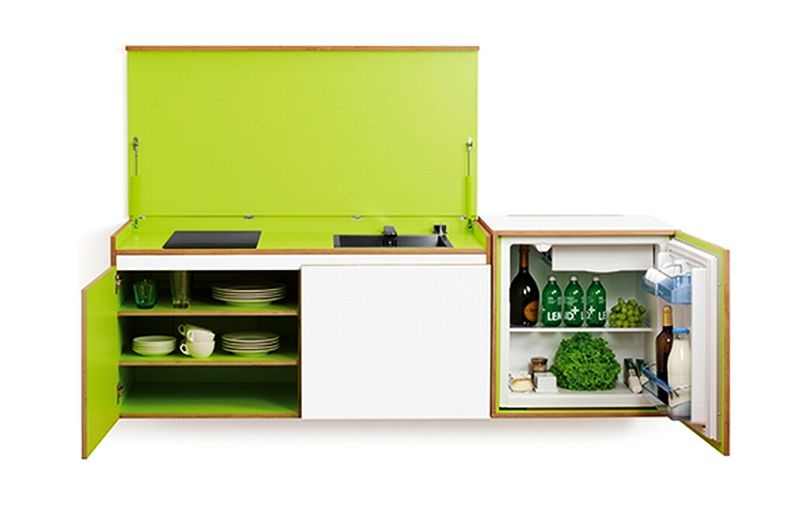 Miniki compact kitchen system consists of a low-sitting that can be installed within any limited-space apartment. It is a fully-functional modular kitchen with various units such as oven, sink and refrigerator. The retractable sidebar can be used for discretion when kitchen is not required. It comes in three different modules: mk1, mk2 and mk3. These distinct units are designed in different configurations to easily fit into any kitchen setting.
Tower Kitchen by Philippe Starck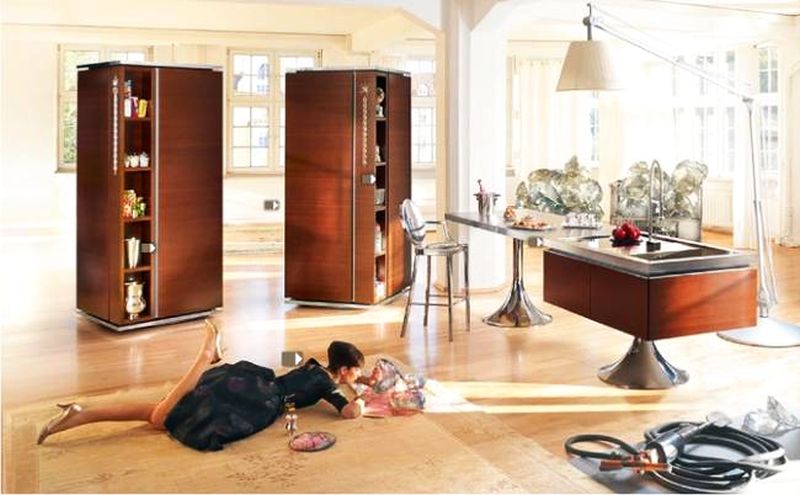 Don't be mistaken by it's wardrobe-like design, Tower kitchen by Philippe Starck is a space-saving kitchen unit. It features two standalone two standalone units, which individually take up no more than one square-meter of floor space. Both units are equipped with kitchen accessories and appliances that are needed for cooking. It also comes along with a functional island that doubles up as dining table.
Small Type Kitchen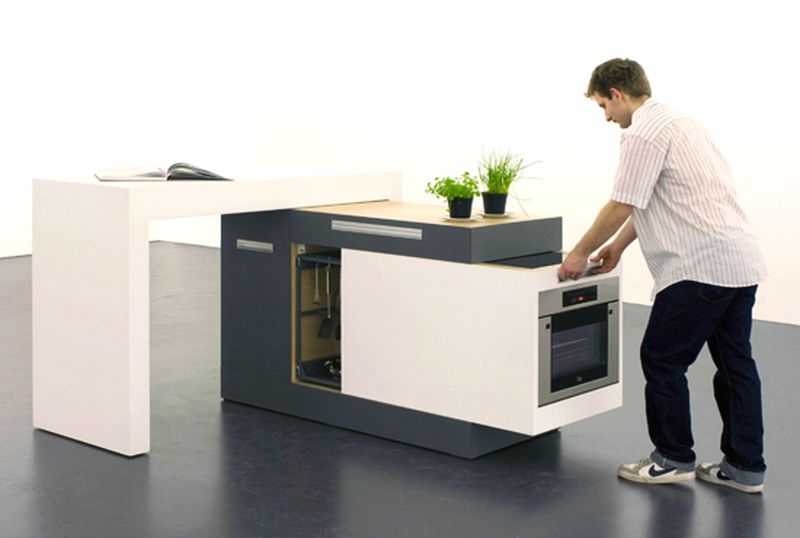 German designers Kristin Laass and Norman Ebelt have conceived this compact kitchen unit measuring only 1-square-meter when closed. This kitchen unit houses freely moving cabinets and drawers that can serve as a table, a refrigerator, an oven, a sink and a storage space. It is an idyllic kitchen space for studio apartments.
Circular kitchen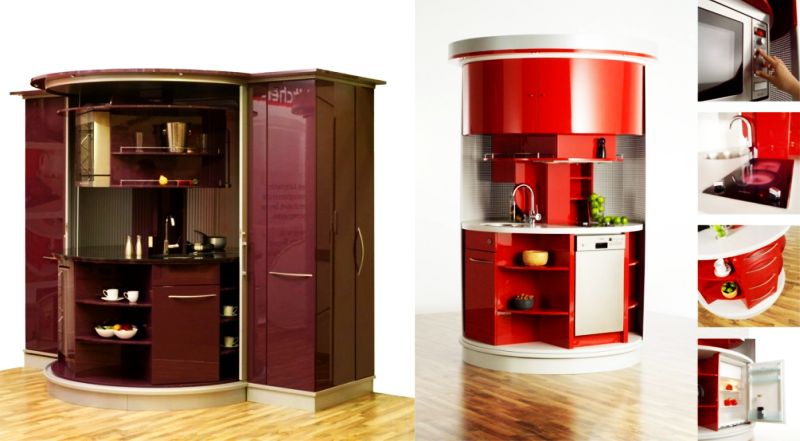 This small rounded kitchen is created by Alfred Averbeck to fit into a compact apartment. It is fully-equipped with an induction cooktop, a refrigerator, an oven, a storage space and tableware. It has got everything from kitchen appliances and storage to sink for cleansing.
Carre by Robert Schierjott & Ulrich Kohl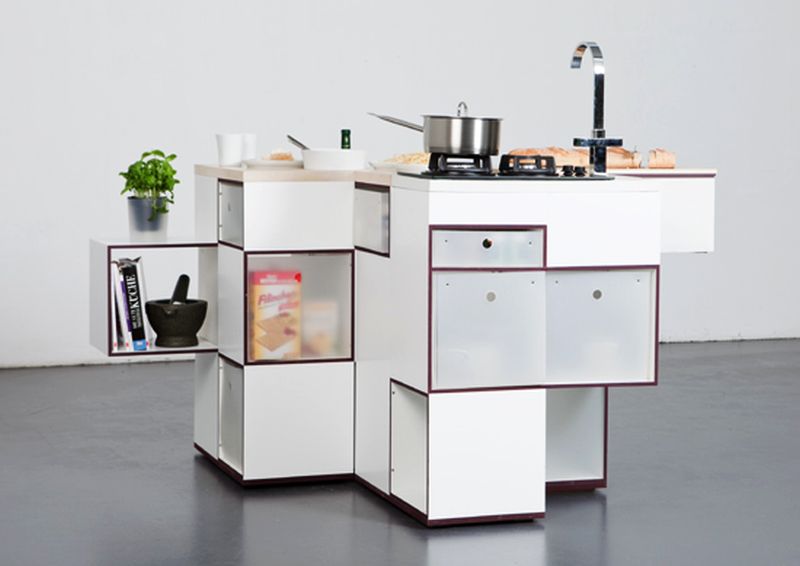 German designers Robert Schierjott and Ulrich Kohl have created a compact cube-shaped kitchen unit dubbed Carre. It can be customized as per the available space in the kitchen and according to your daily culinary needs. Carre is made up of two modules that can be expanded to form a spacious cooking area. The major module consists of a cooking unit, a kitchen sink and counter for preparation. On the other hand, second module is freely movable and can be turned into six different configurations, according to the available space in a particular kitchen setting.
Dizzconcept pop-up kitchen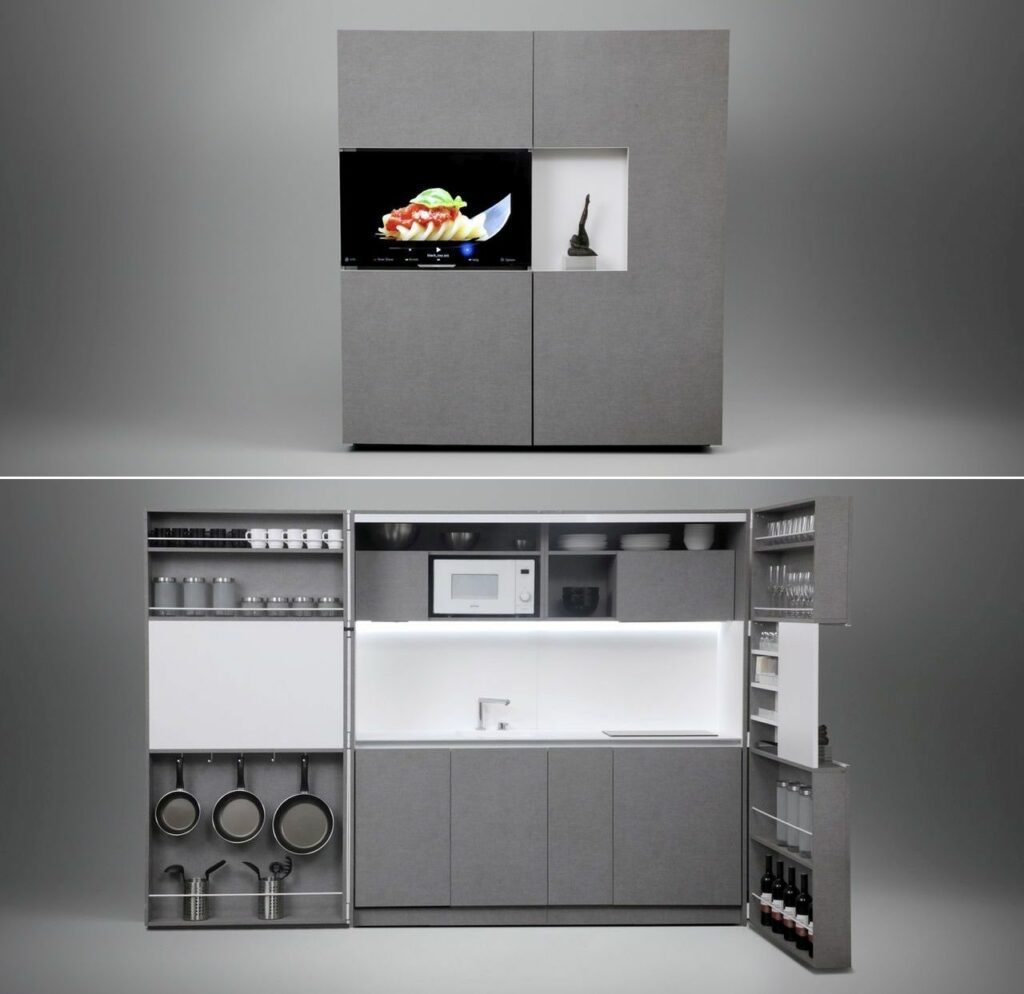 Croatian designer and manufacturer Dizzconcept has created a foldable kitchen that can disappear from the site when not in need. Behind the six doors, the compact kitchen conceals various built-in storage units, fridge, oven and dishwasher. The kitchen unit us also equipped with TV on a pivot so that you can watch desired cookery shows while preparing different recipes.
Micro kitchen for super-tiny apartments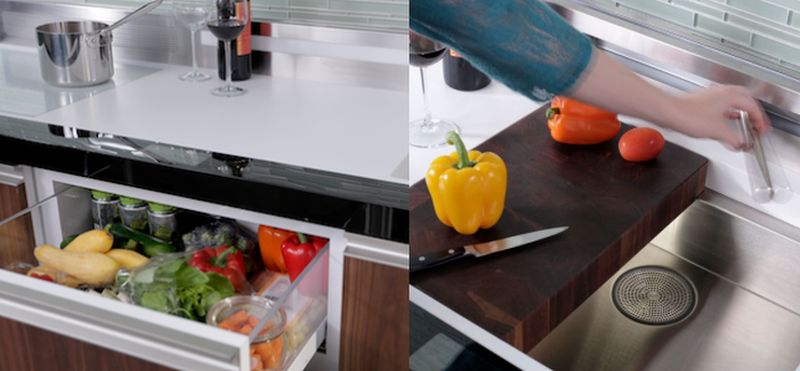 Micro Kitchen by GE is designed to ultra-compact dwellings. Although it is very small, but contains every appliance and equipment one needs for cooking. From cooking countertop to kitchen sink and built-in storage units for utensils, the tiny kitchen houses all the necessary things that are present in any conventional kitchen.
Splinterworks dime kitchen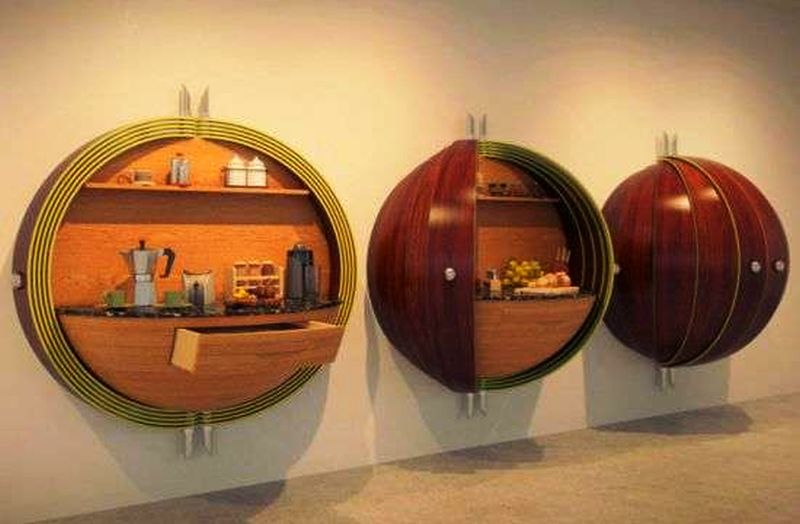 Inspired by the spinning motion of coin, the Splinter Works Dime Kitchen is created by British designers Matt Withington and Miles Hartwell. It features a pod-shaped design that houses all basic kitchen necessitates and when you open up the kitchen pod for cooking – it appears like a spinning coin. The design studio offers complete installation assistance plus post-installation care and maintenance guidelines.
Small kitchen with cabinets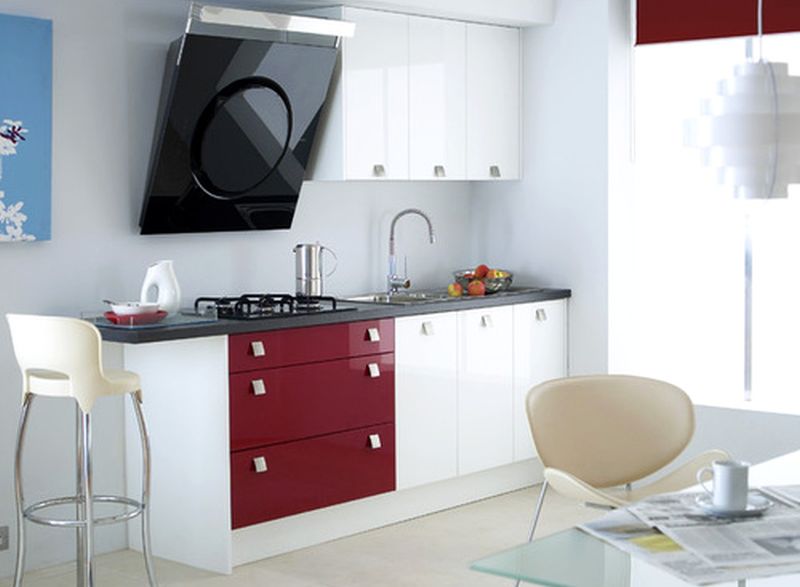 This tiny kitchen space consists of a sink, a tiny countertop, cooking unit with rangehood, and enough storage cabinets for utensils and other kitchen accessories. Moreover, various LED lighting units are installed around the tiny kitchen space for proper visibility.