One of the most important aspects of a perfect home is the kitchen. There's a saying 'home is where the heart is.' The heart of the house is the kitchen. The kitchen is often the most used area of the house, therefore asks for more attention and frequent renovation. A contemporary kitchen can complete and serve as the centerpiece of your home's new, up-to-date look. Here are five ideas you can incorporate into your new or renewed kitchen to change its overall appeal.
# Modern faucets & fixtures
Contemporary kitchen fixtures rank among the "essentials" of an upscale, up to date kitchen. Brushed brass or chrome, elegantly curved faucet necks, restaurant-grade stainless steel sinks, and garbage disposal units (as efficient as they are safe) can be combined to make your kitchen shine and outperform when compared to the old version.
The best kitchen fixtures will require a substantial investment, but anyone who has had to repeatedly replace or repair "ordinary" fixtures in the past will appreciate their durability and performance as much as the contemporary flair.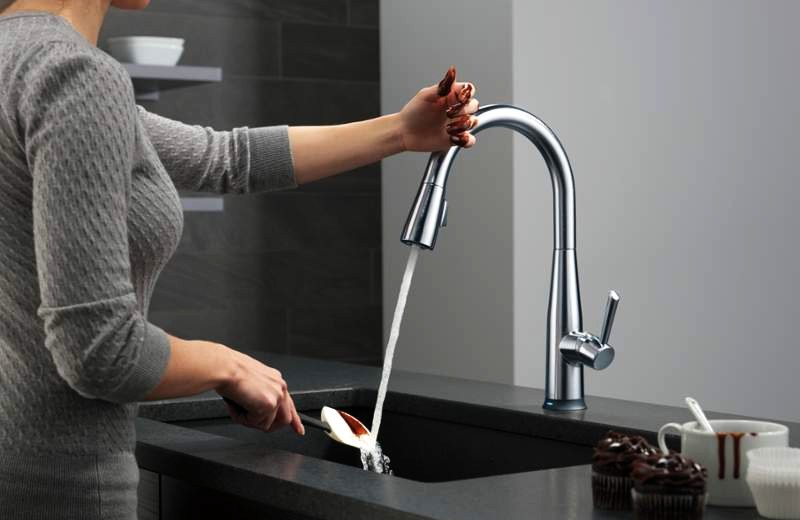 Also Read: The Do's and Don'ts of Kitchen Renovation
# Update flooring
The floor of your kitchen adds a lot of character to your dwelling, making it visually appealing and hardwood flooring is the way to go. There are loads of options when it comes to choosing modern day hardwood flooring, and going for the one depending on the overall color schematic is advised.
However, if you are looking for a way to combine the natural look and appeal of hardwood flooring and the low to no maintenance nature of vinyl flooring? High-quality vinyl floor planks are the way to go. They are exceptionally easy and fast to install, which keeps the flooring from holding up your project. And when you buy at the luxury end of the vinyl flooring market, you will find the results are far closer to perfection than you would ever have expected from vinyl.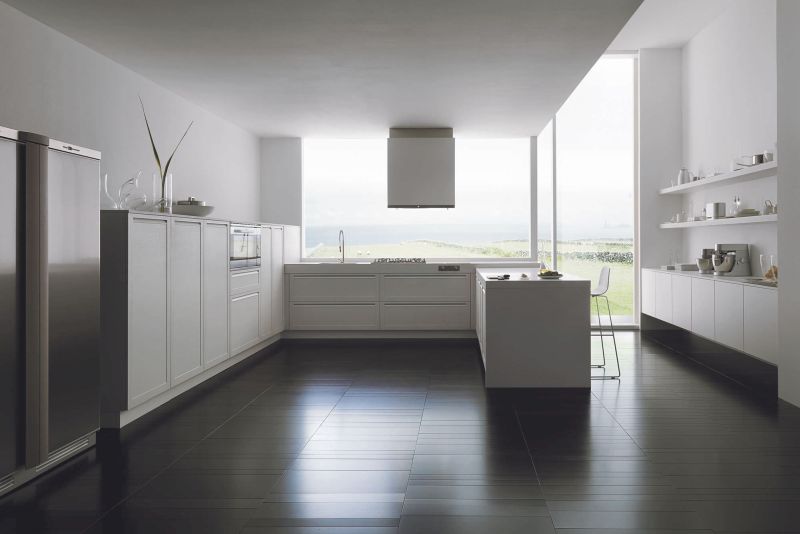 # Include wall art
Many modern kitchen designs aim to make the heart of the home a place to display the art of the home. Consider a collage of family photos on a single dedicated wall to add character to your kitchen. Or maybe a handful of "mind-bending" modern art paintings integrated into the room's overall design will instantly make the kitchen appealing. They can be chosen in varying colors, shapes, and patterns based on the theme of the kitchen. You can also go for a row of classic art pieces running along three walls at the same perfect viewing height, seamlessly crossing over the inside corners.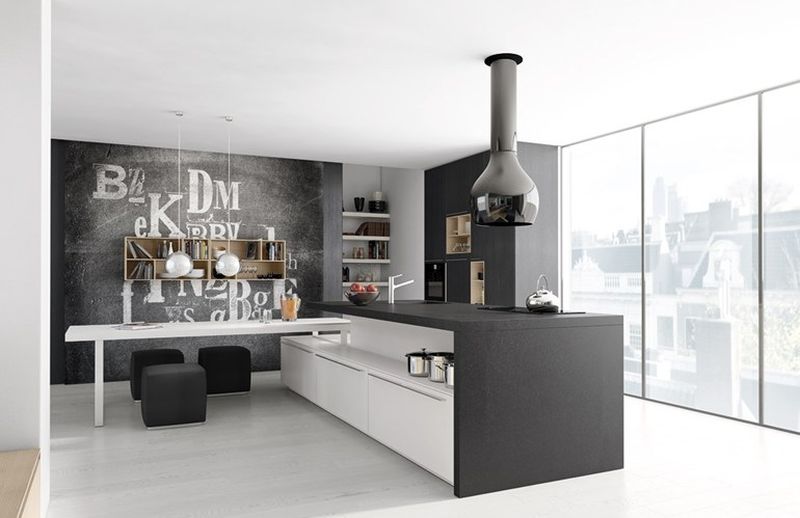 # Old-school 'eat-in' kitchen
We've gotten away from large kitchens with large central tables lined with chairs; kitchens designed for eating in, and not just cooking in, but all that is coming back. Elongated countertops and cleverly designed kitchen islands not only act as an area to prepare meals, but also a gathering place to eat food with family.
So why not create a retro-styled kitchen that looks like something out of The Waltons TV show, outfitted with all the modern appliances and conveniences? This is a major alternative to side nooks, breakfast bars, and dining areas located rooms away, and it requires sufficient space. But for many, it's a way to bring their new kitchen "back to the future."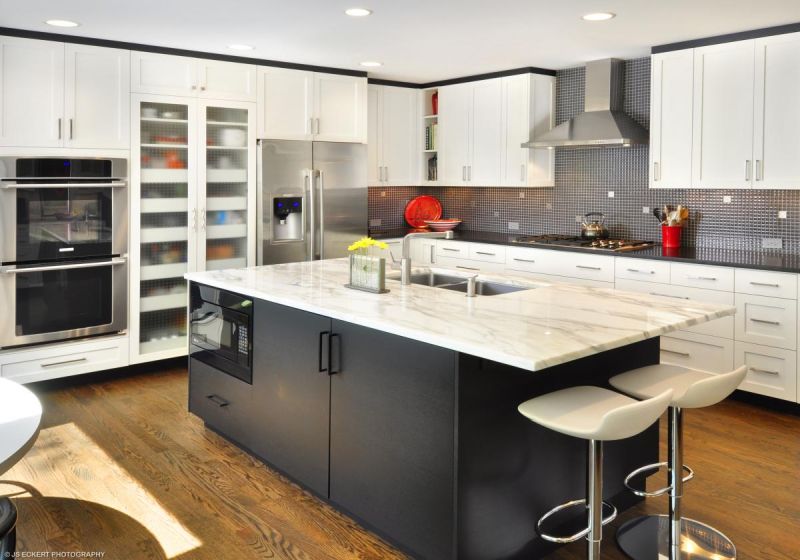 # Designer furniture and storage
Space utilization is the name of the game when it comes to modern kitchen designs. Making use of the available space to the fullest with a modern touch for all the furniture added is the new trend. Designer furniture and storage cabinets not only help you organize the clutter in your kitchen but also add visual depth to space if the right color and design are chosen.
These days designers are coming up with some really great kitchen furnishing units which add value to your space, and you can go for one of them to match your modern kitchen design.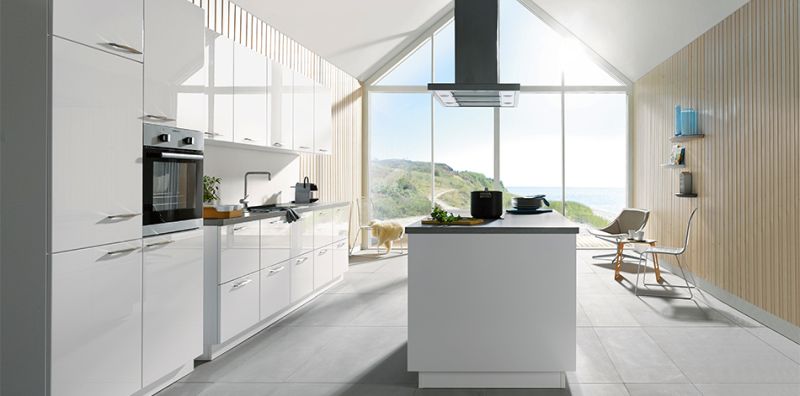 # Smart appliances
Carefully choosing your kitchen appliances go a long way when considering aesthetics of a modern kitchen. These days connected smart appliances not only add to the functionality but also look of your kitchen. Smart kitchen appliances are designed keeping in mind space-saving an aesthetic appeal of the space.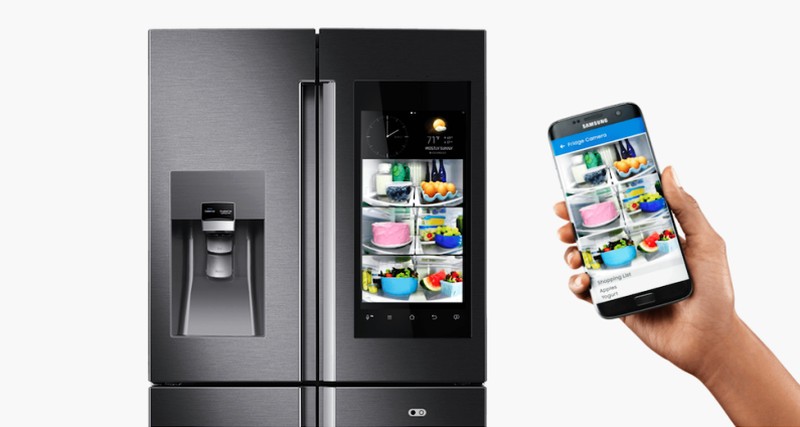 # Attractive lighting
Lighting in your kitchen plays a very important role when it comes to enhancing the ambiance and look of your kitchen. There are plenty of options when we talk of attractive lighting options; right from ceiling lights to lamps.
For proper ventilation, a variety of range hoods offer cooking enthusiasts a better way to prepare different recipes without worrying about smoke, airborne grease or food smells. Thankfully, these range hoods also double as attractive lighting options which add style to the kitchen space.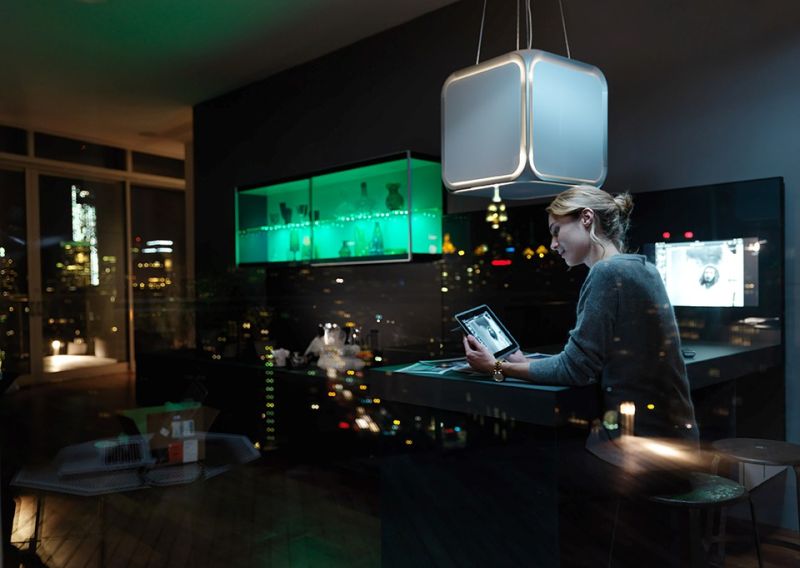 # Planters for an eco-friendly appeal
For people who want to add eco-friendly appeal to their modern kitchen design, going for a planter is the best option. It looks visually appealing, fills the space with fresh air and is a focal point for visitors. You can also go for kitchen gardens that help you grow crops without the use of any soil, and are automated to make your task easier.
A kitchen composter is an even better option to go for that converts waste food into nutrition for plants, vegetable, and indoor herbs.