Does your kitchen needs more storage space? Instead of building more space consuming and expensive storage cabinets or cupboards, why don't create space-saving, affordable industrial-styled kitchen rack using copper pipes? You may have seen copper pipes being used for domestic water supplies, bathroom fixtures, etc. But now the rustic metal has been widely used in creating various DIY projects such as copper lighting fixtures and furniture pieces.
Likewise you can add some rustic appeal to your kitchen with this metal storage unit. Here's the step-by-step guide to build DIY copper pipe kitchen rack.
1. Collect few copper pipes, instead of galvanized or black pipes- it will give some different look to your kitchen. The copper pipes will look more appealing when loaded with different stainless steel or other pans/pots.
2. Stack shorter pipes in between the larger ones for additional support. It looks more like plumbing fittings, giving rustic look to your kitchen whilst serving the storage purpose.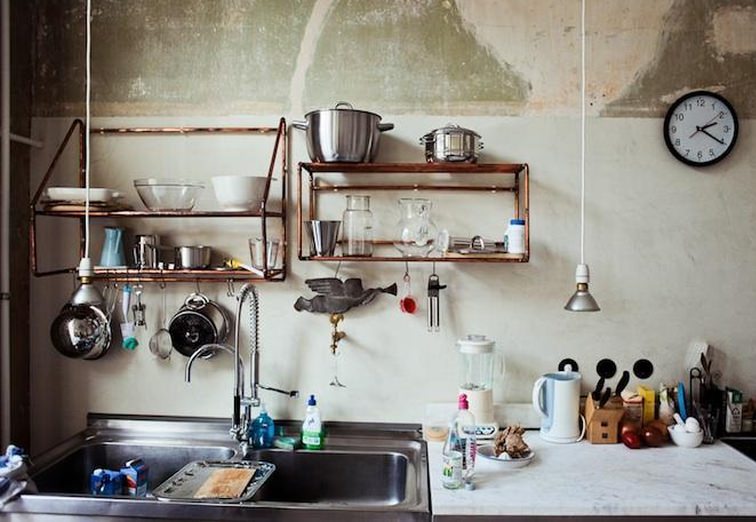 3. You need to cut pipes as per your preferences and desired design layout. Install the flanges with screws and anchors. With these metal units, you can easily build up your rack.
4. To avoid a hollow tube, you could fill it with an appropriately sized dowel rod. If you know how to solder pipe, then you could even try compression fittings or a strong metal adhesive to attach.
5. When your rack is ready you can hang all your kitchen pots, pans and other utensils using few metal hooks.
The best thing about this minimalist industrial-styled rack is that it can be mounted onto any wall of the kitchen, without occupying much space. Besides being functional, it also adds chic aesthetic to your cooking space.