Adding some creativity and personal style to your home decor is one thing but taking it to an intergalactic level is another. If you're someone who appreciates sci-fi and wants to add it to the home decor, this is the right place to be.  Here we acquaint you with Star Trek-inspired furniture and other functional products that will add flair to your home or office.
These Star Trek-inspired home utility products seem to be straight out of a spaceship. From USS Enterprise coffee table to Star Trek dog bed, these items are likely to turn an ordinary living space into a galactic world.
USS Enterprise Coffee Table
Designed and constructed by woodworker Barry Shields, the USS Enterprise Coffee Table is a piece of stunning sci-fi furniture to give a geeky makeover to your living area. It is shaped exactly like the original spacecraft from the fictional series.
Its body is made of ash, black walnut, and poplar woods, instead of metal. The base is made entirely out of wood, whereas a glass top rests above the wooden base, allowing you to have a clear view of the spacecraft underneath.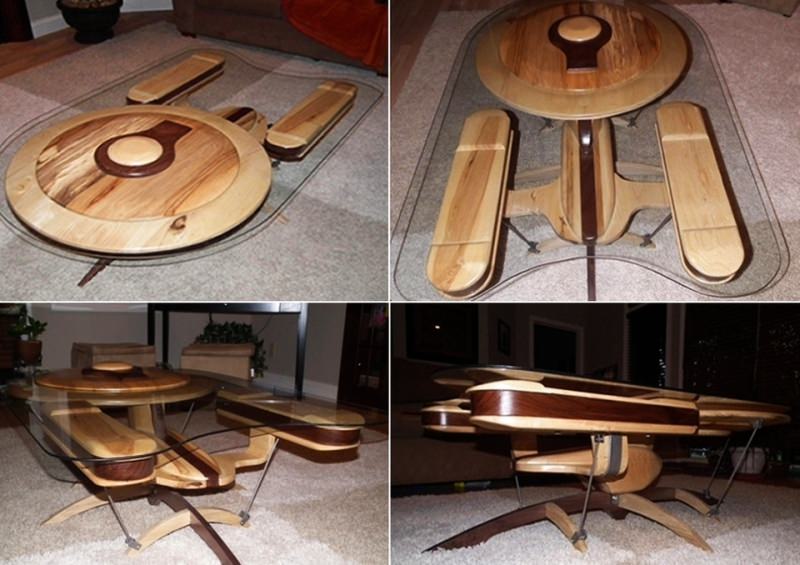 Custom-Built Desk Inspired by Star Trek
Tom Spina Designs has created custom-built desk designs inspired by Star Trek. These sci-fi furniture pieces are created for adding ultimate intergalactic style to your home, office, or recording studio. The custom desks are made out of wood with heavy-duty silver poly finish (and a laminate countertop for durability).
Moreover, the iPad station is also integrated with routing for charging cords that can be moved freely and placed anywhere on the desk.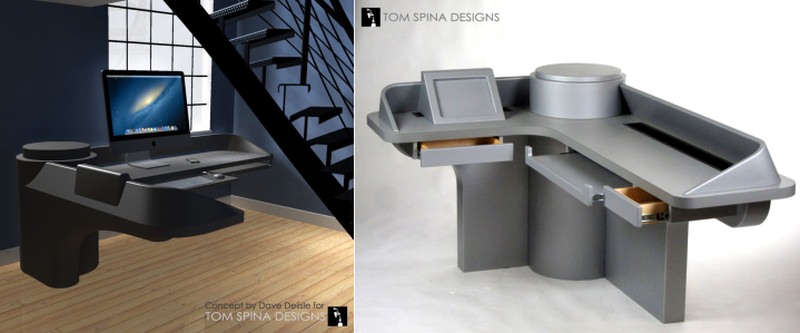 James T. Kirk Captain's Chair
This is a full-scale replica of James Tiberius Kirk's Captain's Chair. Influenced by the design conceived by the original set director and art designer Matt Jefferies, this futuristic chair looks exactly like the one from the original series.
There are some buttons on the armrest, out of which the yellow one produces one of nine original sound samples from the series. The chair is upholstered in leather and swivels 360-degrees.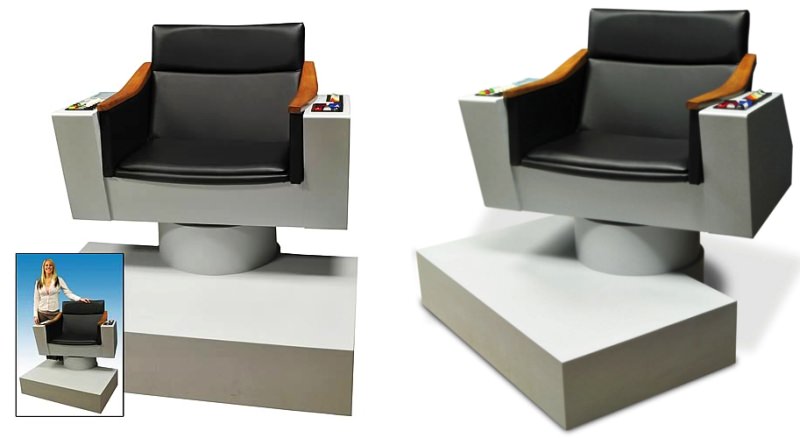 Star Trek Shuttle Coffee Table
Altar Furniture has given a 1991 Star Trek pinball a new lease of life by restoring it into this Star Trek-inspired Shuttle coffee table. It is a one-of-a-kind table that features an original Star Trek pinball playfield and is integrated with new electronic controls and led lights. Furthermore, it has four real meteorites built into its back container.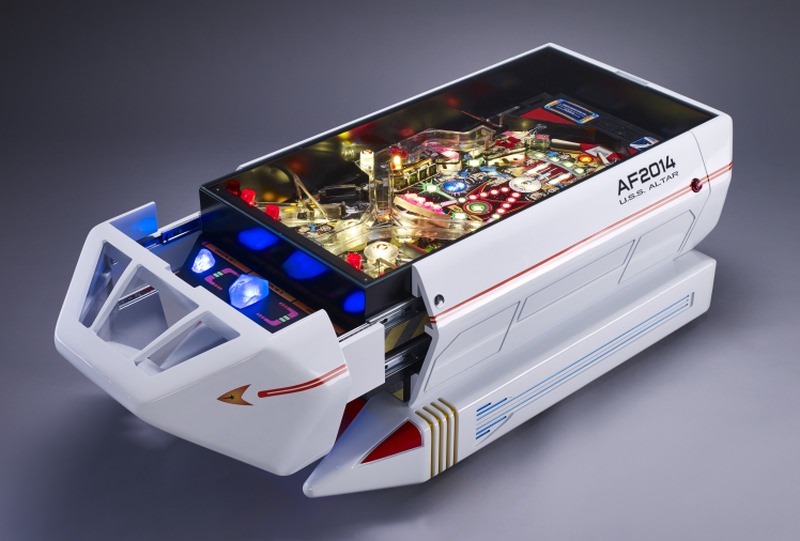 Star Trek Enterprise Home Office
Super-Fan Builds (a channel on YouTube) has made the ultimate Star Trek Enterprise home office workstation for Jake Geiger (Star Trek superfan). The entire workstation is made from polyurethane foam and finished with resin and paint.
The tabletop incorporates a USB hub along with built-in LEDs for additional aesthetics. The USS enterprise featuring a table with an attached chair is perfect for working and also serves as an item of decor when not in use.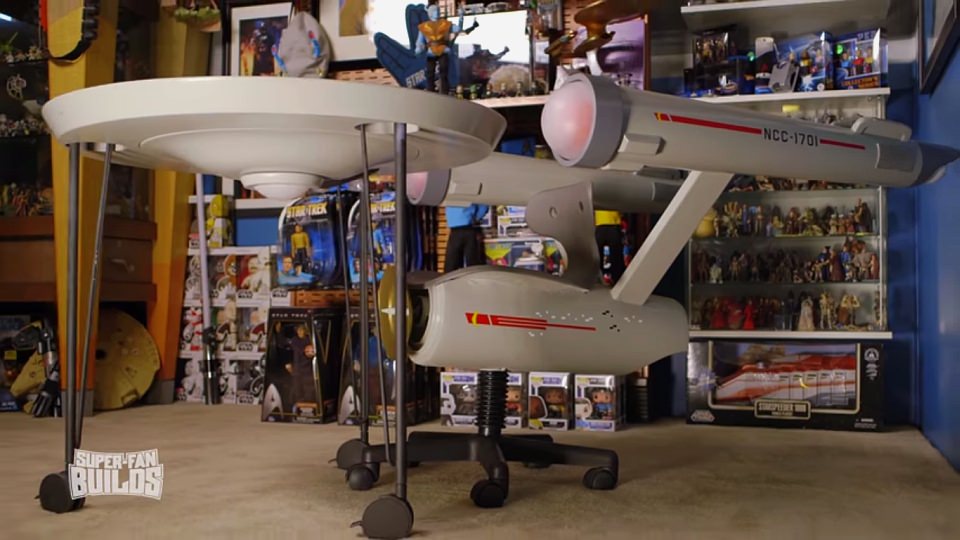 Star Trek Enterprise Rocker
This handcrafted wooden rocker will be a perfect gift for your kid who wants to be a Star Trek fan someday. Its front section looks like the USS Enterprise while the base is just like any other rocking chair. You can also imprint the rocker with your child's name and birth date, if you may.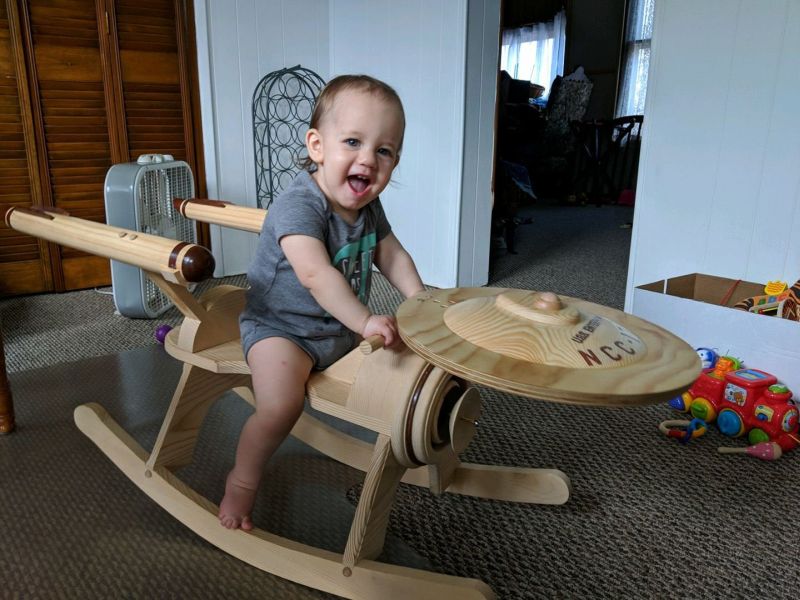 Star Trek Captain's Chair Pool Float
How about adding some sci-fi essence to your swimming pool? Check out this cool Star Trek-themed pool float designed after the Captain's chair by Big Mouth Inc. Featuring authentic and officially licensed artwork, this vinyl pool float is 4-feet wide and can hold up to 200 lbs.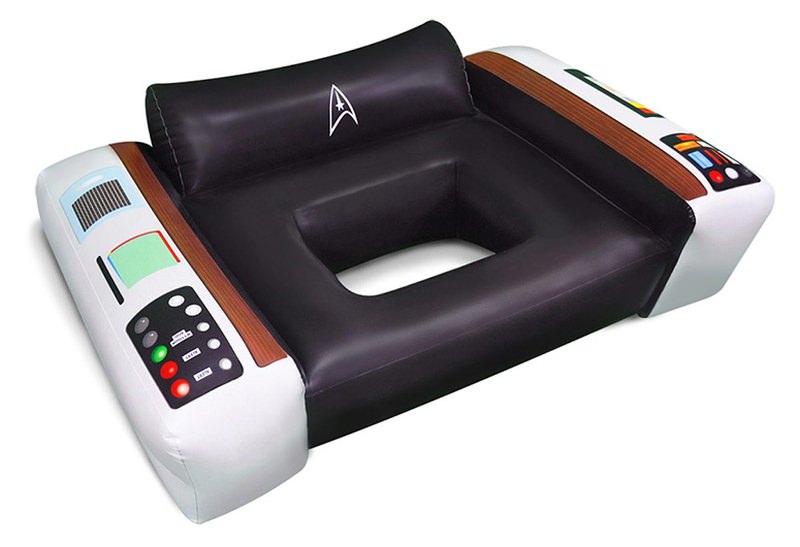 USS Enterprise Projection Alarm Clock
Wake up in style with this interstellar Starship Enterprise-themed Projection Clock. The clock projects time off the wall or ceiling. It also has an LED display and authentic sound effects of an emergency siren and photon torpedoes firing from the original television show. There are onboard buttons to set and turn off the alarm.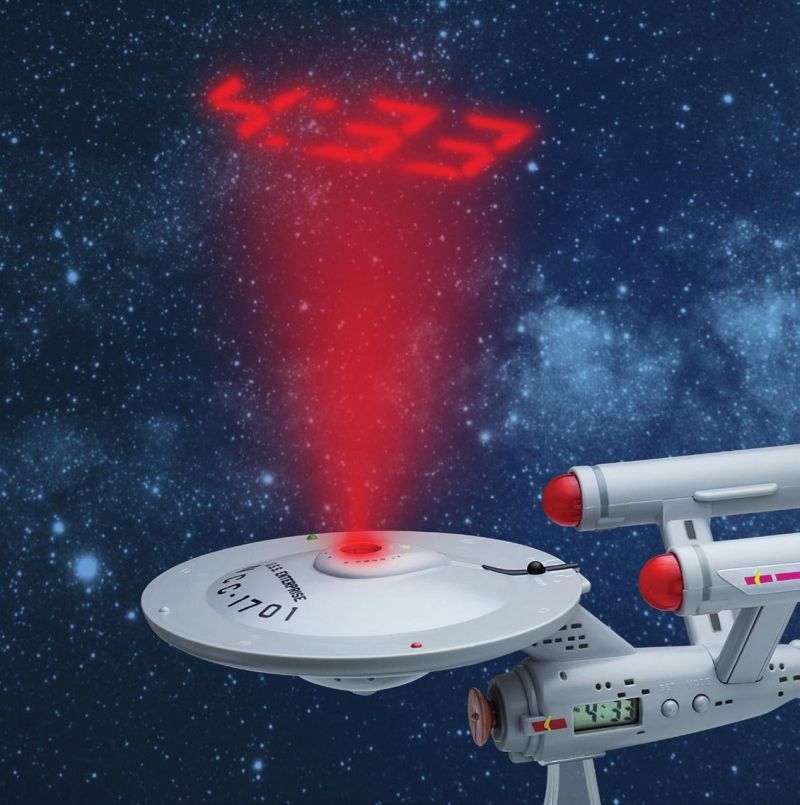 Star Trek Optical Illusion Desk Lamp
At first sight, this USB-powered optical illusion lamp looks like a 3-dimensional product; however, it is actually a 2D PANEL with 3D visual impact. The lamp illuminates the 3D image of USS Enterprise. It comes with remote control and you can also change the light color.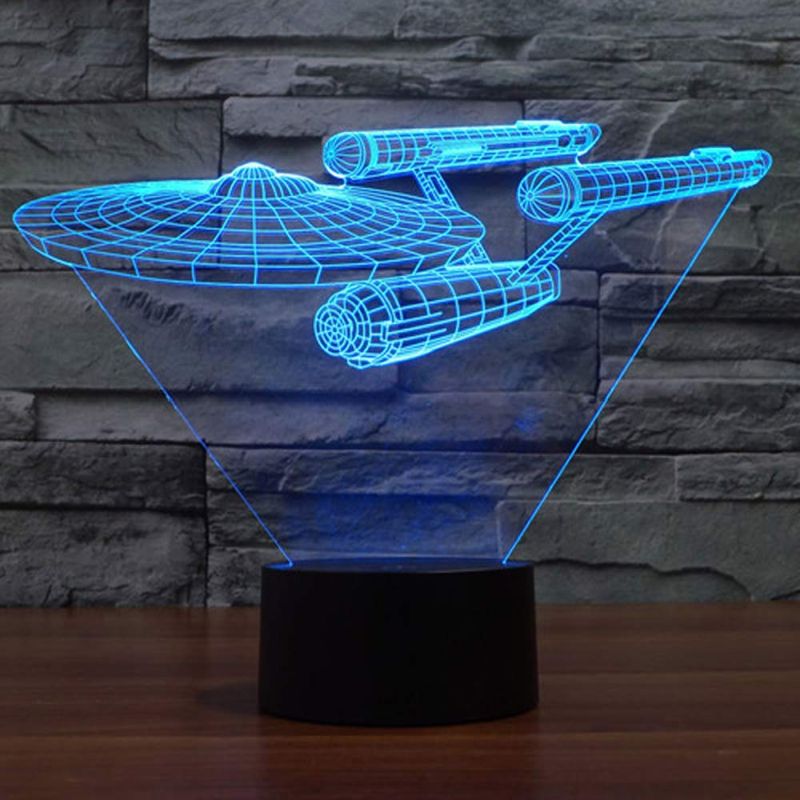 Star Trek-Inspired Dog Bed
Gift your dog this sci-fi-inspired dog bed. Designed like the Captain's Chair, it is a plush dog bed padded to ensure comfort to the pet. Measuring 12 x 5.5 x 12.8 inches, it can easily fit into any nook within your living room or bedroom. For added look, it has faux controls on both armrests. This Star Trek-inspired dog bed will make your canine feel if she were the real James Tiberius Kirk.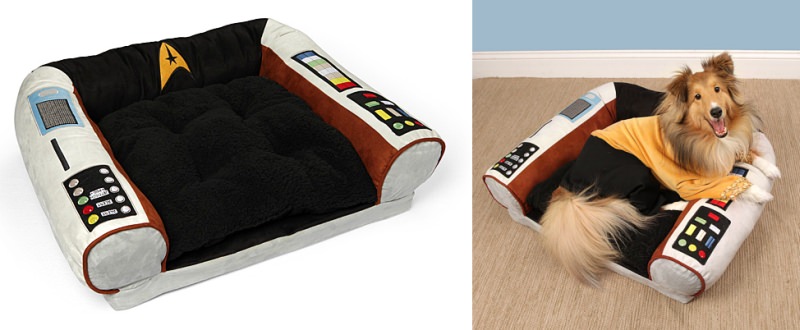 Star Trek-Inspired Cat Tree
Why enjoy the benefits and fun of being a Trekkie alone? Give your feline friend her share of the climb with this sci-fi climbing option. The DIY cat tree is inspired by the USS Enterprise from the movie series. In addition to providing space for your cat to play and rest, you will be pleased to showcase the cat tree in your living room.