How do you spend a lazy afternoon? Probably lying on a couch the whole day, watching TV, gazing at surrounding over a cup of coffee, or reading a book while relaxing on a hammock.
If you live in a region that's blessed with good weather, it is a great idea to spruce up your outdoor space with a swing bed. Here are a few DIY swing bed ideas that will surely inspire you by adding comfort and style to your patio or yard. These beautiful pieces of furniture are perfect to turn your outdoor space into an oasis.
DIY porch swing
Upgrade exterior of your home with this clean and elegant DIY porch swing made from plywood and 2x4s. This hanging bench in white will add welcoming vibes in any space. You can see the full DIY and plans at A Beautiful Mess.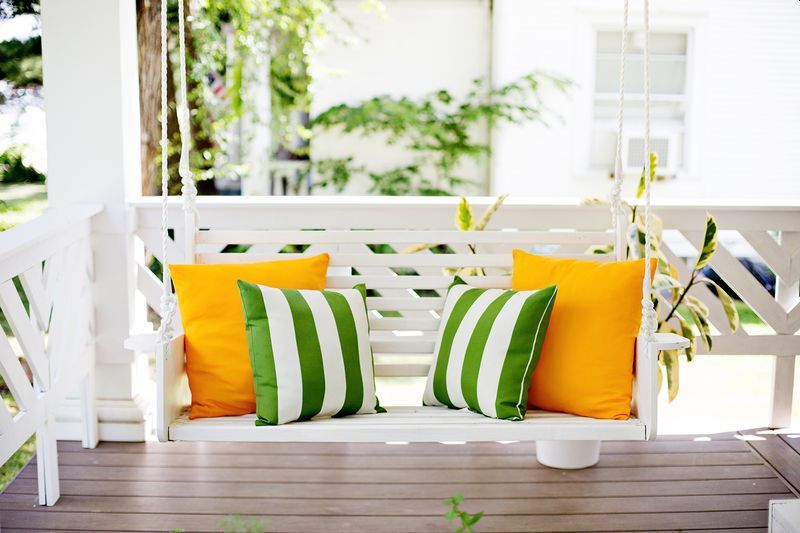 Farm inspired porch swing
If you are a fan of modern farm style, then you'll surely love to make this woodsy porch swing. It uses a crib mattress for the seat and can be hung from your porch, any outdoor living area. You can find plans for the Farm inspired porch swing at How Does She.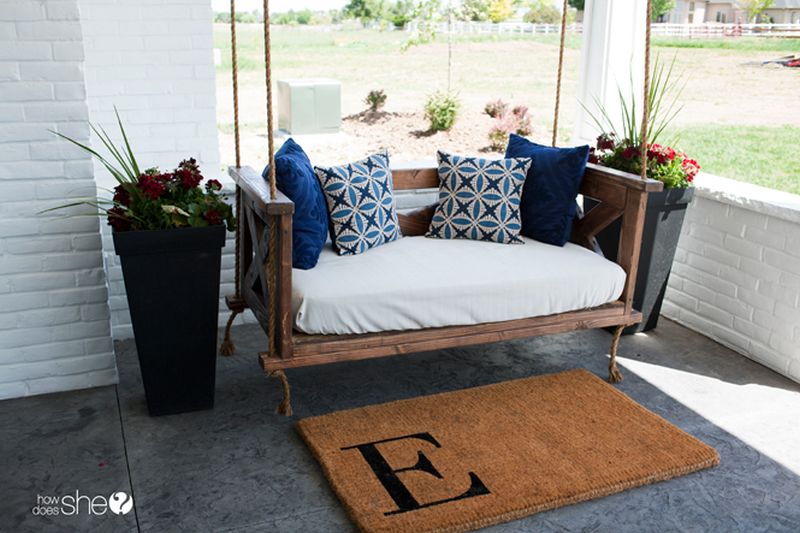 DIY porch swing bed
Looking like a cozy couch hanging in mid-air, this DIY porch swing bed makes a wonderful place to relax outdoors. With cushions added, it ensures optimal comfort for long sittings. April Wilkerson of Wilker Do's has made it with the help of her husband. Check out the full tutorial to see how to do with the project.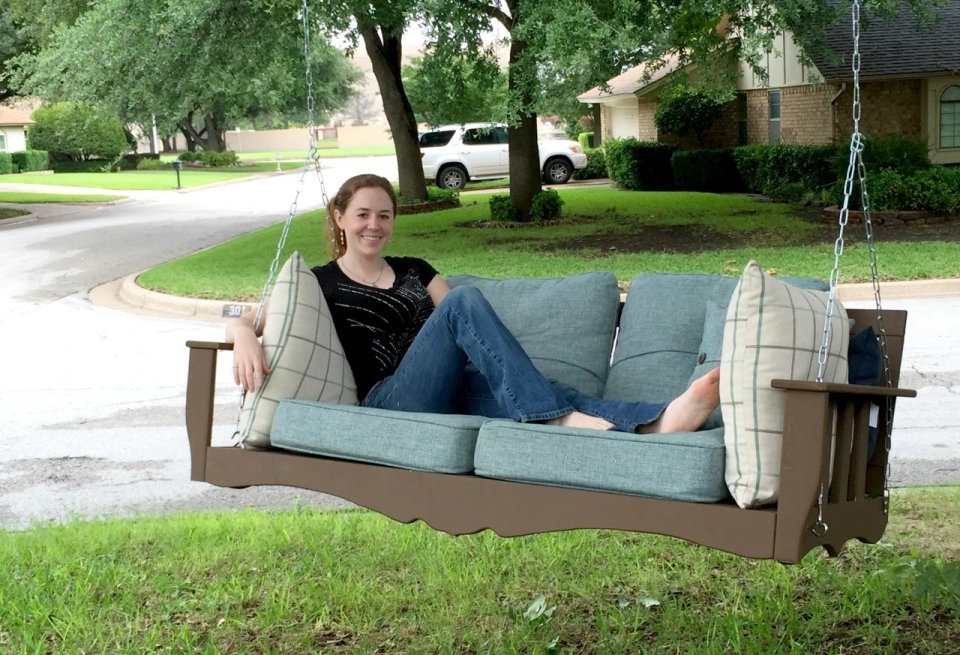 Easy DIY hanging daybed
This is a simple and easy-to-make hanging daybed. All you need is some wooden boards, screws, eye bolts, rope and a few woodworking tools. Build the frame, add a mattress, and voila – your daybed is ready to be hung in your porch. Check out the tutorial by Ana White for help.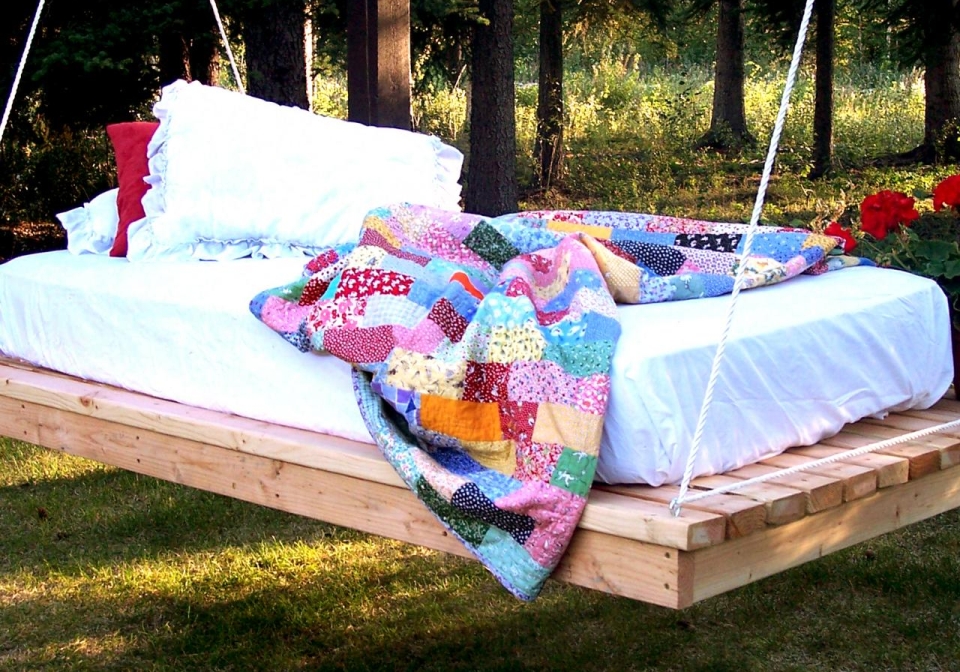 DIY pallet swing bed
Here's an effortless DIY swing bed made from pallets. You will have to join wood pallets into a frame, add a mattress on top and hover it from a tree branch using a rope. See the tutorial for this hanging daybed at The Merrythought.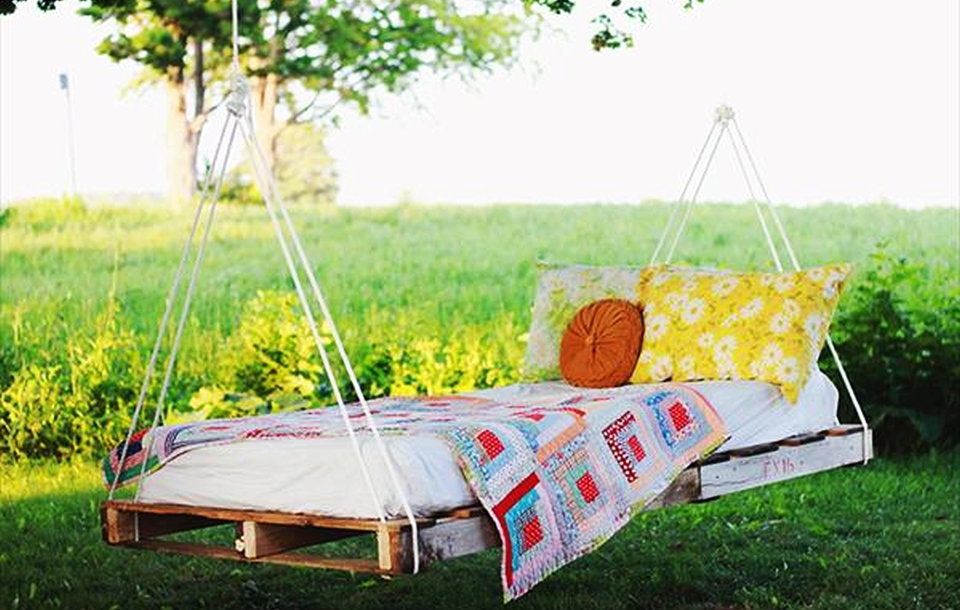 DIY Bed Swing made from pallet wood
Have pallets lying uselessly at home, this might be the right DIY project for you. Add some cool touch to your outdoor space with this DIY bed swing made from pallet wood and Styrofoam. Green cushions add a magnificent flair, making it an aesthetically pleasing outdoor unit.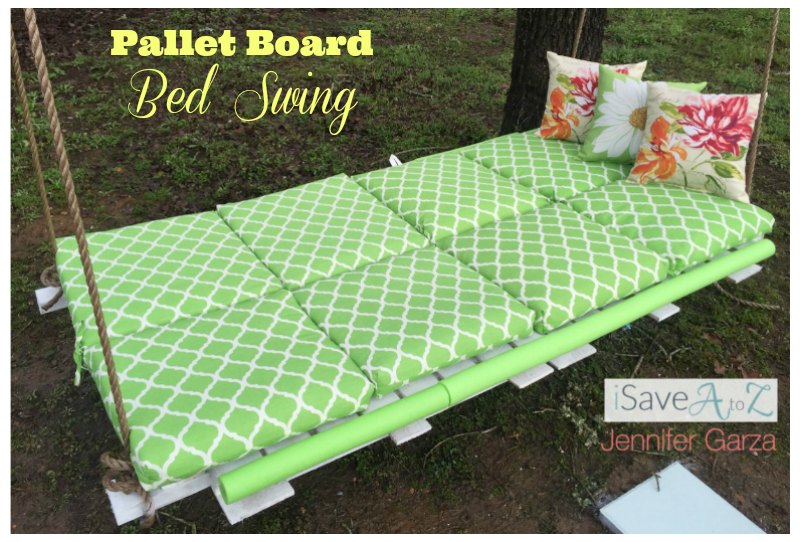 DIY hanging outdoor bed
Inspired by Ana White's hanging outdoor bed plans, this colorful outdoor furniture is really an eye-catcher. Made by one of Ana's followers, it can inspire inspiration for others. Adding cushions will enhance comfort and make a cozy spot to take an afternoon nap.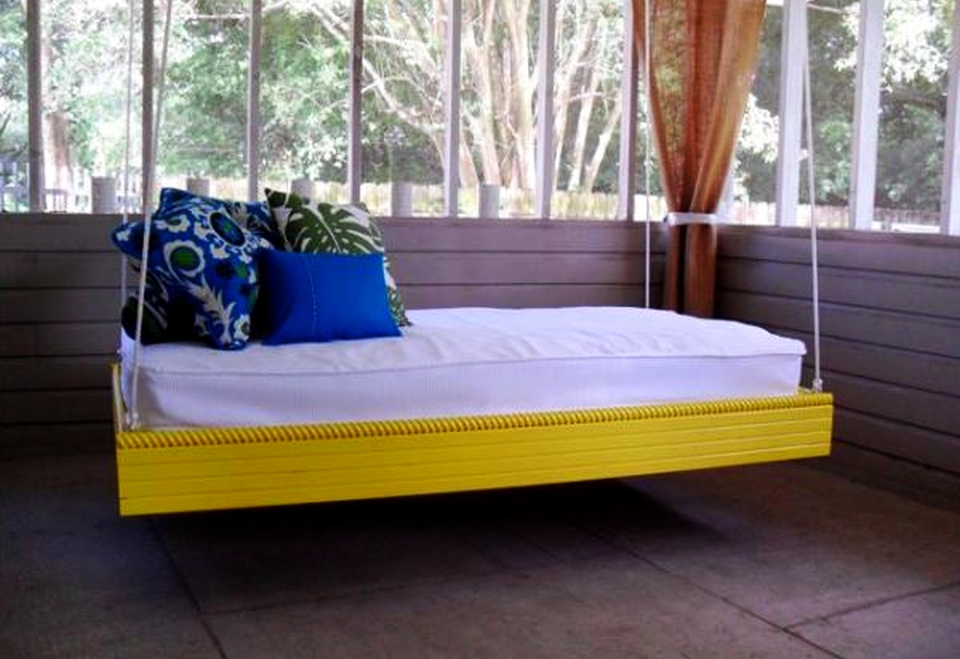 DIY farmhouse porch swing
Made in a budget of $40, this porch swing finished in Rust-Oleum chalked paint in charcoal features a clean design that will surely inspire you. For making one, you will have to first make a frame that looks like a public bench without legs. Add some cushions and hang using metal chains. You will love to sit on it and watch birds in the blue sky.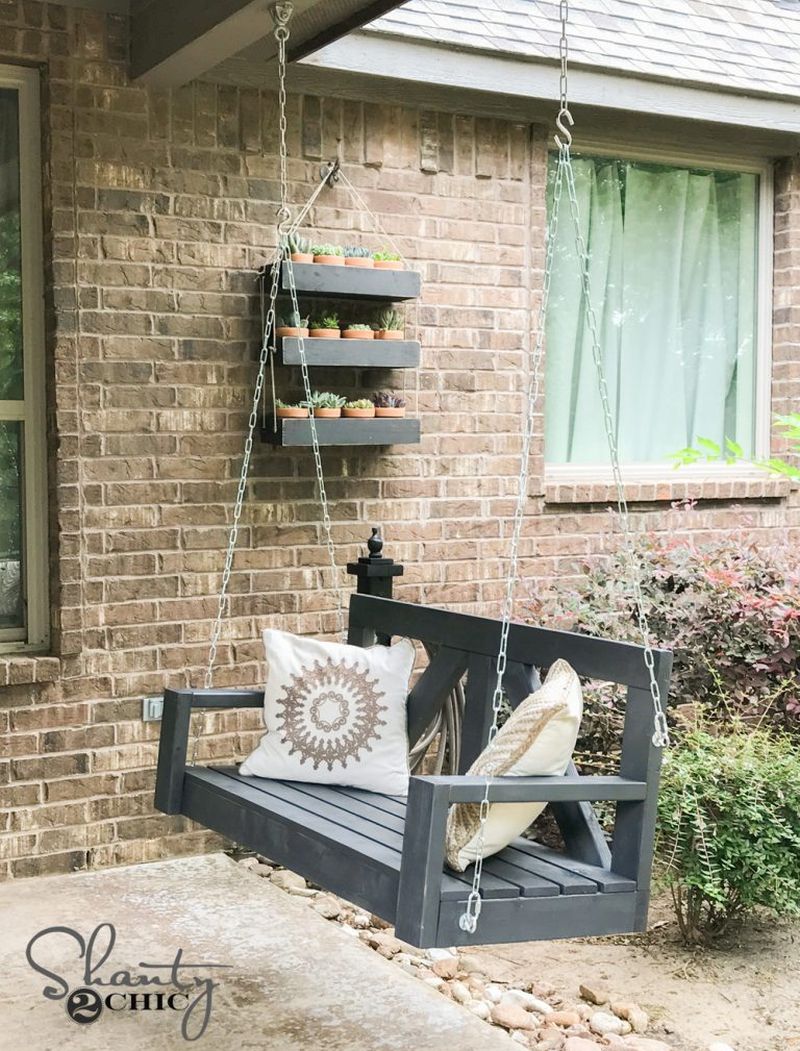 Also Read: Fall Porch Decor Ideas You will Love to Try
Front porch swing bed
It is a kind of swing bed that's perfect to be showcased on a front porch. Though it is small in size, it makes a comfy spot to rest. Making one isn't tough; the only difficult thing here is craft the frame that can accommodate a crib mattress. Check the tutorial at Wild Ruffle.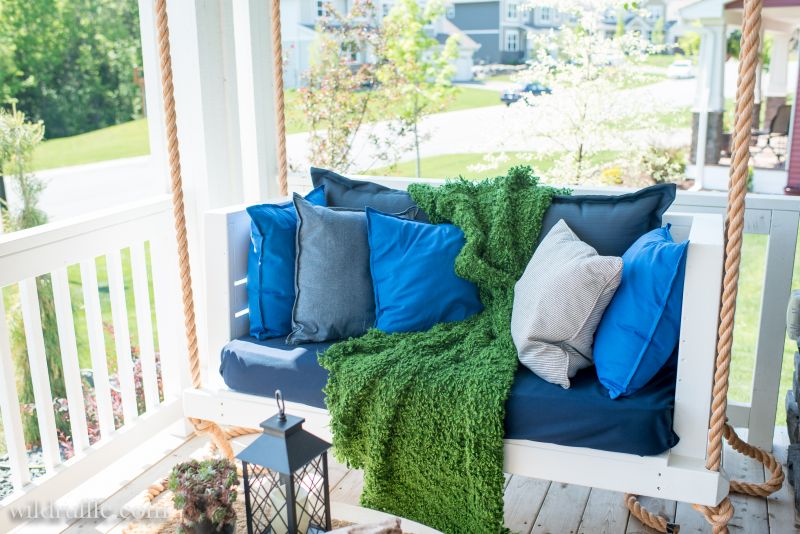 Large hanging bed
It is a generously-sized swing bed made from wood and decked with a twin-sized mattress. Three lengths of sisal ropes braided together suspend it in mid-air. It has enough space to take a quick nap or provide sitting space for two. It follows a classic rustic theme that adds cool essence to outdoor space. Want to make one for yourself, check out the full tutorial at Matt Cremona.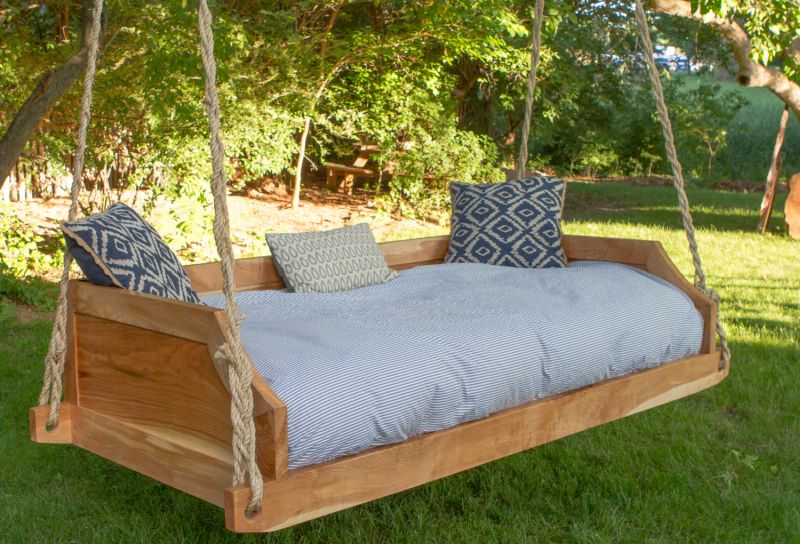 DIY porch swing made of headboard
Have you ever searched for ways to repurpose a bed frame or headboard? If yes, then this DIY project might be something interesting for you. You can try making one by following the complete tutorial on The Rustic Pig.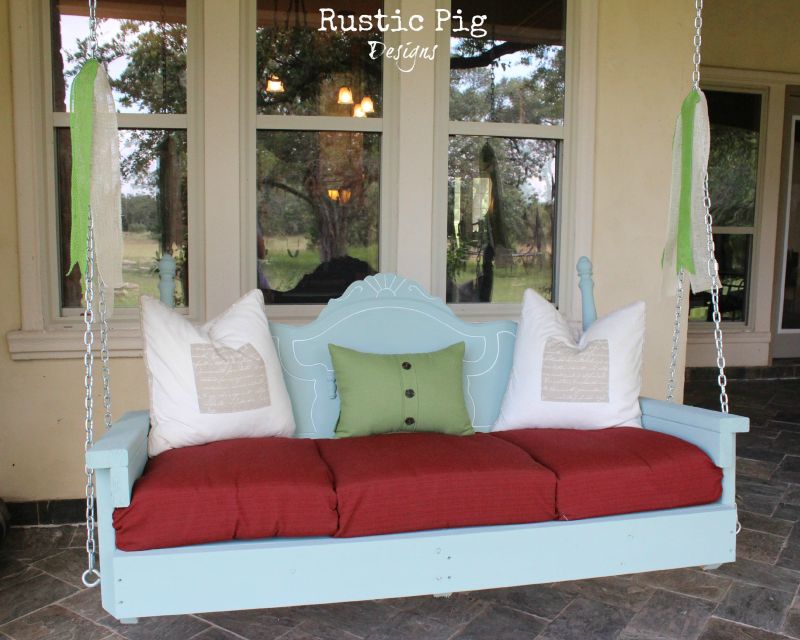 Old trampoline repurposed as swing bed
Turning old trampolines into swing beds is a novel idea that's become a trend on social media platforms. It is a pretty simple project you can make using a trampoline ring, mattress and a few other commonly used things. Here's a step-by-step guide for help.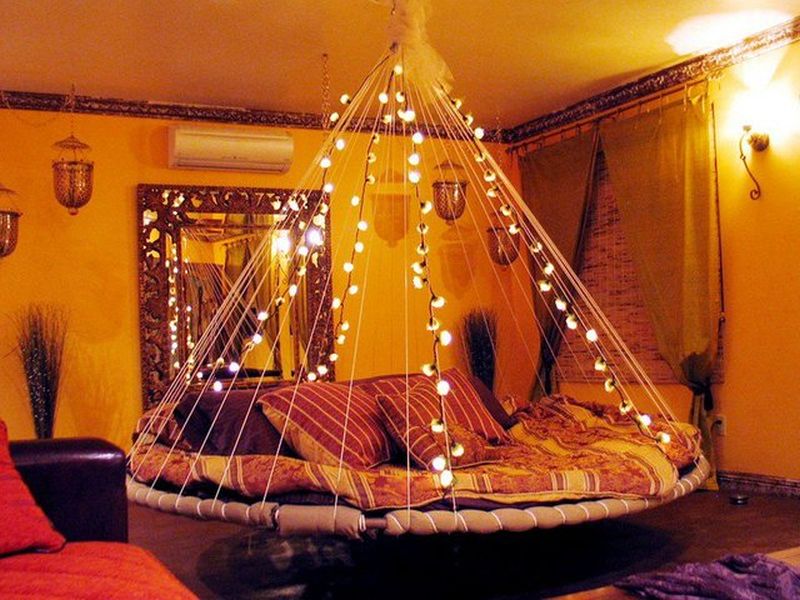 DIY minimalist hanging bed
If you don't like the classic bench-like design of a porch swing, you can opt for a minimalist flat porch swing. A sturdy piece of plywood seems perfect for this DIY project. You just need to paint it in the desired color and make modifications to hang it with ropes.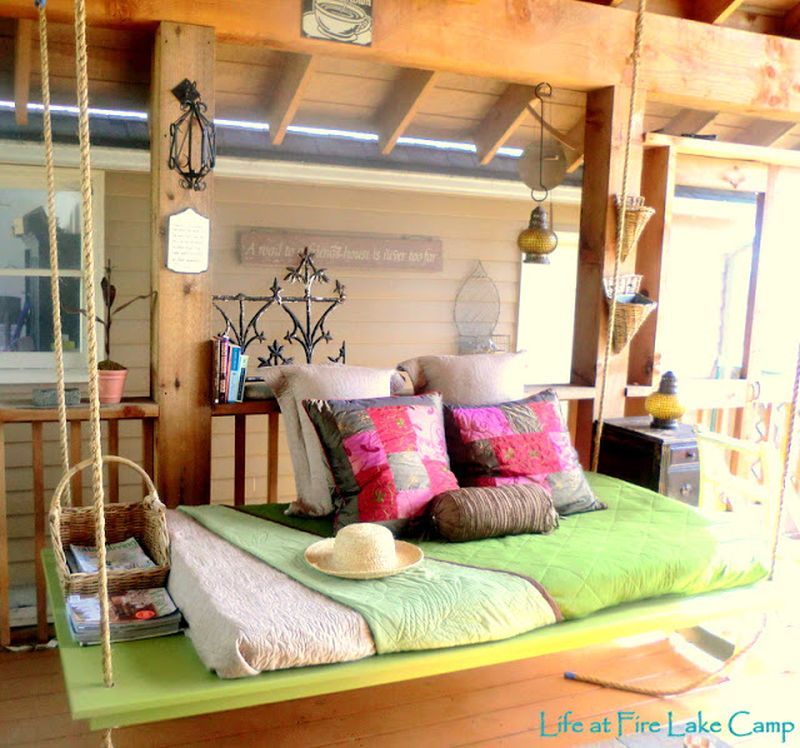 Woven porch swing
Actually created as a hammock, it appears more like a porch swing. This woven swing bed is made from a rectangular metal frame on which polypropylene webbing is woven to create a seat. Like any swing bed, it is hung through ropes. Find more at An Eclectic Eye.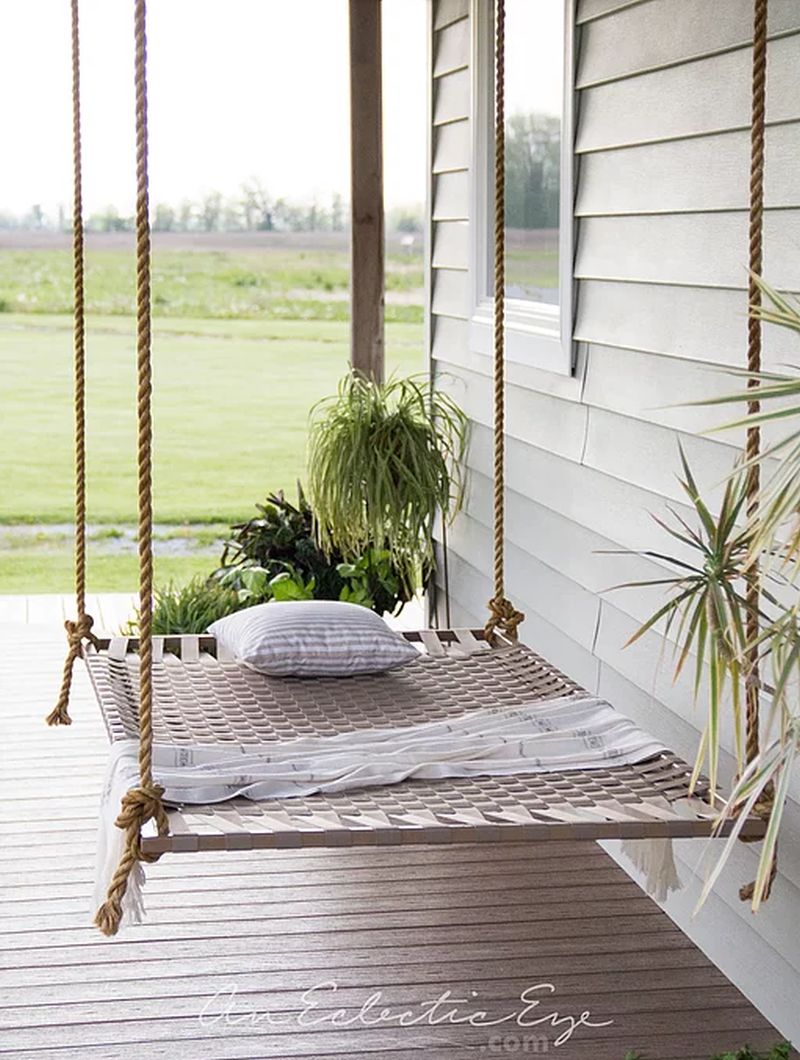 Single seat porch swing
If you looking for a super simple DIY that can be made at home with basic tools, this DIY project is just right for you. The porch swing will make the perfect spot to relax on a summer evening. You can see the step by step instructions at Plank and Pillow.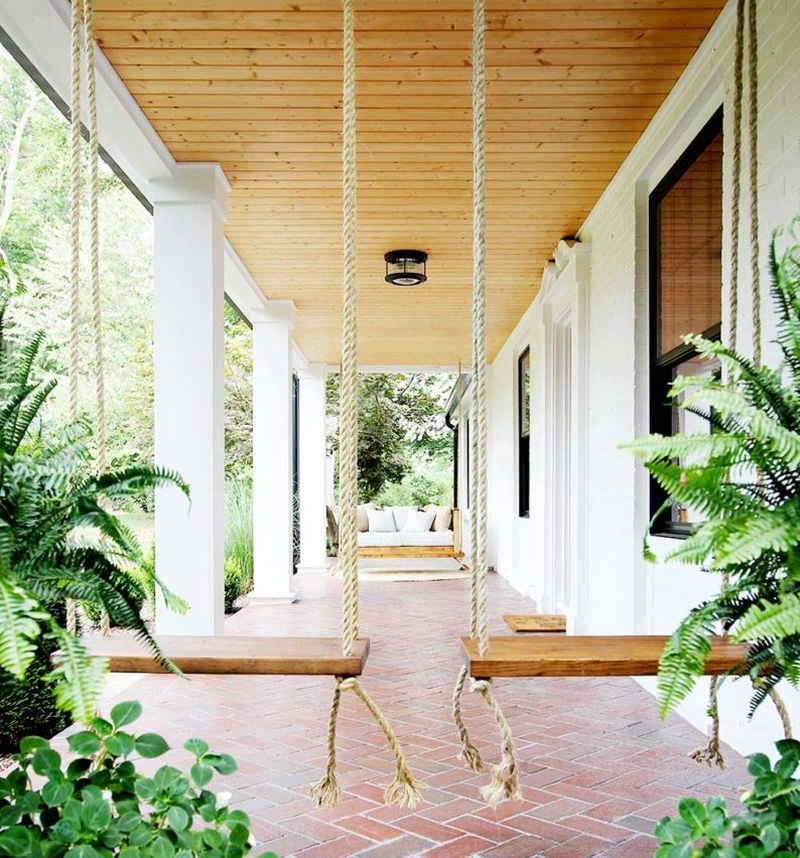 DIY porch swing with pergola
This detailed DIY tutorial shows how to build a large porch swing and pergola. It is a tough DIY project that will require more time, investment and woodworking skills. You can see the full details of the project at Sincerely Marie Designs.