There is no better feeling than rejuvenating your soul floating on waters, in a beautiful sauna. It is one of the best experiences that allow your weary body to relax in serenity with the tuneful sound of flowing water. It certainly helps to melt away the stress and pressure that you have had in your personal and professional life.
The feeling could be more calming and refreshing if the sauna you are floating on is amidst nature, where you can hear sounds of soothing bird chirps and flowing water. Since it's the holiday season, you might be planning to have a quixotic vacation with your soulmate, and there is nothing better than sailing in a delightful floating sauna in an exotic location.
So, have a look at these 12 beautiful floating saunas that are perfect to make your holidays memorable.
Veetee saunas in Estonia
Want to relax amid nature in serenity? Have a look at these two enthralling floating structures that function as a calming shelter, and a fireplace to endow commutes with thrill during vacation. The structures are located in Estonia's forest, on Soomaa Lake.
They both are constructed by Estonian Academy of Arts' architecture students with the assistance of tutor – architect and artist Sami Rintala (Finland), and architect Pavle Stamenovic (Serbia).
Entirely made using timber, metal barrels, metal strapping tape, and screws, both boathouses have a different angular design.
Both of them have an amazing rustic appeal that certainly pleases everyone's eye.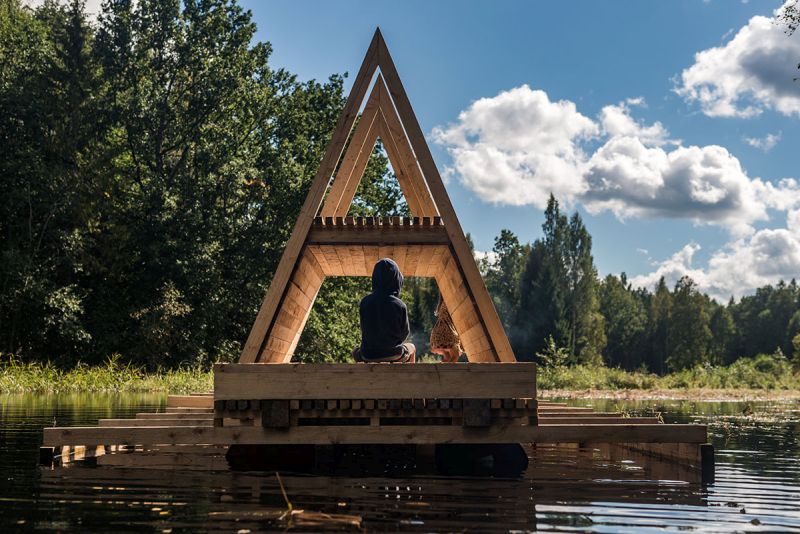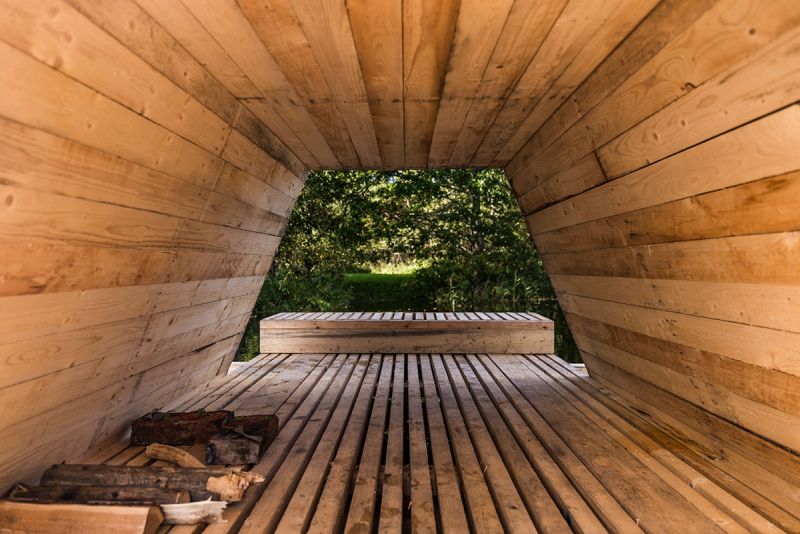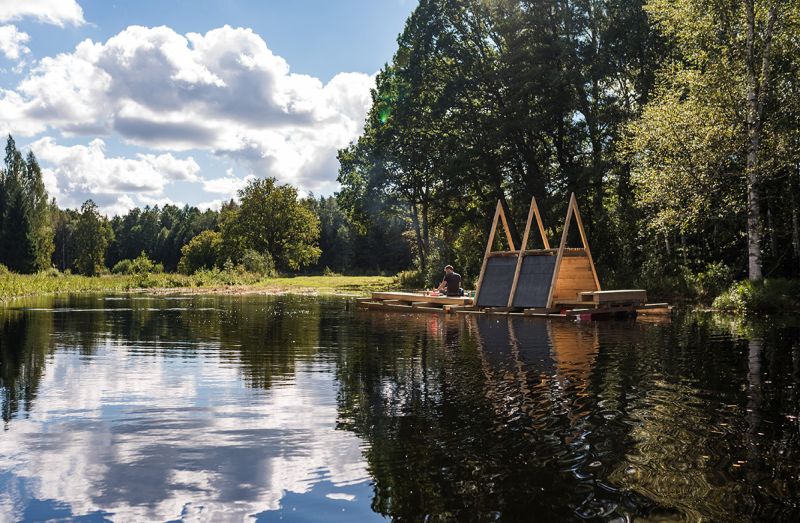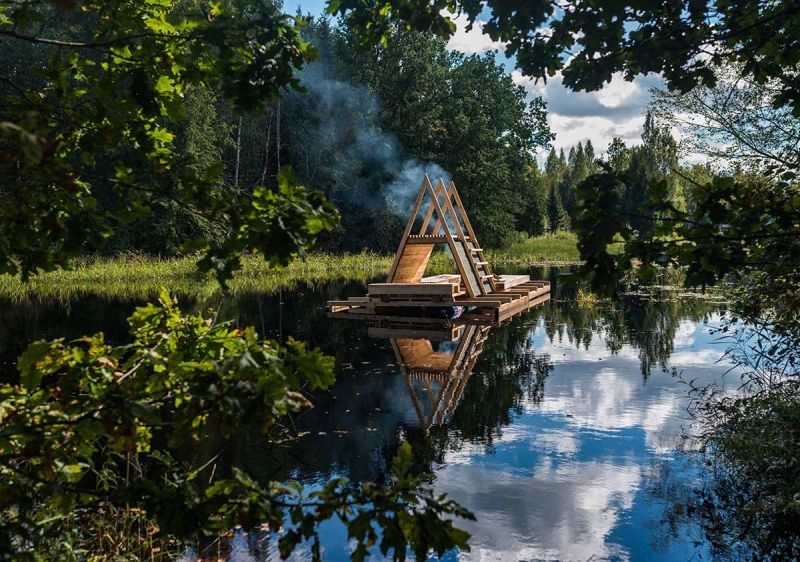 Timber sauna on Swedish Lake
How about a captivating timber structure that floats seamlessly on a Swedish lake in a remote location amid wilderness? It can be a dream come true for true wanderlusts. Have a look at this charming sauna in Åmot, Sweden constructed by Small Architecture Workshop.
It is a collaborated firm of architects – Andrea Masperi, Giulio Marchesi, and Valerio Panella. The enacting blackened-wood-made house features two rooms (one with a fire pit) a patio, and two large windows that provide an eye-pleasing view of the Swedish lake.
The house also has a big glass door at the front that offers a 360° overview of the lake and forest around.
Spending time in this floating sauna can definitely be a memorable experience for travel buffs.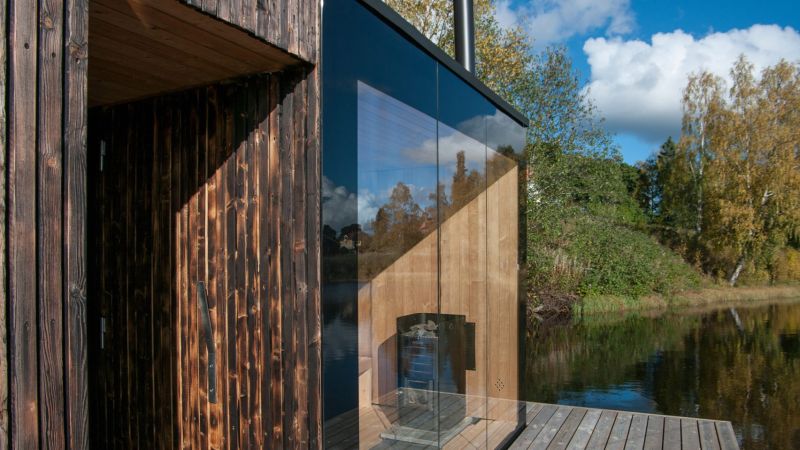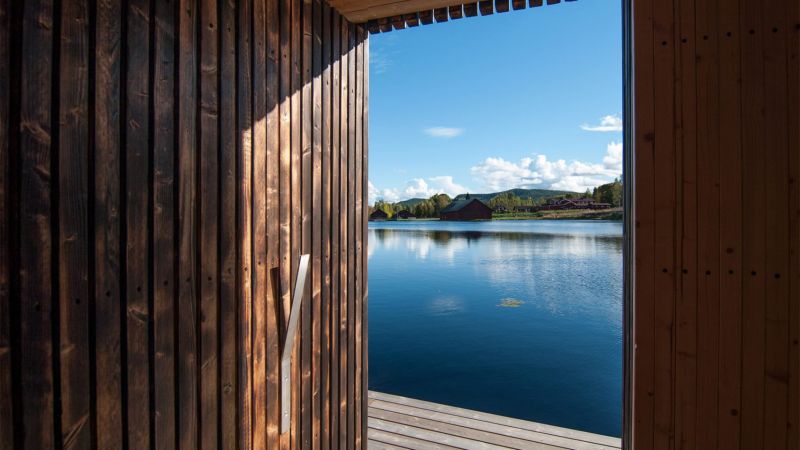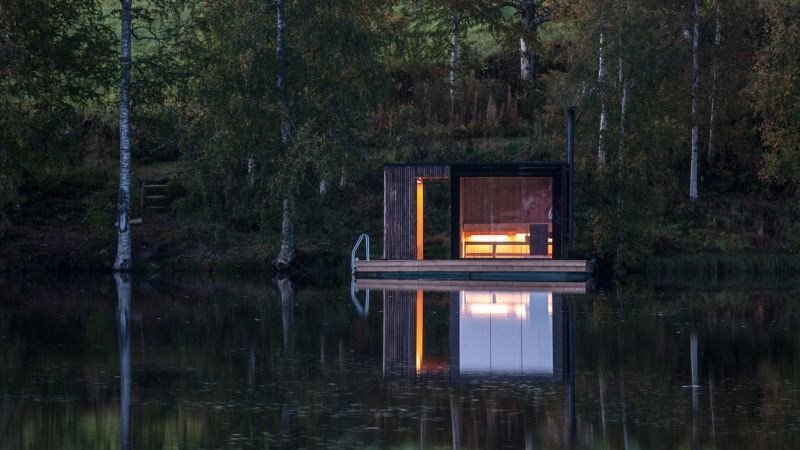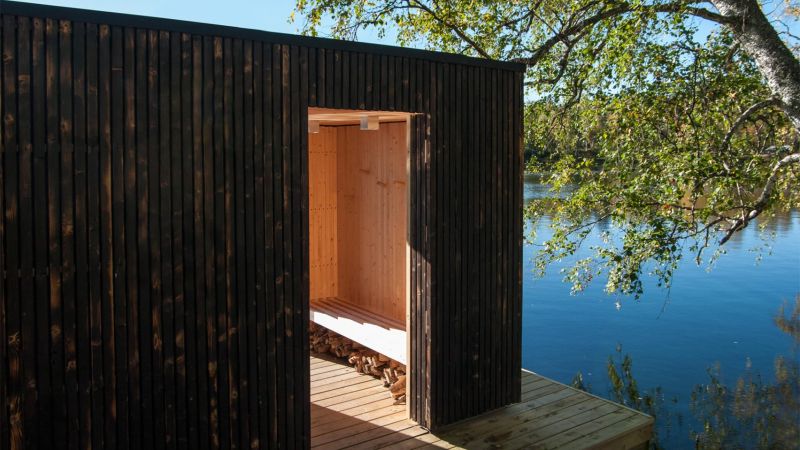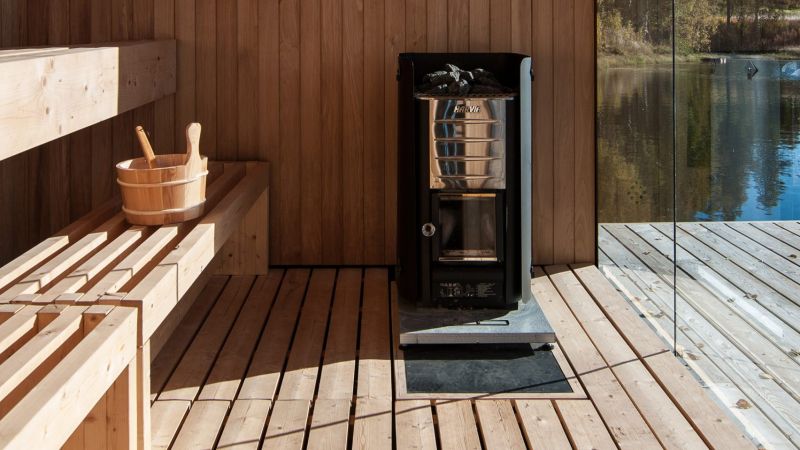 Saunalautta multi-deck sauna
Want to experience quality time floating on water with your family and close friends? Rent this multi-deck sauna called Saunalautta (bath raft). The gorgeous structure is constructed by a group of friends in Joensuu, Finland in 2012 for aqua lovers to spend a fun time with all important amenities of a house.
The platform carries a fully-fledged home that uses repurposed plastic drums to float on the water. You can do so many interesting things living in this house like – taking a dip in the lake, doing fishing and enjoy grilled fish on a portable BBQ on the second floor, or freely enjoying the sunshine lying on the hammock hung on both of its floors.
If you find yourself in Finland, make sure to hire the raft for a day or two to experience one of the world's most unique saunas.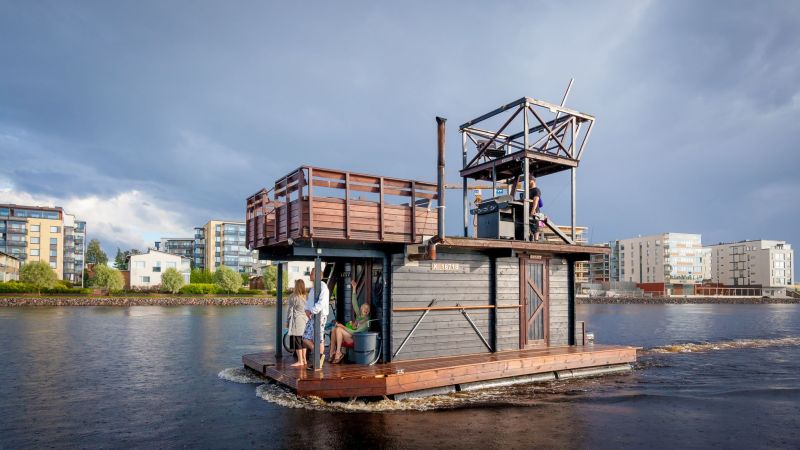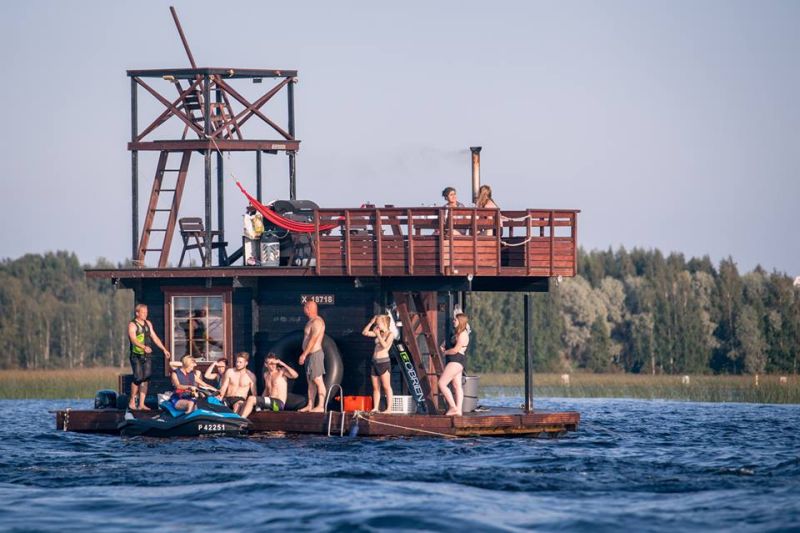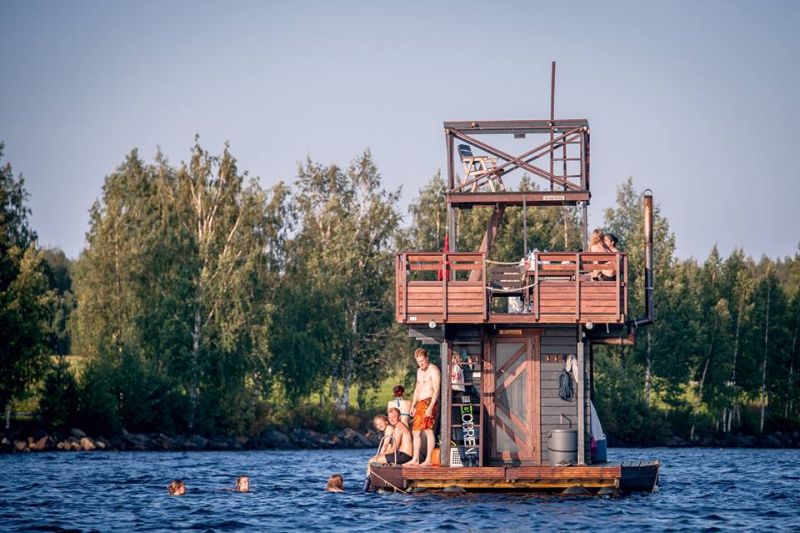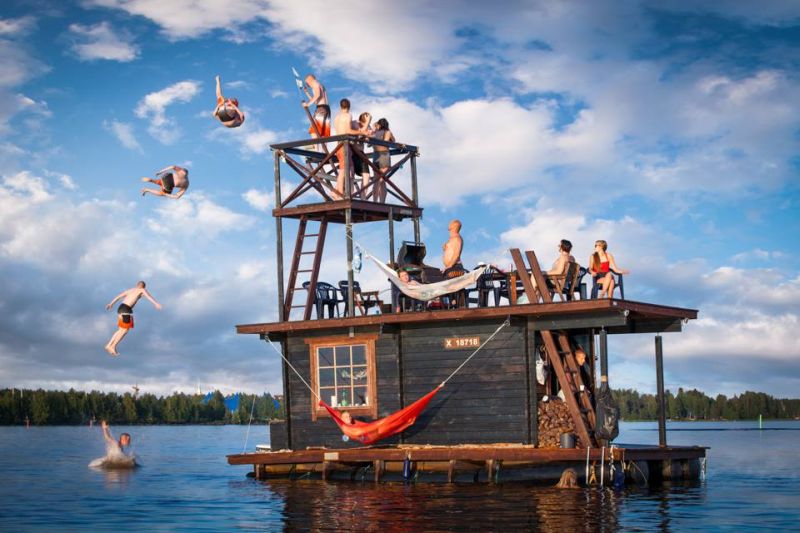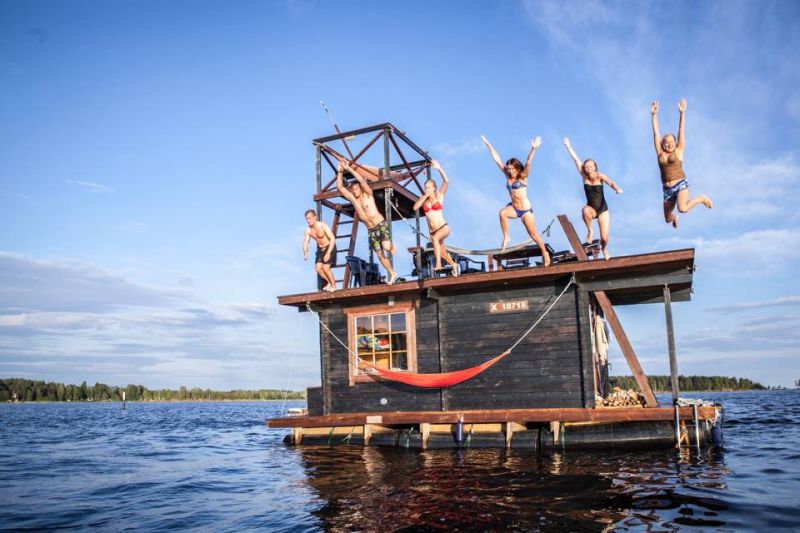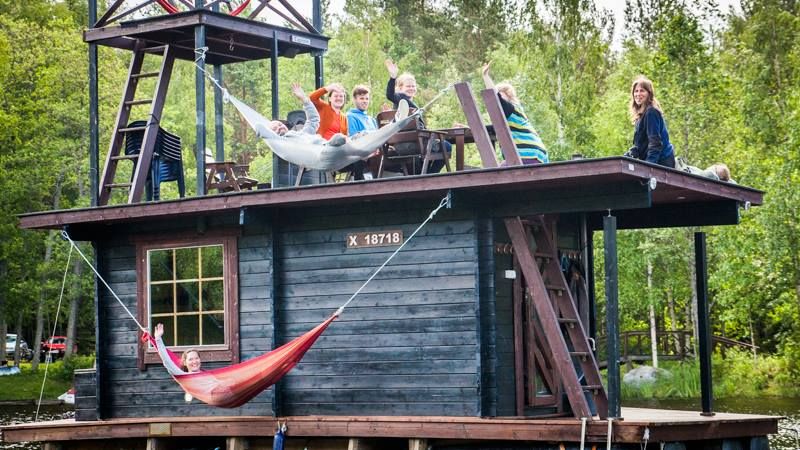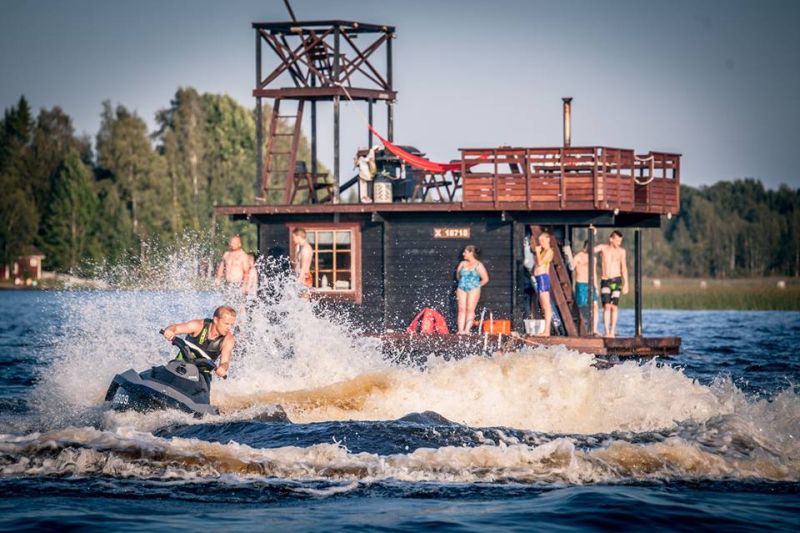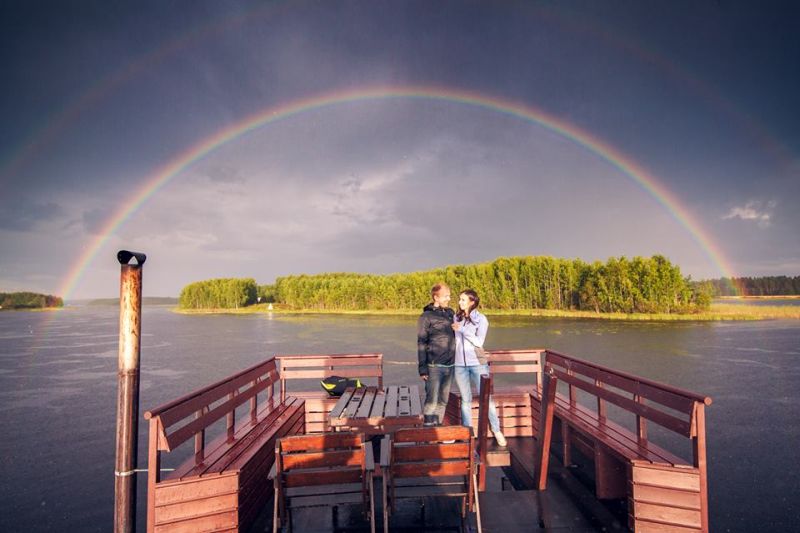 WA Sauna by goCstudio
Experience the WA sauna by an architecture firm called goCstudio. Located in Washington State on the Lake Union, this sauna is an exquisite creation of builders – goCstudio and Greg Lewis, and engineers – Kevin Winner and Swenson Say Faget.
The 14-inch high and 2,041kg heavy floating structure is a great example of a buyout architectural work. It is ideally made for people who love to swim and swoop deep into the water to experience marine life.
The structure has a comfortable shed to relax uses 6 steel casters to float over the water of Lake Union.
It is a great hub for swim fanatics to ensure a great fun time with their swim buddies.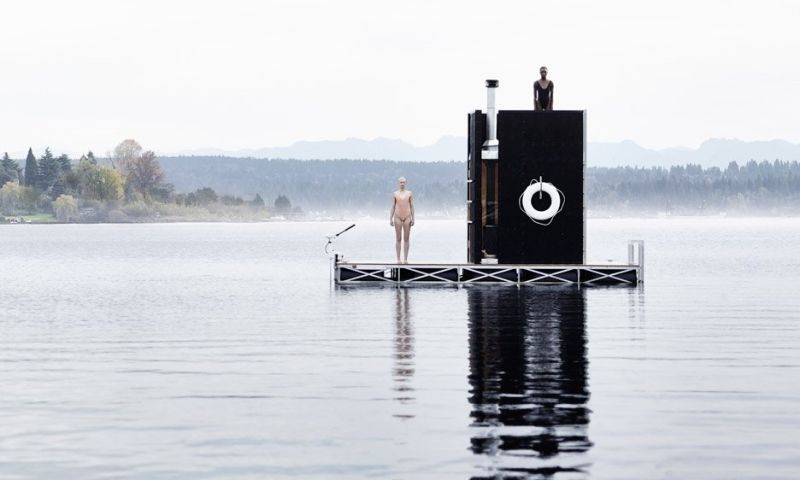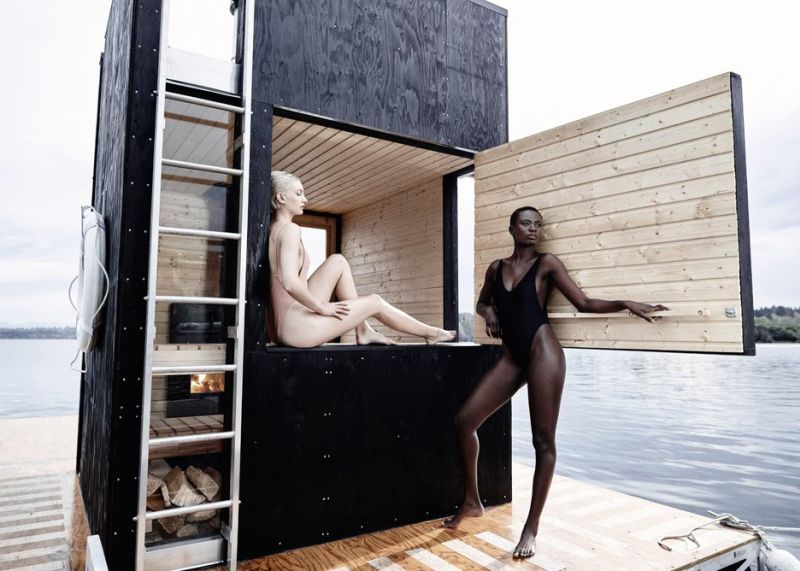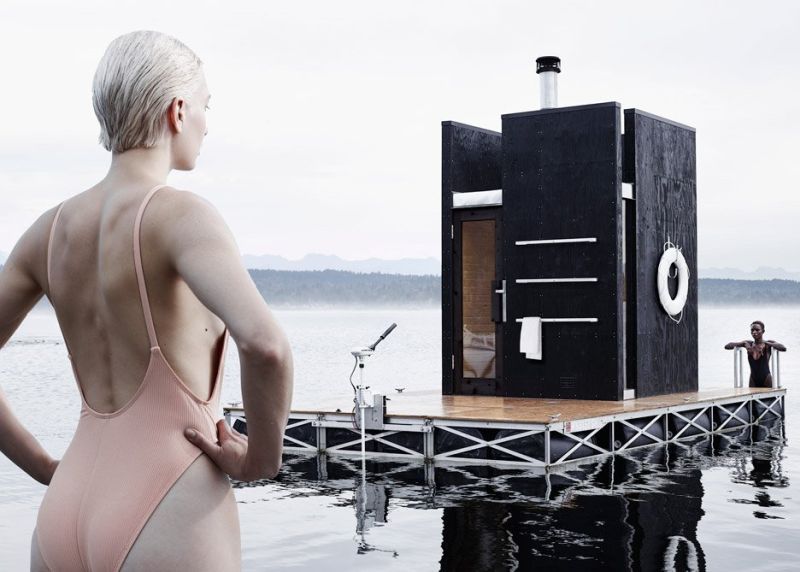 Kaluga floating sauna
Experience living in one of the most beautifully crafted floating saunas of Russia. Build in 2008 by international architects – Norman Foster, Francois Roshe, Vladimir Plotkin, Sergey Scuratov and Tatan Kuzembaev; the dazzling floating guest house is located in the middle of a natural cold plunge pool in Finland.
It comfortably accommodates three to six persons at a time, as the house on water floats slowly with Ugra River down to the Zvizhi Village in Russia.
The floating journey from Finland to Zvizhi in this floating sauna is indeed very thrilling and beautiful.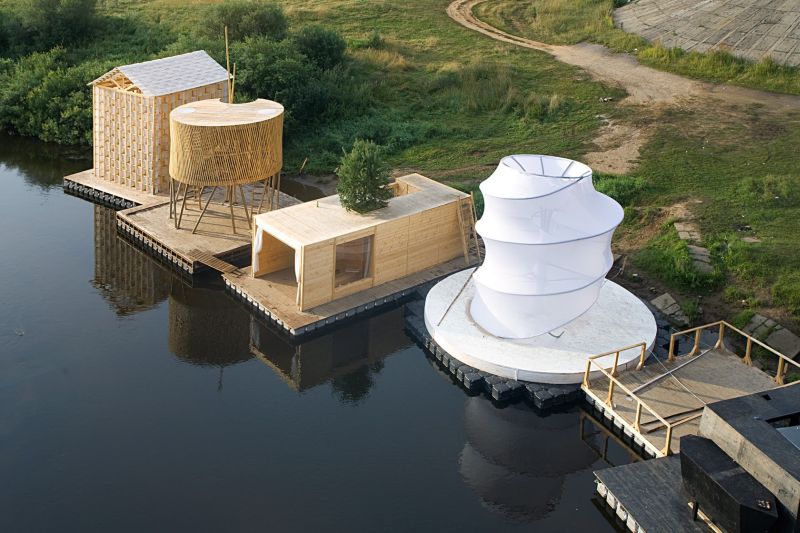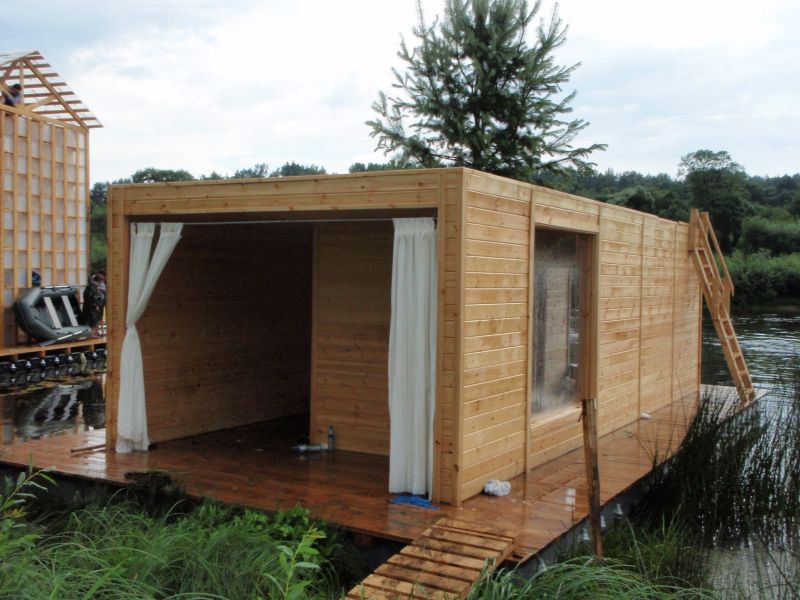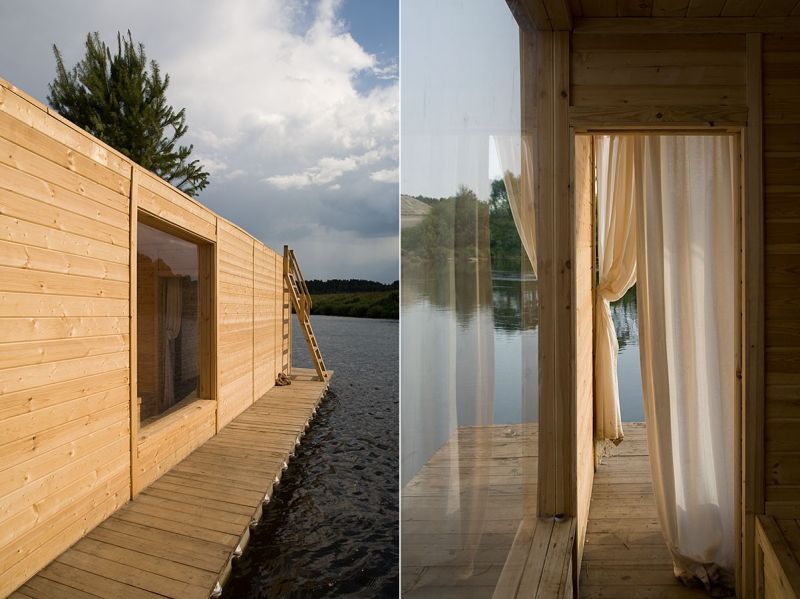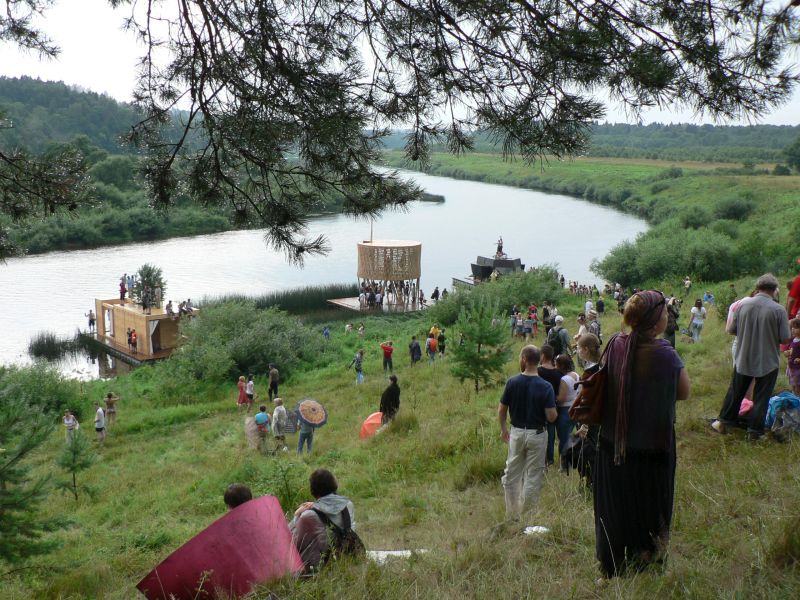 Sami Rintala floating sauna
Have a glance at this elegant floating sauna designed by architects Marco Casagrande, Sami Rintala and Christel Sverre in collaboration with Bergen Art Academy, Norway architecture students in 2002. Constructed using pinewood, stones, endurable plastic and oil barrels, the structure on the water is anchored in the middle of the fjord.
The house is situated in an isolated location, where you can only reach via a rowing boat. The house with transparent walls offers panoramic views of cliffs and blue water around. The shed also offers the right amount of privacy for couples and swimmers.
You can also enjoy a decent swimming session straight through the house floor. At night the sauna shines as a floating lantern and looks so alluring.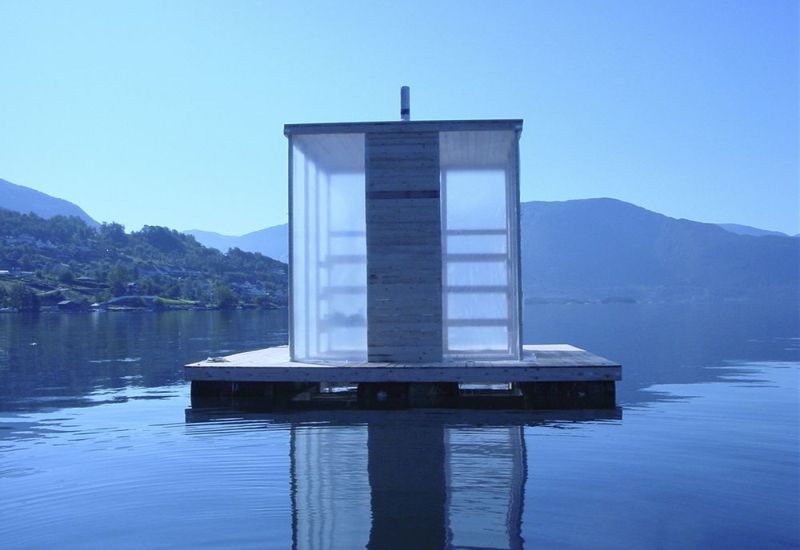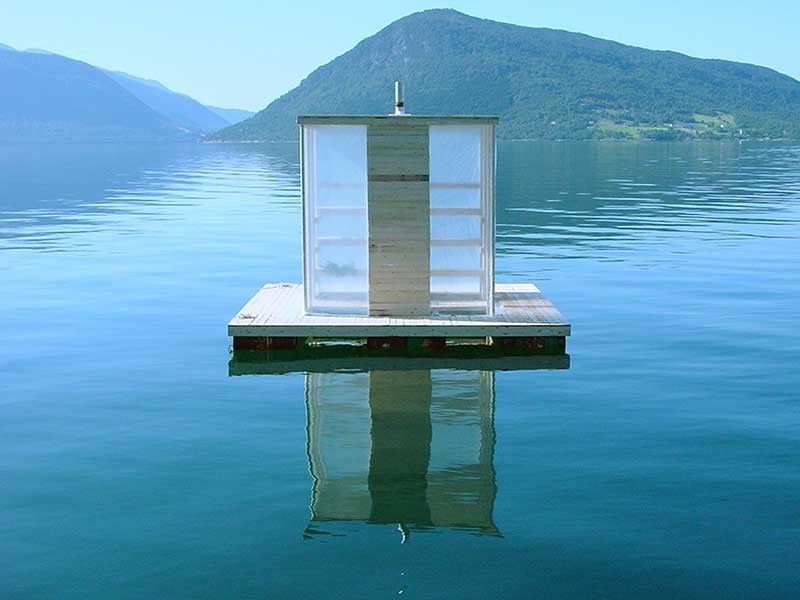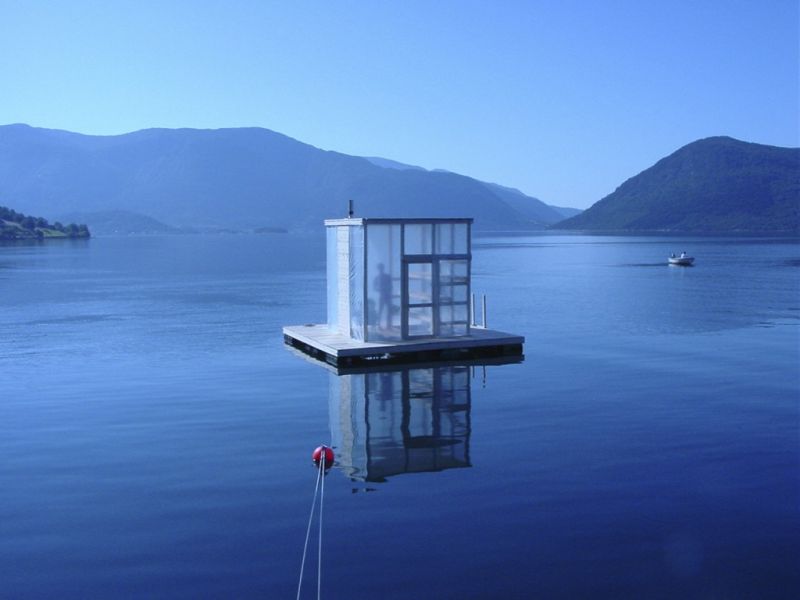 Floating sauna by H3T Architekti 
You will literally fall in love with the appeal of this floating house by H3T Architekti. The house on the water is situated on a lake in Poděbrady, Czech Republic, Europe. Entirely build using barn timber, the structure reflects the appeal of traditional European houses.
The shelter is covered with a wide patio from all around and has three glass windows and a wooden door. The house looks mesmerizing amid the bottle green lake, surrounded by the lovely European town.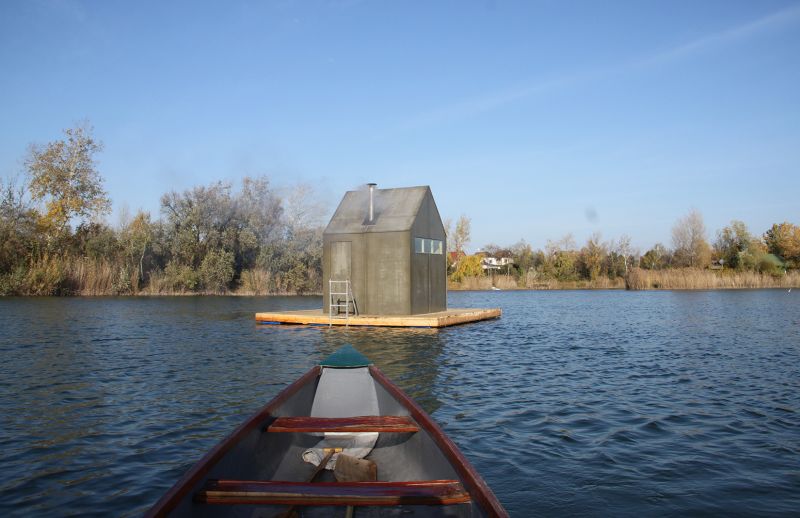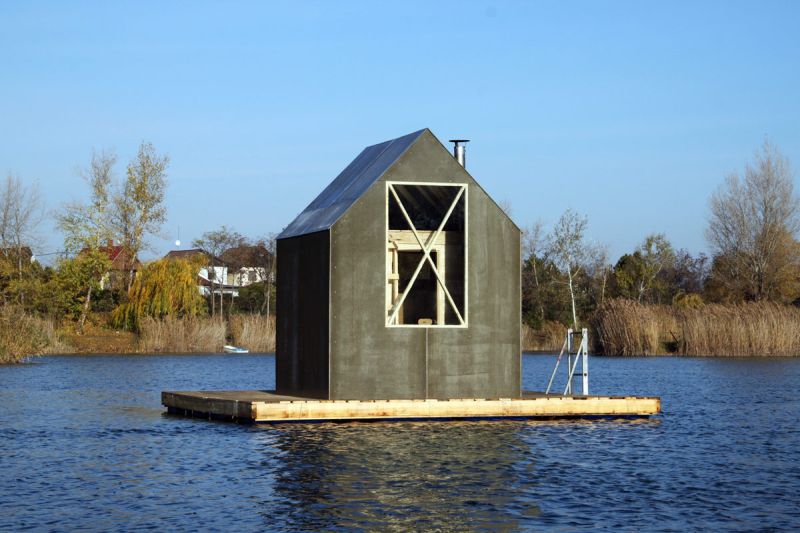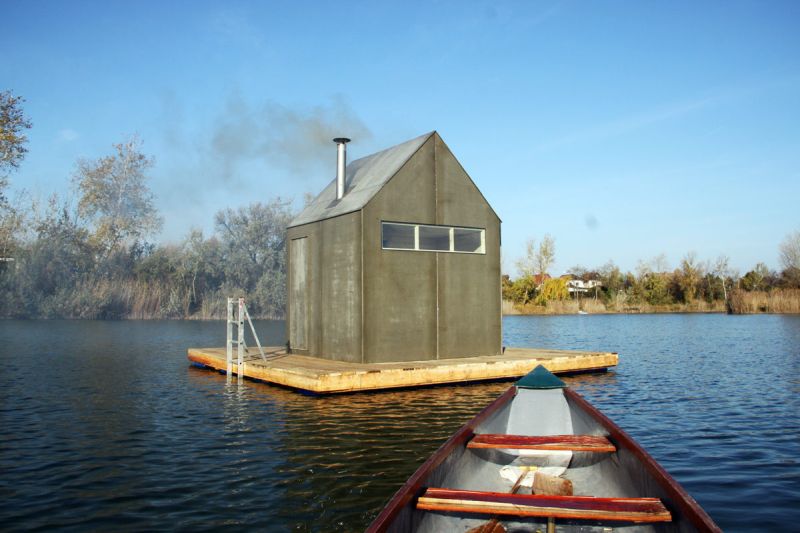 Floating sauna in Helsinki
If you want to celebrate Christmas, wedding or any other special event in an unusual way, consider renting this wonderful sauna in Helsinki, Finland. The house on the water is just perfect for these occasions. Located in a quiet location amid the dense forest, this traditional sauna can accommodate more than 12 people in its multi-deck structure.
Renting this floating house is a great way to celebrate Christmas with close friends and family members in a luxurious style.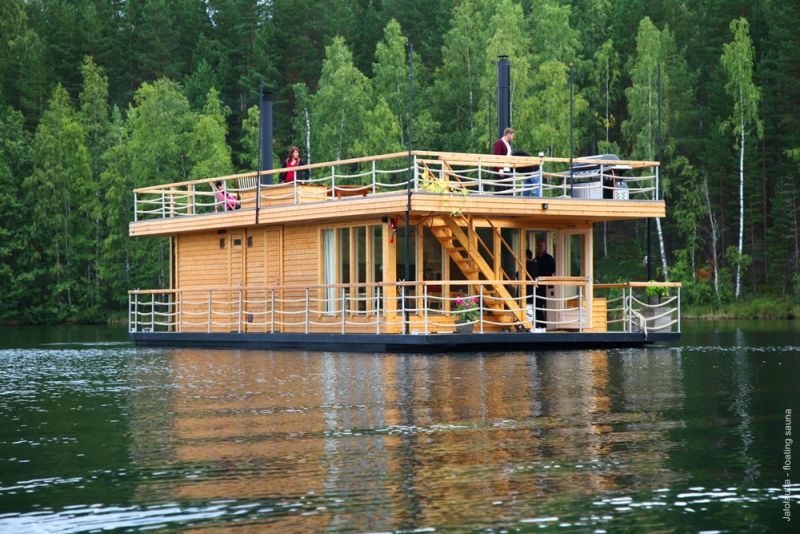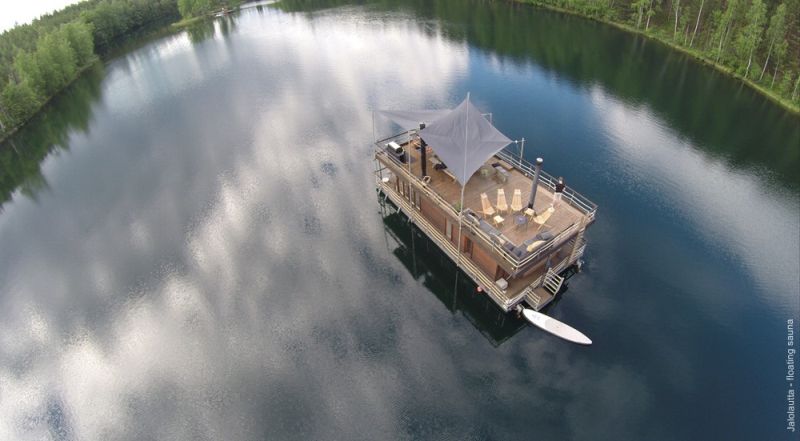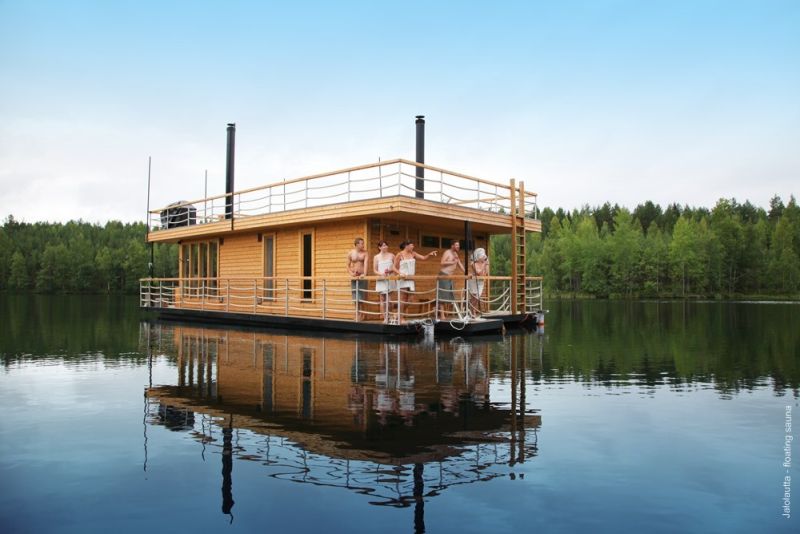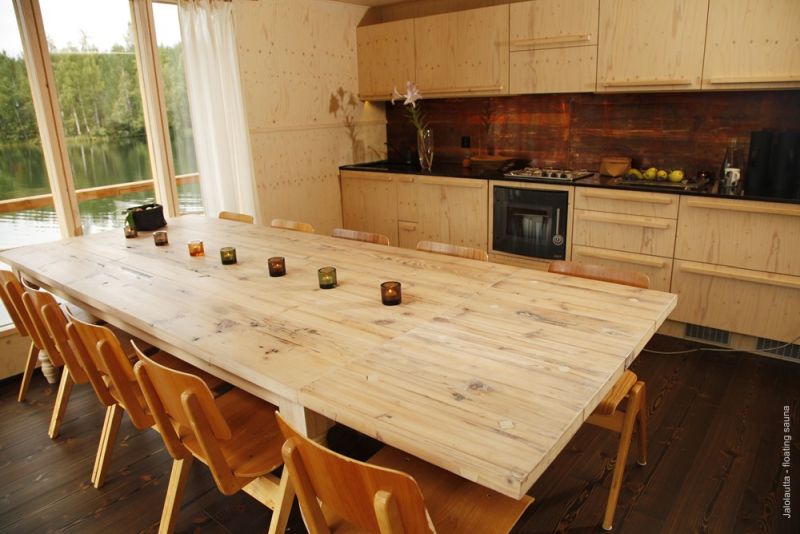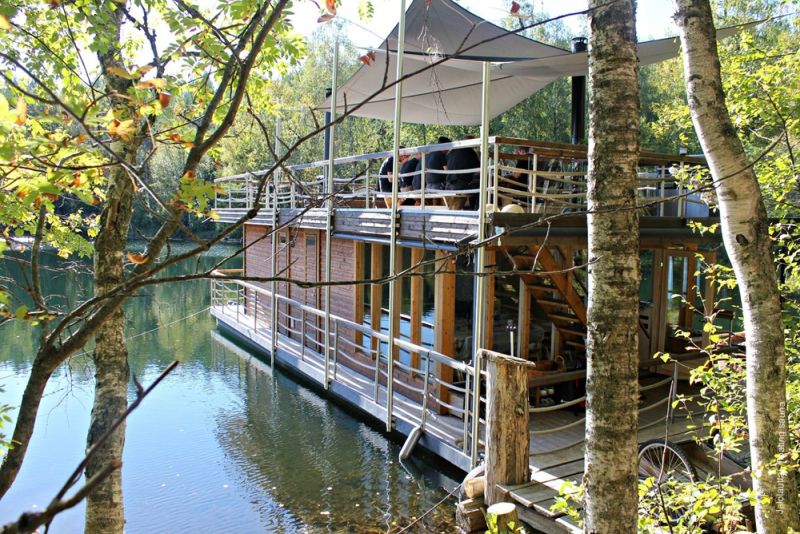 Floating sauna by HGA in Siberia
Have a look at this exclusive contemporary sauna located in the dense forest of Siberia. Entirely made of wood with Siberian larch boarding, the oval-shaped sauna was designed by HGA (Hayashi – Grossschmidt Arhitektuur) to provide travelers a sense of serenity amid beautiful nature.
The sauna with two separate open spaces to relax and rejuvenate can carry 8 to 10 people at a particular time.
There is a separate changing room and space for your relaxation with comfy daybeds and cushions.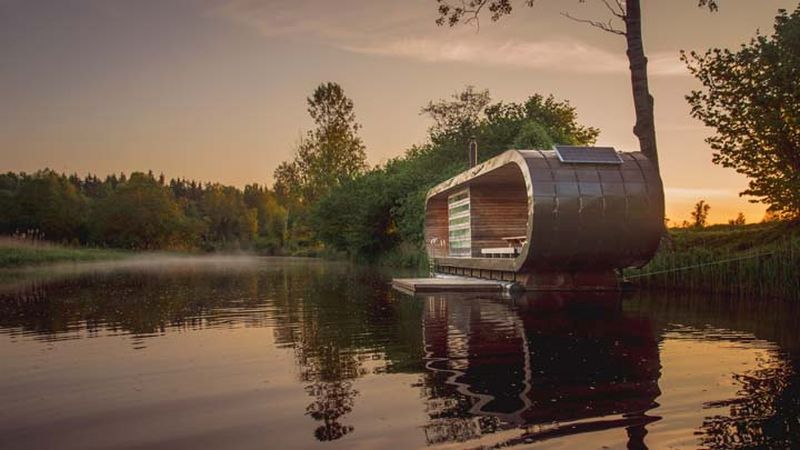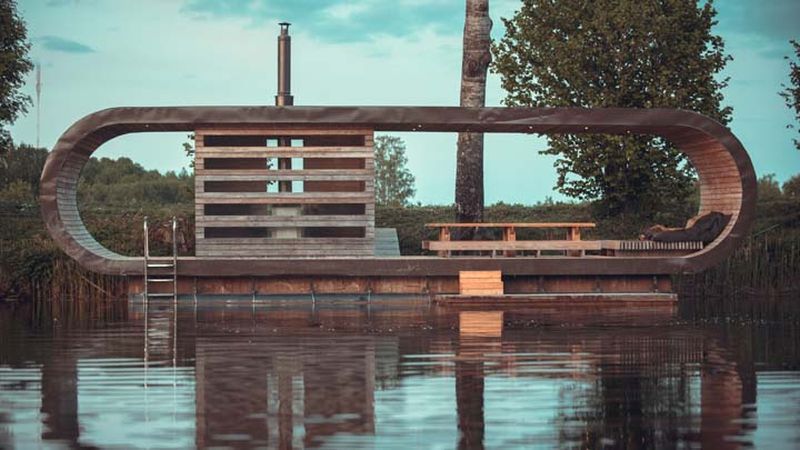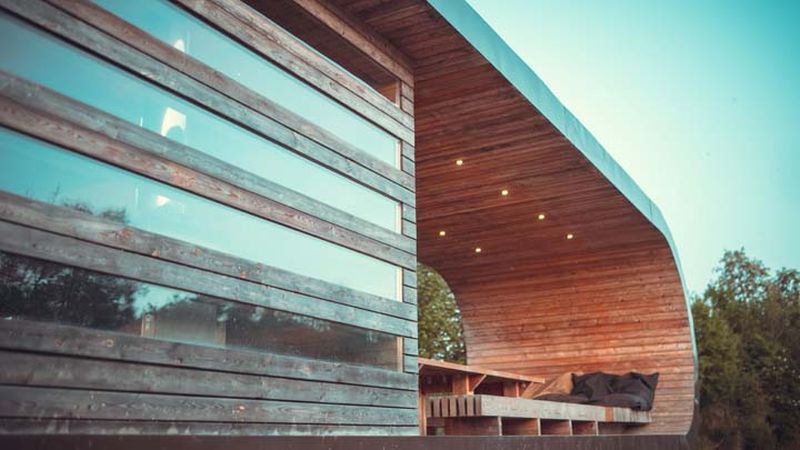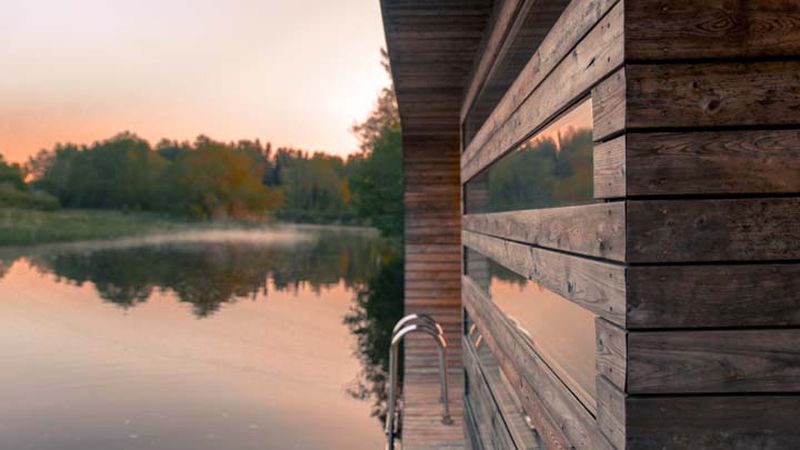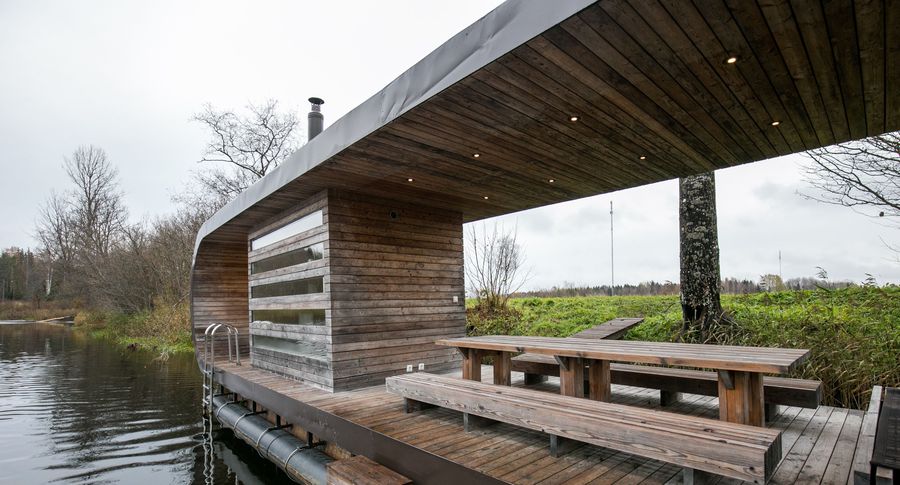 AquaHouse floating spa center
The spa can be a good option to calm your weary body and mind, and it would be better if the spa is located in a beautiful location on a river. Have a look at the striking AquaHouse floating spa center. It is an exclusive sauna by RexWall Group in Berlin, Germany, build on a 400 square-meter wooden platform.
The spa is in existence since 2006, and it serves tourists with amazing massage therapies that certainly help them to unwind tensions and restlessness.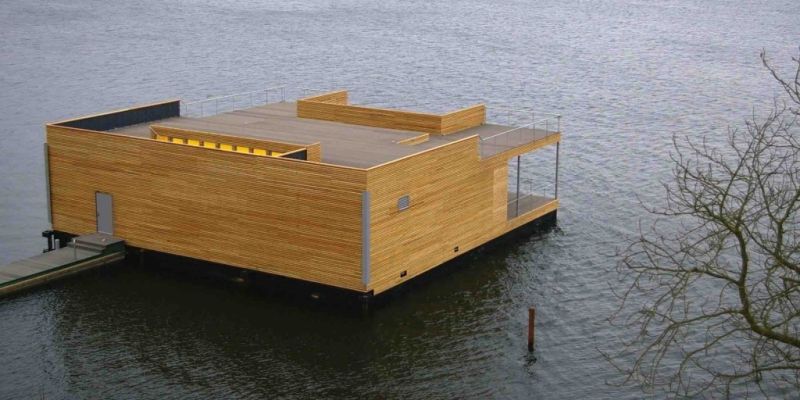 Floating sauna in Teglholm
This floating sauna by Illutron in Teglholm, opposite to Metropolis is gaining everyone's attention in the town. It carries amazing rustic appeal that certainly catches everyone's eye. The transportable sauna accommodates up to 12 bathers at a particular time, and the best thing is that they can choose to stay putt or take a trip around the corner and enjoy the view from windows.
There is also a trap door on the floor, which you can open to explore water underneath. If the temperature is too cool, just light up the fireplace in the middle of the structure.
It also features a closet for your clothes that's discreetly located behind the sauna.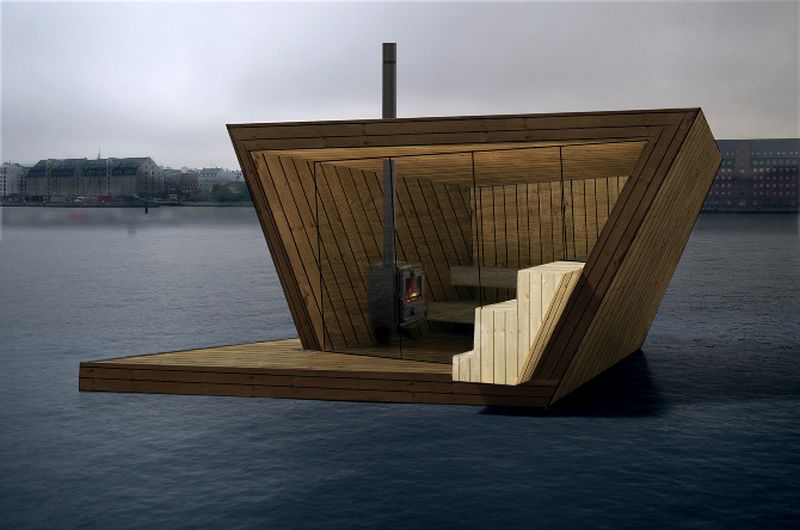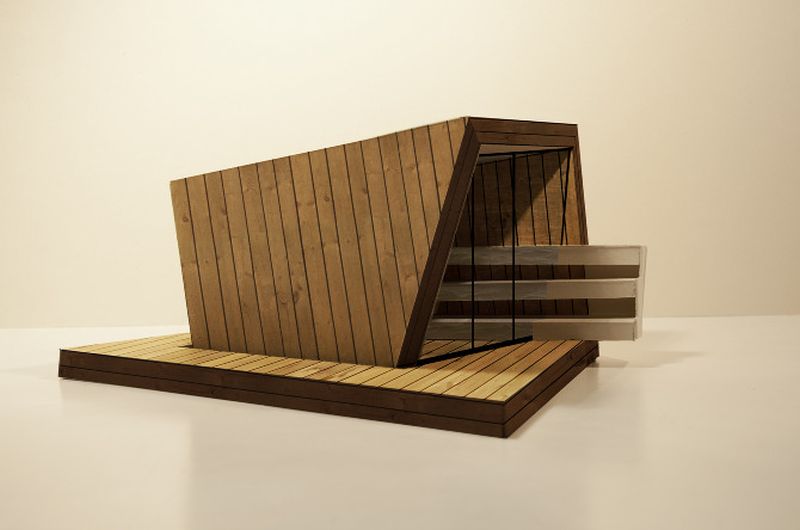 Vala floating sauna
Have a look at another remarkable sauna named Vala by the architecture students of Estonian Academy of Arts. The tranquil wooden boathouse is located in Soomaa National park, Estonia, amid divine boglands and meandering rivers that flood seasonally (mostly in springs) when the water level rises several meters high for a few weeks.
Truly it is an ultimate destination for peace seekers with the serene interiors to unwind every day worries. It also gathers rainwater falling on the roof in a timber pool, in which you can soak your feet and body, and meditate listing to your favorite soothing music.
Couples would definitely love spending their spare time on this adorable sauna.