Your home is a reflection of who you are and what your love. That's why we like to decorate interior of our home with stuff we're passionate about. For instance, music lovers like to display their favorite instrument or posters of musician on walls or furniture, likewise football lovers also have their homes adorned with accessories related to their favorite club.
But what about people who simple live to eat? Well, for all you foodies out there designers have create incredible furniture pieces that are likely to whet your appetite, while expressing your love for food in a unique way. Have a look at these food-inspired furniture pieces, which would definitely make you drool over them.
# Let them sit cake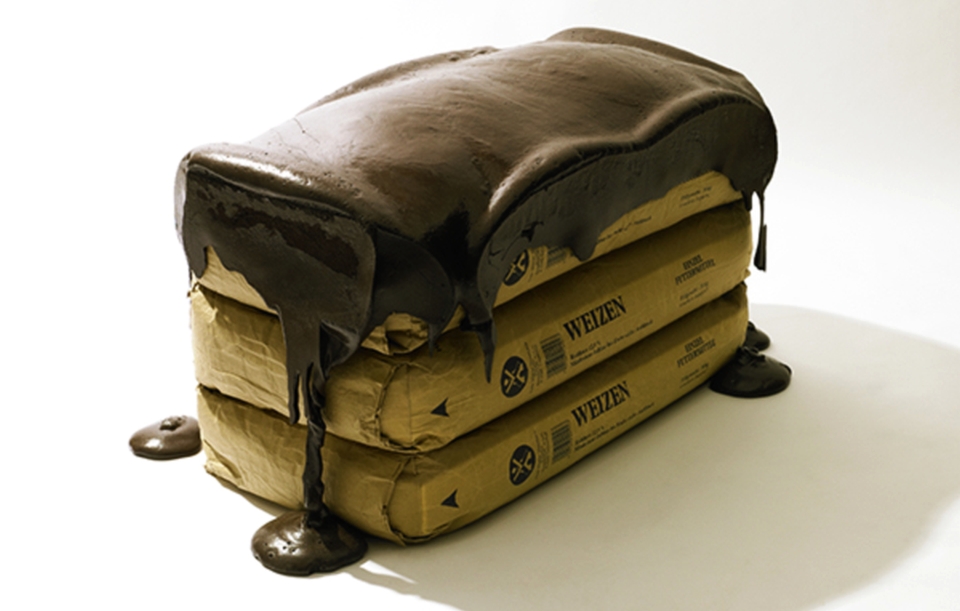 This yummilicous cake seat is designed by Viennese studio Kabiljo. It consists of four virtual flour bags along with thick layer of chocolate melting over them.
# Sink into hamburger-inspired bed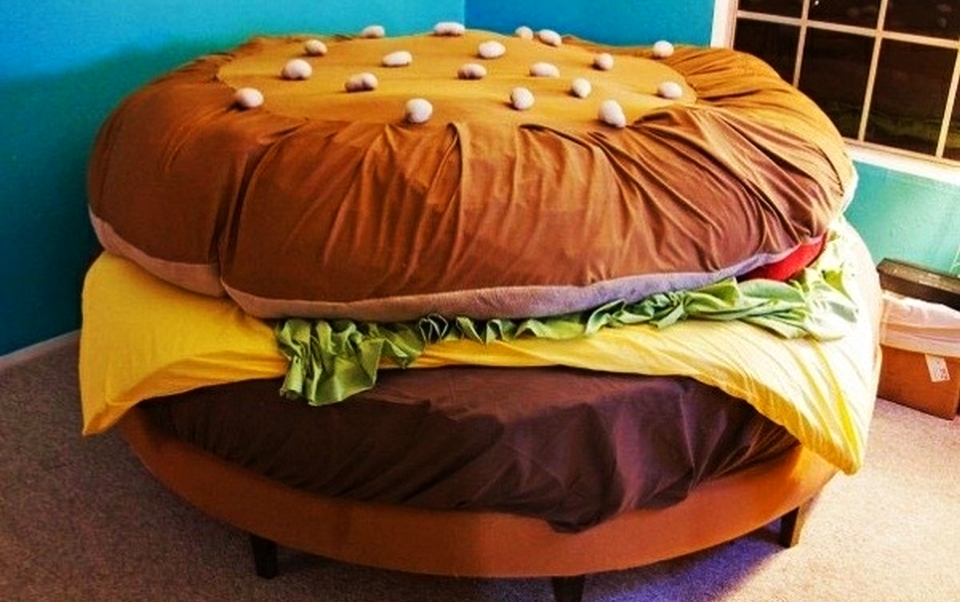 This unique hamburger-shaped bed is not only deliciously funky to look at, but also provides a cozy space for you to sleep in. If you simply love burgers, then it is a must have bedding for your room.
# Strawberry ice-cream cone bean bag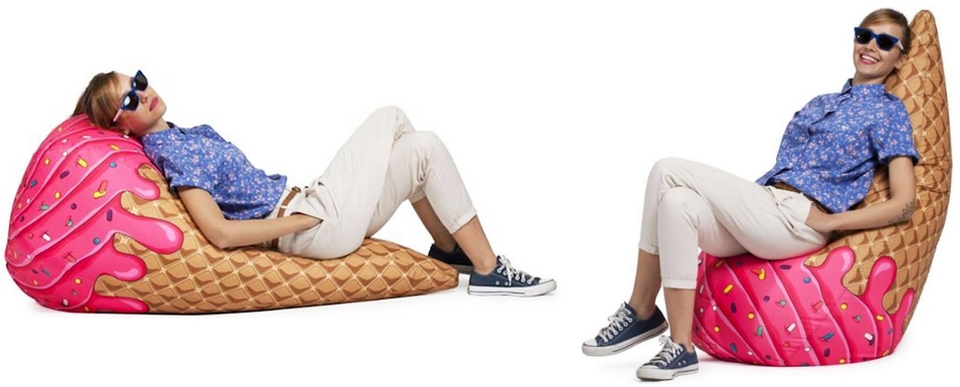 Ice-cream cone bean bag is designed for relaxing in style, meanwhile thinking how many scoops of ice-cream you'll have after your meal.
# Chocolate bar sofa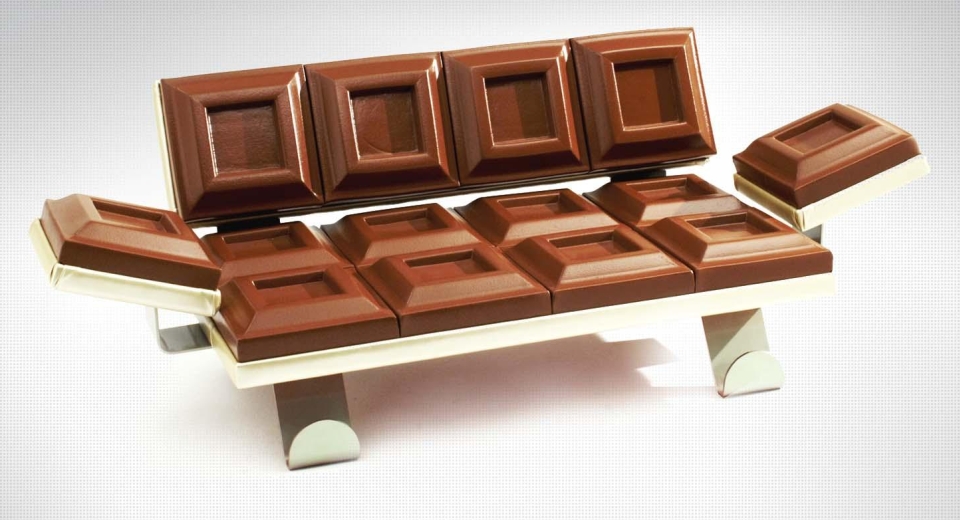 Italian designer Diego Gugliermetto has created incredible chocolaty sofa, which appears exactly like a bar of chocolate.
# Banana-shaped armchair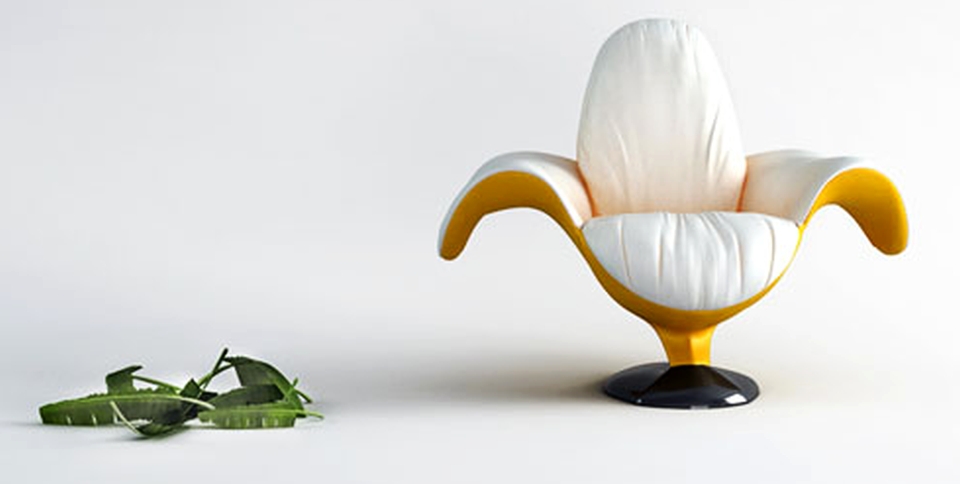 Zjedzony armchair by WamHouse is designed like a banana and its peel is used as armrests. The humrous chair is perfect for the abode of any health-conscious food lover.
# Candy-coated stool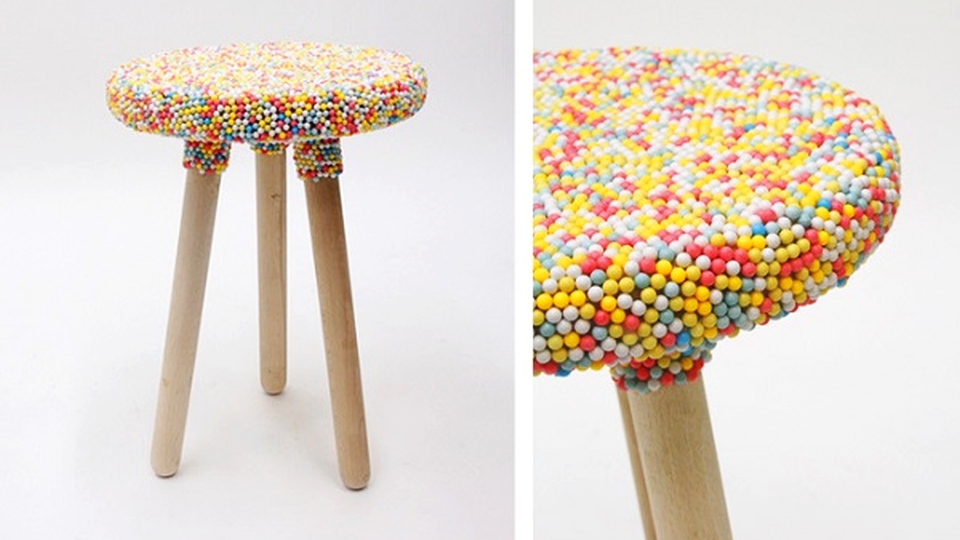 Designer Kirstin Overbeck has created sweet candy-coated stool to add playful touch to average furniture for your contemporary home.
# Ice-cream cookie ottoman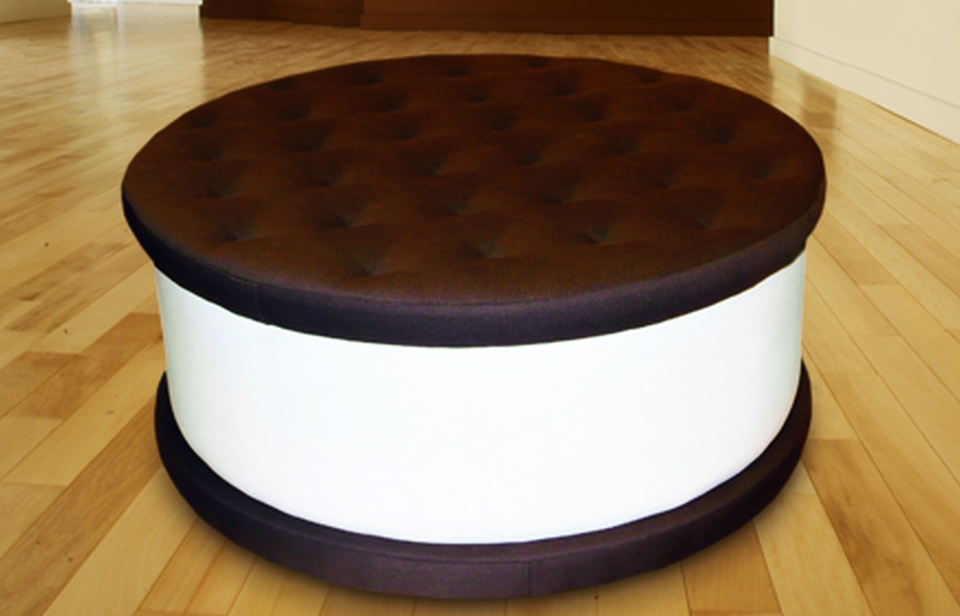 Jellio is delicious-looking ice-cream cookie ottoman, which consists of canvas covered chocolate wafer cushion, vanilla ice cream center covered in velvet and wooden legs. It can be used as a seat or a table, depending on your need.
# Muffin Pouffe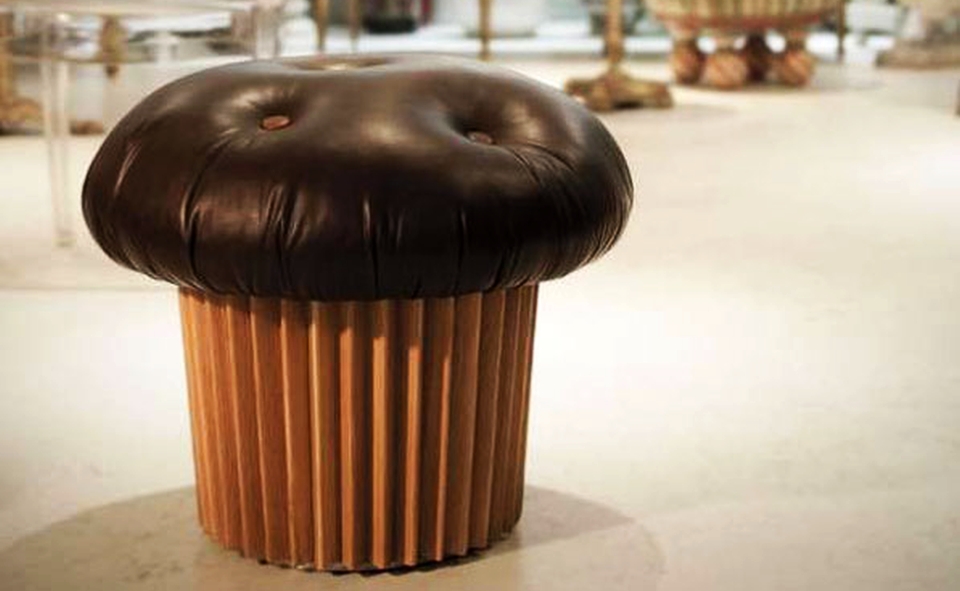 It is a luxurious seating puff with hidden storage space from Italian designer Matteo Bianchi. This seating unit is a must have furniture in homes of muffin lovers.
# Pizza sleeping bag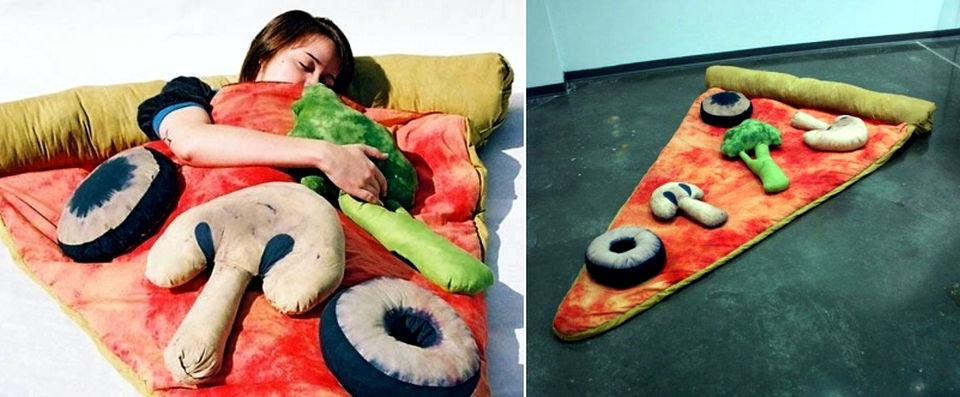 Designed by Etsy shop Bfiberandcraft, this Pizza slice-shaped sleeping bag is made out of recycled quilts for stuffing and dyed fabric for cheese and sauce, making you dream of pizza all the time.
# Candy bowl-shaped sofa set

Candy-Bowl Shaped Sofa Set by Matteo Thun is designed to add vibrant touch to any interior. It comprises of strategically placed multi-colored or white cushions, adding comfort and elegance to the furniture.
# Cupcake seat for comfort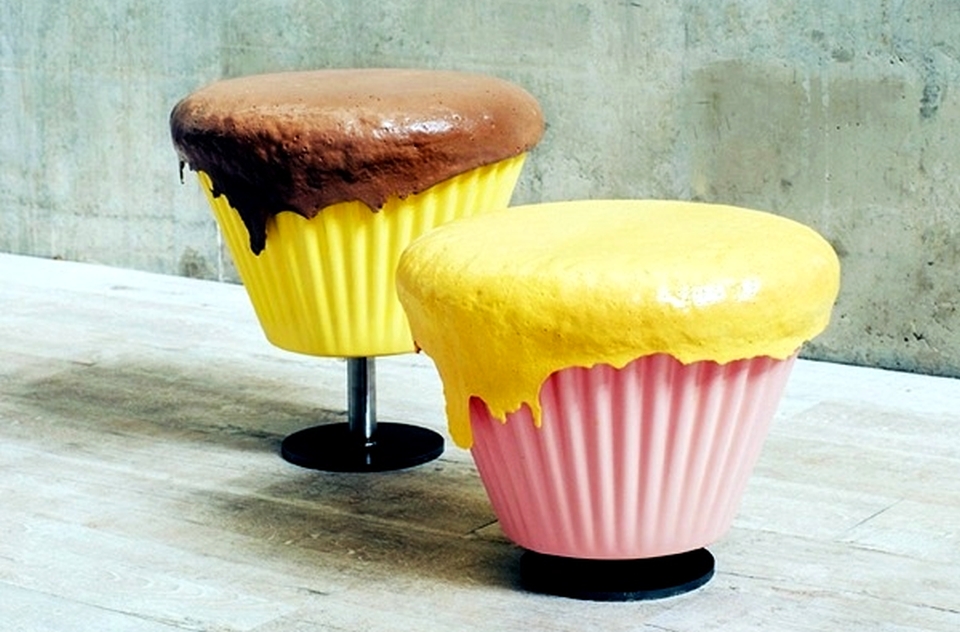 Created by the designer Boggy Chan, this sweet furniture is shaped like yummy, colorful cupcakes. The seating units are shaped like baked items, while evoking sweet warm feeling.
# Bigne poufs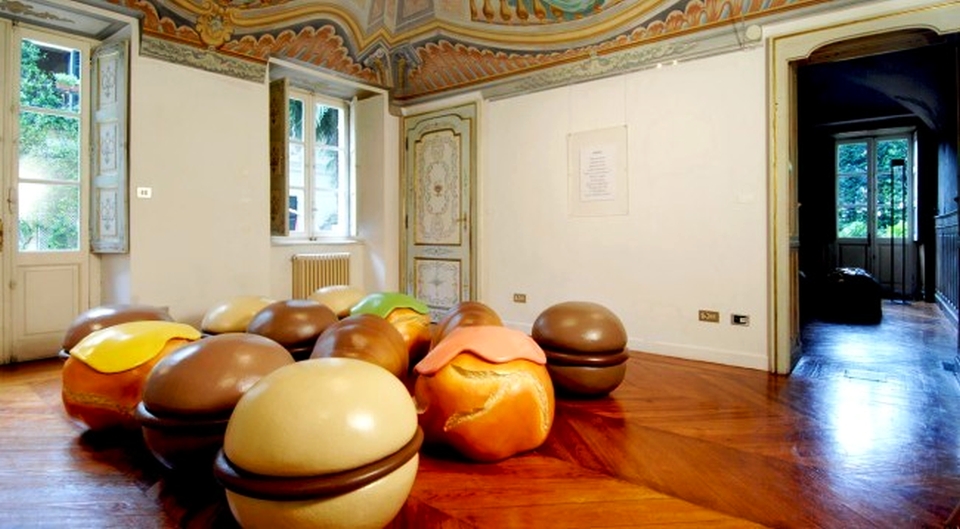 Another sweet furniture creation by Diego Gugliermetto comes in shape of palatable Bigne poufs. The collection includes various designs and shapes of yummy dessert.
# Macaron stool by Kensington Design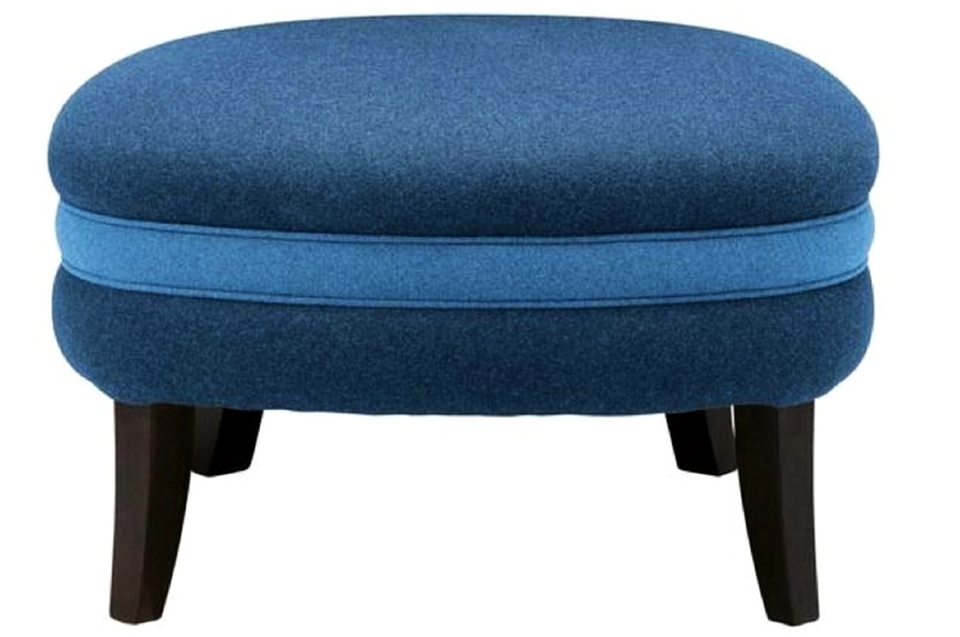 This amazing stool from Kensington Design is inspired by French sweet meringue-based confection. Its blue-hue is not only offering yummilious decor to your home, but is quite comfortable as well.
# Sushi furnishing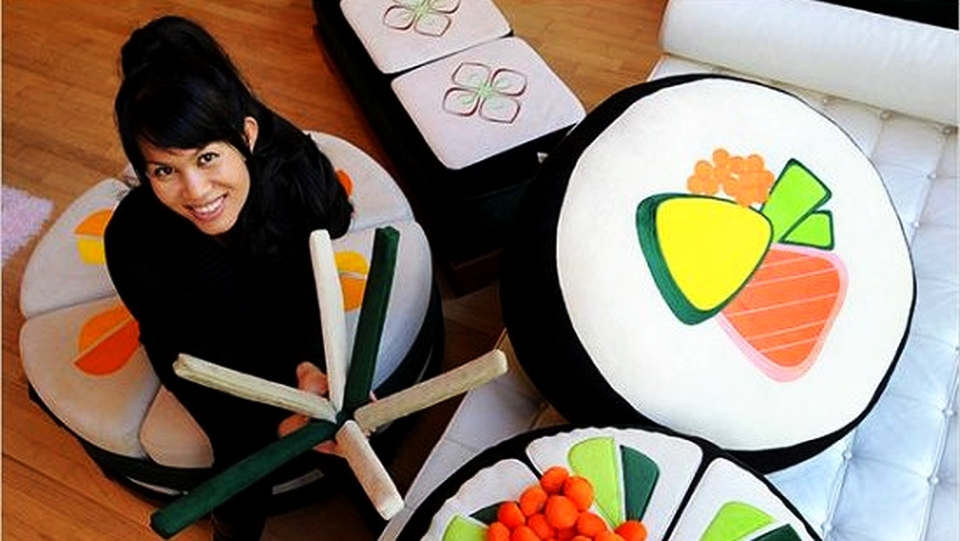 Atlanta-based Designer Mimi Tin has come up with Sushi-style line of furniture to give unique makeover to your modern home.
# Pancake bean bag chair with butter pillows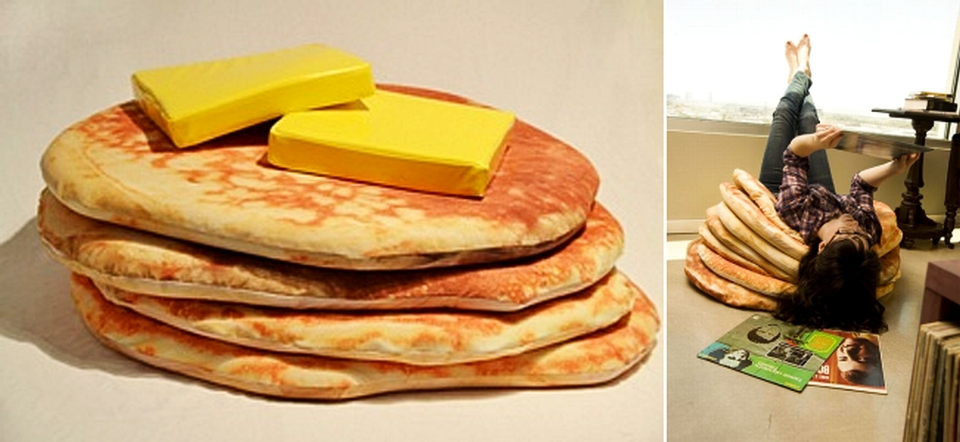 Make your mornings more filling and tasty with the pancake-shaped bean bag chair by Todd and Bryan. The bean bag chair comes with additional butter pillows, giving proper meal-like touch to regular furnishing.
Aren't these food-inspired furniture pieces making you feel hungry? Well, try to refrain sinking your teeth into mouth-watering, inedible furniture and look out for similar food to please your taste buds.