On the occasion of World Music Day, we present to you a unique collection to give a music-themed touch to your home. If you have a passion for music, then these musical home decor items can give a whimsical touch to your interior. From guitar-themed table to music note bookshelf, we have tried to bring forth the best stuff you will need to show off your love for music. If you are searching for perfect music home decor items, you can make take a cue from the ideas listed below to add a musical element to your home interior.
Cassette Tape Doormat
Bring the 80's memory back to life with this cassette tape doormat. Right from the moment your kids or guests step inside your home, they will be driven with its retro looks. Millennials surely miss the era of cassettes and it is a creative way to bring back those old memories. This easy-to-clean doormat has holes just like a standard cassette tape. The cassette tape doormat is made of rubber and is washing machine-friendly.
Buy: US$50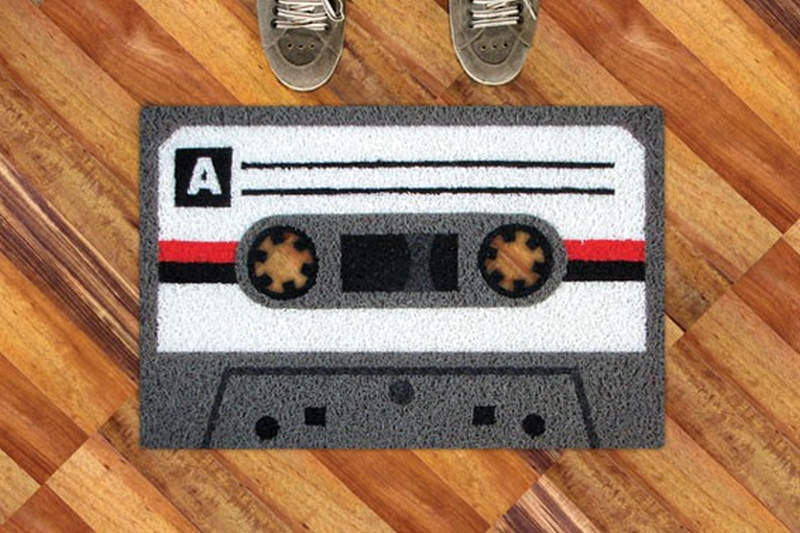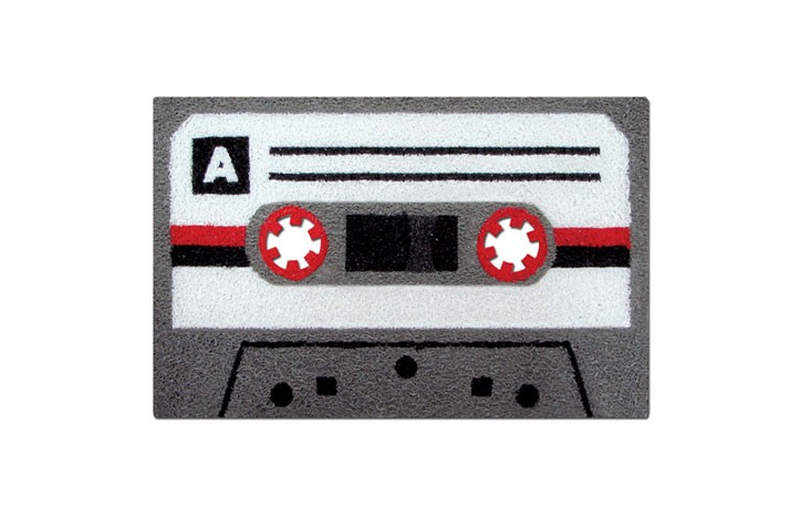 Wooden Drum Nightstand
This table is made from a reclaimed floor tom drum and is ideal to use as a nightstand. It has a large built-in storage chamber and a removable wooden top with two leather handles. The vinyl coating is peeled off to reveal its original wooden body. Adjustable legs offer full freedom to adjust the height of the table as per personal preference. This made-to-order bedside table is generally finished in brown, but you can ask for other stain colors as well. Usually, kids love tingling things, so it can be a perfect item for your kid's room.
Buy: £110/US$139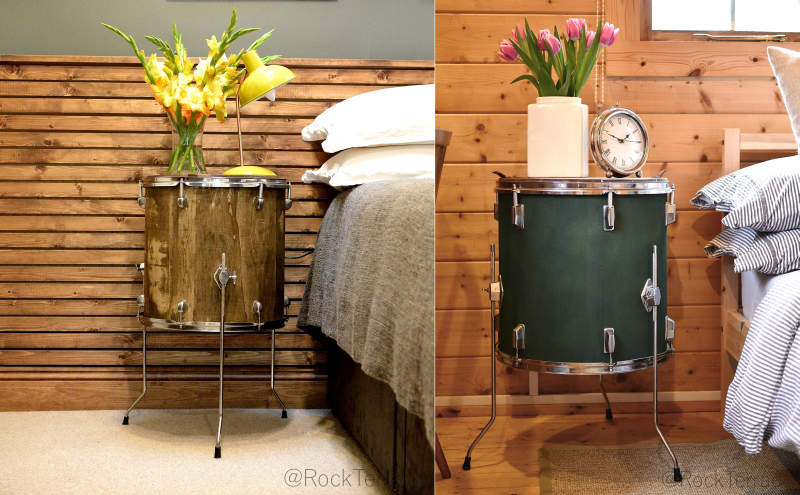 Music Note Coat Hanger
Whether in the office or home, a wall-mounted coat rack serves as both a practical and home décor object. This music note-shaped metal coat hanger is a cool choice if you wish to fill minimalist musical element to your home. There are five metal hooks with round tops to safely hang your coat, hat or handbag.
Buy: US$39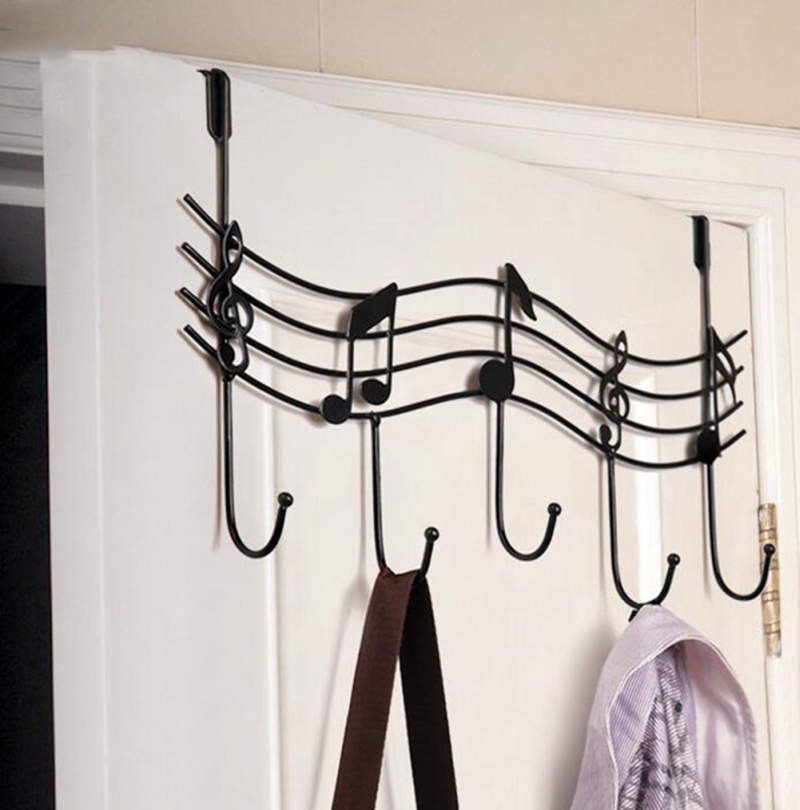 LED Classical Guitar Lamp
This LED Lamp emits light in a lovely guitar shape that will surely light up your night and rock your world. There is a touch button to turn on/off and adjust the color visibility. With this guitar-inspired 3D optical illusion lamp, you can lit up your room in different warm colors. Just plug in the power USB cord and enjoy 50,000 hours of bright light while listening to your favorite Rock n' Roll number.
Buy: US$40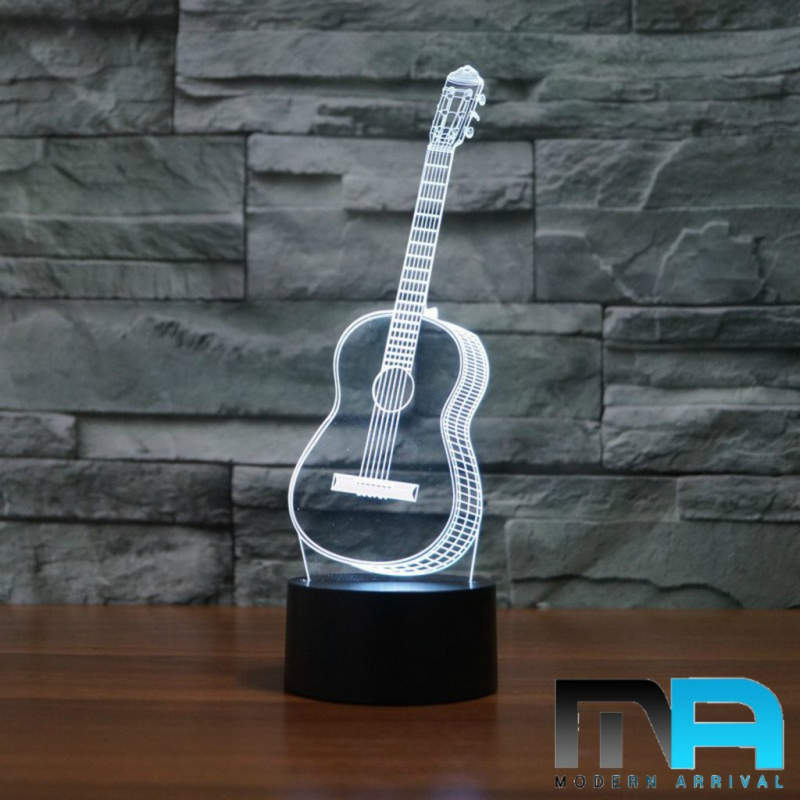 The Violin Bookcase
This wall-mounted bookshelf in shape of a treble clef is perfect for utilizing an idle wall space in your home. It is an interesting storage unit to display your books, CDs, and other collectibles. Any music lover would love to have this one in his/her living room, studio or music room.
Buy: Price on request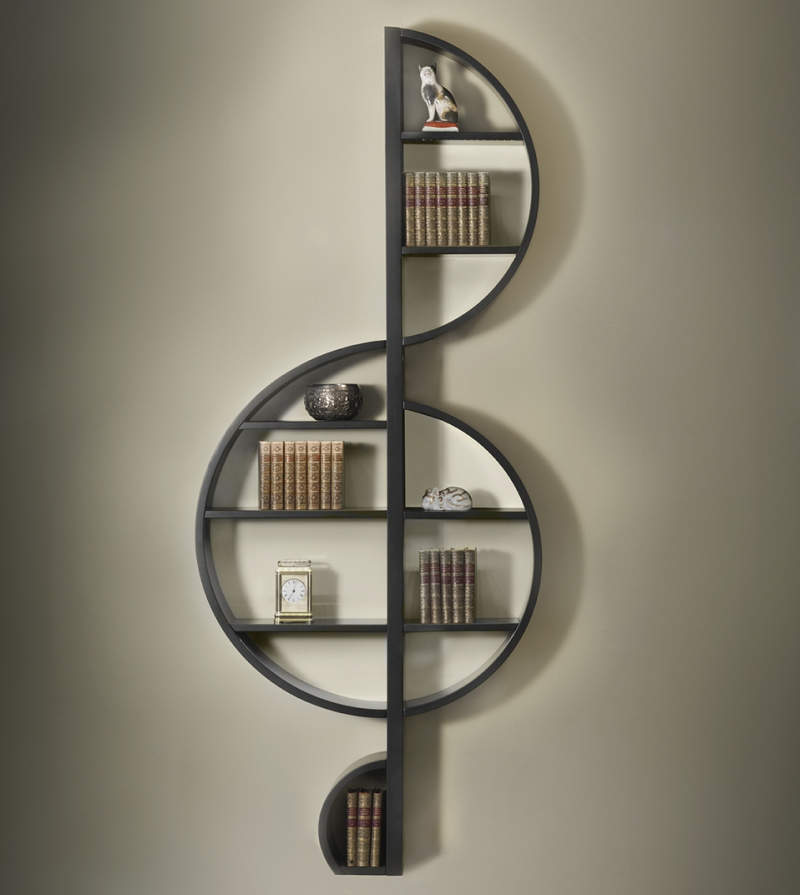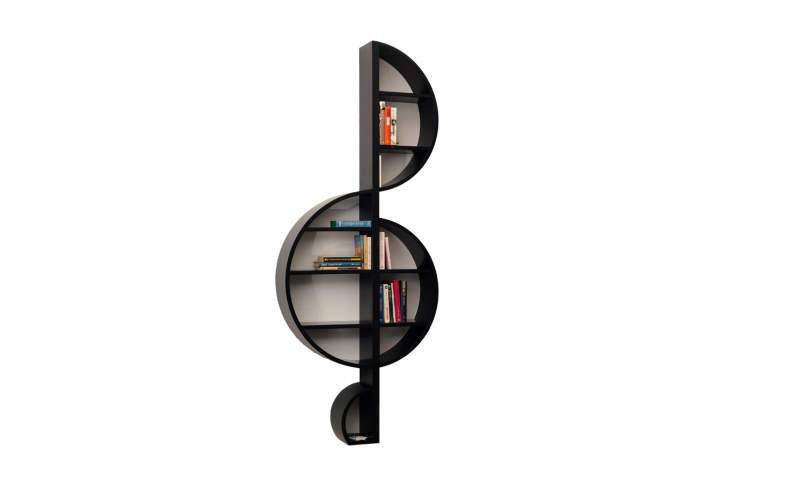 Rhythm Metal Wall Sculpture
Designed by Touch of Class, this wall sculpture is handcrafted from steel. This music-inspired wall décor is an array of a large staff, bar line, treble clef, eighth notes, and sixteenth notes. The steel wall art is finished in textured black while treble clef and other music notes are finished in brass. If you are a musician, it will surely add a symphonic touch to your interior walls.
Buy: US$285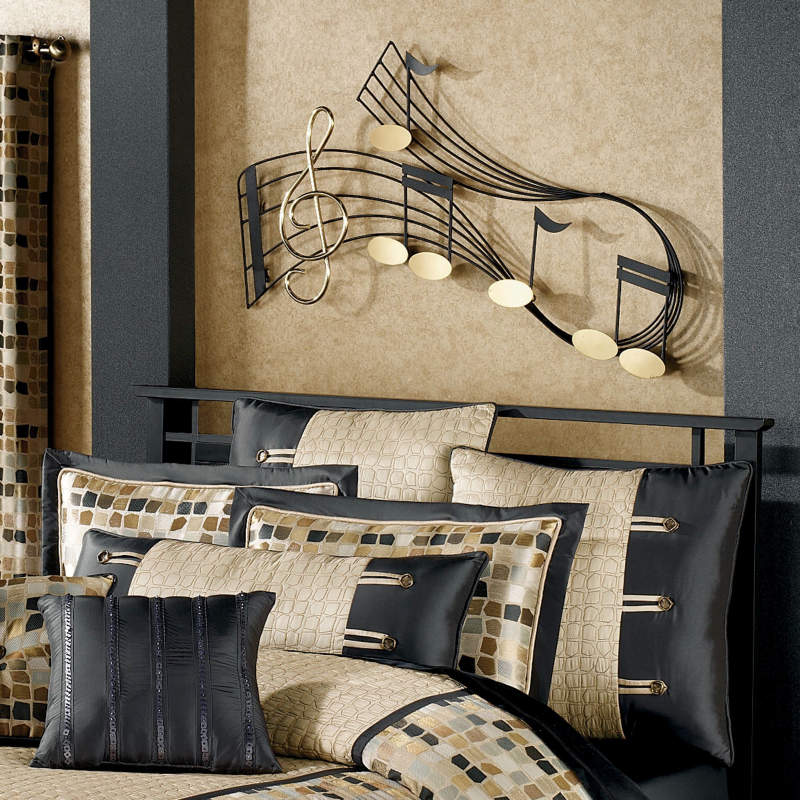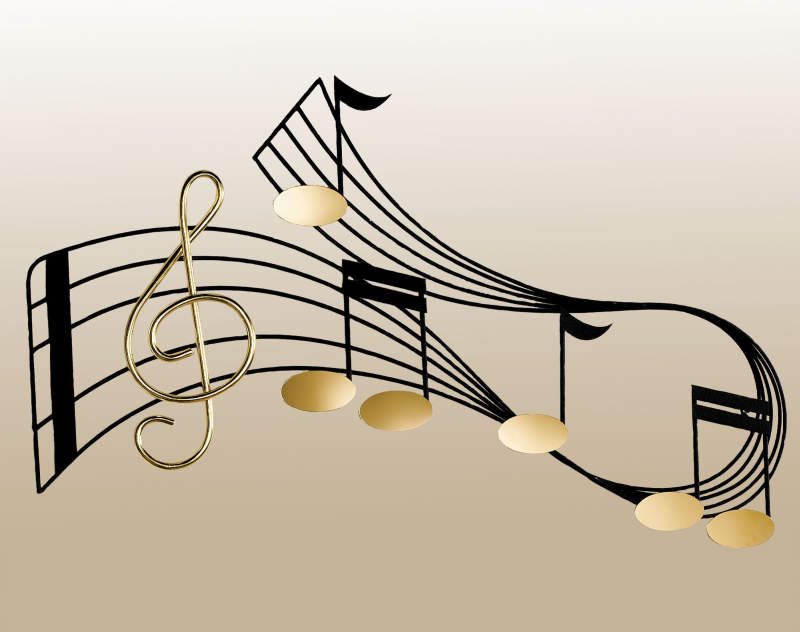 Upcycled Drum Wall Clock
This giant wall clock is made out of a 13-inch tom drum. The clock face features Marc Bolan of T.Rex and silver mirror effect numbers. The custom-built drum wall clock that runs on an AA battery hangs on a nail or hook to spice up existing style of your home. This contemporary wall clock is a great centerpiece that draws attention at first sight.
Buy: US$39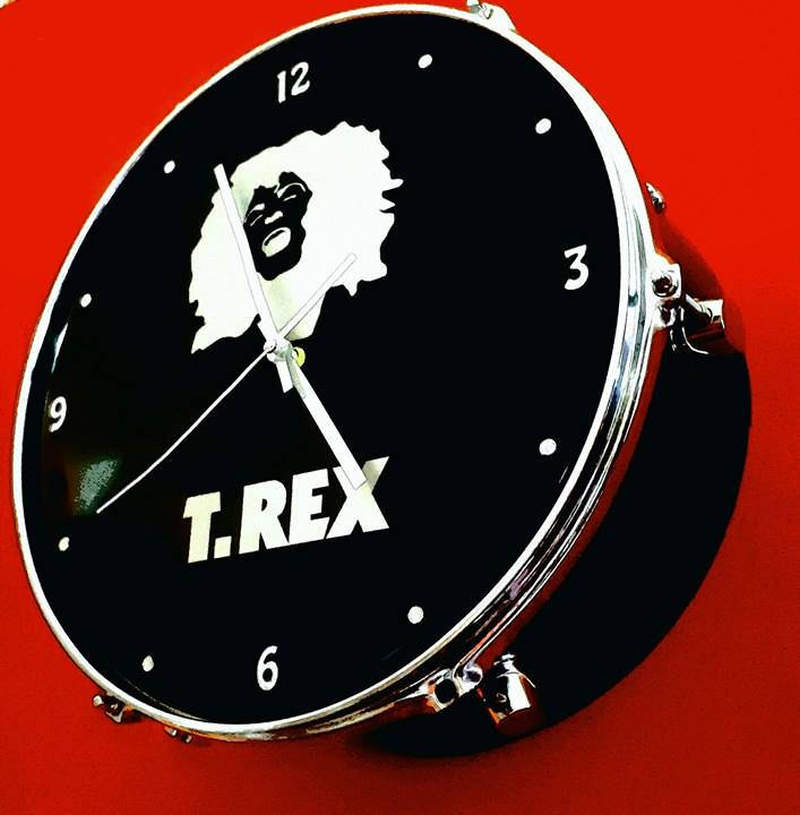 Electric Guitar Wine Rack
Crafted from pine and finished in amber, the electric guitar wine rack is an interesting accessory to store wine bottles. Intricate slots are carved to hold wine bottles in a stylish way. Make your home bar more special with the guitar wine rack.
Buy: US$120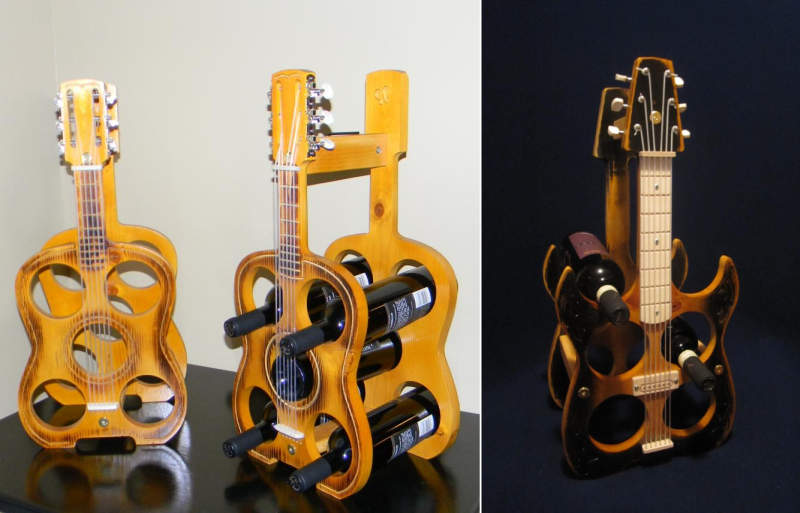 Guitar Table
Some people are so big fans of their musical instruments that they don't want to lose them even after they are broken. One such person is from Ireland who took help of the furniture maker Tumbling Designs to transform his broken guitar into a fantastic table for the Carrickmacross School of Music. This guitar table is a bespoke piece made by the company exclusively for his client, but if you wish to have one for your home, you can get in touch with the craftsman and incarnate your broken musical instrument in a table.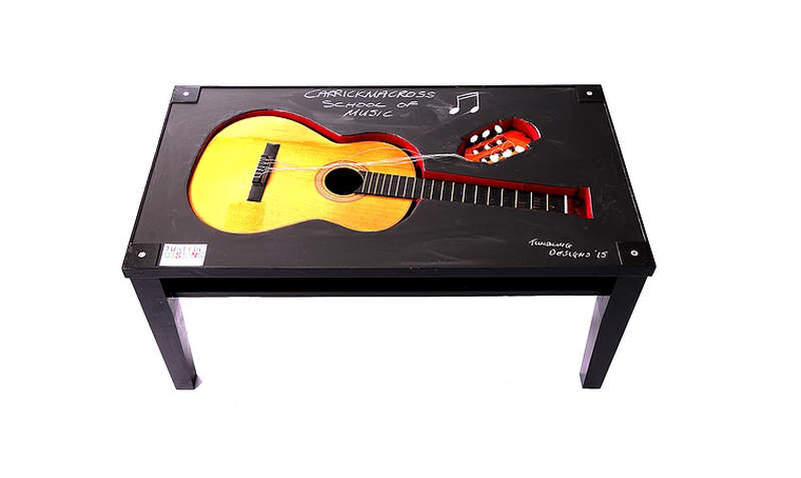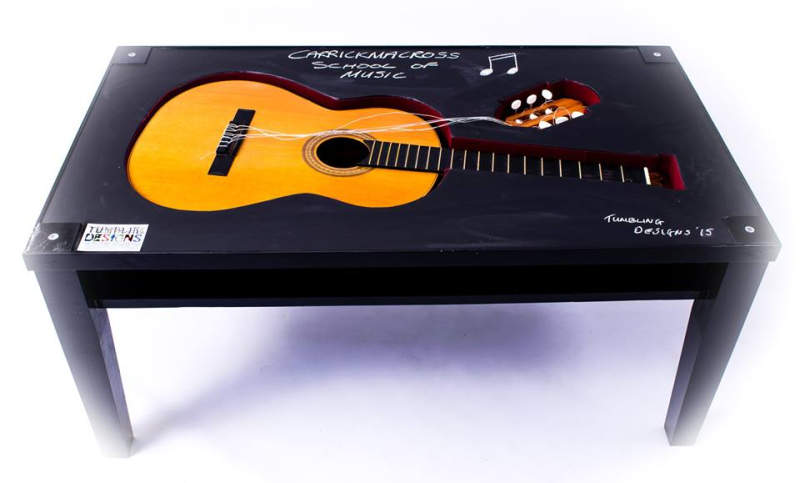 Custom Concrete Guitar Sink
This custom guitar sink is made from concrete and is perfect to integrate music influences in the kitchen or outdoor space of your home. It is ideal for rock enthusiasts as this concrete guitar sink tends to make rinsing task more interesting. People with a soft corner for guitars are surely going to appreciate the idea. If you wish to buy one, you contact the design firm here.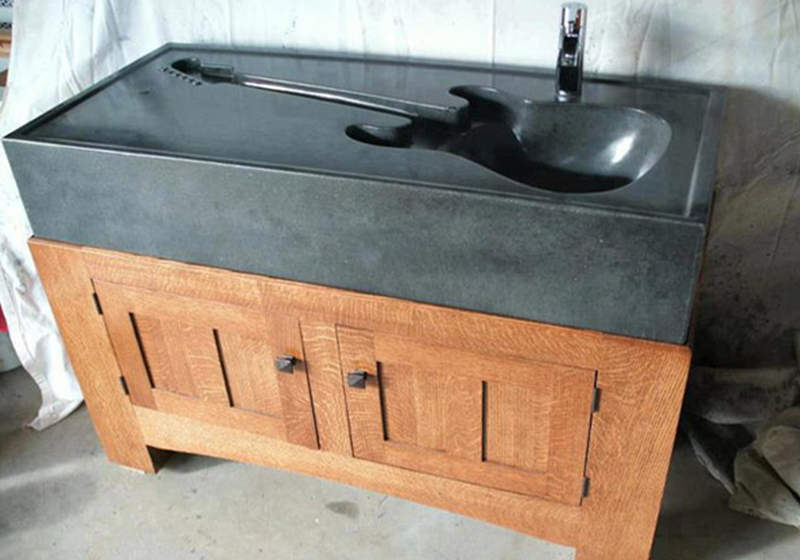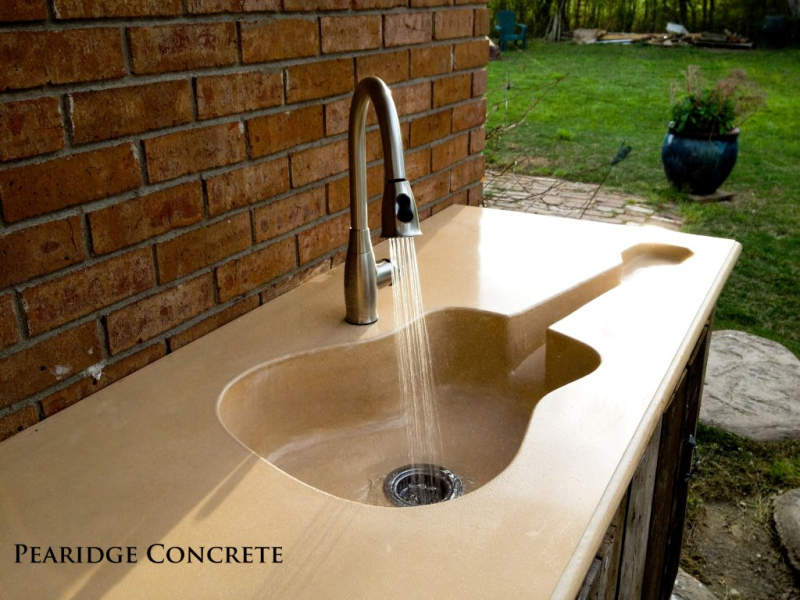 Stradivarius Violin-Shaped Backyard Swimming Pool
This violin-shaped swimming pool is made for an amateur violinist and collector by Jersey-based Cipriano Landscape Design. It features all intricacies and details of the Stradivarius violin including purflings, bridge, f-holes, tailpiece and chin rest. The beautiful finish of the swimming pool consists of nearly 500,000 translucent glass tiles that shine across the floor and sides of the pool.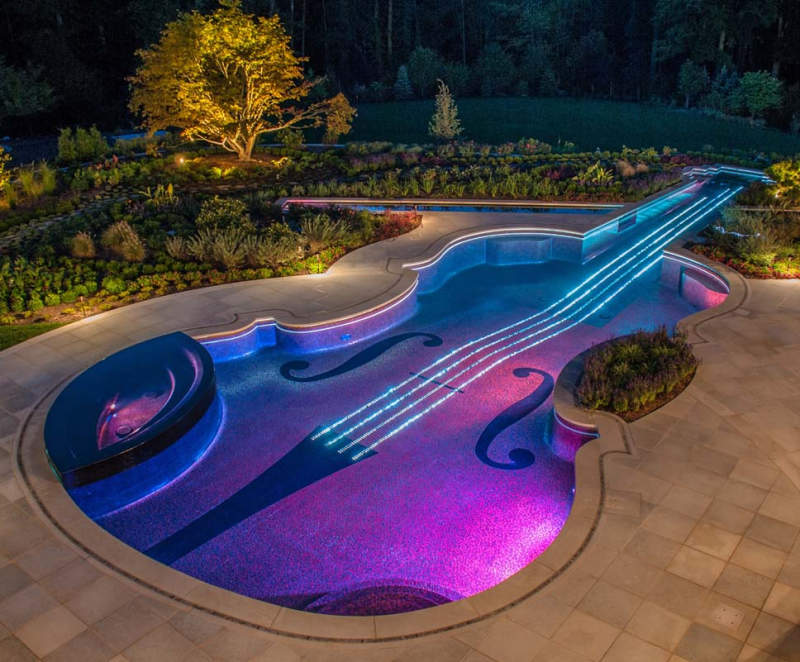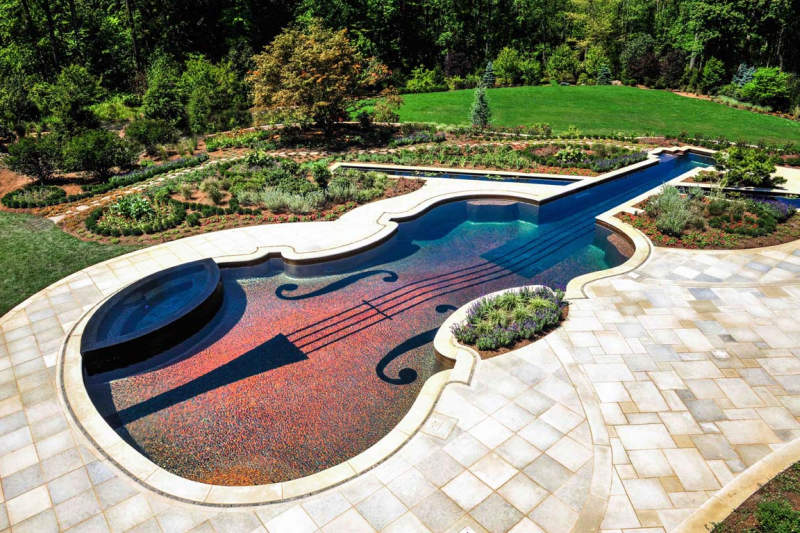 Guitar Toilet Seat
It is a silly idea to have a toilet seat shaped like a guitar, but if you are very passionate about music then you can think of having this guitar toilet seat in your washroom. It is an interesting accessory you can ever imagine of having in your washroom.
Buy: US$199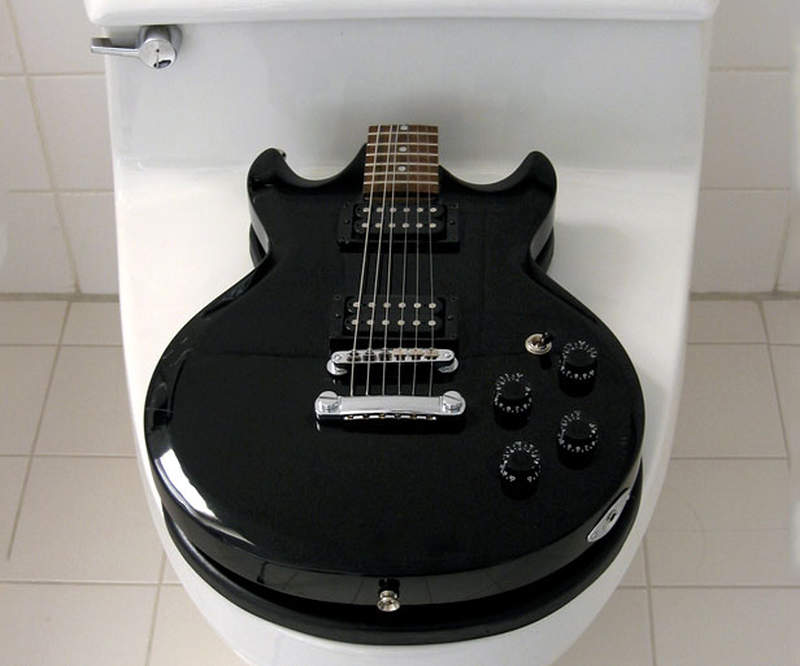 Guitar Bookends
If you want to bring Rock n' Roll flavor to your home then this guitar-shaped bookend is the right choice for you. The handmade guitar bookend not only holds your collection of books in place but also serves as an amazing conversation piece if placed on center table.
Buy: US$60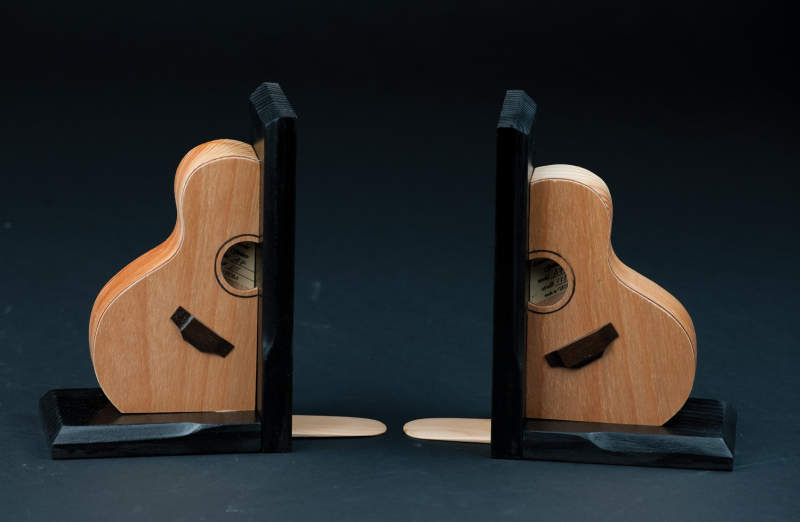 Piano Sofa
Inspired by the shape of a piano, this one-of-a-kind sofa is created by household supplies company Woouf for Andreu Buenafuente TV program. Using beech plywood and staples, the designers have succeeded to create a cool sofa featuring keyboard on the cushion top and a DJ controller on the back.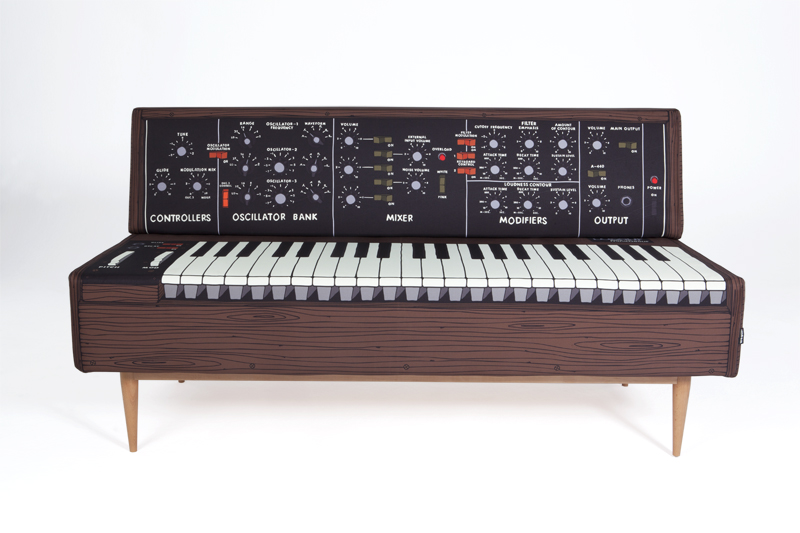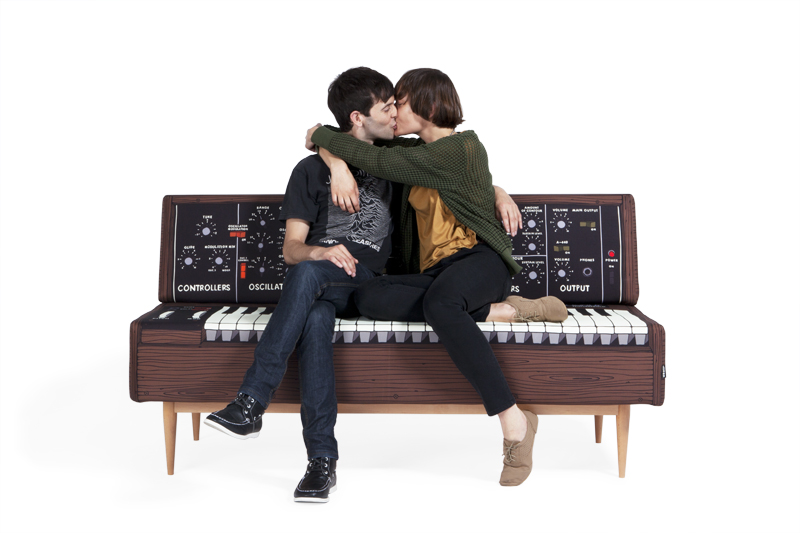 Cat Scratch Turntable
This flatpack cardboard scratching pad in shape of a turntable is a fun distraction for your cat. This DJ deck for cats comes complete with a movable tonearm and a spinnable scratch pad. Whether you place it your living room or bedroom, your furry friend would love to play with it. If you're a cat person and love music, it is a cool cat furniture for modern homes.
Buy: £25/US$32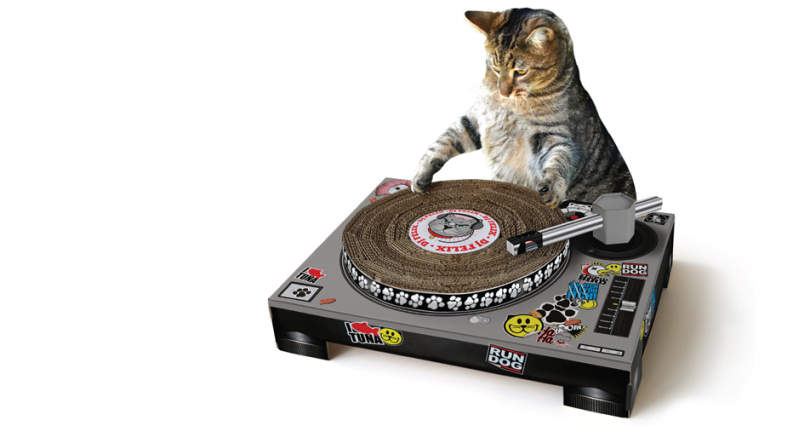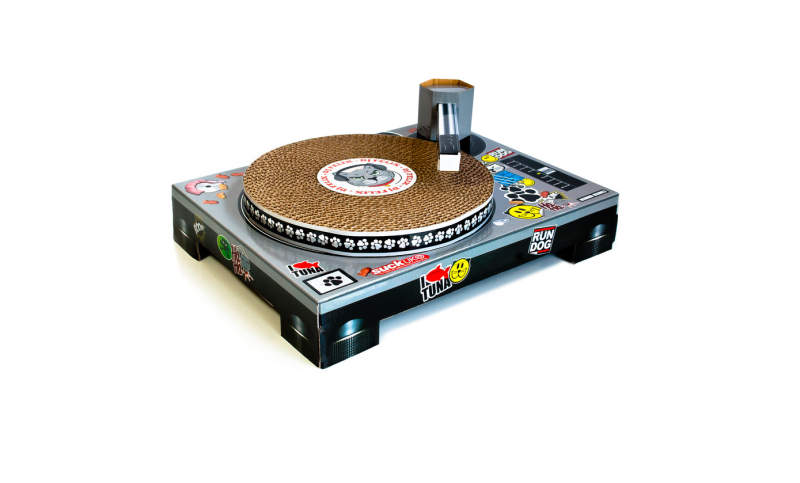 Vinyl Record Beverage Coasters
These vinyl record coasters are great to be placed on a desk or coffee table. They serve a simple and handy solution to protect tabletops from cup rings. You can even reuse your old vinyl records as drinks coasters. Each set of six coasters comes with a zip-shaped bottle opener to easily open crown cork bottle caps.
Buy: US$15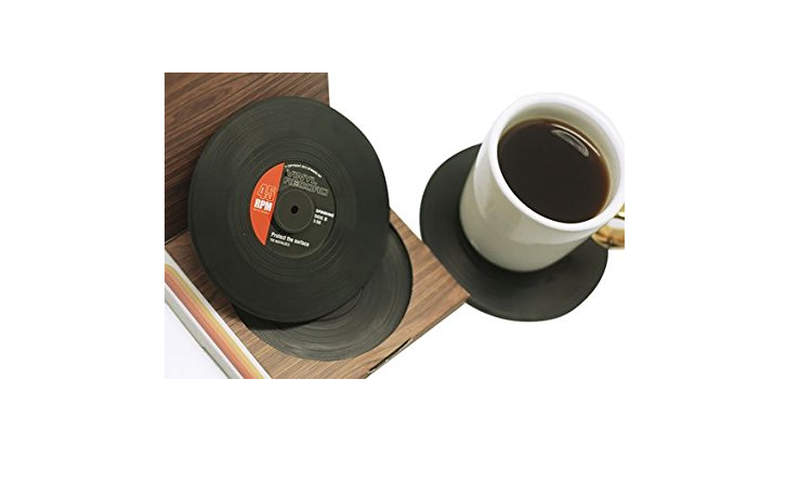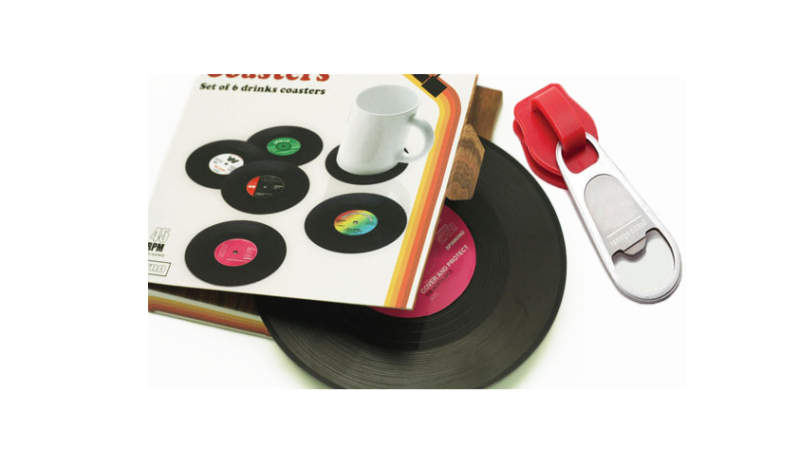 DIY Drum Kit Chandelier
If you have enough zeal and enthusiasm for drumming, then you can try to transform an old drum kit into a dashing chandelier just like Matt Ludwig of Ludwig Metals has done. This DIY drum kit chandelier draws attention and serves as a great conversation piece, with a special appeal to music lovers.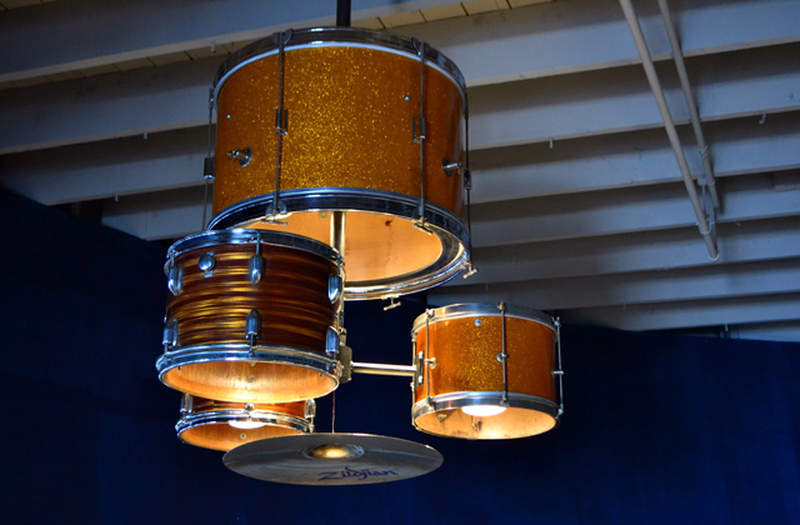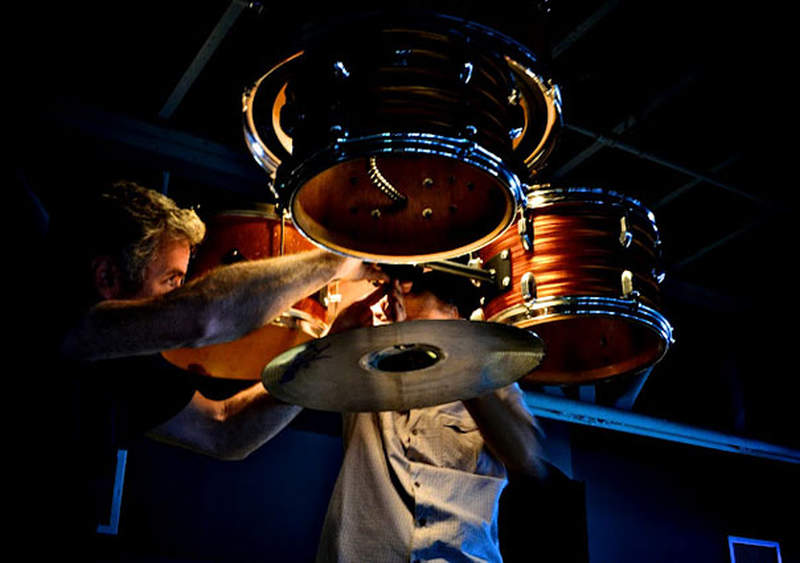 Music Note-Shaped Pegs
If you are bored of the same old cloth pegs, then you can try these music note-shaped pegs from OTOTO design studio. These music note-shaped pegs are surely going to fill your heart with music every time you look at them.
Buy: US$10