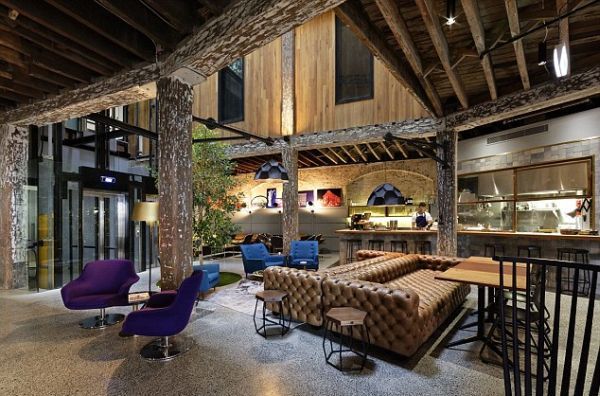 After the success of the Twitter hotel, it really comes as no surprise that some sections of the accommodation industry are now trying their best to woo Instagram aficionados. The result is the 1888 Hotel in Sydney, Australia; whose name is interestingly derived from the year Kodak launched the first box and roll camera. The establishment from company 8Hotels is envisaged as a five-story boutique hotel with 90 guest rooms and a slew of features tailored for the Instagram crowd. These include some snazzy stuff like a revolving digital mural of Instagram images and a discreet place to take a snap of yourself once you have checked in. Other features entail a free night's stay for any Instagram user who has more than 10,000 followers.
In terms of design, the 1888 Hotel showcases a fusion of rustic and modernism. We presume this unique direction must be inspired by Instagram related avenues like travel and photography. In fact, 8Hotel's CEO Paul Fischman told in an interview with Mashable –
There has always been a strong, intrinsic link between travel and photography, but the advent of social media and Instagram has made photo-sharing an even bigger part of the traveler's experience. People not only want to visit and stay in beautiful places, they also want to capture and share it with their friends and networks as it happens.
So in many ways, it was a commercial ploy for the 1888 Hotel designers to integrate the experience of social media, especially given the photo-snapping enthusiasm shared by many guests. In this regard, the establishment has set up some interesting photography contests; the winner of which can get a free night's stay in the hotel (for people who don't have 10,000 followers). As for others, they have to pay around a minimum of $140 per night for accommodation.
All images are courtesy of Rex/1888.
Via: 1888Hotel