Nowadays, everyone is on the lookout for unique home décor themes to make their interiors look special and interesting. There are a number of ways to create an ambiance that you love using colors, furniture, arts and decorative items. As an ancient arms or medieval weapon enthusiast, have you ever thought of showing the fondness for classy weapons throughout your home interiors?
Decorating with guns and bullets is a home décor trend that never fails. The trend is still in vogue since the ancient times. If you are a gunslinger or simply love the idea of decorating your home interior with artillery, then these 20 most unique ways will inspire you to be a shooter of your kingdom.
Hand-built gun coffee table
Add an appeal to your living room with a classic glass table that sits on four antique guns, and a wooden drum. JD Cabrera beautifully handcrafted the gun coffee table for gun aficionados. The guns JD used to make the base are hand-carved by Henry Repeating Arms. The triggers and balls on the end of the stocks are made of brass and painted in the gold color to give the table more refined look. For pricing and placing the order, you can contact JD via email.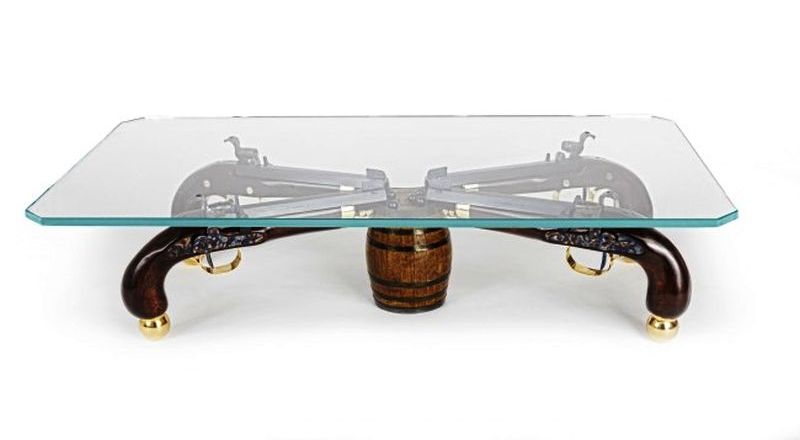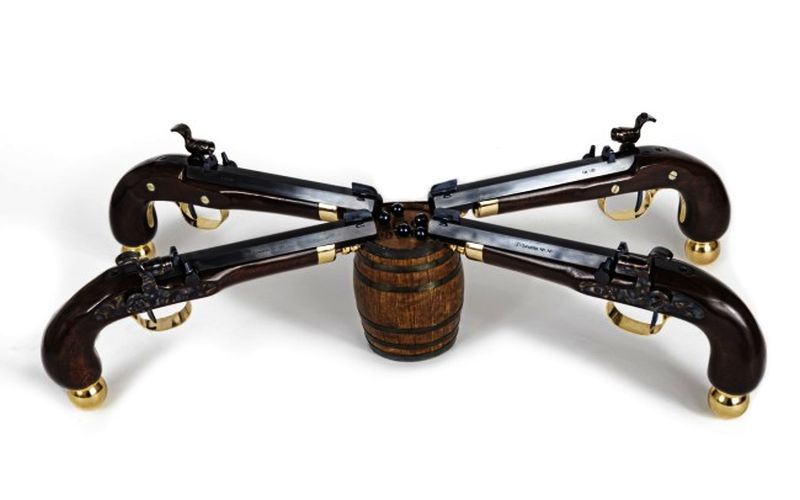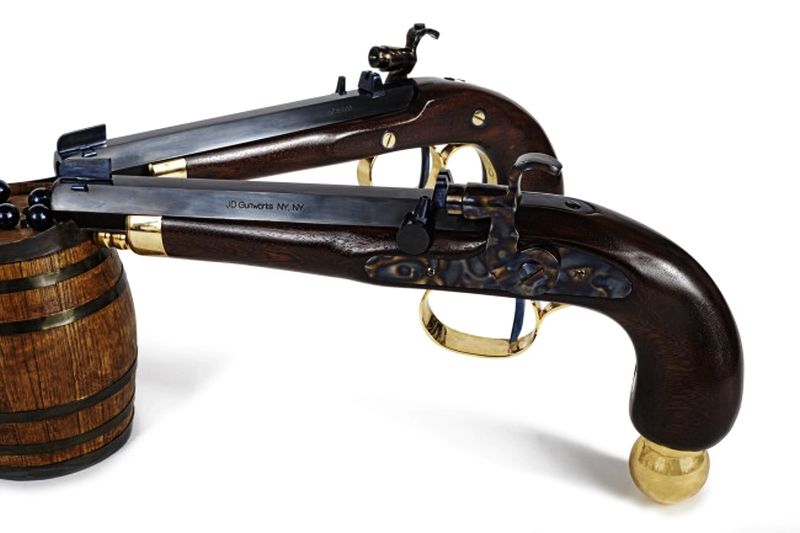 Gun table lamp
A lamp with a gun base can be a great decorative piece for your weapon-themed home décor. Philippe Starck designed a contemporary table lamp for gun enthusiasts, with an AK-47 base. The mount is created with die-cast aluminum and polymer, which is available in chrome white and black color with a gleaming appearance. The gun base is available in three different color textures – gold plated, chrome finish and black. People who love AK-47 can buy this modish lamp for just US$80.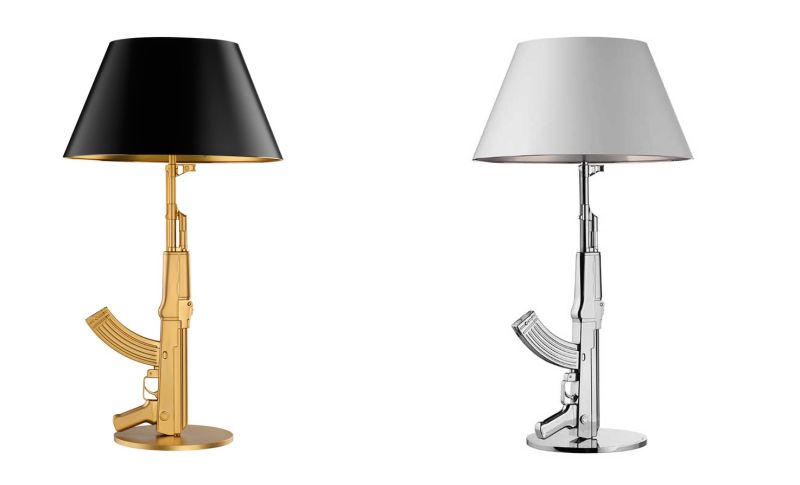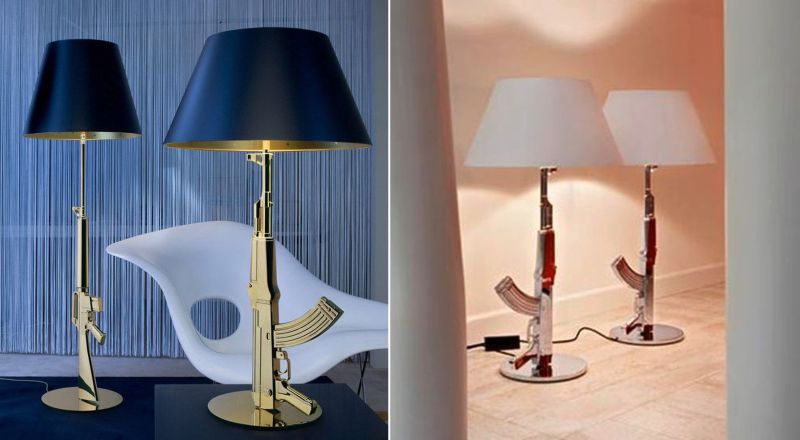 F-4 Phantom coffee table
Have you ever come across a coffee table made out of F-4 Phantom fighter parts? If no, then here is one from IFS. IFS has created the elegant coffee table using burner cans of the famous F4 Phantom fighter plane. The smoking hot coffee table can be a great decorative element for your interior space to make an impression on guests. This round glass table has a base made of 10 authentic silver-colored burner cans in a circular layout. The table is a great pick for interior spaces trailing weapon-themed decor.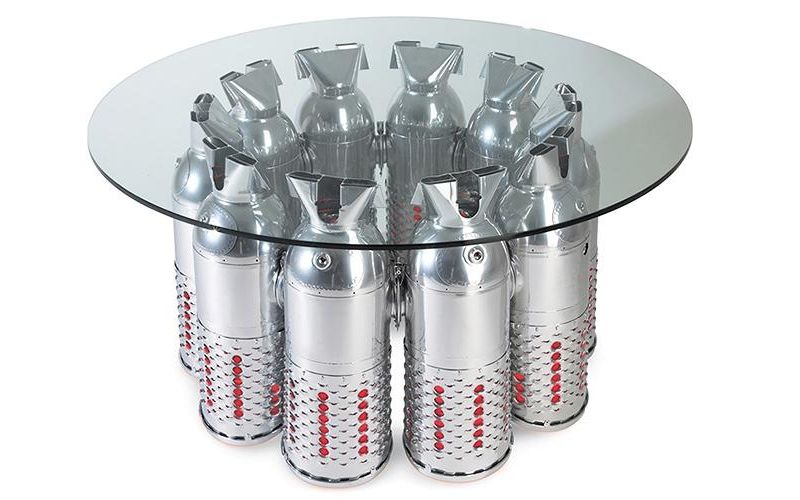 Bullet chess set
What can be classier than a chess set carved from brass and aluminum made to resemble ammo? Chessammo is a beautiful chess set that can be a great decorative constituent for weapon-themed interiors. The set features 9mm cartridge (pawns), 50 Action Express (rooks), 454 Casull (knights), 7.62x39mm (bishops), x45-70 Government (queen), and .30-06 Springfield (king). The complete chess set is available for US$65.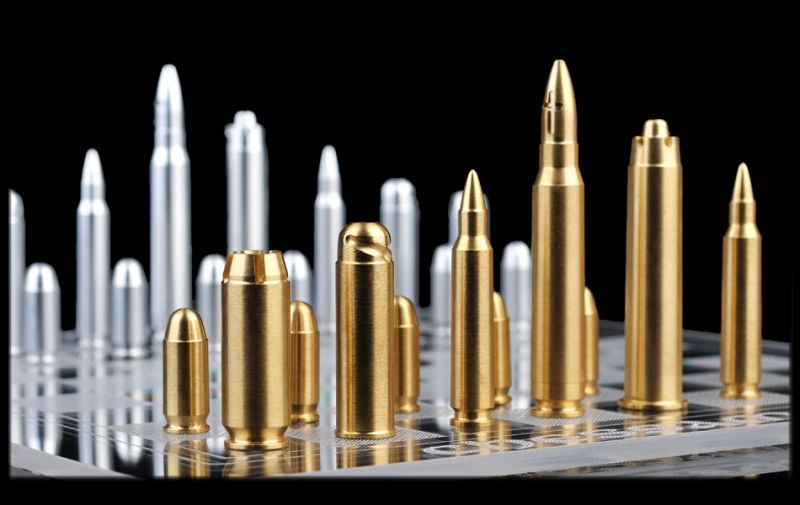 Super Cool AK-47 chair
People who love guns are surely going to love sitting on the chair made of AK-47. Weber Rainer has created an exclusive chair using still-in-service Ak-47. Arms and legs are made of six AK-47 rifles, which were first dismantled and mended together to give a shape of the chair. To make the chair look badass, Rainer added an AK-47cartridge belt and an original chrome-plated Russian steel helmet on the one side.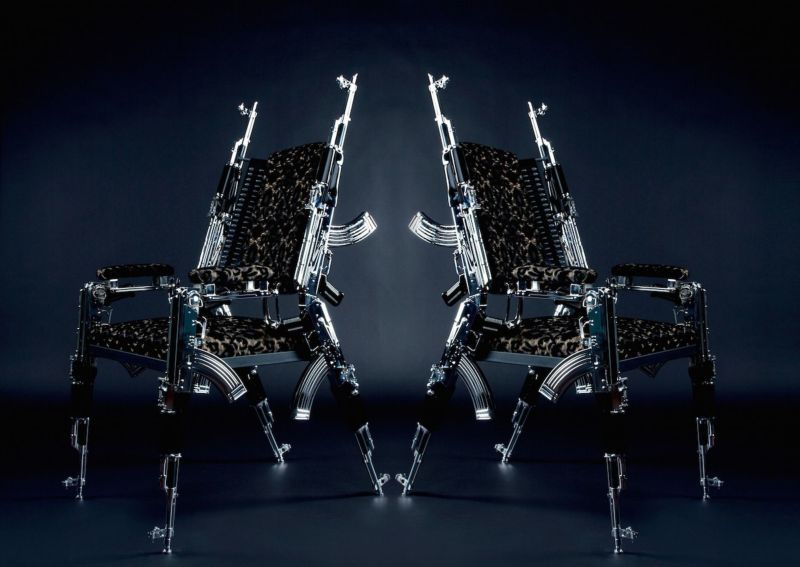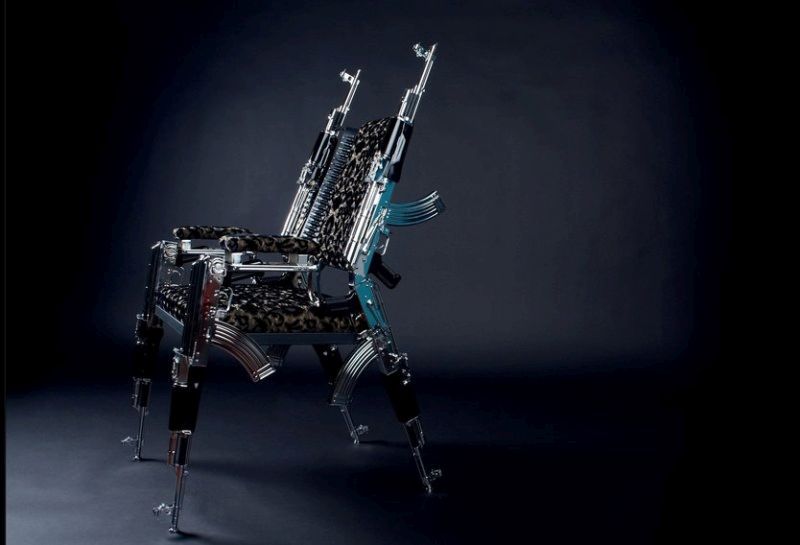 Shotgun shell chair
This is another weapon-inspired chair, made with 388 12 gauge shotgun shells. The perforated steel frame is gun-glued by hand and is later studded with refurbished bullet shells for a cool striking look.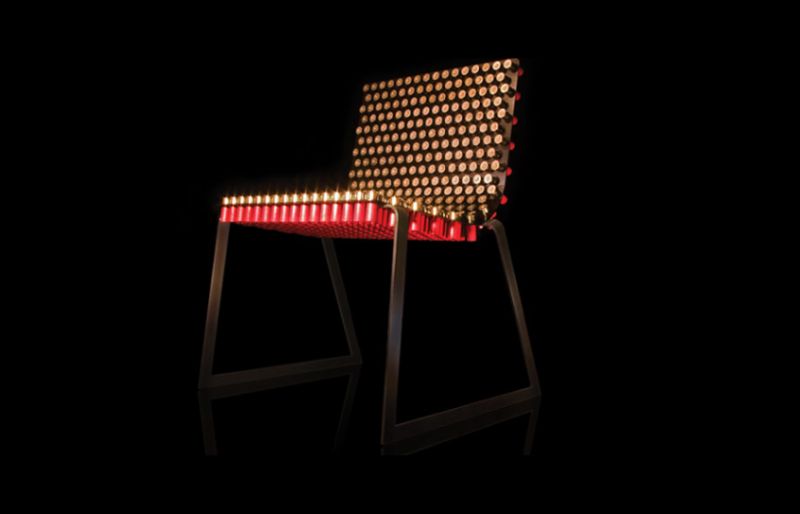 Kyle Bean ammo candles
Brighten up your interior with Kyle Bean ammo candles to give your man cave a weaponry appeal. To make the candles look like an ammo belt, Kyle added a black-colored rubber connection between the metallic sheen candlesticks. The beautiful gold-colored candles look beautiful when they melt peacefully in a quiet room. When lit up, the candles spread a special kind of aroma and make the room more inviting for you.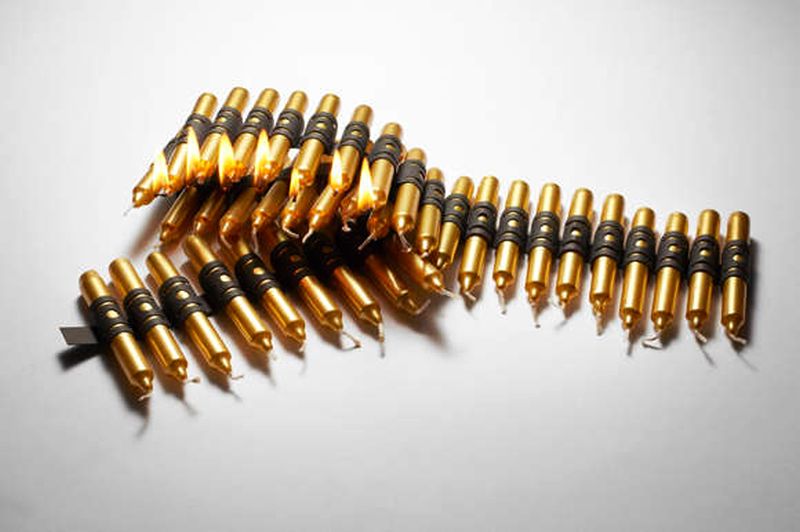 Gun hooks from Cactus Design
Add a soft touch of violence to your home with the Gun hooks on your walls. The pastel-colored handgun hooks are a cute way to add an element of danger to your interior. The gun hooks have an upturned barrel for easy hooking of coats, pants, scarves hats and bags. They are a great fun decorative item that does not create a lethal ambiance for your interiors.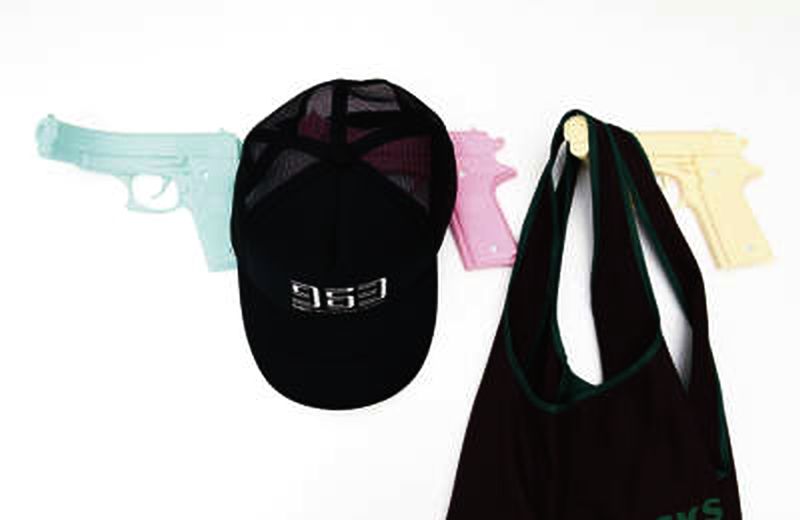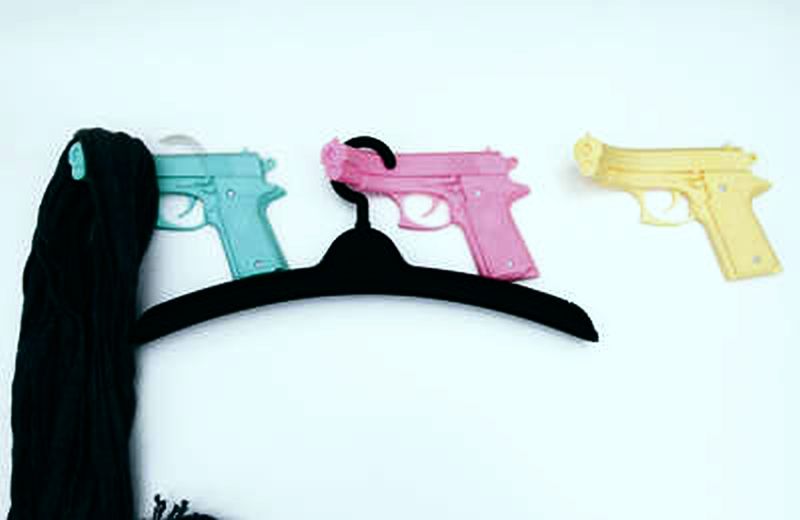 AK-47 metal wall sculpture
If you cannot afford an AK-47 or any other antique guns for your home décor, then this AK-47 wall sculpture could be a good option. This black-colored wall sculpture is made of a metal wire and looks fantastic when hung on the wall. The gun-like wall sculpture is available for purchase at ForWoodDesign for £159 (US$205).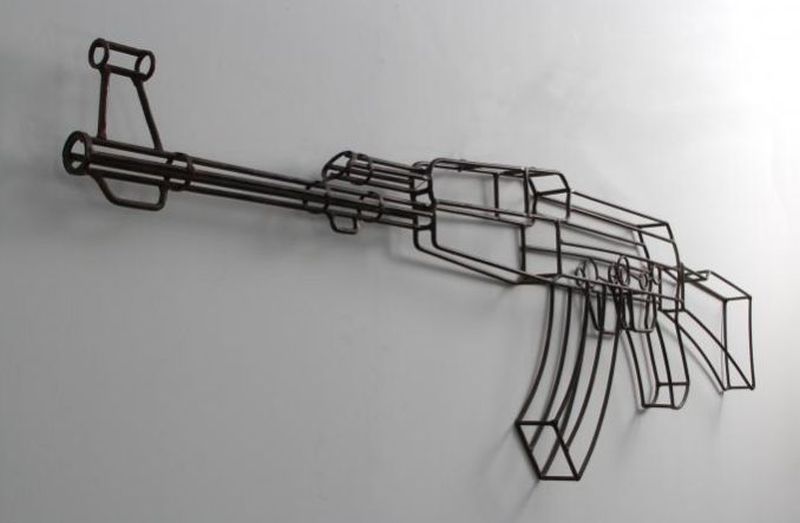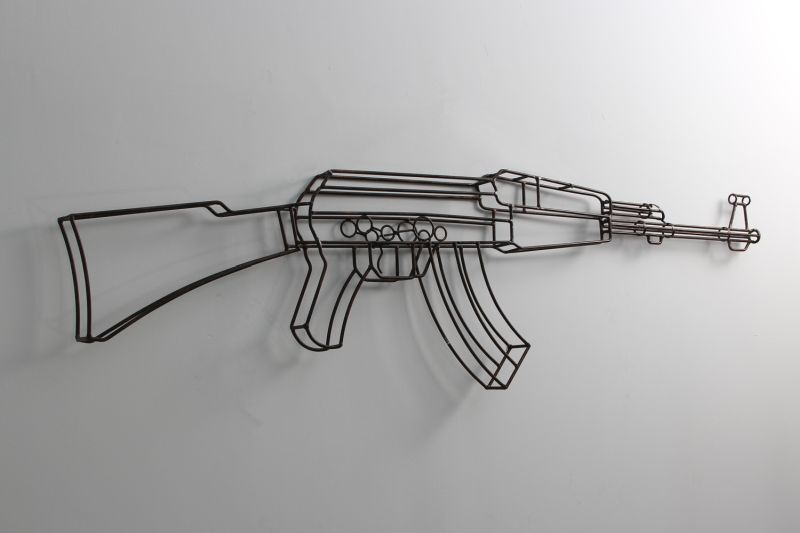 BenShot's bulletproof glasses
BenShot, a Wisconsin-based company, has created two unique bulletproof shot and scotch glasses for people who love to hunt or come from a military background. Both the glasses are handmade with a real bullet in it. The bullet is fixed into the glass and doesn't come loose, therefore they are safe to use. Weapon enthusiasts who love to drink can buy shot and scotch glasses at US$15 and US$23, respectively.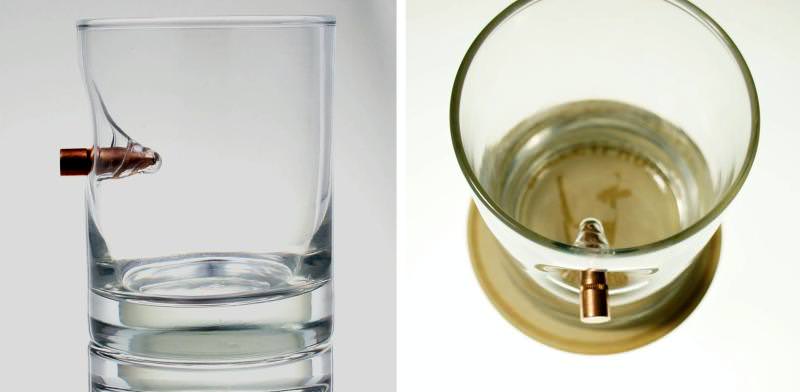 Ammo clock
Get the Ammo clock for your weapon-themed interior by Krista Casing Crafts. The clock is beautifully handcrafted by Krista using 45 caliber, 9mm, and 223 bullets that depict numbers and seconds. The clock base is made out of wood with a Red Mahogany wood stain. This elegant clock can be a perfect gift for people who love guns. There are many different styles of Ammo clock to choose from. You can buy one for US$60 (currently unavailable) at Etsy.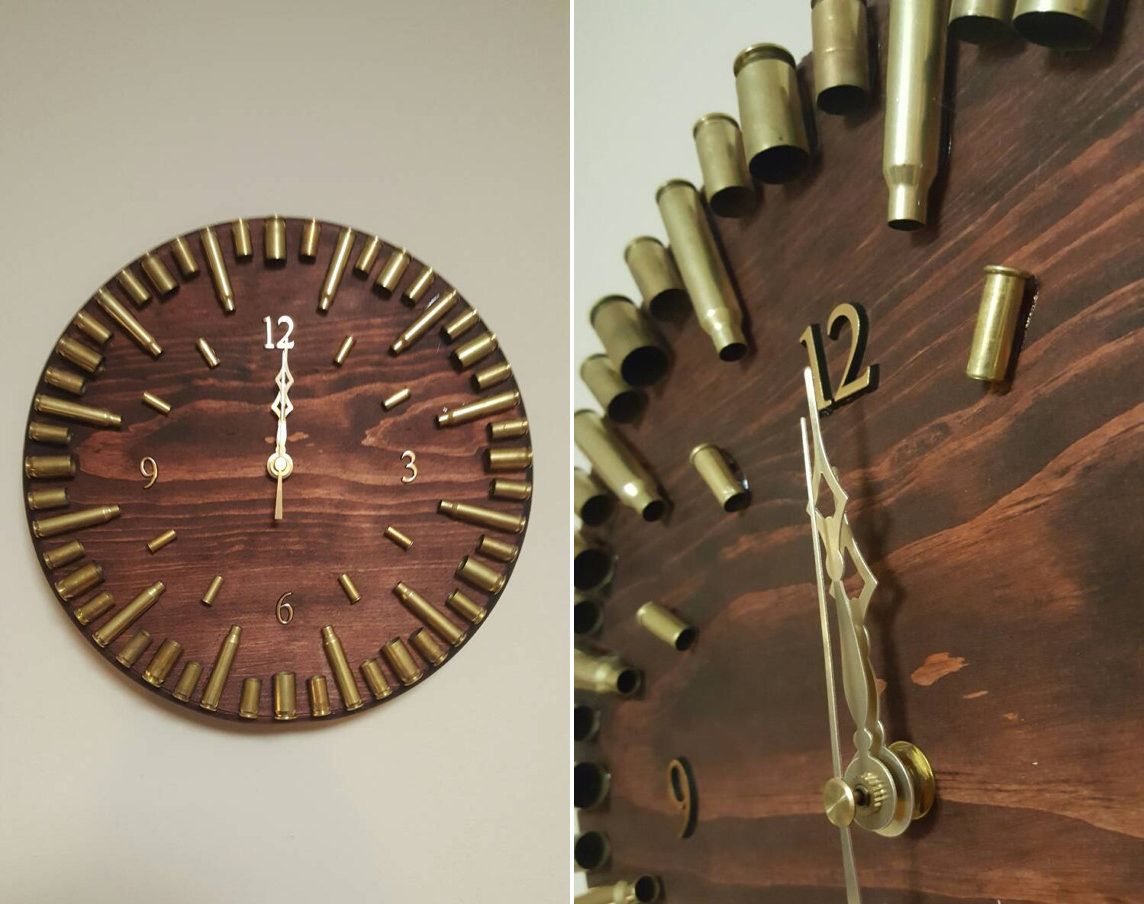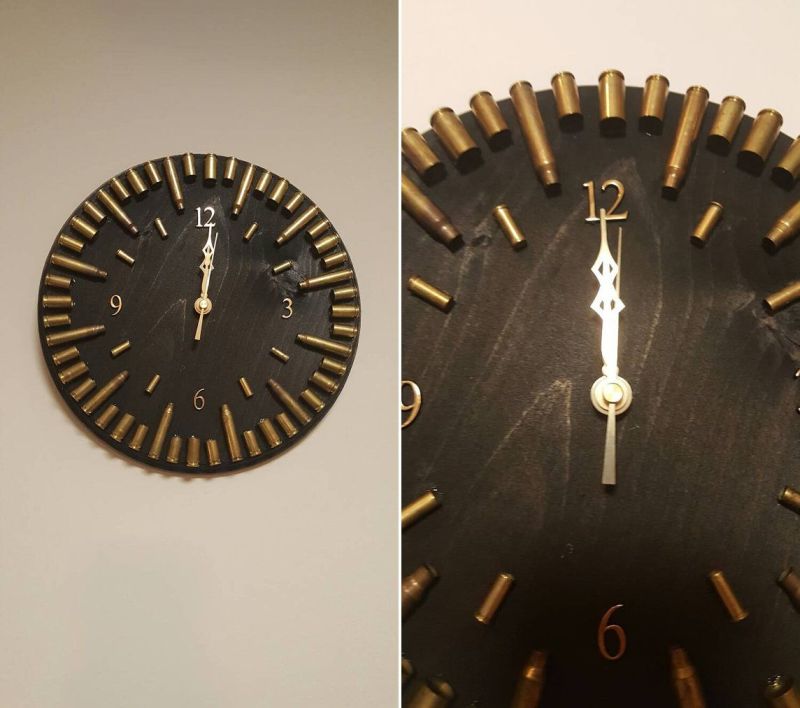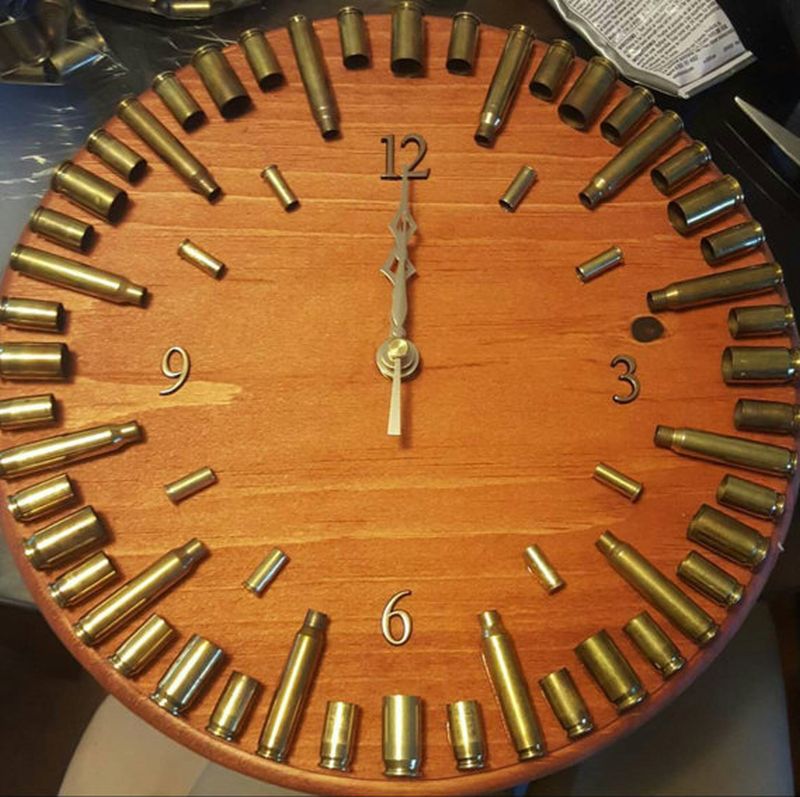 50 caliber bullet corkscrew
Open your wine bottle in style using 50 caliber bullet outfitted with a corkscrew. This gadget is made from military-grade full metal jacket ammo. It makes the cork come out of wine bottles easily. The bullet corkscrew can be an elegant addition to your wine rack or kitchen drawer. Guests who'll see you opening the wine bottle will definitely appreciate the great idea.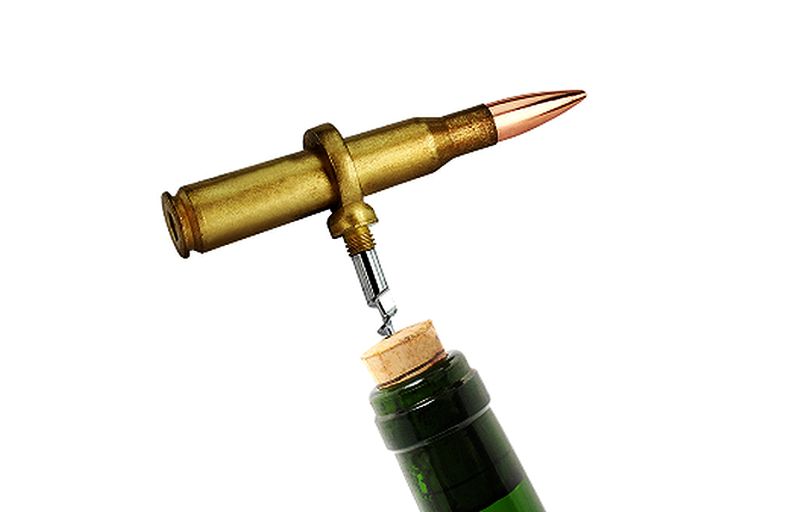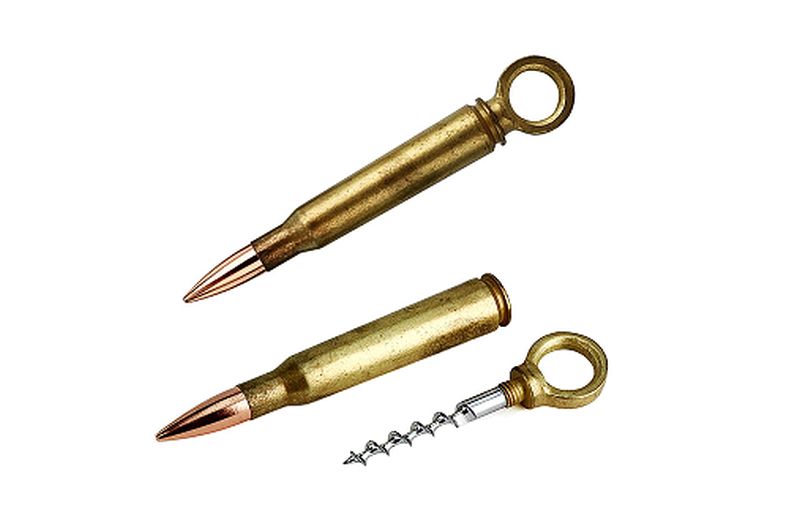 Gun-shaped Bang Bang doorknob from Napalm Design
Russian designer, Nikita Kovalev of Napalm Design, has designed a set of creative door handles inspired by the 9mm Makarov Pistol. The Bang Bang handle looks and functions like a real gun. You have to pull the trigger to lock/unlock the door. The doorknob seems great on bedroom doors.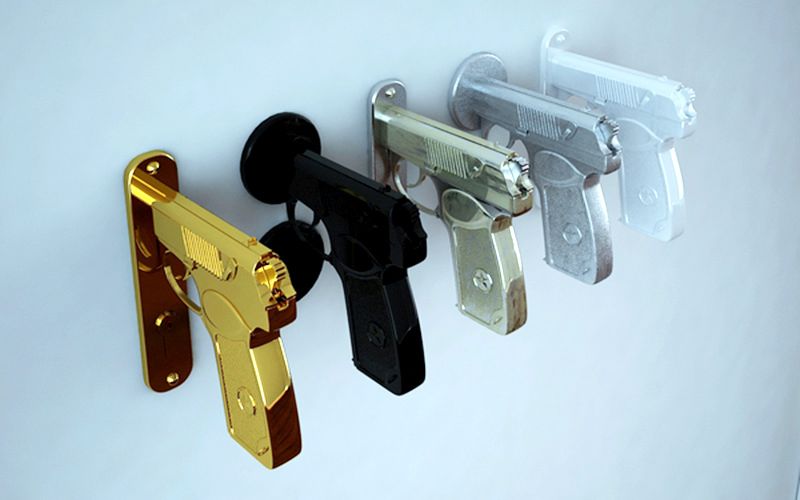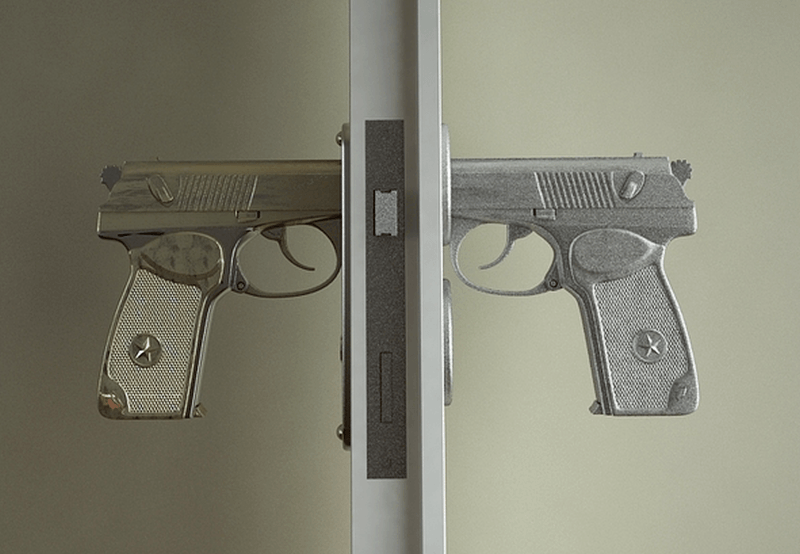 Gun-shaped faucet
Do not forget your bathroom while decorating your interior with weapon-themed décor. Fit in a gun-shaped faucet to your basin and make your bathroom look more stylish. The faucet instantly increases the appeal of your bathroom.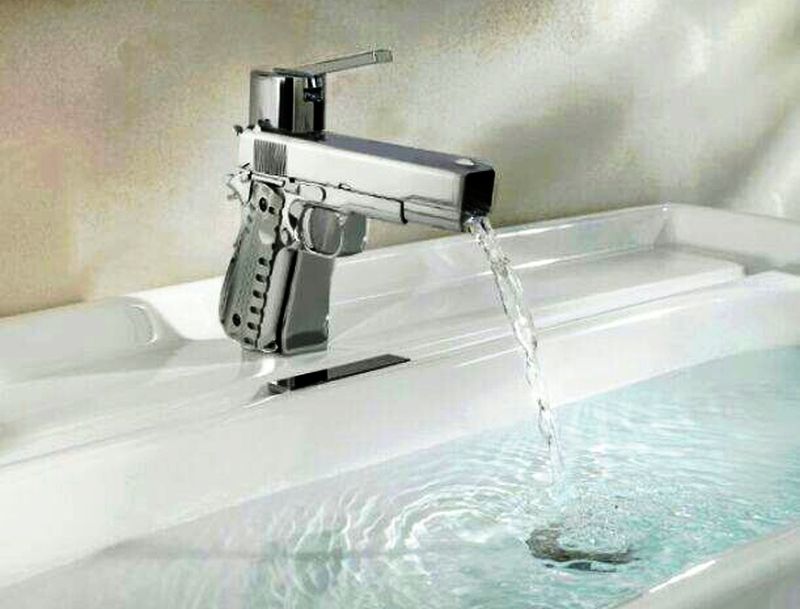 Winchester Nickel push thump pins
If your house has a personal office space, then buy 9mm Winchester Nickel thump pins to stick your to-do notes on the notice board. Wild West Jewelry Shop handcrafts genuine 9mm Winchester Nickel to make very stylish thump pins. These push pins can last forever and look fantastic on your office notice board. The thump pins are available for purchase at Etsy (currently not available) for US$13.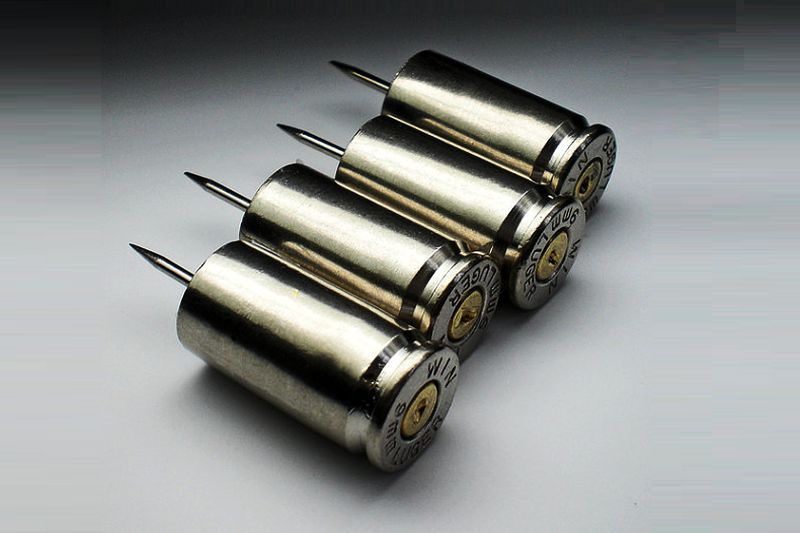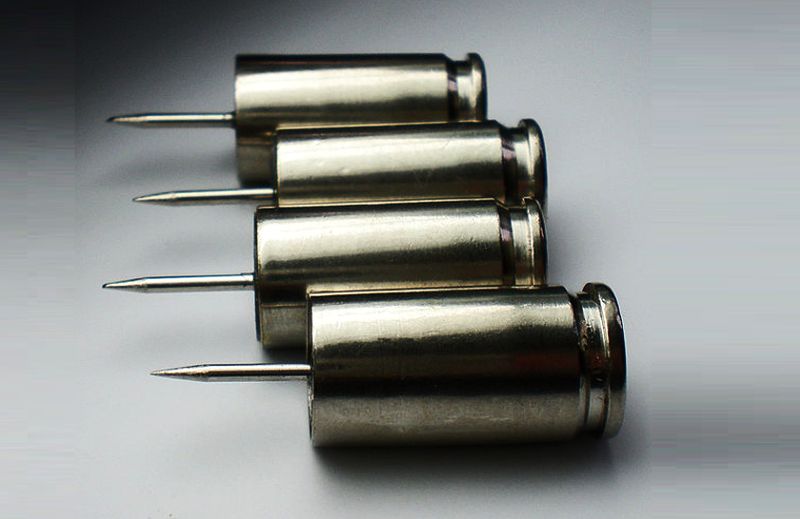 Bathroom toilet brush holder
Buy a clever shotgun toilet brush with ammo holder to add an element of interest to your bathroom. This Polyresin shotgun toilet brush is built using a holder modeled after a shotgun shell. The brush can be detached. Its holder measures 5.3″ x 5.3″ x 11.6″ and brush and shotgun handle measure 21″ long. You can get it into your bathroom by paying about US$40 at American Expedition.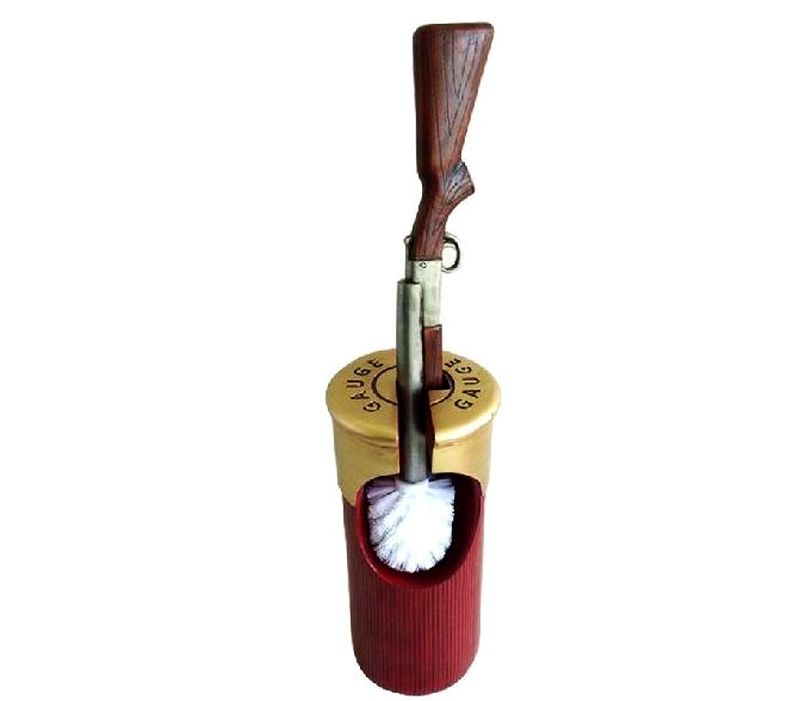 AK-47 ice cube bullets
Add a style to your parties serving ice-cube bullets. Buy this black silicone ice tray and freeze ice cubes shaped like AK-47 bullets. All you need is to fill water in 12 perfect bullet-shaped casings, freeze and you are ready to serve icy bullets to your guests. They will definitely enjoy their drinks with ice cube bullets. You can buy this ice tray for €8 (approx. US$10).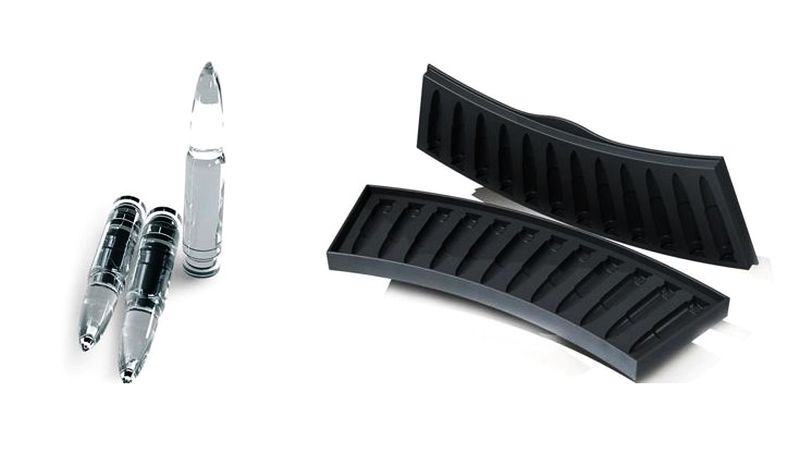 Gun cylinder pen holder
A pen holder that resembles a gun cylinder can be a great desk accessory. This cast aluminum gun holder holds six pens at a time. Available for US$21 at Cool Material Shop, it has a nice look that goes well with weapon-themed spaces.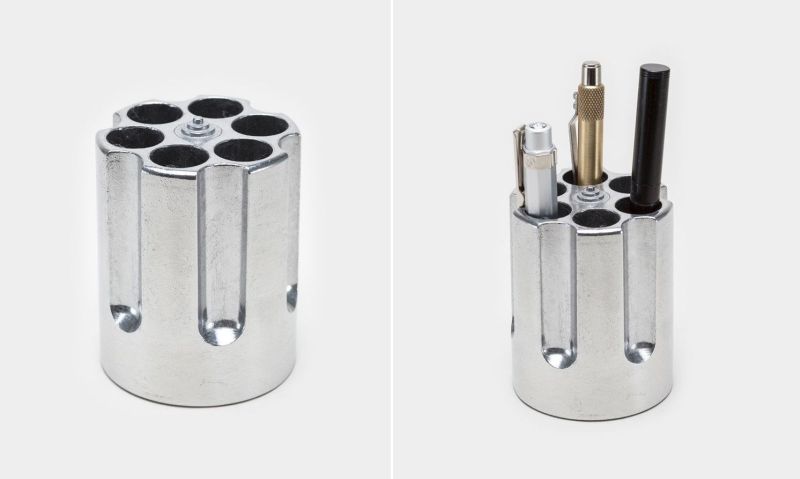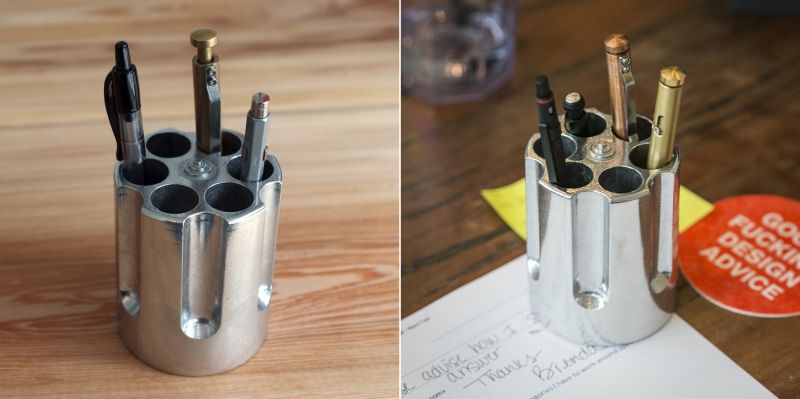 Bullet drawer handle
You can show your love for weapons through your drawer handle. Swap your old drawer handles with the ultimate bullet drawer handles by Brass Honcho. Handmade in the US with a real bullet, these handles look great when installed appropriately in drawers and chests. You can buy one for US$50 at Brass Honcho.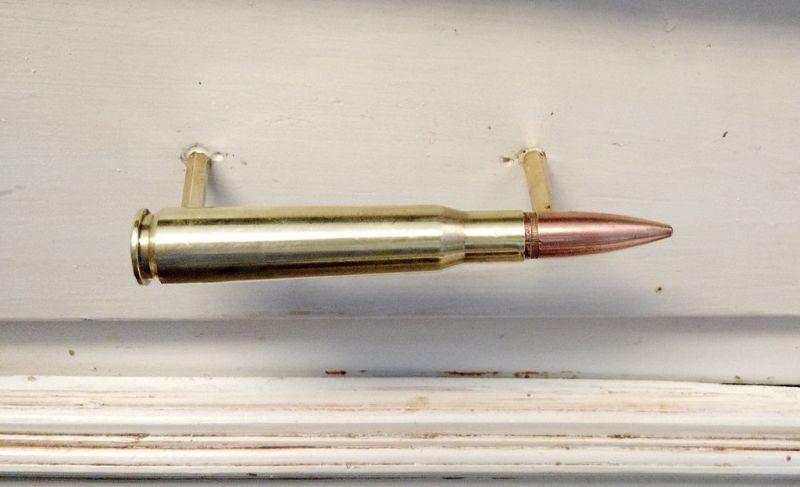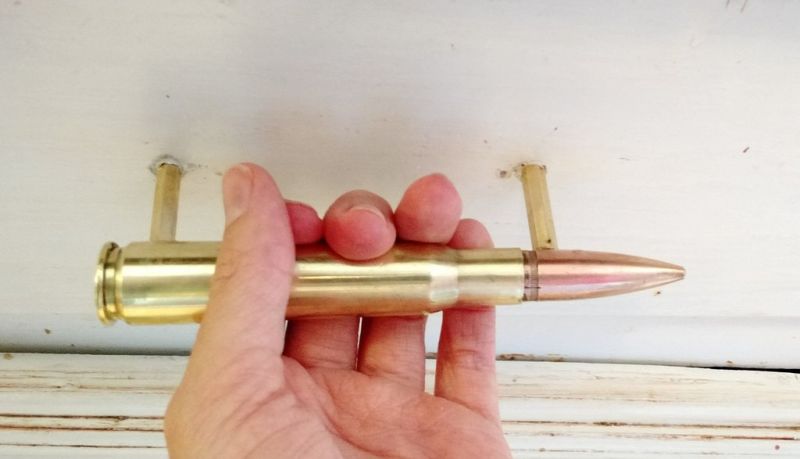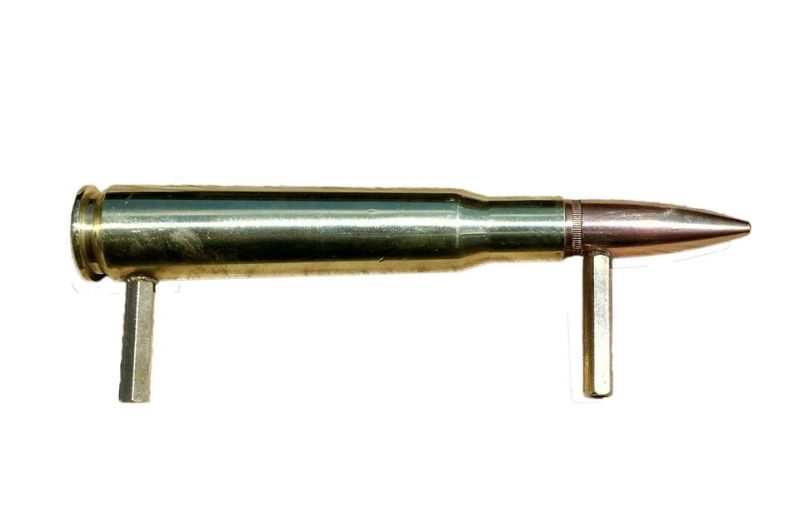 Shotgun shotshell coaster set
A shotgun shotshell coaster set can be an eye-catching tabletop accessory. Priced at US$16, the four-piece coaster set with a green shell can be a great gift for hunting enthusiasts and military men. People who love ammo would love to place their cup of steaming hot coffee on this coaster.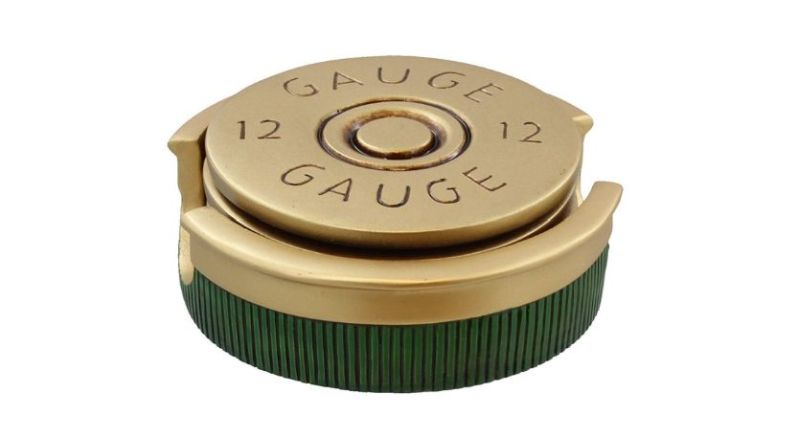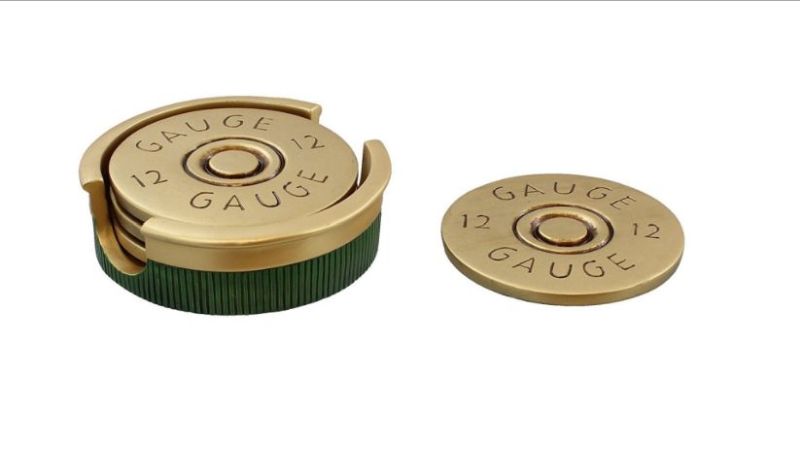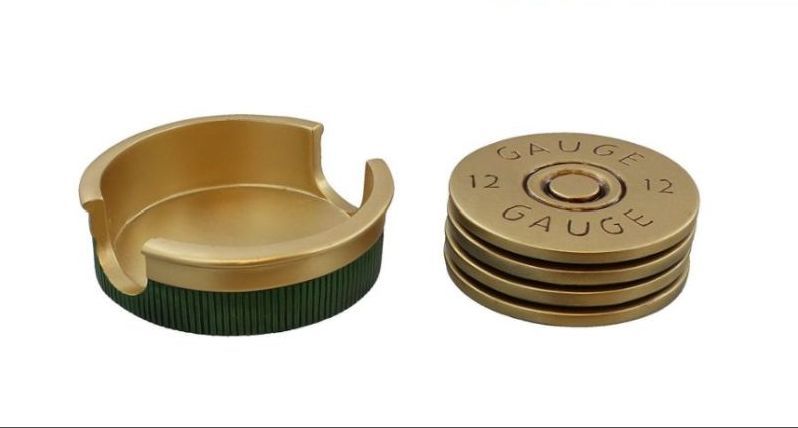 Tank cathouse
If you are a military person and have a cat too, buy this cardboard cathouse for your kitty that appears like a fighter tank. The cathouse comes flat-packed and can be assembled easily. It is great for adding a military charm to your space that your cat will love playing, eating and sleeping in.