Tiny houses are built to provide functionality and are seen as an important lifestyle change by the inhabitants for who this shift is not about space sacrifice but a way of life by choice. In the list of tiny houses we have seen in our time, here is another beautiful 26ft tiny house which features a sleek design and has a layout to complement its modernity.
The manufacturers of this house have taken extreme care in developing a well-suited dwelling for its inhabitants while adding value to the whole project. They have utilized space intelligently and made it both functional and adorable.
The tiny house as iterated measures 26 feet (8 meters) in length and is 8 feet (2.4 meters) in width. It is a tiny dwelling that brings together functionality, style, and comfort. The best part is that it is a completely towable structure.
The exterior of the tiny house portrays a mix of rustic brown and dark blue. There is an attached porch that can be used for sitting and enjoying the outside view.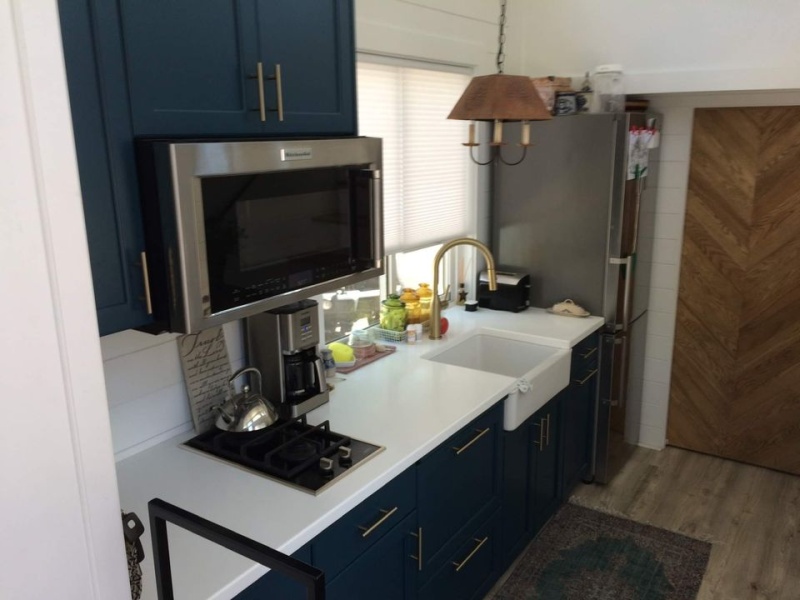 The interior of this tiny house is really cozy and needs a closer look. The moment you step inside you find that it has all modern features with a clean layout and it offers the amenities of a traditional home. For instance, there are many windows that ensure that natural light comes in abundance inside this mini house.
Also Read: This Tiny House Features a Raised Living Room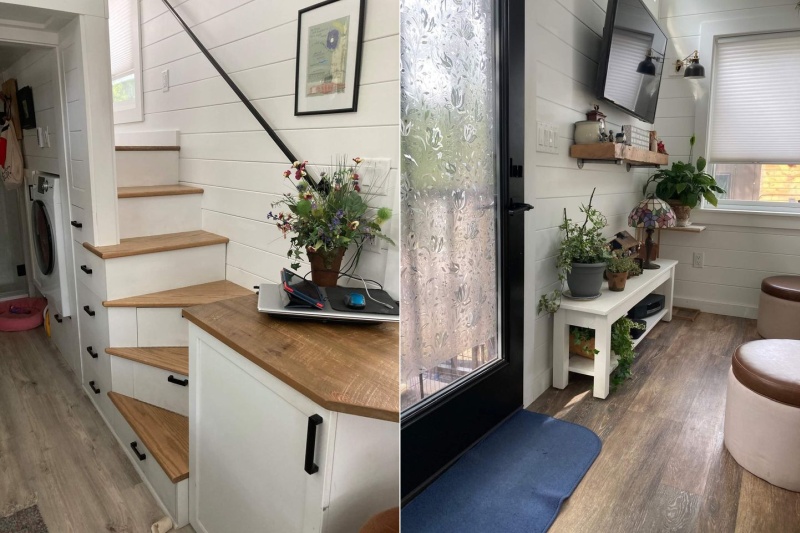 A step forward and you instantly discover a beautifully constructed living room that is quite big and accommodates an L-style small couch and a coffee table. A 45-inch TV is mounted on the wall with shelves below it.
The kitchen unit is arranged in a good manner with space for all major appliances including a full-size fridge, microwave oven, sink, cooktop, and dishwasher. The modular cabins in the kitchen offer abundance of space and it complements the dark blue exteriors of the tiny house.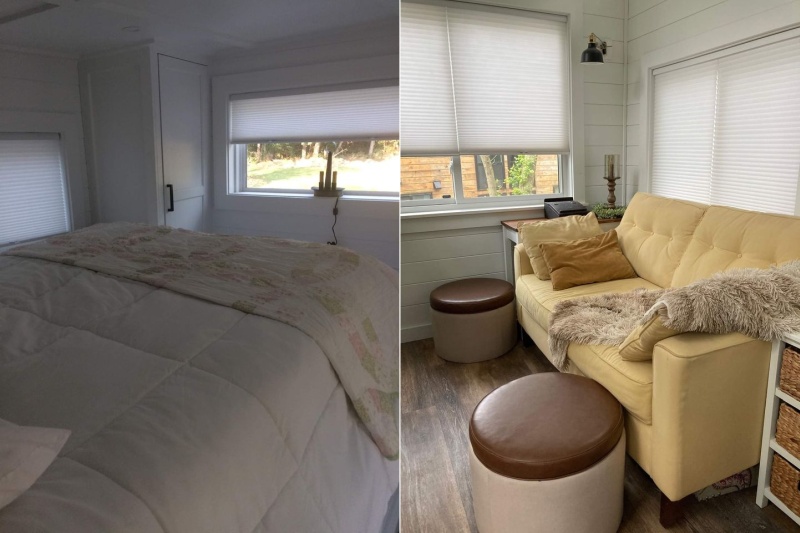 The staircase leads you to the bedroom which is spacious again. It offers a queen-size bed, closet, and a good load of storage options. You can also find storage under the stairs which is another excellent aspect of this tiny house.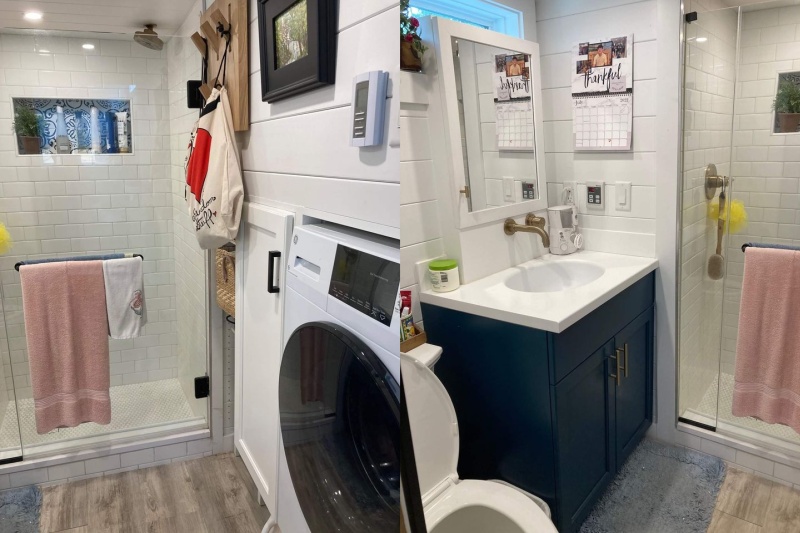 The bathroom is constructed on the left side of the house and has a sliding door. It features standard fittings which include a sink, shower, toilet, mirror, and vanity. The house also has a washer/dryer combo which is a helpful integration keeping in mind that there is little space for such facilities.
This tiny house is located in Elizabethtown, Pennsylvania, and is an essential part of the local tiny house community. It has been put on sale at Facebook Marketplace by Marsha Kopcho. When compared to other tiny houses of similar size, it has a steep asking price of $97,500.