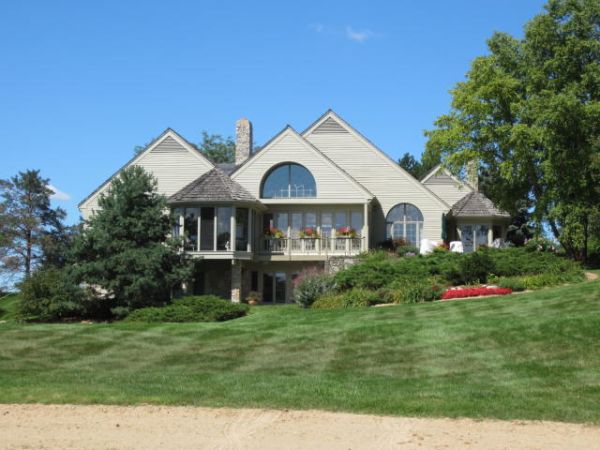 If it came down to sheer astronomical figures, the $3.85 million Silver Lake home in Genesee County, Michigan surely does belong to an exclusive club. The 8,000-sq ft house with its 28,000-sq ft of equestrian barn and more than 250 feet of beach-frontage is quite a sweet piece of real estate. Of course, the exclusivity is not only about the gargantuan size of the property or its lakeside credentials. The home itself consists of onyx flooring in its foyer section that has been directly salvaged from the walls of the old Bank of Chicago building. And, if you thought that was ritzy, other components of the bank have also being incorporated into the house – including boisterous bulletproof doors and old filing cabinets that have been refurbished as drawers in a large walk-in closet.
Beyond its 'bank' features, the Silver Lake home exhibits a free-flowing circulation pattern complemented by spacious zones. The habitable areas comprise of 5 bedrooms, one among them being a master suite (on the upper floor) with vaulted roofs and breathtaking views of the lake. The suite additionally has a 12-people capacity Jacuzzi, along with a marble shower, a steam room and a large garden tub. The vaulted ceilings are also carried forth by another living/dining room with a sun porch, and an adjacent kitchen and upper level library.
The ground level zones of the Silver Lake home comprise of an imposing family/entertainment room, a pool table, a Native American inspired fireplace, a second kitchen and an accessible playing area that doubles up as a basketball court and a soundproof racquetball room. Finally, as for the 28,000-sq ft equestrian barn, the expansive area features 28 stalls, complemented by indoor and outdoor arenas. As for more details and pricing, you can check out this Trulia link.
Via: MLive