Furnishing garden, patio or backyard with wrought iron or other metal furniture is a long-term investment that enhances overall value and appeal of the property. So it is extremely important to protect outdoor metal furniture from rust damage, especially in the monsoon and winter seasons, since the rate of rusting is most then due to excessive moisture in the air.
Despite continuous efforts, most homeowners fail to prevent metal from rusting and corrosion as it is an unavoidable phenomenon.
Once a metal object starts catching rust, you're forced to take some effective measures. Getting rust off the metal furniture isn't as difficult as you might have thought. Instead of taking expensive professional help, you can use certain household items to remove rust from metal furniture or any metal surfaces.
Here are a few tips on removing rust from metal chairs, tables, outdoor umbrellas, window frames, and metal tools. The type of metal surface and the amount of rust built up on the item decides which method and tools will work the best.
The scraper you'll be using to scratch off the rust is also very important. In some cases, it's better to use a dish scrubber or toothbrush, while for serious rusting issues, you need a big brush with metal bristles.
In addition to removing rust from metal, these methods can be used for furniture made of chrome, steel, and wrought iron.
Use Mild Cleaning Agent
The simplest way to get rid of rust is to wipe the early stains and signs of wear before they become a threat. All you need is a cleaning agent and a rag.
Spray directly onto the rusted surface or use a cloth to gently apply the agent. Now clean the entire surface thoroughly.
The rust stains will start turning brownish-red and will slowly come off with continuous rubbing. You need to wipe off all wet areas with a dry clean cloth to remove every single particle of water.
It's a preventive measure to keep your metal furniture rust-free.
Also Read: How to Clean Tiles and Grout with Homemade Solutions
Use Baking Soda
Baking soda, a popular chemical compound found in almost every household, is effective in removing rust from metal. Just apply a thin layer of the wet mixture of baking soda and water and later scrub it off.
Mix baking soda with water or hydrogen peroxide (for hard rust) and prepare a thick paste.
Gently apply this acid-based solution using a cleaning cloth or pad on the rusty metal surface and leave it there for about 15-20 minutes.
Now, scrub off the area with some abrasive until rusting particles are removed. You may have to repeat the actions twice or thrice depending on the extent of rust to clean.
This simple technique is very effective in cleaning rust from any metal surface, patio furniture, and garden tools.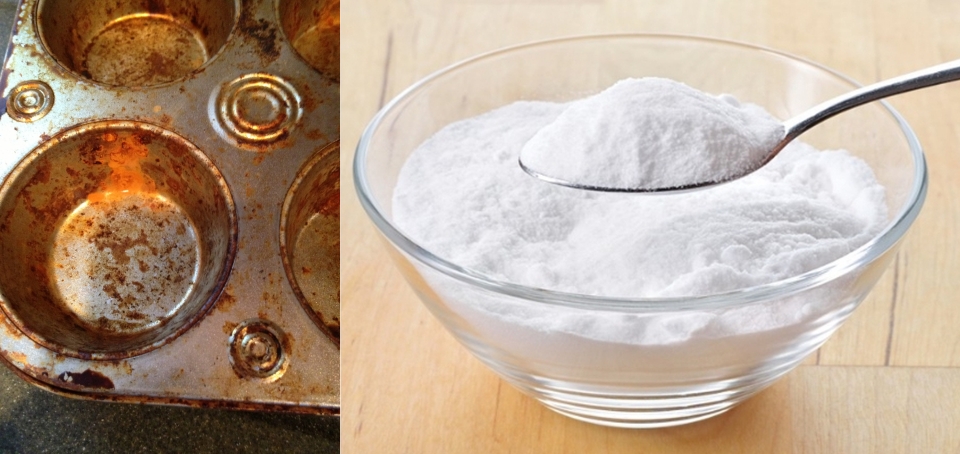 Use White Vinegar
Due to acidic and antimicrobial properties of vinegar, it is known as a natural cleaning agent and a home remedy. You can add a pinch of salt to increase its acidic intensity, resulting in the creation of a more powerful rust cleaning solution.
Not only metal, but you can also clean almost everything inside your home with vinegar.
When rusting off metal patio furniture, you need to rinse each metal furniture with vinegar and leave for about 10 minutes. Later wipe off along the dissolved rust using a scrubber and rag.
With this simple method, you can easily remove rust from outdoor metal furniture and metal tools such as scissors, pliers, nails, nuts, and bolts.
Use Coca-Cola
Yes, you read that right. Your favorite cold drink can be used to remove stubborn rust stains from metal furniture. The carbonation properties of Coca-Cola make it perfect to dissolve metal oxide.
This makes it a good DIY solution to do away with those stubborn rust stain on your metal furniture.
You just have to pour Coca-Cola on the rusted surface and then rub it clean with a soft cloth or sponge.
Just make sure to clean your hands thoroughly after the task to prevent staining your clothes with the drink and dissolve rust.
Use Potato
Potatoes contain oxalic acid that can dissolve rust. It can be used to remove dirty brownish stains from metal.
You need to cut a potato in half and add some salt or dish soap to the surface and rub it on the rusty surface to initiate a chemical reaction that weakens rust.
Later you can clean it off with a piece of cloth.
If you have a pair of scissors or pliers with a little rust on them, this method is very helpful.
Use Salt and Lemon
Another homemade method to get rid of rust on metal surfaces is using lemon coupled with plenty of salt. Salt acts as an abrasive while citric acid in lemon creates a chemical reaction that helps remove even stubborn rust stains.
In this method, you can either squeeze a lemon in a bowl with some salt and apply the mixture on stained areas or use them separately one by one.
Finally, after a few hours, you can scrub it off to bring up the cleaned surface.
This method can also be used to remove rust stains from clothes.
Use Aluminum Foil
Everyone uses aluminum foil but only a few homeowners know that it can be used to clean rust from iron and stainless/chromed steel.
Aluminum reacts with the rust and thus creates a material that can be scrubbed off easily.
You need to create a mixture of salt and water or a cold drink. Now, dip aluminum foil ball in the solution and apply it on the rusted surface.
This helps loosen the rust residue which you can clean using a cloth later. You need to repeat the process a few times to regain the lustrous look.
The softer form and composition of aluminum make it perfect for removing rust from chrome.
Also Read: How to Remove Grass Stains From Carpet (Tips & Suggestions)
These are some effective and easy-to-use methods for removing rust from metal furniture. However, these tips can also be used to clean rust from garden tools or other metal surfaces that come in direct contact with water.
If you've got these simple ingredients at home, you never have to worry about a metal surface catching rust again.
How to Prevent Furniture From Rusting?
With the passage of time, rust automatically starts forming, ruining the appearance of garden furniture. However, there are certain preventive measures you can take to lower the speed of rust formation.
Regular maintenance keeps metal furniture away from the danger of rusting. Wipe every part of the furniture with a clean dry cloth regularly, especially in moist weather.
Protect from rain and direct sunlight. Use coverings.
Apply a thin coat of paste wax, paint, grease or oil as a water repellant layer for rust-free protection.