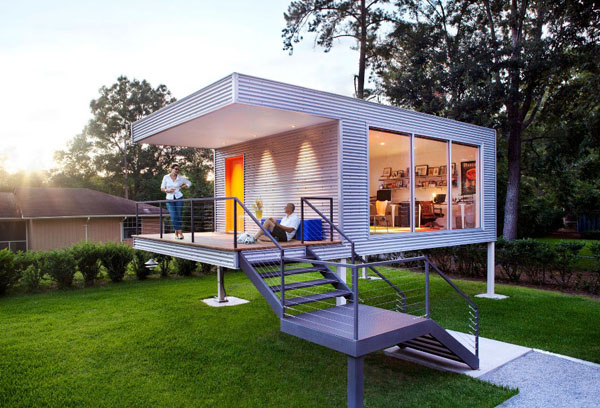 Nowadays, we are seeing a spatially effective trend where home offices do not actually form a part of the home structure. Previously we talked about Scott Dorman's DIY office in his backyard; and now, we have come across Celestino Piralla and Cornelia Stumpf's remarkable creation (in collaboration with ASUL studio) in their own backyard. The contemporary modular structure has been constructed separately from their house, and in fact poses as a perfectly discreet office with its own solitary credentials.
Coming to its advantage, the 320 sq ft modern home office serves as a spatial extension of the 'parent' mid-century house, without intruding upon its core circulation credentials. This serves as an effective solution, especially since the main house was not that big enough to accommodate a home office. The backyard conception is also slightly elevated in its structure (its foundation comprising of corner pedestals) with access through steps. This set-up doesn't directly hamper the landscaping of the backyard.
And moreover, the contrast between a mid-century architectural style and a minimalist modern form is quite striking. So, even on the visual scale, the backyard office is an aesthetically novel addition to the overall home scope.
Via: Adorable-Home