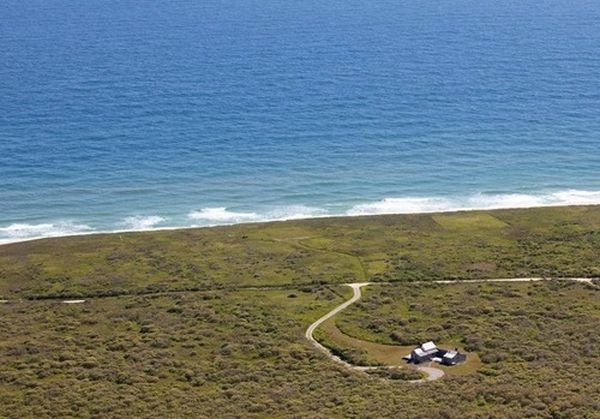 The sparsely populated Nantucket island, just south of the state of Massachusetts, USA has turned into a somewhat popular tourist destination, especially during the summer season. And, with popularity comes soaring real estate prices, as is evident from Forbes magazine's listing of Nantucket as having home values among the highest in America. Going along this trend, the above pictured solitary rustic cottage on a 20-acre property has been listed as at nearly $3 million. Boasting of almost 600-ft of oceanfront, the house property is also surrounded by vast swathes of conservation land, thus seriously notching up on the solitary factor.
Now, as we can see from the images, the house is not exactly a beachfront building. In fact, the cottage was renovated and moved back in 2006 from its water front position. In spite of this, the inhabitants can enjoy their uninterrupted views of the ocean, due to the secluded nature of the setting. As for the major access point, it is through the private road that fortunately crosses many picturesque sylvan elements including meadows, moors and beaches.
Finally, coming to the attributes of the cottage itself, the structure comprises of four bedrooms, three full bathrooms, a fully renovated kitchen and an imposing 2,354 square feet of living space. These well arranged circulation areas are complemented by two large decks with commanding views of the Nantucket landscape and an outdoor shower that is high reminiscent of the olden days.
Via: Curbed