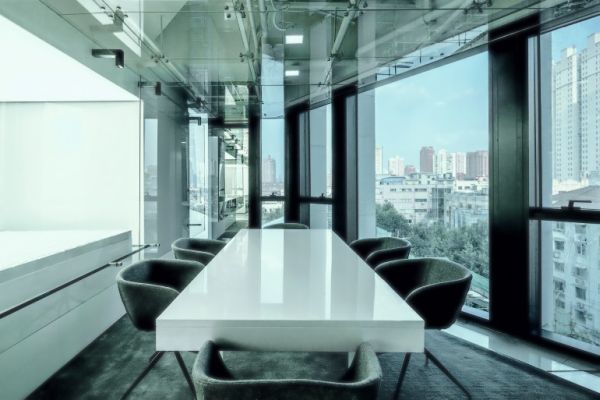 Shanghai-based studio AIM Architecture have designed a very unique glass office for SOHO China in the Fuxing Plaza complex of the company. The office building features mirrored walls and glass ceilings exhibiting the framework of the building. Service pipes and ventilation tubes are clearly visible through the glass ceiling and the independent meeting rooms are surrounded by glass floors. According to the architects the glass produces a sea of reflections of the meeting rooms and the sales models, thus constructing a 'double reality' that amalgamates with the incredible views of downtown Shanghai.
The radiated light from these mirrored walls and glass ceilings also helps in cutting off some energy bills. However, some of the floors are covered with dull stones and carpets to equalize these sea of the reflections and to reduce the extra lighting according to the needs of the customers. The entry to the office is through a white corridor, where the reflected light creates a mirage of a never-ending mesh.
The glass office for SOHO China by AIM Architecture was completed in September 2013.The main idea behind designing these see-through offices that are rented out by the company is to show the customers what they are actually paying for.
Via: Gizmag