Bambi and Caravel are two new, easy-to-tow travel trailers revealed by Airstream as part of its 2020 Model Year lineup. The first one Bambi is a nick-name for company's single-axle travel trailers and the name Caravel is a manifestation of a light sailing ship of 15th, 16th, and 17th centuries in Europe.
Originally launched in the early 1960s, these travel trailers are designed to improve the camping experience. Both of them are lightweight, which would possibly attract the young, eco-conscious generation. Let's delve into their details:
Airstream Bambi Travel Trailer
The first 16-foot, single-axle Airstream travel trailer was created in 1961, which is gradually named Bambi after the strong creature "O'Mbambi" found in Africa. It is a small, lightweight, space-maximizing travel trailer outfitted with comforts of a home. The Bambi trailers can be towed with an SUV and can easily fit in smaller campground sites.
The Bambi travel trailers are available in four lengths from 16 to 22 feet, with four different floor plans and two different décor options. Each unit has dedicated sleeping space, convertible dinette space, a galley kitchen with all required appliances, and an onboard restroom. The dinette doubles as lounging space and can even be utilized as extra sleeping space. There is enough space to sleep up to four persons.
Air conditioning and auxiliary heat strip find a place inside the trailer to keep the living environment cozy throughout the year. Outdoor shower, retractable awning, outdoor storage locker, Bluetooth stereo, LED HDTV, USB and 110V charging are some other cool features of the Airstream Bambi travel trailer.
Price: Starts from $49,000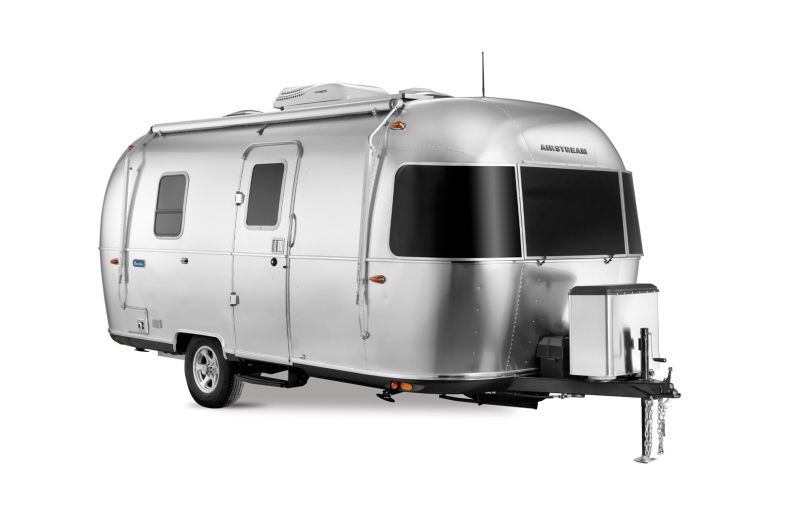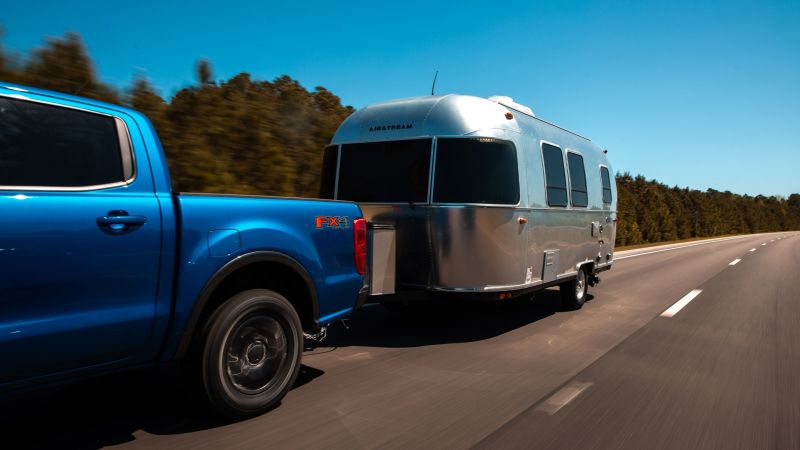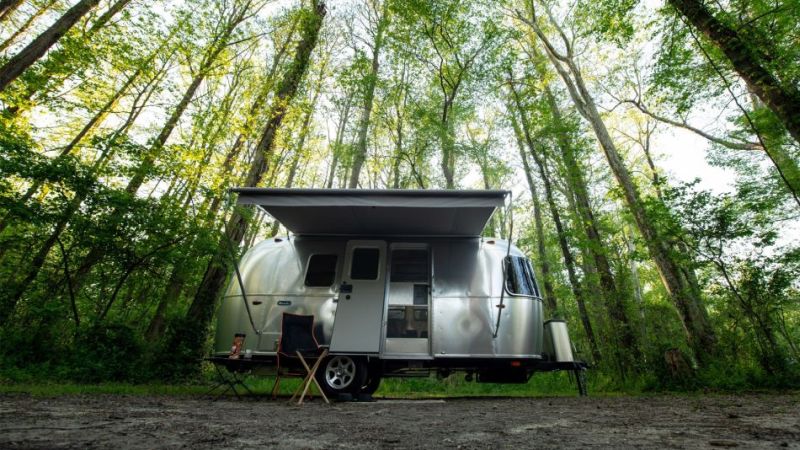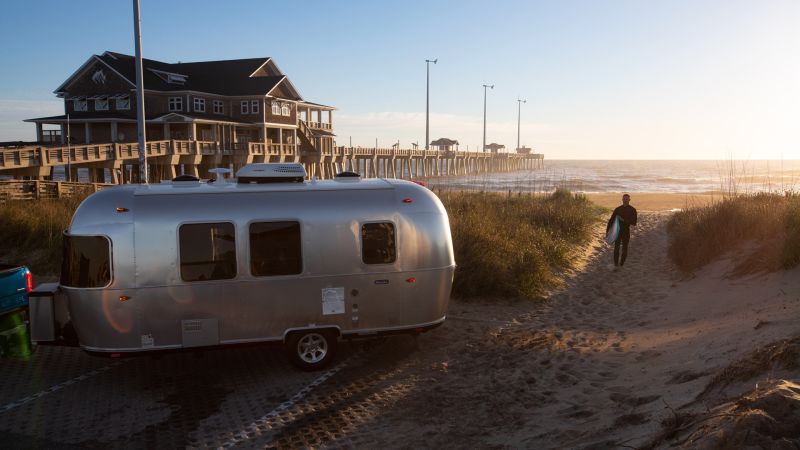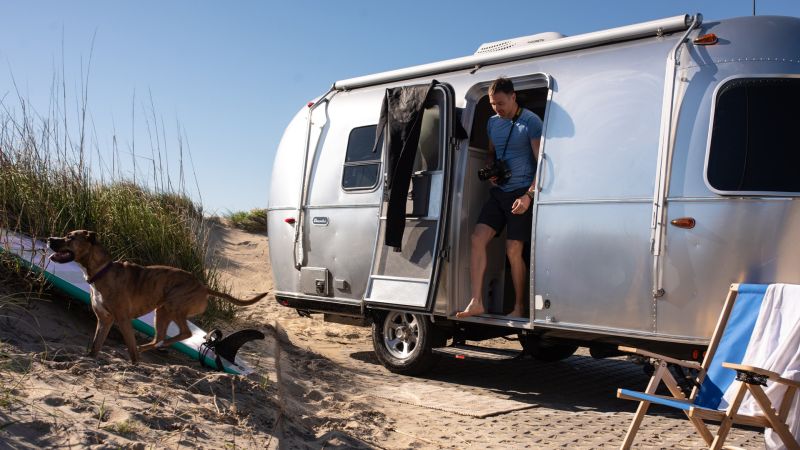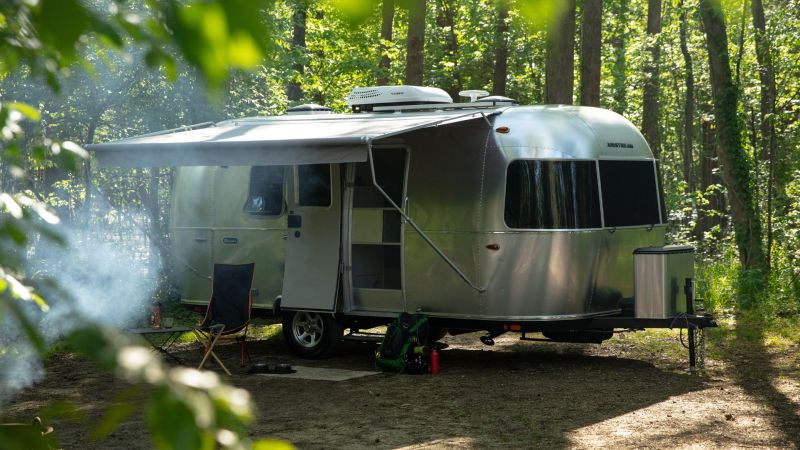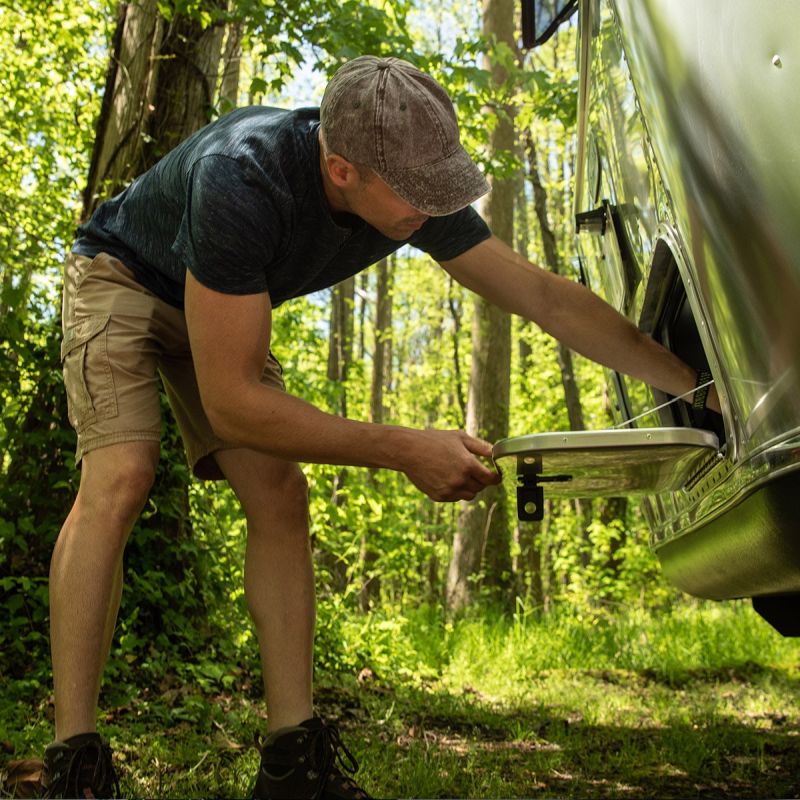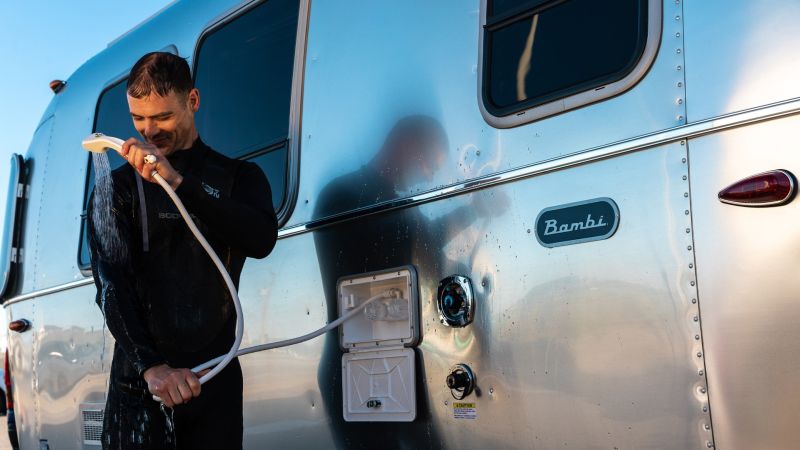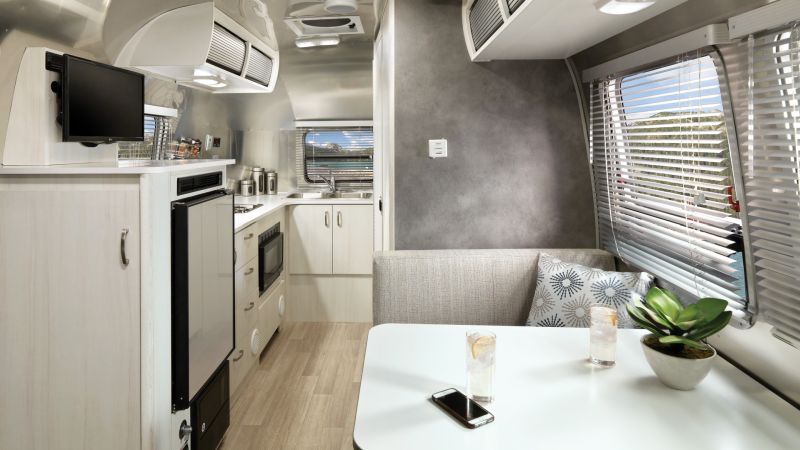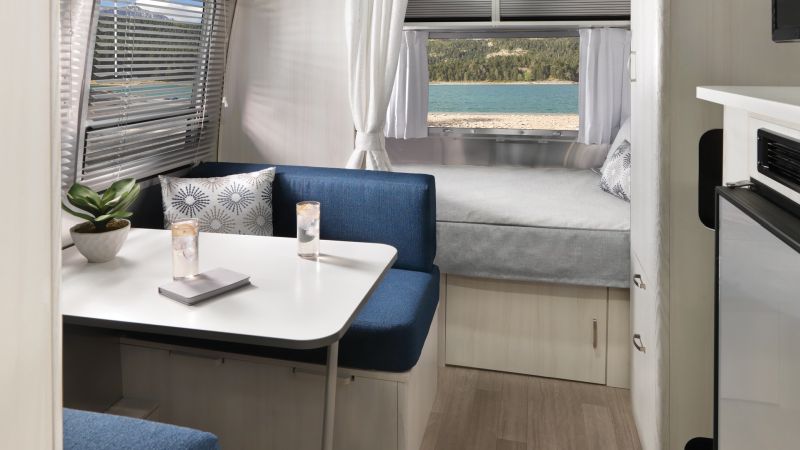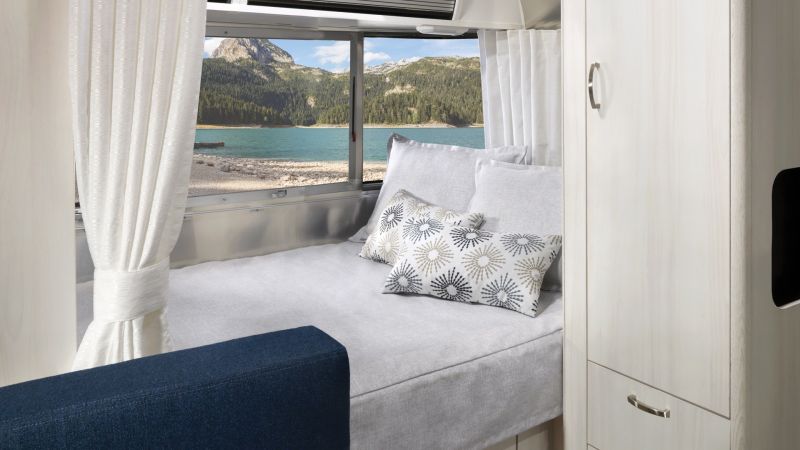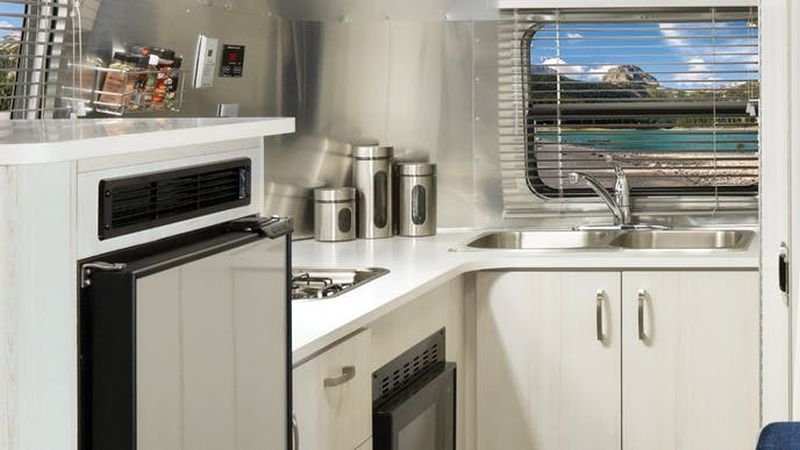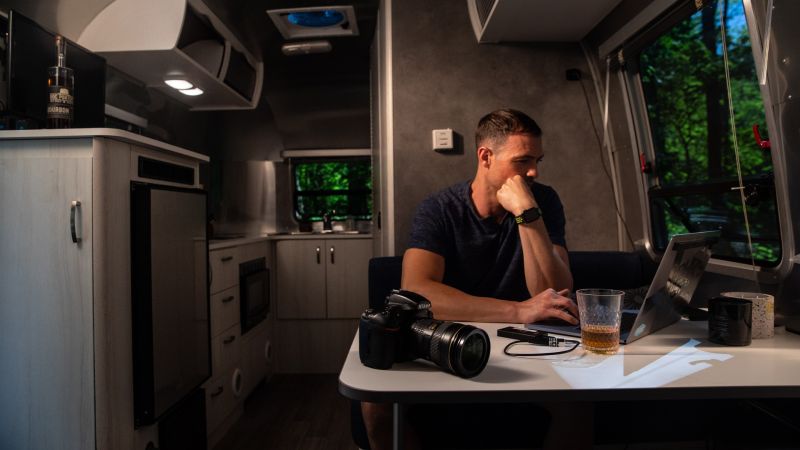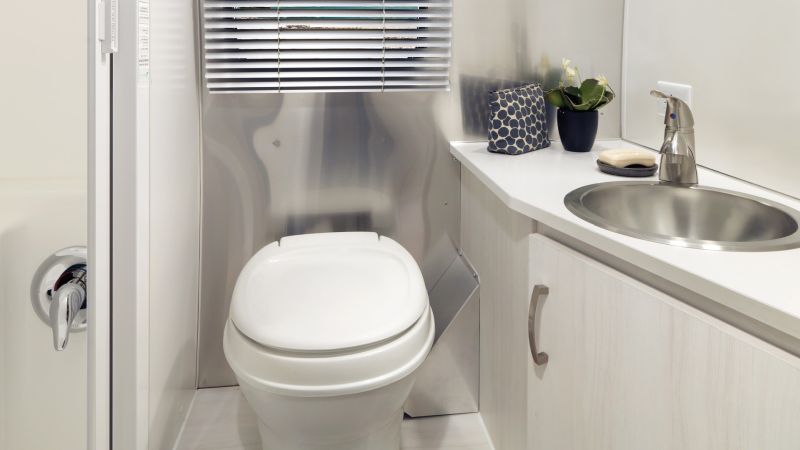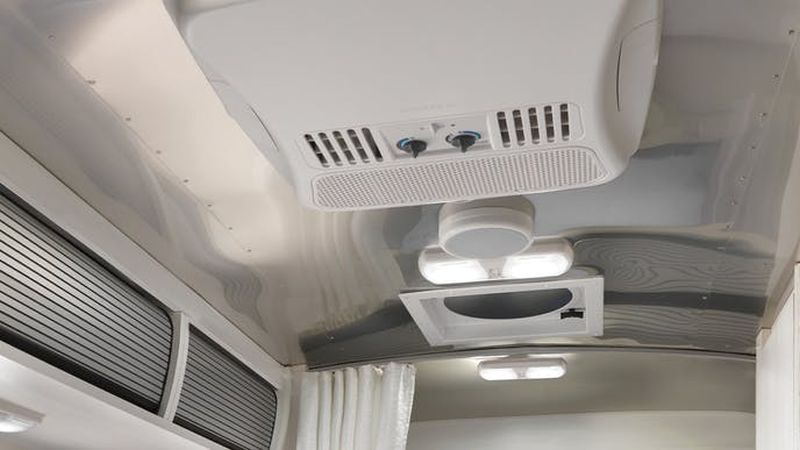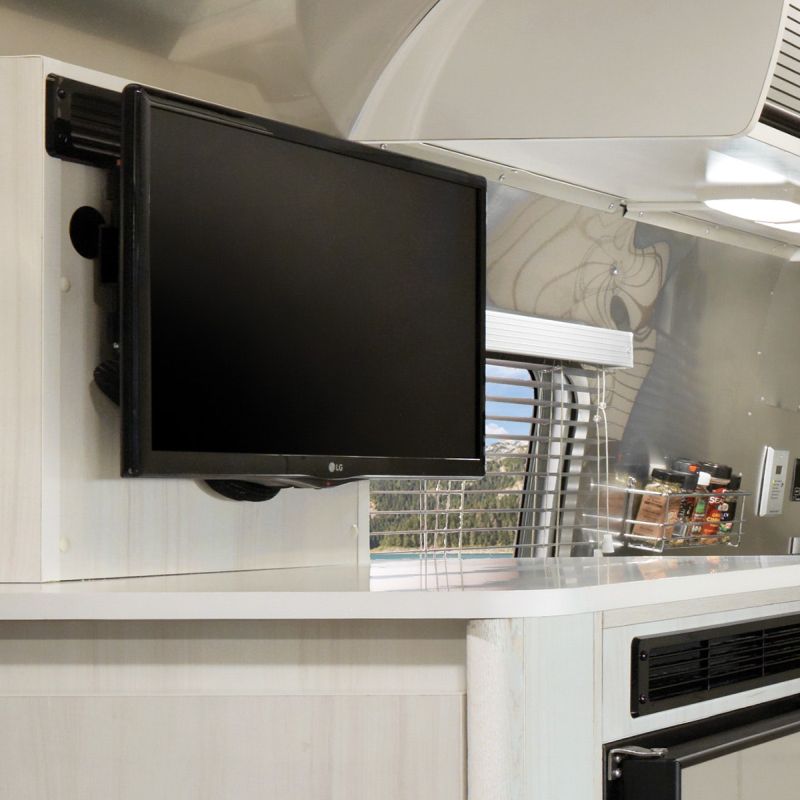 Also Read: AutoCamp Lets You Glamp in Custom Airstream Trailers
Airstream Caravel Travel Trailer
The first Caravel travel trailer was launched in 1956. That time, it boasted street-side bed; however, the new 2020 model is characterized by its ultra- towability. It is also available in four lengths and four floor plans. Panoramic Bold black accents and leather details distinguish the interior space, while panoramic front and rear windows differentiate its exteriors from that of the Bambi travel trailer. The Caravel also features stainless steel rock guards to prevent damage to the body of the trailer during towing.
If you want a large but lightweight trailer, the Caravel may be a good choice for you. The trailer can be towed with a SUV thanks to lower center of gravity, weight distribution, and aerodynamic aluminum shell. It has dedicated sleeping space, convertible dinette, a galley kitchen, a spacious bathroom, and plenty of storage space. The kitchen has a stainless steel gas stove with cast-iron burners, Baraldi vent, black Moen faucet, and rectangular stainless sink to cook on-the-go.
The Caravel travel trailer also comes with an electronic thermostat to control the Quietstream ducted climate control system that quickly and silently cools the cabin. The onboard furnace heats up the interior space while there is also a heat pump that pulls ambient heat from the air to warm up the travel trailer.
The Sunbrella pinstripe front awning provides shaded outdoor space and the optional window awnings keep the interior cool and private. There are roller shades and blackout curtains to add to the privacy. Furthermore, the trailer has useful features like rear bumper storage, LG LED HDTV, Bluetooth stereo, solar kit, double taillights, power tongue jack, dimmable LED lighting, and charging facilities.
Price: Starting at $60,900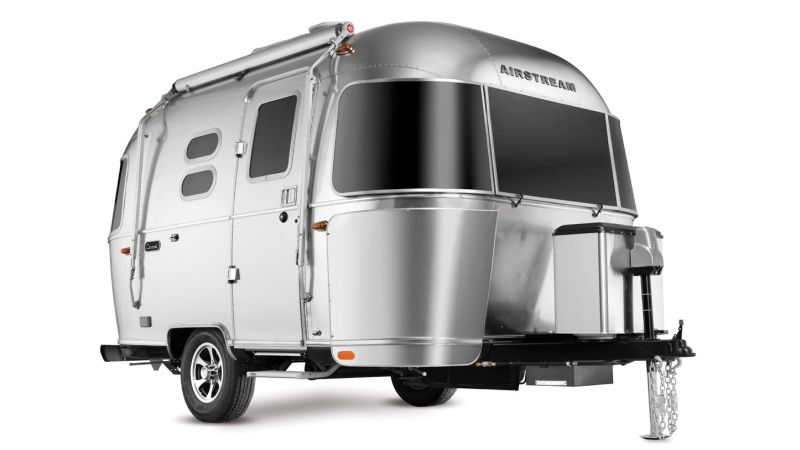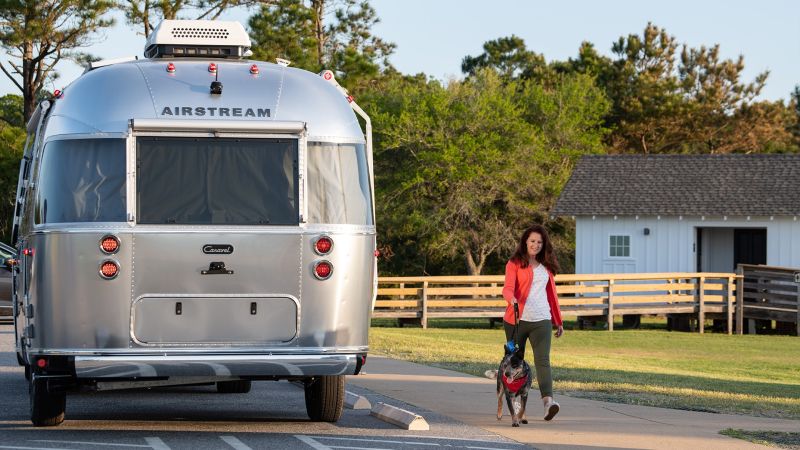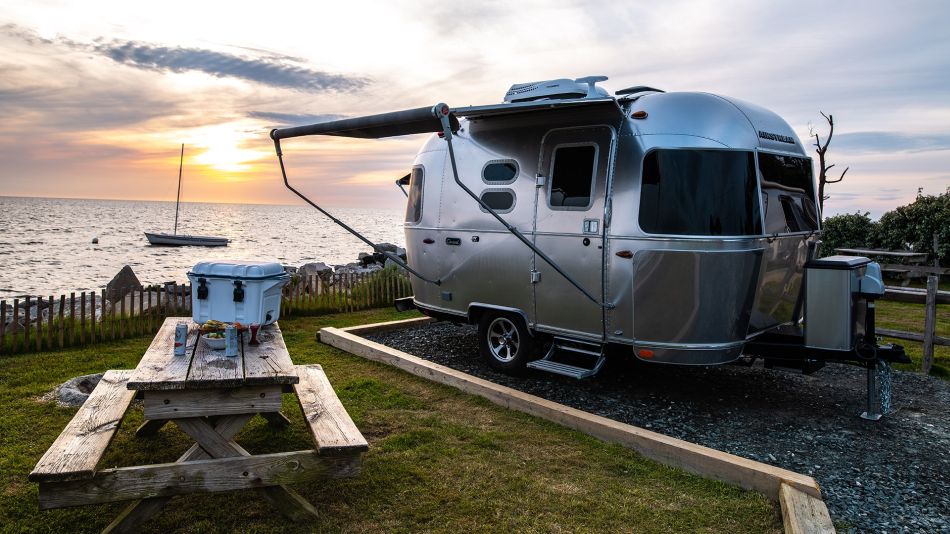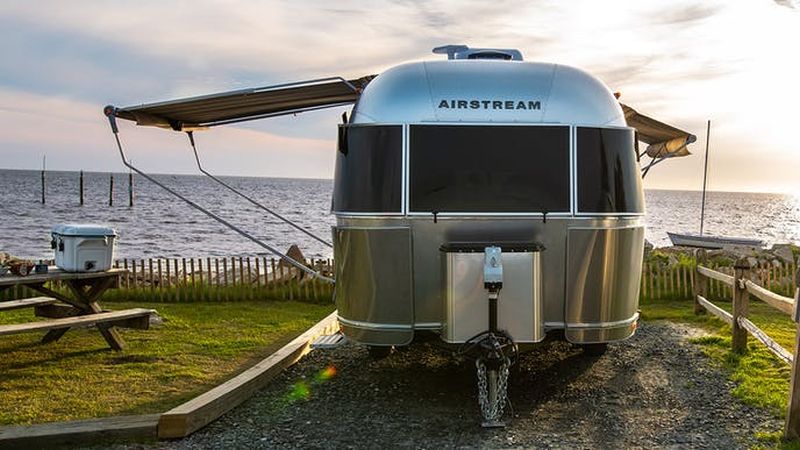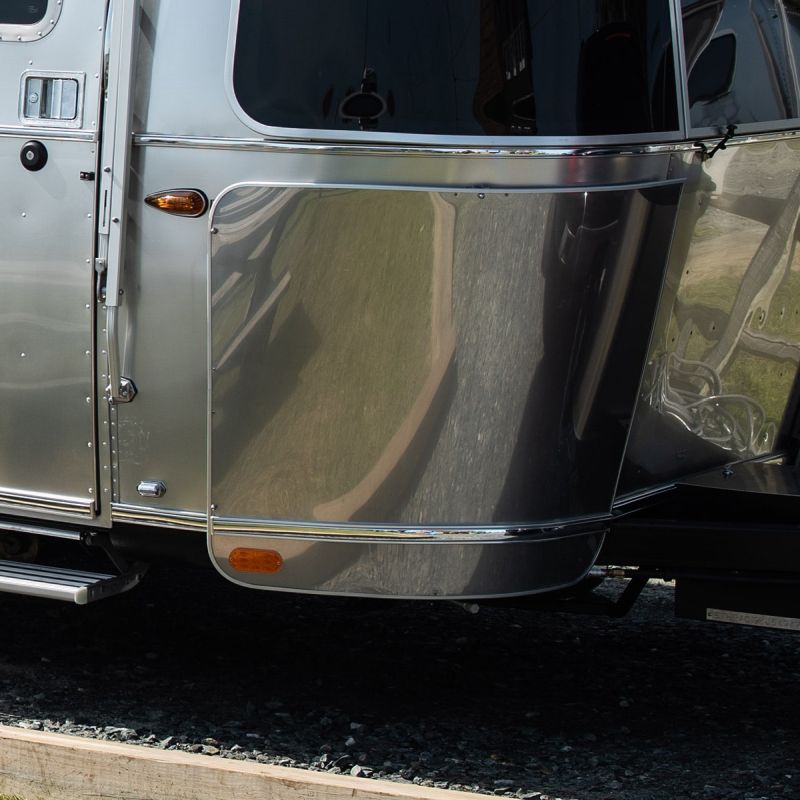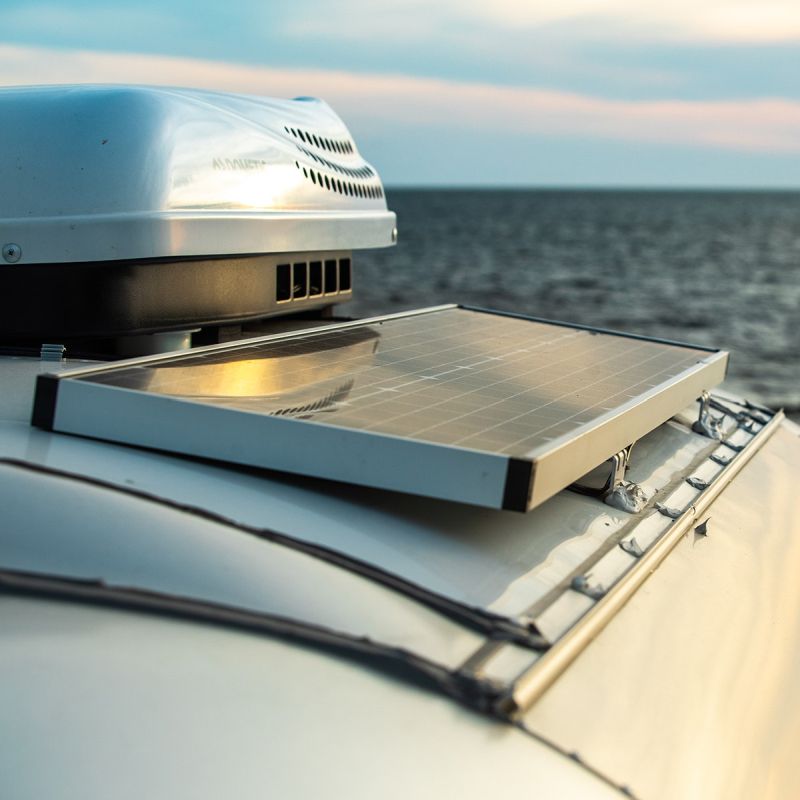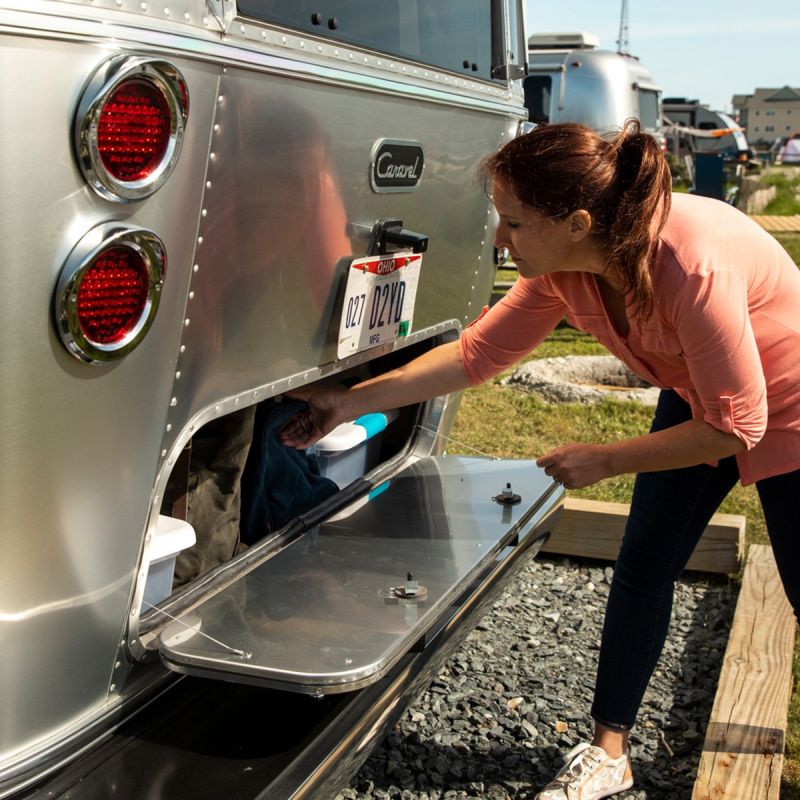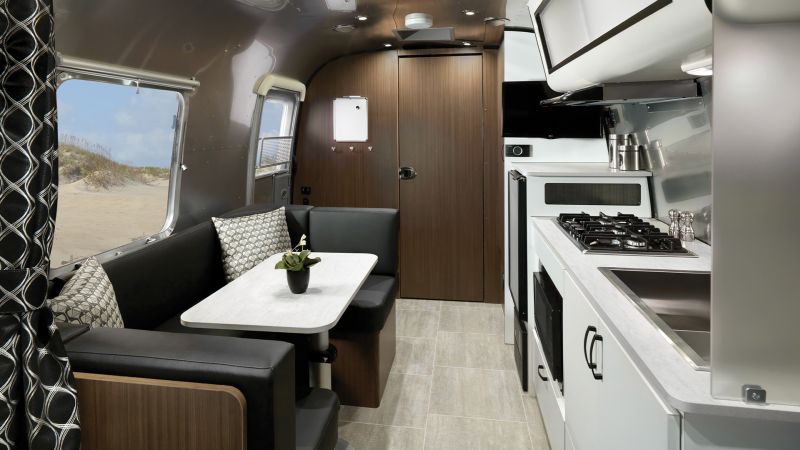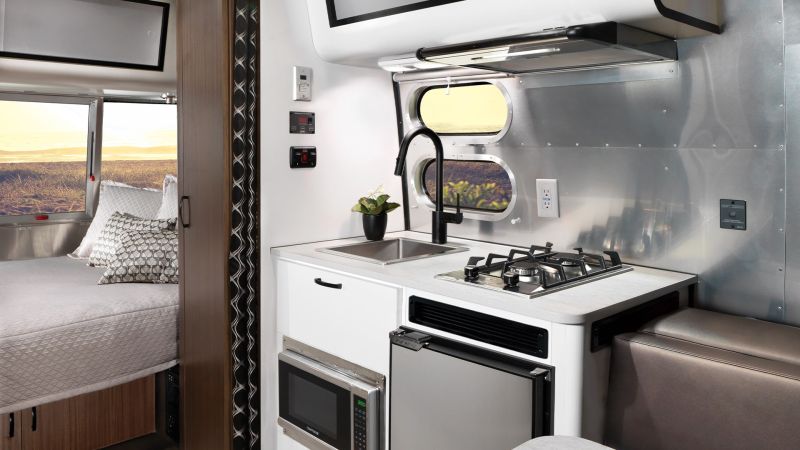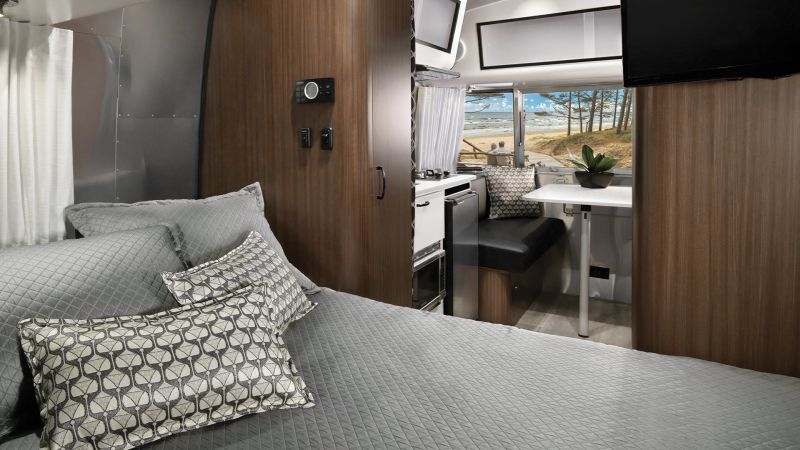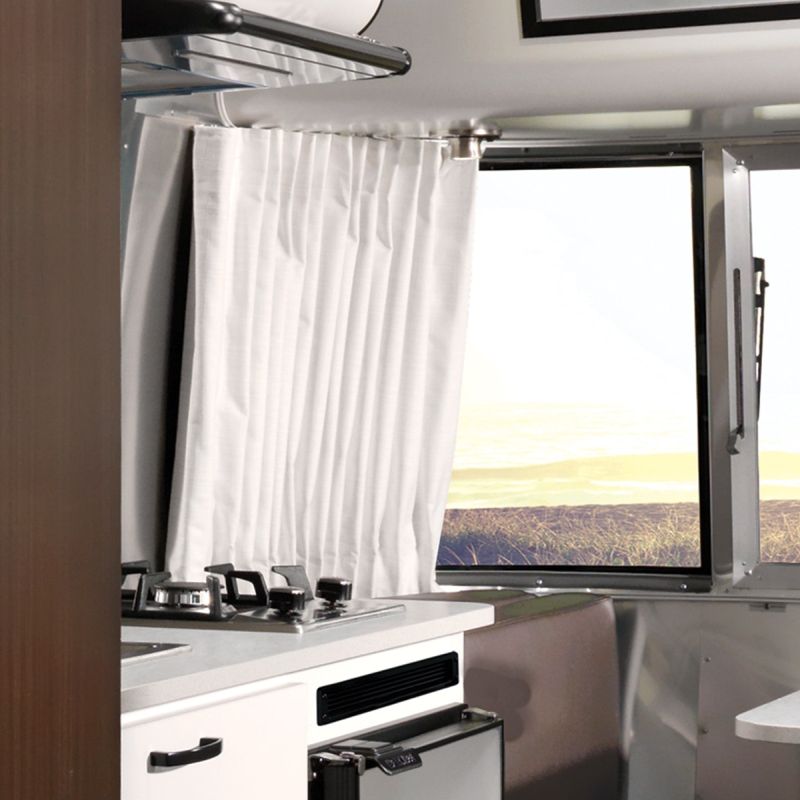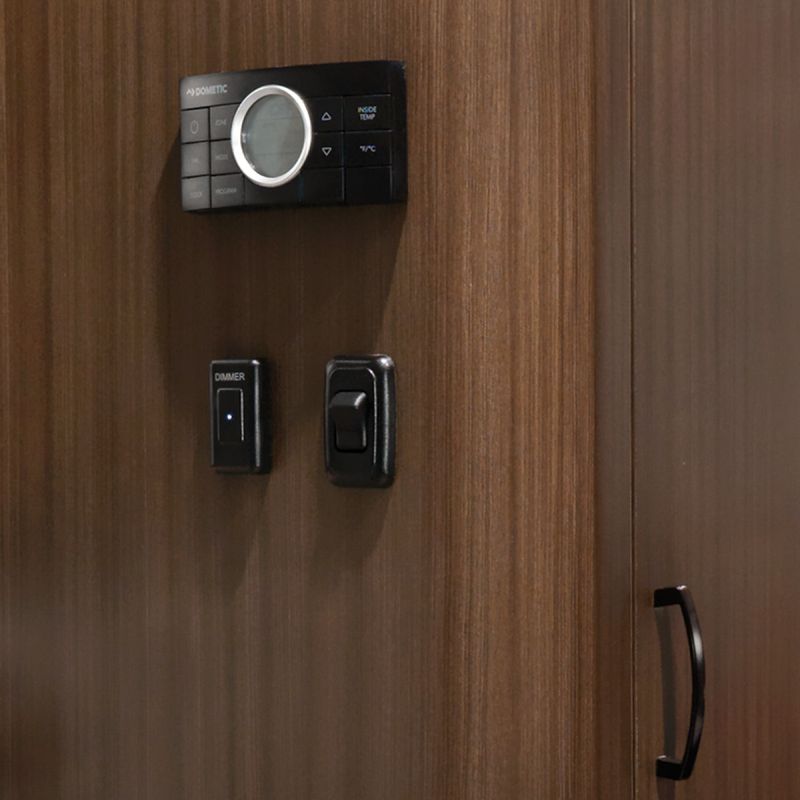 Via: Airstream