Cuckoo clocks are unique and delightful, they come integrated with an automated bird moving in/out in order to symbolize the passing of hours with chirping sounds. These are often associated with the old-times but Amazon is looking to give the Cuckoo clock a smart makeover – making it righteous in the modern scenario – and you have a chance to support Amazon realize it.
The e-commerce giant has plans to create a smart cuckoo clock that'll work with Alexa voice assistant and have many other convenient, modern-day features. Owners will be able to set timers, alarms, and do more using simple voice commands. It would also provide users the option to configure its sound on the hour or schedule it to mute at certain times.
The wall clock could feature an analog face and a removable swinging pendulum, just so you can place it on a shelf or any flat surface. Amazon has provision for 60 LEDs on the clock that'll create a nice visual. If it goes into production, the clock will come equipped with a 1W speaker, offer a variety of alarm sounds easily changeable by the user, will draw power from 4 C batteries, and will automatically adjust for daylight saving.
The smart cuckoo clock will be developed through the Built-it program under Amazon's Day 1 Editions project, a platform specially created to help innovative new concepts made real if customers see it viable and pre-order. After starting pre-orders on 17 February 2021, the smart cuckoo clock has met 44-percent of its pre-order goal, at the time of writing.
Also Read: ClockClock 9 by Humans since 1982 is Both a Wall Clock and Artwork
If you want a cuckoo clock on your wall but think it is dated for your interiors, this Amazon initiative is worth considering. You can support by pre-ordering the smart clock at a special discounted price of $80 through Amazon. Interestingly, you will only be charged if the goal is reached and Amazon goes ahead to build it. If the campaign is successful the clock will be delivered sometime between July and September this year.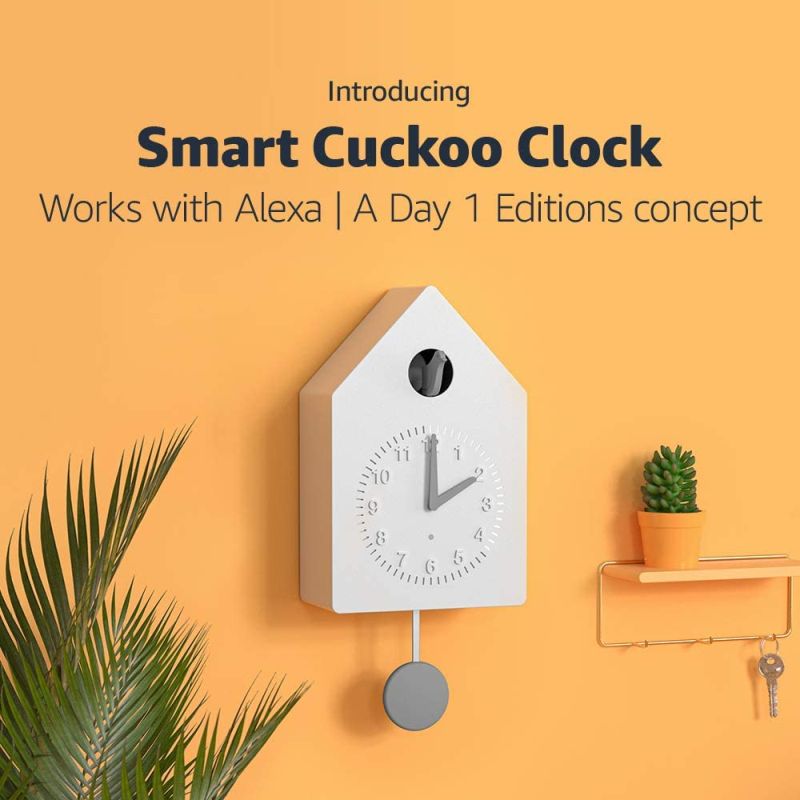 Via: Amazon