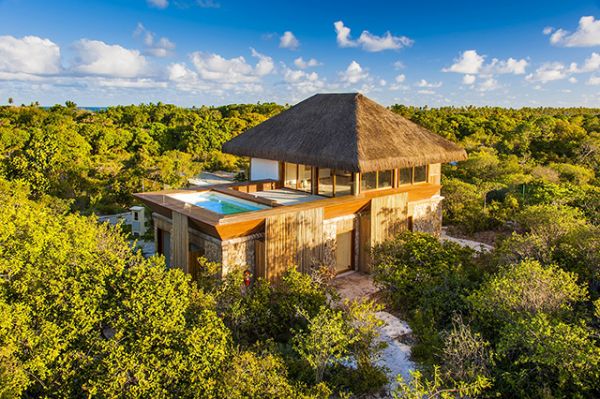 The coastal village of Praia do Forte is known to be one of those paradisiacal settings in Brazil that is relatively untouched by the rigors of modern day commercial intrusions. And, this is the location of the Tivoli Ecoresidences Praia do Forte, an eco-housing project conceived by two of Brazil's famous architects, Thiago Bernardes (founder of Bernardes Arquitetura) and Paulo Jacobsen (founder of Jacobsen Arquitetura). The project comprising of 42 houses, follows the vernacular overtones of the area; and, as such we see architectural elements like thatched roofs and wooden facades. These features are aptly complemented by user-oriented attributes like spacious circulation areas along with innovative landscaping by the beach.
In this regard, the cubic structure of each house consists of two floors, with stone facades adorning the outer skin of the ground level and wooden facades embellishing the exterior walls of the upper level. This vernacular arrangement is literally topped off by thatched roofs, a technique which is pretty common in tropical zones for warding off the rain water from the inner roof zone. The naturalistic ambit is extended by some fascinating landscaping (done by famed landscape architect Fernando Chacel) that accentuate the 'equatorial' credential of Praia do Forte.
Coming to the circulation zones of the individual residences, each house is divided into a large living room, a dining area, four spacious suites, bathrooms, private swimming pool and a viewing deck on the roof of the first floor. And, finally as for the user-oriented zones of Tivoli Ecoresidences Praia do Forte, the property boasts of various recreational areas including restaurants, bars, pools, tennis courts, an amphitheater, a spa, beauty saloon, and even saunas.
Via: Knstrct