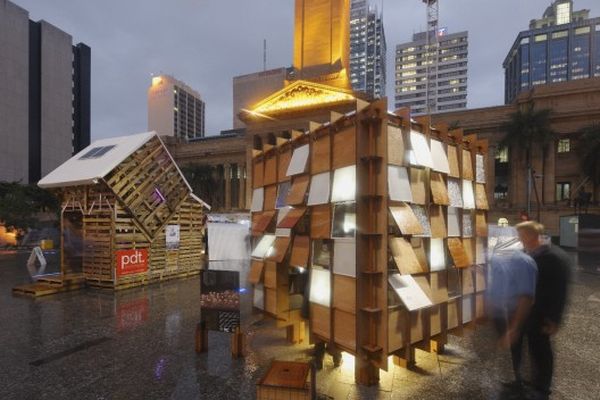 With the recent tragic events of flash floods in parts of Northern India, we are once again reminded of the crucial need for viable emergency shelters that are not only sturdy but also easy-to-assemble. As a credible solution, Australian designers Nic Gonsalves and Nic Martoo have taken the modular route by conceiving a flat pack emergency shelter which occupies less than a cubic meter of area (in its disassembled stage). In fact, this remarkable portability credential is borne out of a simple system of pins and dowels, while the shelter kit assembly totally eschews any kind of mechanical tool.
When assembled in its final form, the emergency shelter exhibits a straightforward cubic shape, with small piers acting as its base support (thus, keeping the shelter safe from ground debris). The facades are crafted from layers of plywood, which are in turn draped with a flexible skin of shingles. This checkerboard patterned skin serves two purposes – firstly, it creates interior wall recesses for shelving and storage, and secondly, and more importantly, the openings are used as window arrangements for the much needed ventilation and lighting. Finally, the roof consists of a plastic membrane for collecting and reciprocating the effulgent glow of natural light.
So, at the end of the day, this emergency shelter design is all about the ease of usage and customization. In that regard, the usability factor is improved by the modular set-up, while the 'personalization' credentials are taken care of by adjustable openings and storage systems found inside the assembled structure.
All images are courtesy of Scott Burrows, Nic Gonsalves and Nic Martoo.
Via: ArchDaily