British outdoor company Anevay, has started worldwide shipment of its much-anticipated and highly innovative portable wood-burning stove called the 'Frontier Plus', after a very successful Kickstarter campaign. This £349 (approx. $432), next-generation portable wood-burning stove is now all set to bring some heat into your chilly tent, tiny house or RV van.
We had already introduced you with Frontier Plus, when it was up on Kickstarter. The whole wood stove design can be conveniently folded down to a compact, easy-to-carry package for all your outdoor adventures. The process of assembling, is also very easy and it takes just few minutes, with no special skill required to set it up.
Frontier Plus is extremely versatile and can be used for cooking as well as heating. It has enough space on its stovetop for a couple of pans or a kettle, where campers can cook for large gathering or just make coffee and breakfast for themselves.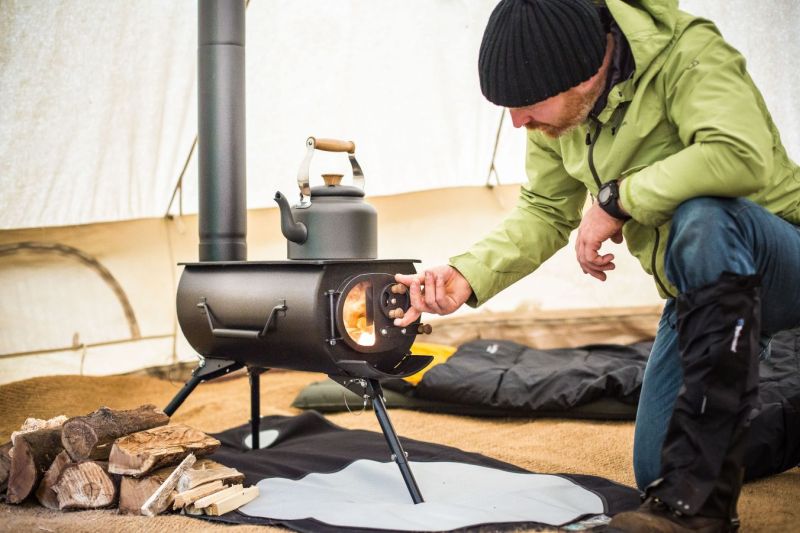 This lightweight stove features a 4-inches diameter chimney for stronger updraft to vent out fumes and a glass window on its front to see the flames while enjoying the heat. For better tweaking of your fire, there's an adjustable front-mounted air controller on the door, which allows you complete control over heat output, to avoid overheating of small cabins. This feature makes Frontier Plus more efficient as compared to its predecessors.
There are adjustable legs so you can toggle the stovetop to your desired height. Any solid fuel can be used as burning element in this stove but preferably well-seasoned, non-treated, dry wood is recommended as the most efficient fuel for Frontier Plus.
Anevay, originally was producing Frontier Stoves for humanitarian aid and has sent more than 12,000 stoves to disaster zones for helping people in distress. Carrying on with the good work, the company has decided for a special 'HELP NEPAL Edition' for the Frontier Plus too. Customers by spending some extra money on their purchase, will be able to install an identical stove in a home or shelter in Nepal.