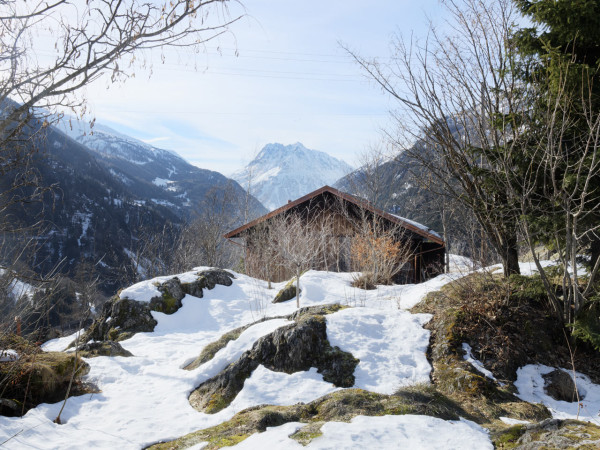 We have previously harped about modernistic augmentations to historical buildings. However, Switzerland based architectural studio Ralph Germann have notched it up to a whole new level by grandiosely converting a Swiss Army building from Second World War era into a fully habitable chalet. This ambitious renovation process was partly achieved by the insertion of glass cube within the old wooden structure. This 'safekeeping' attribute of the transparent glass gave the architects the opportunity to preserve (and not dabble with) the interesting historical details of the roofs and the walls.
In fact, the very design language of the transformation deals with the fusion of old and new. The architects went to great lengths to uphold the essence of the past style with the usage of unobtrusive materials like  larch wood, slate, glass and metallic components. At times, the monotony of the minimalist elements are broken by the use of vibrant colors at inconspicuous areas, like the vivid purplish composition behind the cloak room door.
The designers have also made spatial additions to the existing army building by integrating another wooden cube within the aforementioned glass cube. This 49 sq m volumetric space encompasses user oriented furnishings like cupboards and shelves, along with a foldable bed unit. This living area is further complemented by large horizontal windows that help in inducting natural light inside the chalet, while also acting as vehicles of visual connection (for the user) with the paradisiacal setting of the Swiss outdoors.
All images are courtesy of  Lionel Henriod / mc2
Via: Freshome