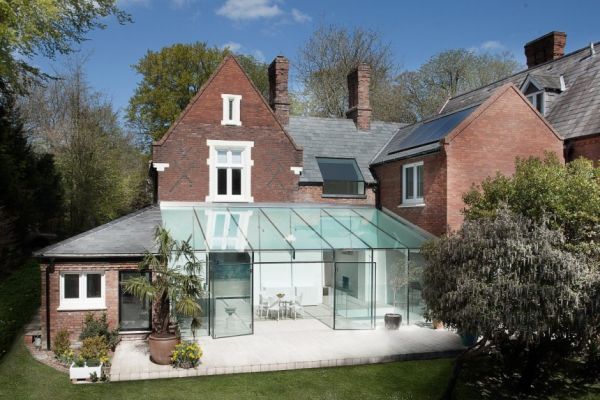 Glass facades have a tendency to be overused when it comes to the urban architectural scope dotted with high-rises. However, even such 'urbanely mundane' glass frontages have their day in the sun (both literally and figuratively) with the aptly named 'Glass House' by AR Design Studio. Envisaged as a modernist extension to the historical Manor House of Winchester, the goal of the architects was to provide a 'light and clean' structure that would enhance the circulation credentials of the traditional building. This sun drenched glassed space emerges out from the house's rear facade, thus aesthetically not obstructing upon the historical essence of the building (from the front entrance). But once we enter the manor, details like vertical voids on the walls and glass staircases all draw our attention to this ethereal 'modification' constructed in the backyard.
Functionally, the Glass House comprises of the open-plan kitchen, living and dining areas. The spatial arrangement certainly reduces the 'load' of circulation inside the main structure of the manor itself. This technique keeps the four inside bedrooms along with other personal spaces (like formal lounge and study) completely private from the open-faced backyard living room.
And, beyond aiding the scope of privacy for the main house, the Glass House poses as an accentuated space where light and darkness play out their wondrous roles. The deft structural angle along with the correct orientation creates those lines of shadows along the resplendent walls glowing with natural sunlight.
Via: Contemporist