Ark Shelter is a prefabricated cabin by Belgium-based Ark Studio designed to let its residents escape into nature, leaving behind the stressful modern life. It is a no-fixed abode that it can be moved to any desired location. It is designed to luxuriously live in middle of nature. Each side of the wooden cabin has big glass windows that connect interior space with surrounding landscapes, making it part of natural environment. Everything needed to enjoy a comfortable stay is included to feel like at home. It can be used as an extension to home or a vacation cabin for relaxation.
From walls to ceiling, and even custom furniture, everything in the cabin is made from sustainable wood. Ark shelter can be equipped with bed, table, seating, lamps, cooking utensils and other common amenities. There is a crackling fireplace in the middle of the living room; however, an electrical heating system can also be installed. It generates electricity from wind and harvests rainwater. Ark Shelter is a minimalistic cabin that beautifully merges into nature and allows staying luxuriously in remote locations.
Also Read: Matilda Home – Movable prefab accommodation of the future
Exterior
Ark Shelter features dark wooden siding on exteriors for a cool contemporary look. There is double layered glazing on the front façade for revitalizing insulation in the space. One can enter in the cabin from sliding glass doors, which also let in natural daylight in meantime. Metal sheet with rubber hydro-insulation used to weather-proof the flat roof, the bottom area is made of from perforated metal plate, and the terrace is made of timber plates.
Interior
Walls, ceiling and floor of this prefab cabin are covered with cross laminated timber plates. Furniture units are upholstered with black leather, adding an industrial touch to the space. There is a double bed in front of frameless glass window and can be converted into a couch. Everything in the Ark Shelter is equipped purposefully, like the tempered glass under the fireplace to protect the floor.
Each unit is prefabricated in factory conditions and thus minimizes impact on nature. You just need to find the place for your shelter, and it will be assembled in less than four hours on-site. It takes the scenario of glamping to another level.
You can buy it on request from the Ark Shelter's official website.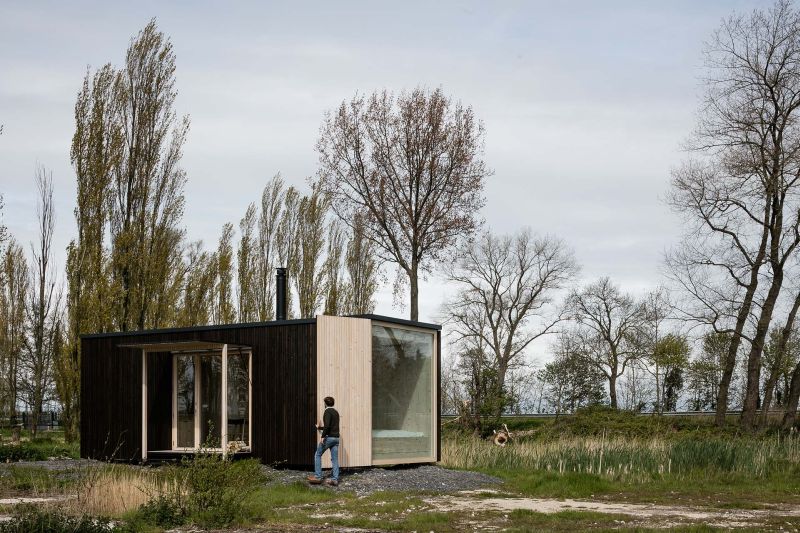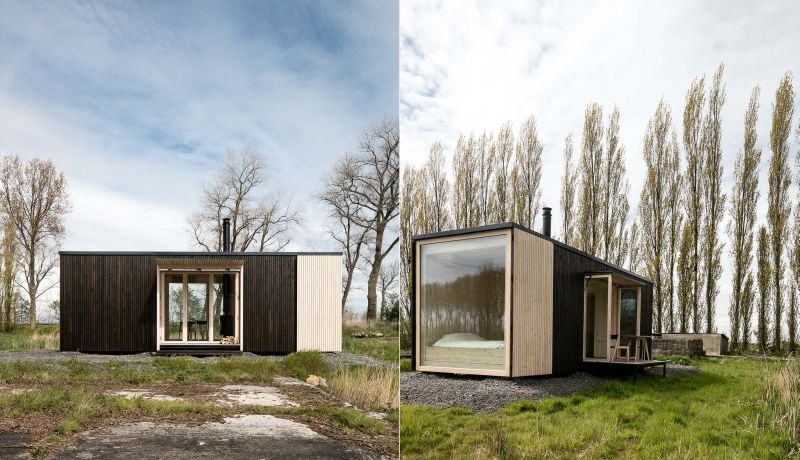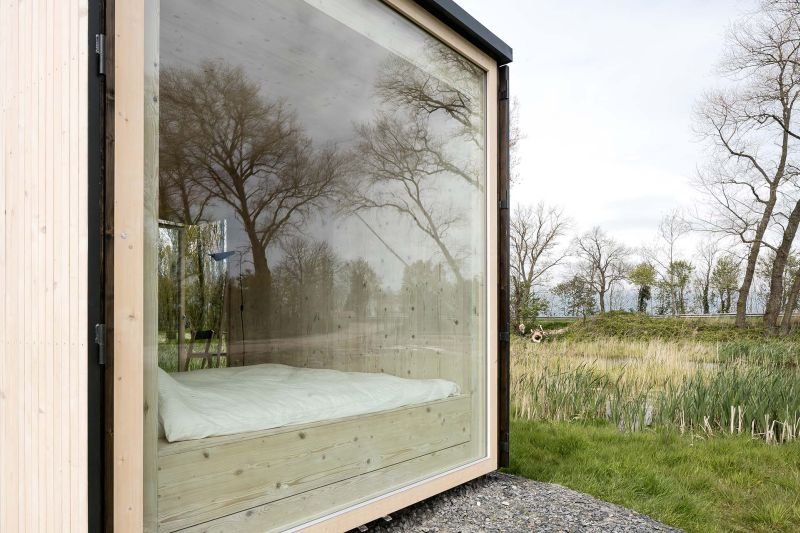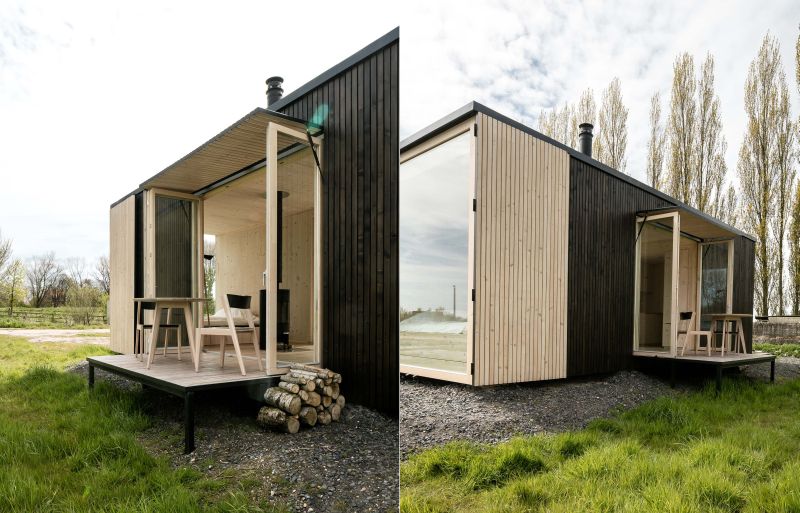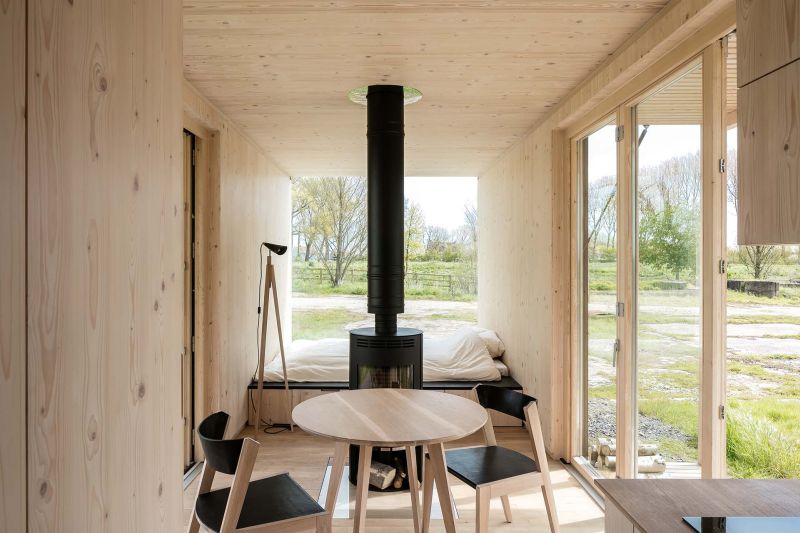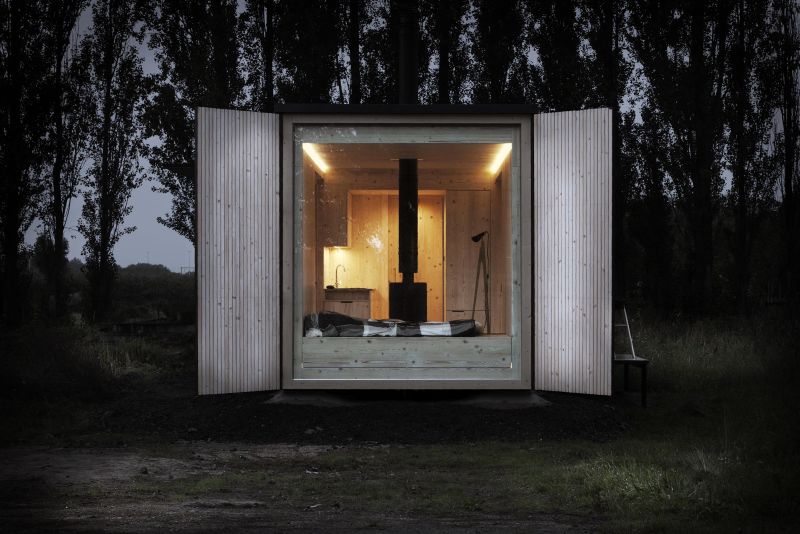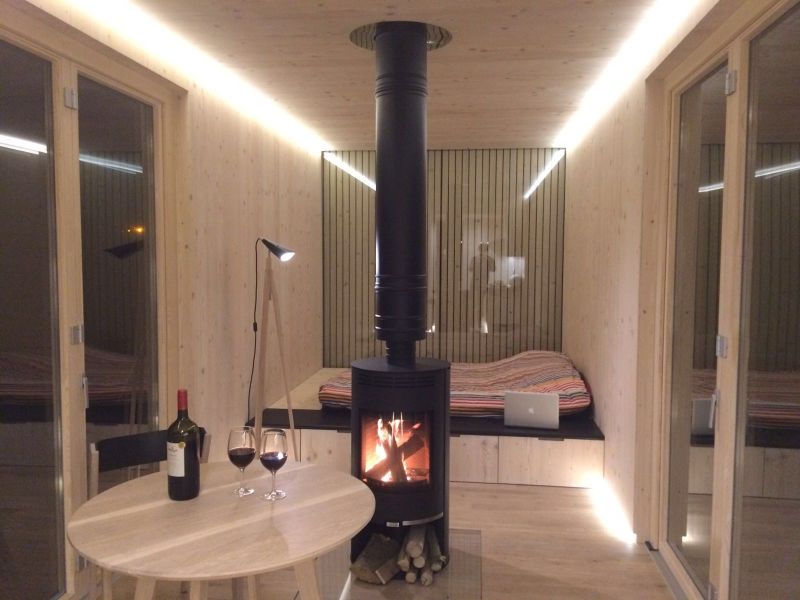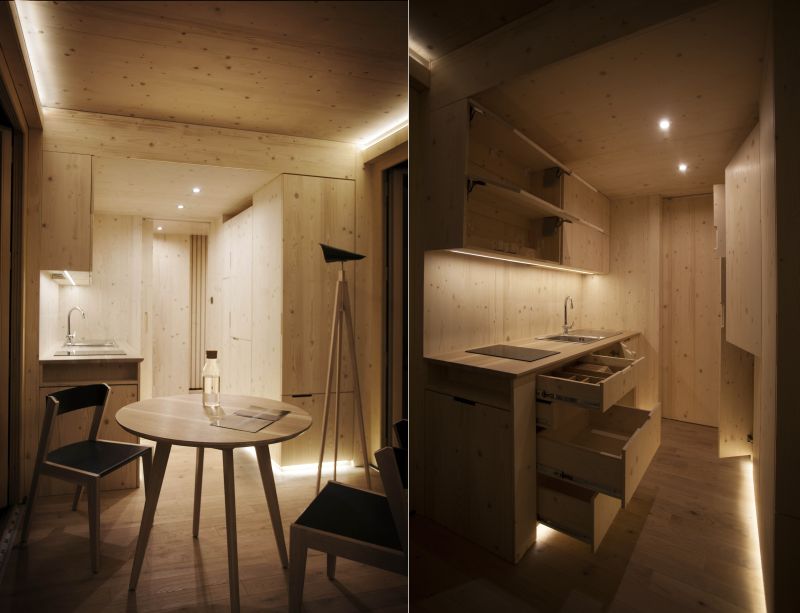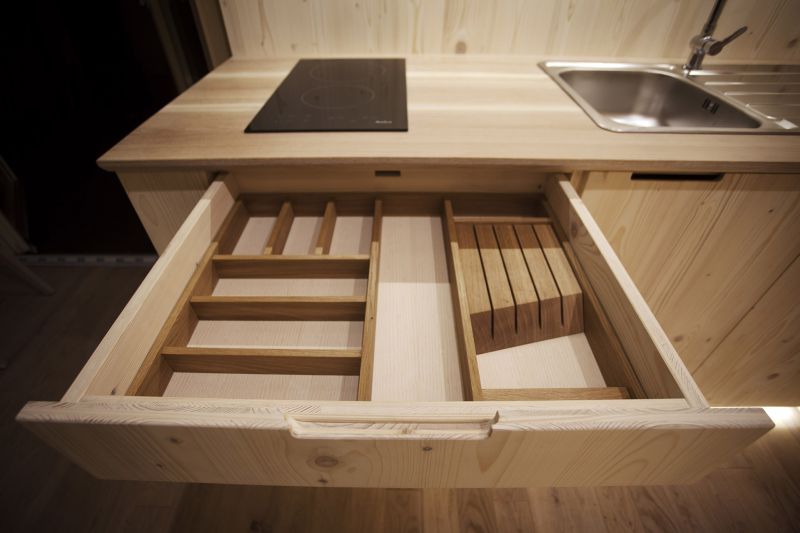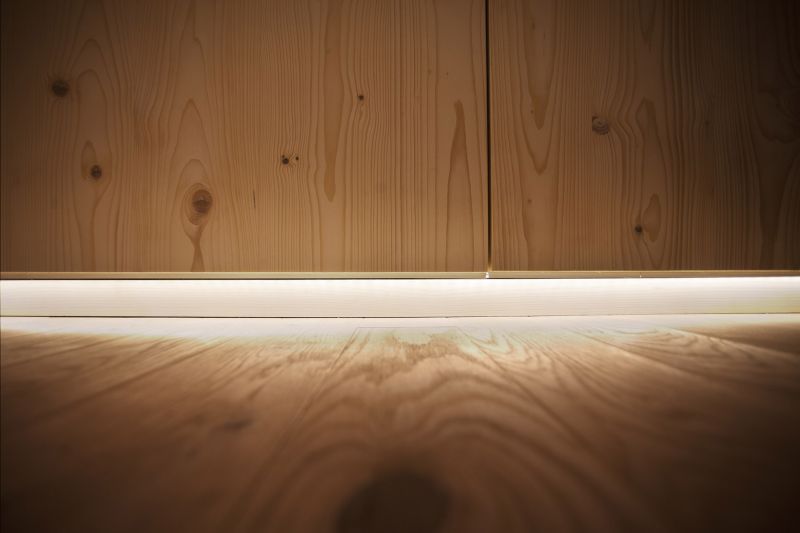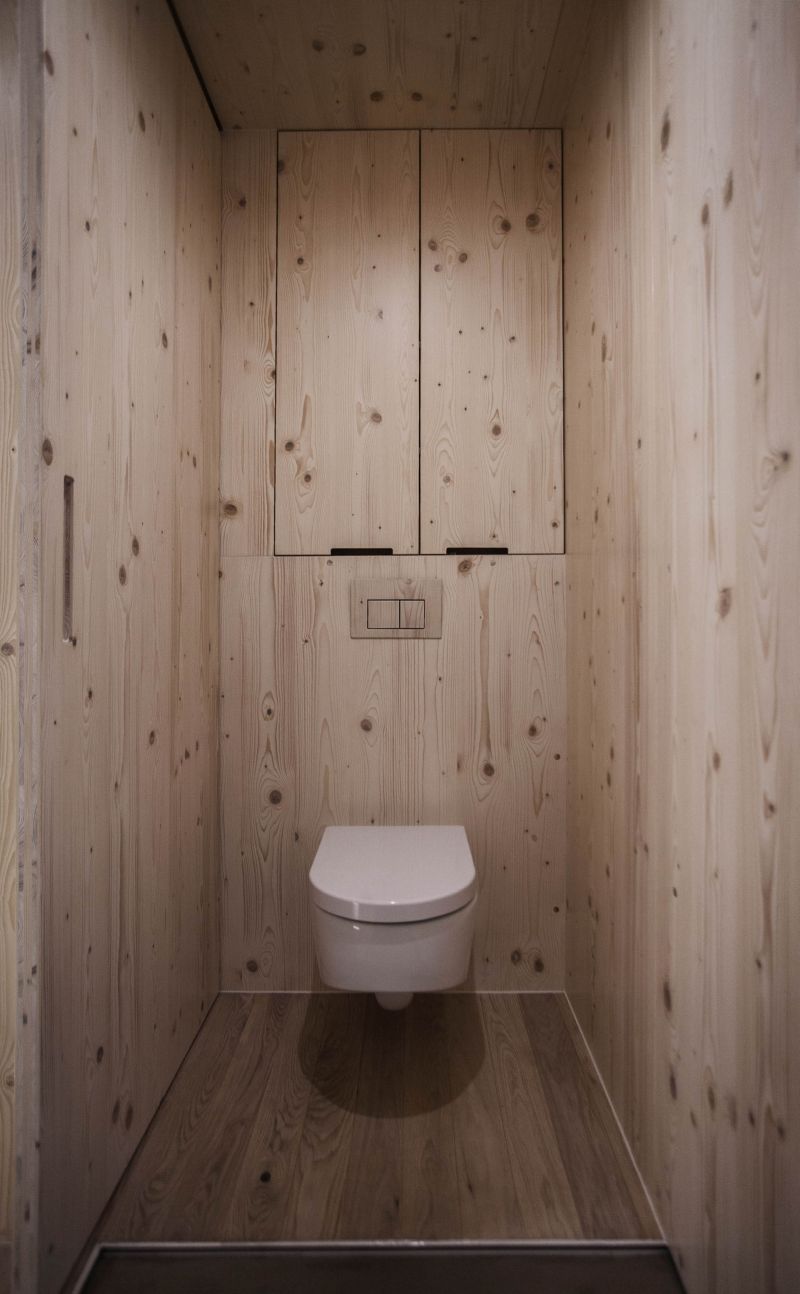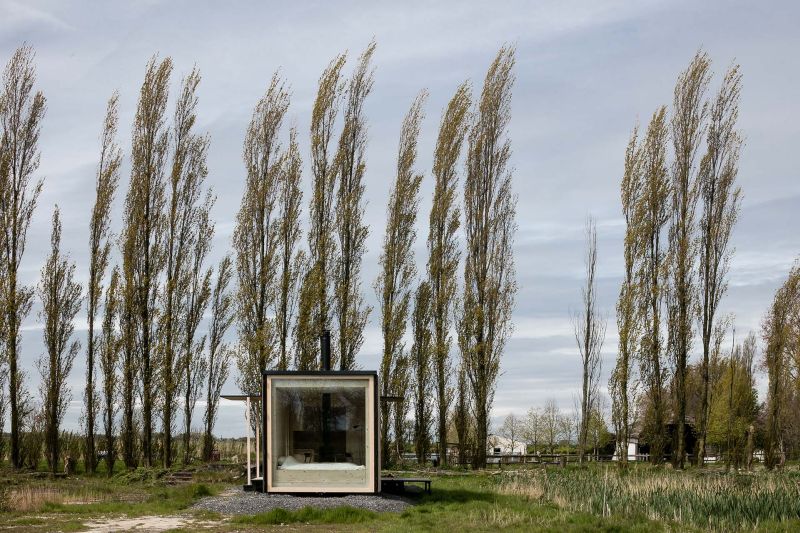 Via: Designboom