The British luxury car maker Aston Martin, in collaboration with the Italian furniture manufacturer Formitalia, has introduced a new luxury furniture collection inspired by the comfort and style of the Aston Martin supercars. Handcrafted using exotic materials like dark textured wood, brushed brass, velvet, leather, and hand-woven Italian linens, each piece of this new collection makes the right balance between aesthetics and comfort.
The collection includes luxury sofas, coffee tables made from Sahara Noir or Breccia Medicea marble with smoked or clear glass top, a bed covered in Cuoio leather, and elegant sideboards combining Canaletto walnut with leather. All furniture units from the collection were recently showcased at the Salone del Mobile 2018.
V210 Sofa
The pale gold metal frame, low-profile briarwood back, and square forms define this two-seat sofa from Aston Martin's new furniture collection. Another thing to notice is the high degree of customization, with a wide range of hides available in 50 different colors and different shades of briarwood available in the opaque or glossy finishing.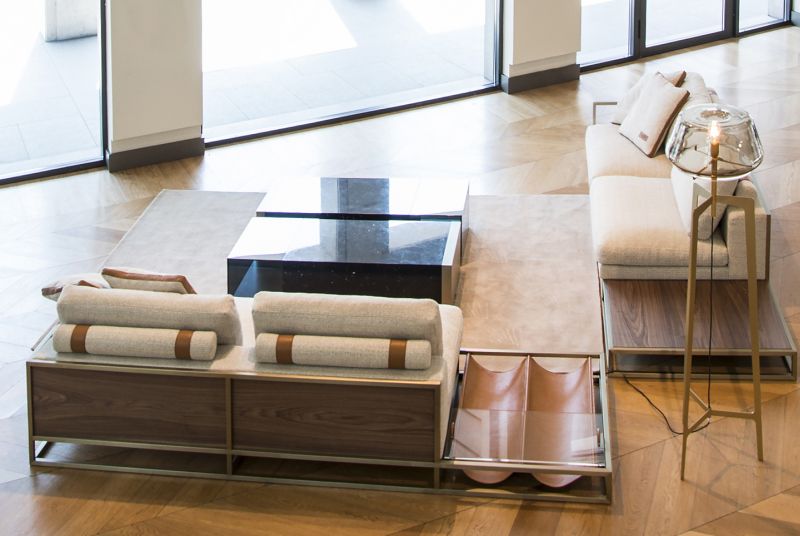 V215 Sofa
Standing on a metal frame, it is another two-seat sofa from the collection, covered in the famous Cuoio leather from the Tuscan hills. As you can see in the pictures, the backrest is comfortably low, so you'll need to use cushions to rest your back. The organic and sleek shape of this leather sofa looks inviting to relax on and fit for modern interiors.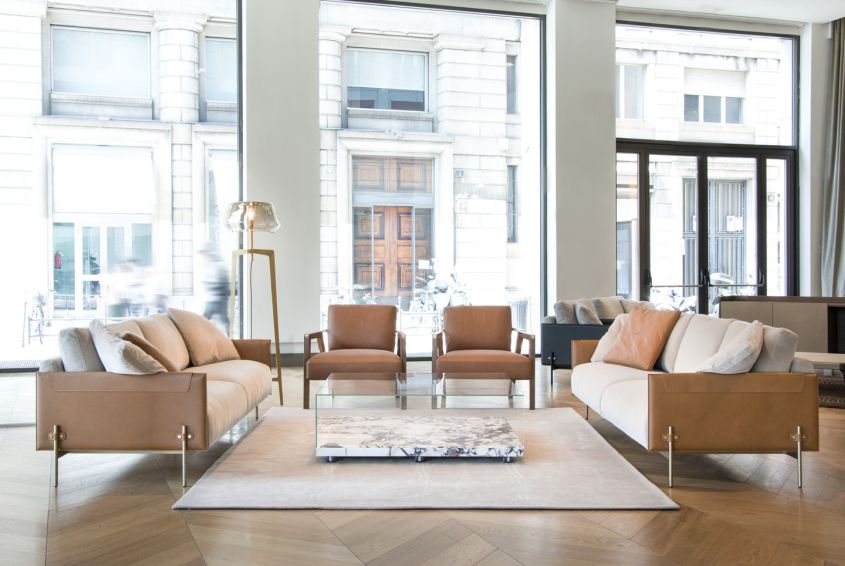 Also Read: 20 Car-Inspired Interior Décor Ideas for Automotive Fans
V226 Coffee Table
Clean lines, simple shape, and contemporary black appearance are some highlighting design features of this new rectangular coffee table. The top housed in a pale gold metal frame is a solid piece of Marquina tone black marble set under the finishing glass insert. If you fancy marble coffee tables and luxury cars, it is certainly a great fit.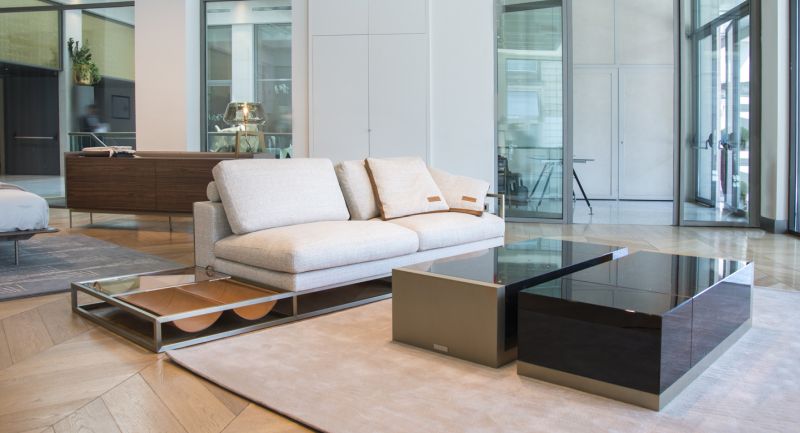 V219 Armchair
This small wooden armchair with a low back is a cool addition to any living room. Highly customizable with various finish and color options, it comes with thin metal leg rests, serving unique element of the chair design. Its slightly-tilted seat is one of its ergonomic characteristics that ensures optimal comfort. Furthermore, there are a variety of choices for customizing the upholstery to match different interiors.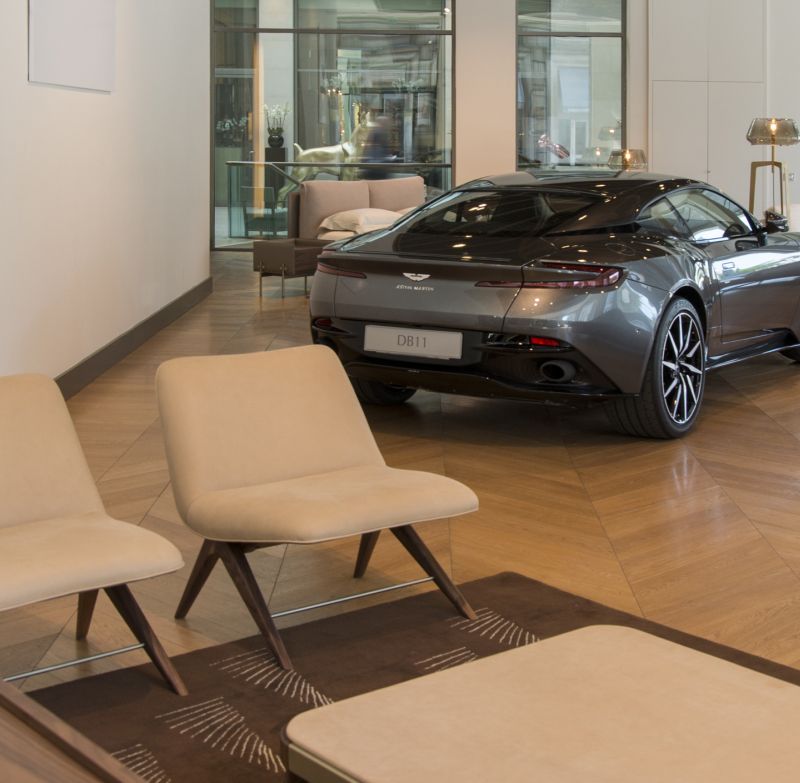 V221 Armchair
This is another armchair from the collection that features seats upholstered in leather, sitting atop the beautifully structured walnut legs. It also features a metal string that bends and stretches to walnut legs for creating a welcoming piece of furniture together with the leather cushions.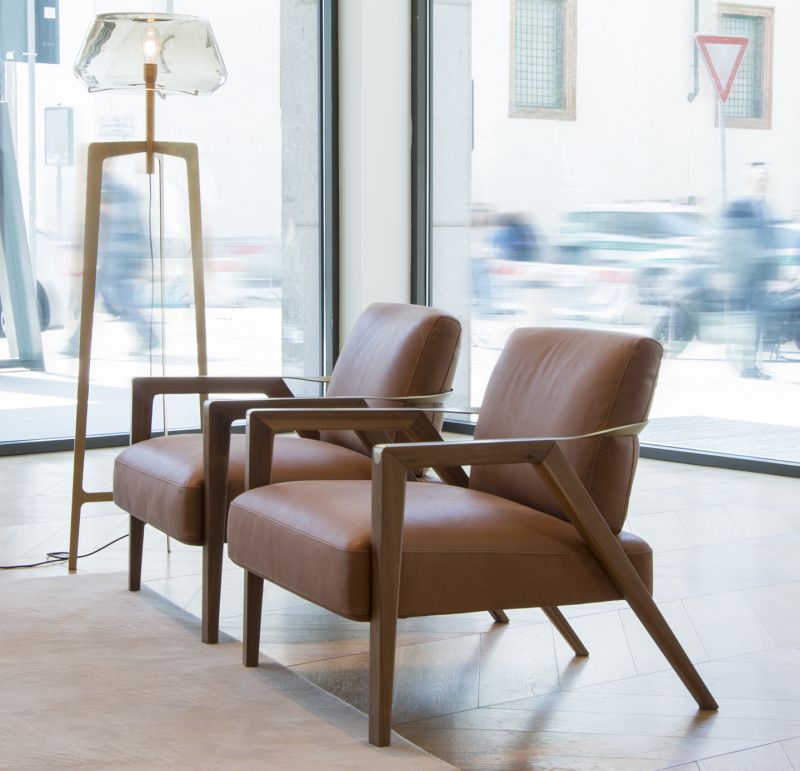 V246 Sideboard
Standing on thin metal legs, the V246 sideboard adds a modern yet organic touch with shell resembling the soft appearance of Cuoio leather and warm tones of Canaletto walnut veneer on top and front. With side rails on three sides ensure you don't drop your bedroom essentials off the table.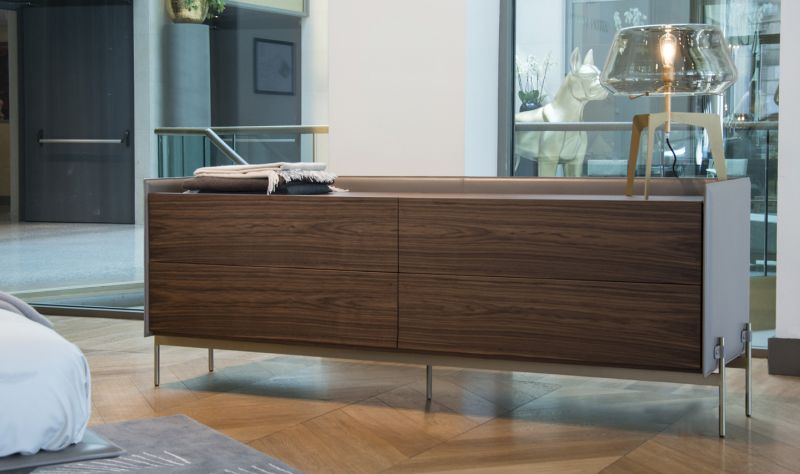 V251 Bed
Just like other furniture pieces from the collection, the V251 bed also sits on thin metal legs. It is a unique low bed, dressed in Cuoio leather. With futon-style mattress and two soft feather cushions upholstered in cashmere, it ensures good night's sleep.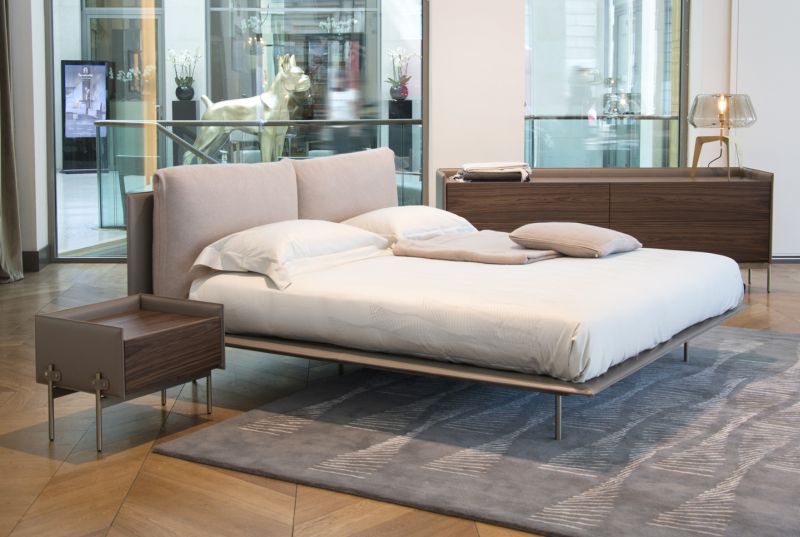 V258 Lamp
Available in floor-standing or tabletop versions, the cool new lamp consists of three golden blades that span up to the smoked glass shade at the top.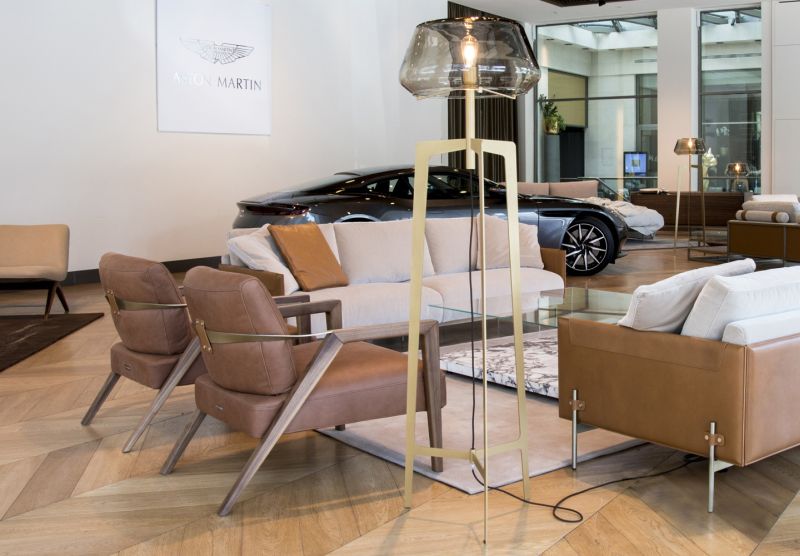 Via: Archiproducts