Like to grow fresh greens and vegetables indoors? No matter how big or small space you have, it's become quite easy to grow organic food thanks to the wide variety of automated indoor gardens on the market. Aside from being visually appealing, indoor gardens provide you with dedicated space to grow fragrant flowers, juicy fruits, and useful herbs in your home year-round.
Indoor gardening is the best. You don't have to worry about ever-changing weather conditions and other environmental factors and you can grow fresh greens without your arm's reach. But how do you choose the best automated indoor gardens for your living space? Here we have handpicked the 10 best automated indoor gardens you can purchase in 2023.
Altifarm Pico Planter Indoor Garden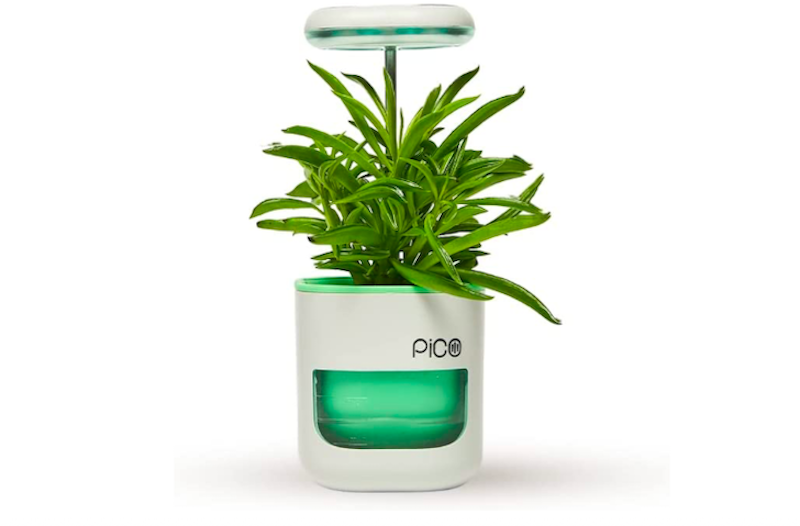 Pico offers one of the best automated indoor gardens for herbs or flowers. It's ideal to help you grow microgreens, ornamentals, herbs, succulents, and even veggies and fruits. It can hold one plant at a time, allowing you to focus. It is a great way to start your plant parenting journey.
Features:
Grow with soil or soil-less hydroponics
Powered by OSRAM LEDs
The LED light uses a telescopic design, allowing you to grow plants up to 8 inches
Self-watering system holds up to 10 days of water
USB-C daisy chaining allows connecting multiple units together
Optional Pico Timer to automate LED lights
Dimensions: 3.5 x 5 x 3-inches
Buy: $45
AeroGarden Harvest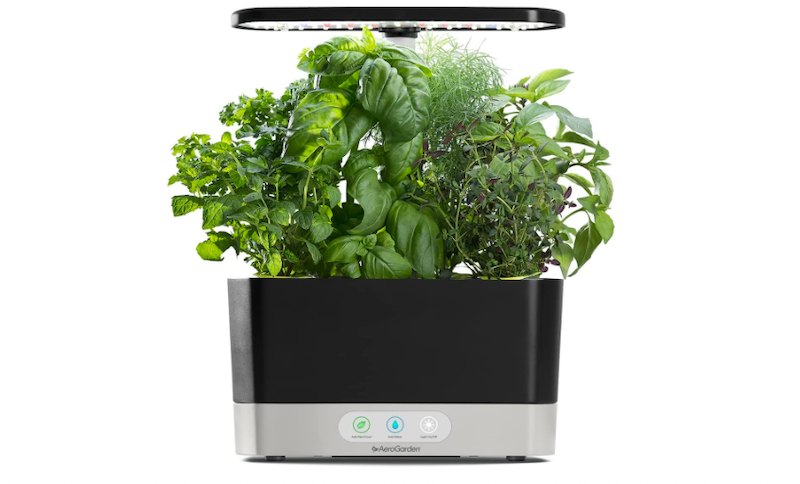 There is no need to wait for the right weather to start gardening. All you need is AeroGarden Harvest to grow greens year-round. This hydroponic garden can grow up to six of your desired veggies, herbs, or flowers. You don't even need soil, sun, or even a green thumb to grow the plants. This indoor garden can grow plants up to five times faster compared to soil growth.
Features:
Hydroponic growing technique
Control panel automatically turns lights on/off and reminds you when to add water and plant seeds
Six plants up to 12-inches tall can grow in this indoor garden
Full spectrum 20W LED lighting system ensures 5 times faster growth than soil
Dimensions – 6 x 10.5 x 17.4-inches
Buy: $127
EaspoBE Hydroponic Growing System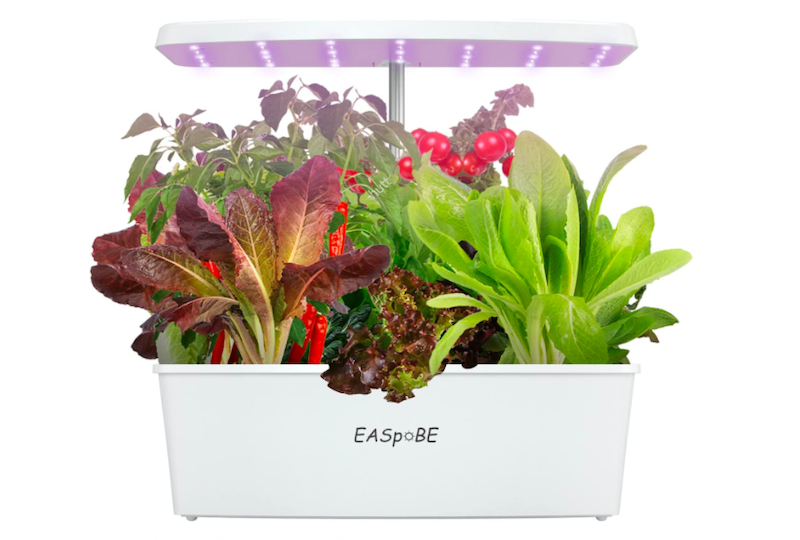 EaspoBE offers another automated indoor garden that's free from the limitation of soil growth. It has a higher growth capacity and can grow up to 12 plants at one time. Its 30-minute automatic water circulation pump can constantly bring in oxygen for healthy growth. Moreover, its noise-free design enables you to easily use it in your living room, kitchen, or even office.
Features:
Hydroponic growing system to grow up to 12 plants at one time
36W LED light panel offers full-spectrum light for plant growth regardless of the weather outside
Large water tank can meet vegetation growth requirements for up to 3-4 weeks
Easy height adjustment and simple operation modes make process easier
Dimension – 17.28 x 9.61 x 7.91-inches
Buy: $100
iDOO Hydroponics System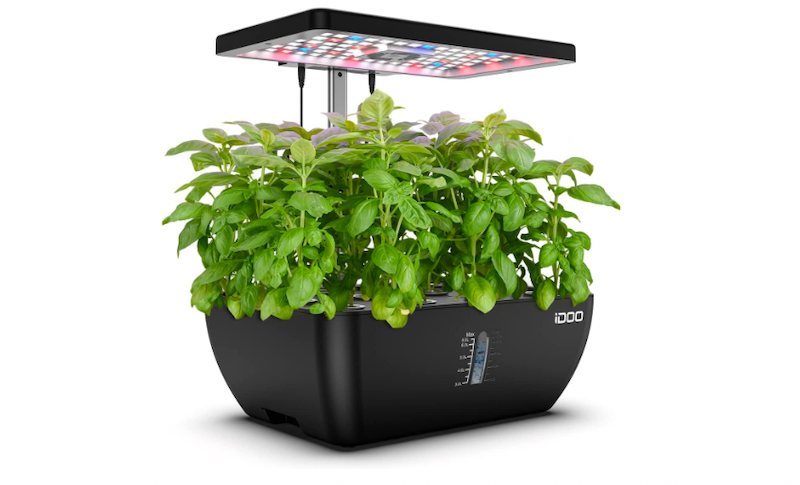 iDoo hydroponics herb garden has a higher capacity of growing up to 12 pods at once, meaning you can save more resources and grow more plants. Since it is a fully-automatic herb garden with self-watering ability, iDoo hydroponics doesn't need any soil or other climate-dependent resource for plant growth.
Features:
12 pods hydroponics growing system
2 smart growing modes – Vegs Mode and Flower & Fruit Mode
6.5L large water tank capacity
Water shortage indicator to show if water level is running low
Intelligent water and air circulation system
Dimensions – 11.81 x 15.35 x 7.87-inches
Buy: $100
Click & Grow Indoor Herb Garden Kit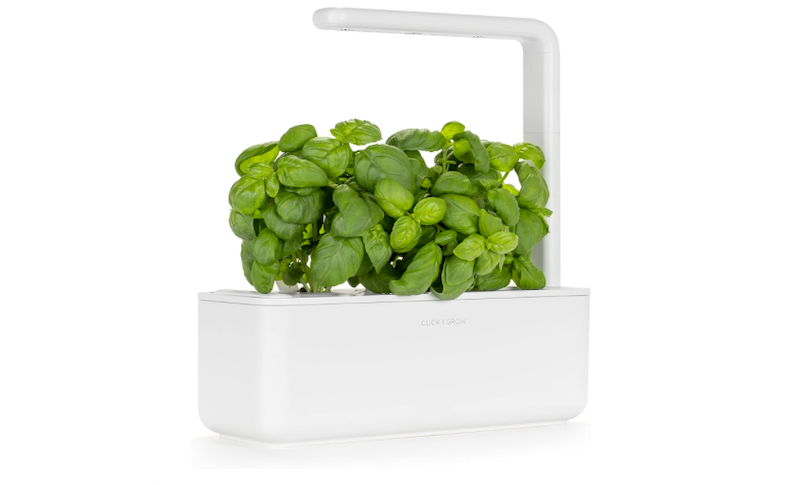 This indoor herb garden kit comes integrated with energy-efficient LED lights to grow plants no matter where you keep your indoor garden. All you need to do is drip in the plant pods that come with the package, fill up the water reservoir, and plug in the planter with the self-watering feature. It's a good start to growing desired herbs without any hassle.
Features:
Hydroponics growing system
Innovative self-watering system with 50 pre-seeded plant pods to choose from
Energy-efficient LED grow lights to thrive plants despite weather conditions
Easy-to-assemble indoor/outdoor planter
Dimensions – 9 x 4.9 x 12.5-inches
Buy: $91
edn SmallGarden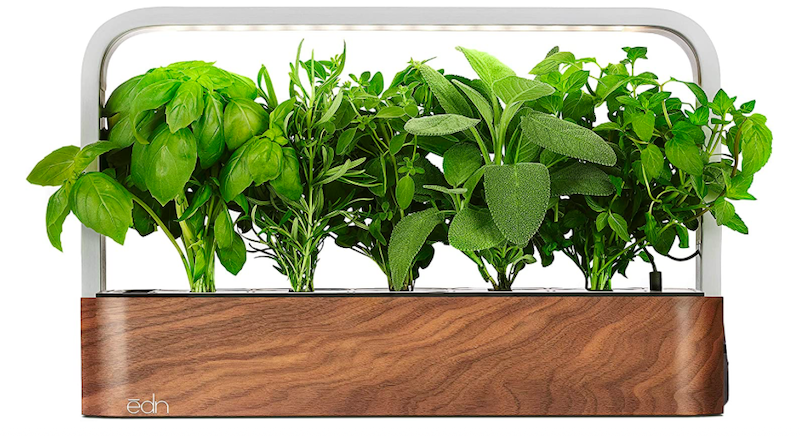 edn SmallGarden has been well-crafted using natural materials and comes in eco-friendly packaging. You can easily grow vegetables, plants, flowers, and herbs in this mini garden throughout the year. This tiny garden offers you an easy way to bring in nature in any room.
Features:
Corded electric power source.
Compatible with iOS only
Grows up to 10 different plants at a time
Wi-Fi-enabled and app-controlled indoor hydroponics garden to manage from your phone anytime
Package comes with a 12V power adapter, a small garden, and 10 basil seedpods
Dimensions – 16 x 6 x 11-inches
Buy: $200
QYO Hydroponics Indoor Gardening System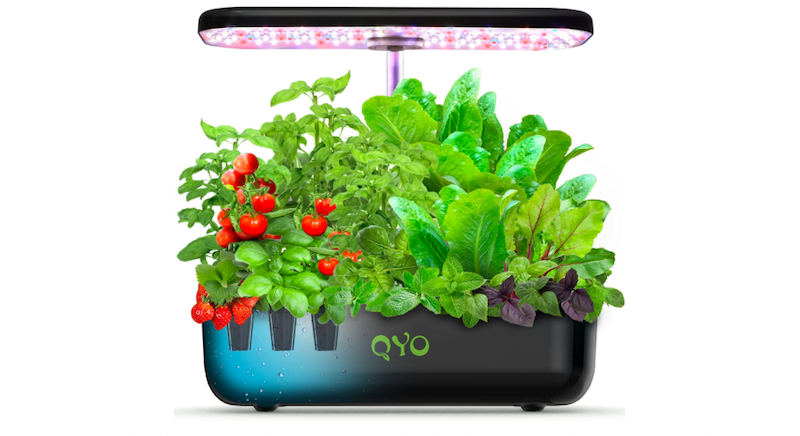 QYO hydroponics system comes embedded with advanced Deep Flow technology for professional water pumping every 30 minutes. It also comes with a 36W full spectrum SMD LED to mimic the same wavelength as sunlight to grow plants at any time of the year. Thanks to this light technology, the hydroponic system sets up the right temperature for plants to grow properly even in winter.
Features:
Hydroponics system grows plants five times faster than conventional soil
36W herb garden SMD LED light mimics sunlight for plant growth
Self-watering system with a 3.5L huge water tank enables 15 days of self-sufficient growth
Two plant modes: Vegetables and Flowers & Fruits
QYO patented drainage hole at the bottom makes it easier to change water
Dimensions – 15.7 x 7.2 x 3.3-inches
Buy: $70
Also Read: Indoor Vertical Garden Ideas, Benefits and Things to Keep in Mind
Gardyn 3.0 Hydroponics Growing System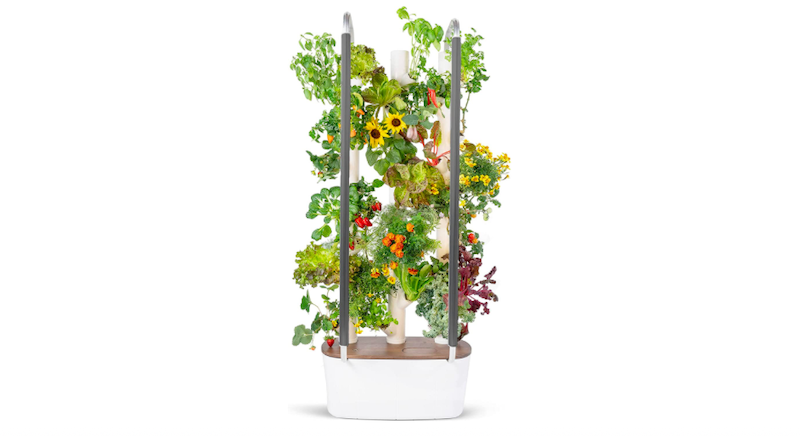 This is the next-generation hydroponic growing system that enables you to grow up to 30 large plants in just two square feet of area. This indoor garden requires 95 percent less water to grow plants with ease. It even includes plug-n-play light columns and bars that are convenient to assemble without using any tools and screws. Its self-watering system makes it a perfect indoor greenhouse kit for any conventional tiny kitchen and home.
Features:
Next-generation hydroponic growing system technology
Includes a 30-plant starter set
Gardyn only requires power and Wi-Fi with a 2.4 GHz frequency
Advanced AI monitors the indoor garden 24/7 for proper growth
Dimensions – 46.9 x 17 x 15.4-inches
Buy: $899
MUFGA 12 Pods Hydroponics System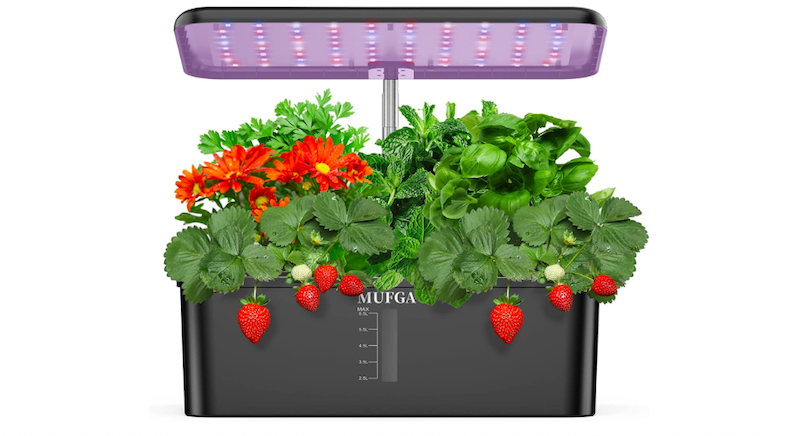 Brighten up your indoor space by growing desired plants – whether they are for decorative or practical usage. This kit can grow up to 12 of your preferred herbs, flowers, or veggies. It comes embedded with an independent water pump that helps in water circulation for better oxygen flow. So, it gives you better control over climatic conditions all year round.
Features:
Hydroponics growing system
24W LED lights simulate the sunlight spectrum
Grow up to 12 of desired veggies, herbs, or flowers
Height-adjustable garden kit to grow plants at different stages
Two growing modes: Veggies and Flowers
Dimensions: 14 x 9.4 x 6.7-inches
Buy: $45
SereneLife Smart Herb Garden Kit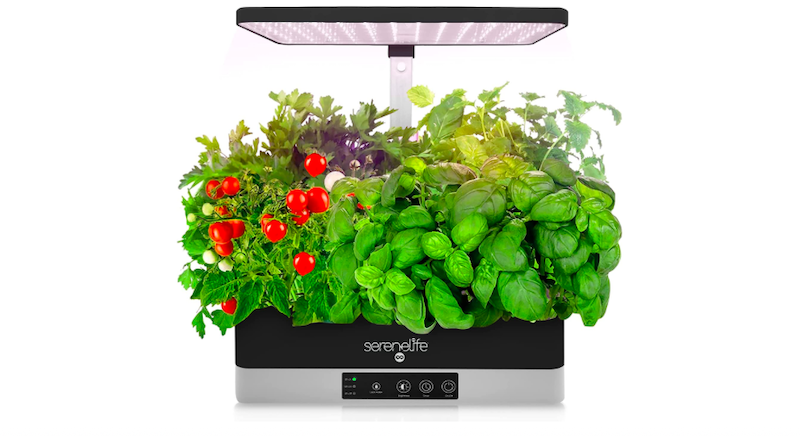 This smart herb garden kit comes with a front control panel to let you adjust the timer, brightness, and on/off effortlessly. It even features an indicator that alerts you whenever there's a low water level. Moreover, its height adjustable feature enables users to elevate or lower its level as per different plant growth stages. It can grow around six plants at one time.
Features:
6 pods hydroponics garden kit
24W energy-efficient LED for photosynthesis
3 timer modes for different growth stages of different plants
Height-adjustable kit can grow 6 plants up to 12-inches tall
Dimensions: 14 x 19 x 8-inches
Buy: $74