Nature is irresistible and this is why people are getting fond of houseplants increasingly. Even if you live in a small apartment without a balcony – you can grow a variety of plants indoors. There is also a new trend of indoor vertical gardens catching up big time, which literally means to grow plants on the walls vertically.
It is a cool new way of growing plants indoors without requiring much space. The wall planters help people grow plants and not take any floor space. You can find a number of indoor wall planter ideas out there and we have some of the easier and doable ones listed here.
What is Indoor Vertical Garden?
An indoor vertical garden is sometimes referred to as a wall garden, a living wall, or even a living wall planter. You basically utilize the vertical space to satiate the desire for growing plants. They make sense in urban settings where optimum utilization of available space is paramount.
In vertical gardening, plants grow horizontally. A wall completely covered with plants can be termed as a green wall. These are complex structures that require growing mediums like substrate and an integrated watering system in most cases.
Indoor vertical gardens can also be made in different ways or can even be purchased from market. For example, you can make one using wood, PVC pipes or unused pallet wood crates. You can also create a wall shelf that holds or has a dedicated holder for planters. There are unlimited possibilities!
Things to know about Indoor Vertical Garden
Types
The first step toward creating a vertical garden indoors is to decide the preferred design and style. Whether you want a pre-set live wall, a planter or some wall-mounting shelf with creative modular design; it's upon you. Automated indoor vertical garden is also an option with less maintenance. They all will require some installation and waterproofing preventions.
Placement
Ideally, indoor vertical gardens shall be placed in a place at height, from where they can be easily managed and taken care of. The exposure to sun and fresh air is also an important factor to consider while planning an indoor vertical garden.
The location of a wall planter or living garden somehow decides what plants you will be able to grow in it. So, thorough planning is needed for such projects. The frame should be adhered to the wall with strong supports.
Watering
Every plant needs water to grow and so is the case with indoor wall garden. It is subjective and changes with plant and its growing conditions. In general, water sprayer is a possible idea.
Grooming and maintenance
Plants grow up over time and require more water so they need time to time grooming for best results. Keeping it clean from stains and dust will also be a matter of concern.
Advantages of Indoor Vertical Garden
Increases growing space
Living in urban areas can limit possibilities when it comes to gardening. An indoor wall garden revives that opportunity since it is mounted on the wall.
Aesthetically pleasing
It goes without saying that an indoor vertical garden enhances the look of any space. The natural colors will add life to the interiors and match well with any color scheme. Indoor wall garden displays plants in an upright wall-like arrangement which all goes well for indoors.
Reduce stress and increase productivity
Having greenery inside the house can keep you relaxed at all times. In fact, studies have shown that indoor plantation results in better concentration levels and increased productivity by up to 15-percent. Plants are also beneficial for health and well-being.
Improves air quality
Indoor plants can improve air quality inside homes. They absorb toxins and release oxygen. People who have frequent allergies can benefit a lot from indoor vertical gardens.
Reduces energy costs
They function as an extra layer of insulation which helps in maintaining temperature inside. Consequently, less energy is required to maintain the indoor temperature. If the layout of the vertical garden is created properly it can save on energy bills considerably for homeowners.
Reduces noise levels
Indoor vertical garden can also help reduce noise level as they absorb the acoustic energy of sound. They also insulate the interior space from outdoor noise as the noise is reflected off the vertical wall of plants.
Reuse waste material
Things normally found at homes like plastic bottles, pipes, photo frames, and countless other things can be used to create beautiful indoor vertical gardens. This expands the possibilities for getting creative and giving a unique personal touch to your indoor vertical garden.
Also Read: Best Planters You'd Want to add Greenry to Your Abode
Disadvantages of Indoor Vertical Garden
High maintenance
Growing plants on wall or in a planter is a cool way to decorate home but is surely a tedious long-term task. It requires constant care due to shallow root system. Watering has to be done very carefully and there must be a check on the growth of plants.
Moisture damage
Growing a wall garden or putting a planter on the wall will retain moisture on the back which can damage the structure of the wall. This should be done in a professional way. Smaller wall gardens would require less maintenance and cause less damage if handled in the right way.
Limited choice of plants
It is known to all that not many plant varieties survive indoors. It can be differ in those locations of home where sunlight is ample. Use smaller varieties or ones that grows slowly. Hanging plants, succulents, fern, moss, etc. are some nice examples of indoor plant varieties.
Plants for Indoor Vertical Garden
Pothos
Lipstick plant
Sword Fern
Rabbit's foot fern
Cretan brake fern
Peace Lily
DIY Indoor Vertical Garden Ideas
If you are into DIY, making an indoor vertical garden can be a satisfying activity for you. Uselessly lying items at home or something in the trash can be used for making a wall garden. It is all upon your creativity and imagination.
Succulent Garden
An old photo frame piling dust in the basement can be put to good use by creating a succulent wall garden. It is like a thin box that is layered with moss, and soil to make a platform for succulents to grow. To know more, follow this DIY tutorial at Luna See.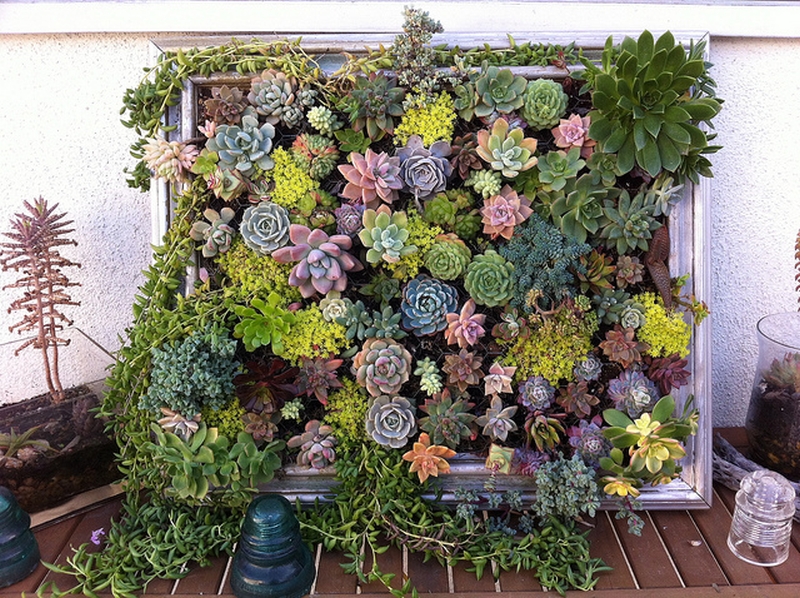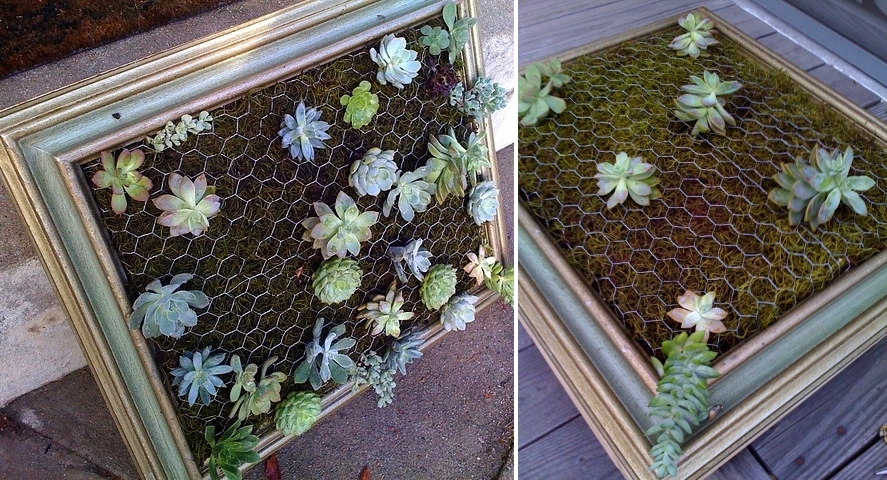 Pallet Living Wall
This living wall planter is made from pallets. It hangs on the wall with metal chains. One needs to join wood pallets together to form a sturdy structure with pockets to incubate plants. You can see DIY version at The Brew.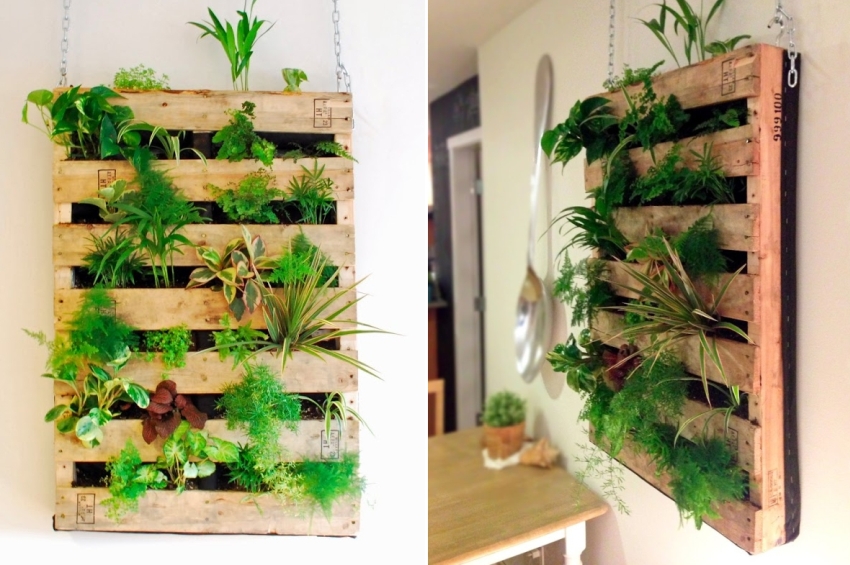 Indoor Trellis
It is a nice way of gardening on the wall of your house. You will need to create a trellis on the wall with special holders for plants. It is like a wall shelf that looks aesthetically pleasing and provides space to grow multiple plants at a time. You can see the project at Vintage Revivals for some inspiration.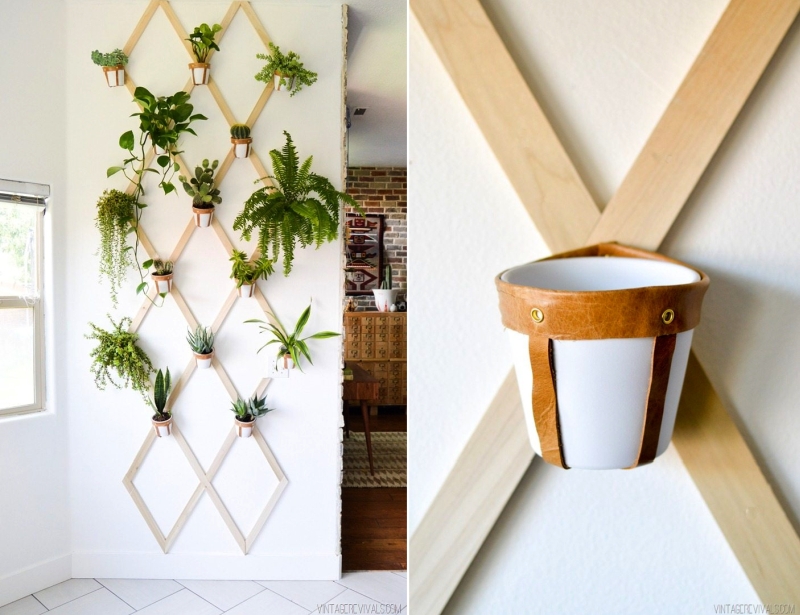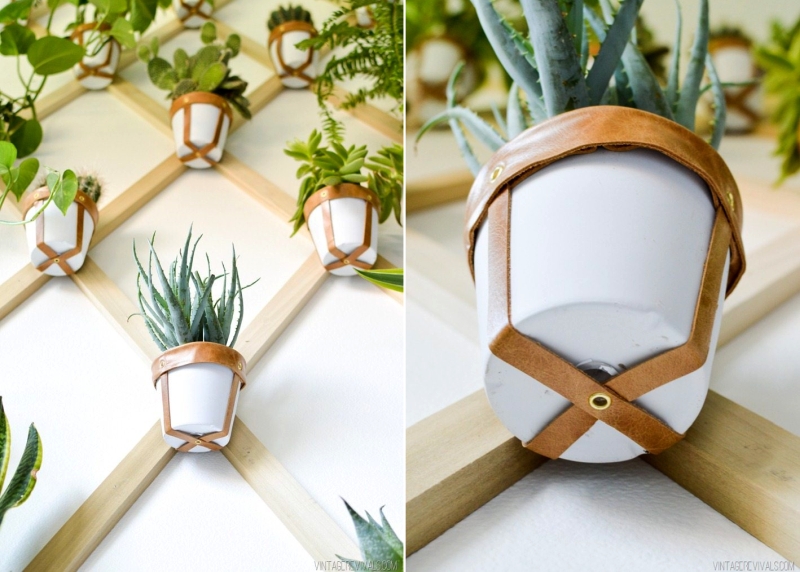 Pipe Wall Planter
If you are fond of industrial style décor, then you will surely love this DIY method of displaying plants on the wall. It is a DIY wall planter made from pipes. You can use PVC pipes and can spray them with copper paint for a striking metallic appearance. Check this indoor vertical garden project at Craft Bits.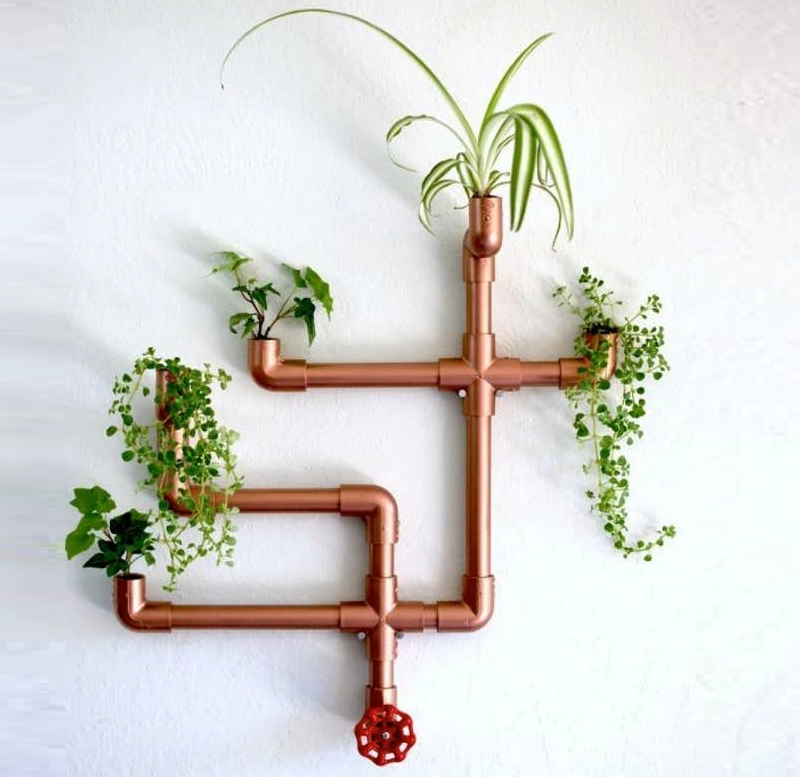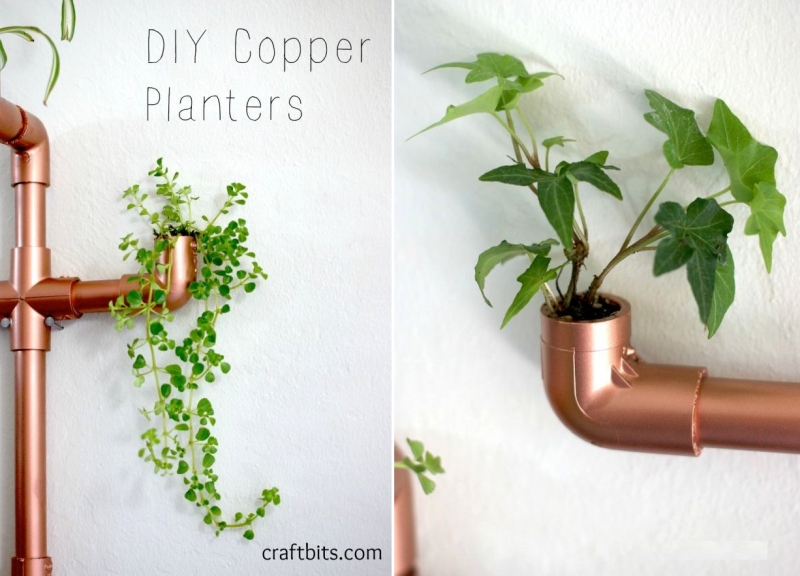 DIY Gutter Garden for Indoors
You can also make a beautiful wall garden using sections of aluminum gutters and end-caps. Paint them in the desired color and affix to the wall. This is it! Get more instructions at Hands Occupied.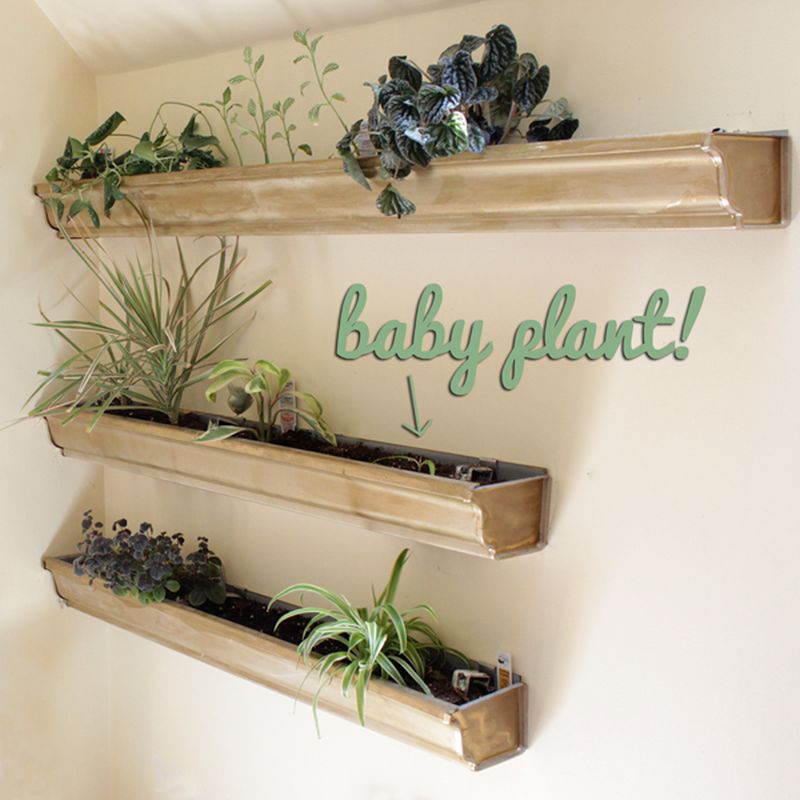 DIY Bamboo Garden
Bamboo can also be used to create little decorative wall gardens. It is a super easy idea – you just need thick bamboo wood cut vertically to make two elongated planters. These planters can be attached in a series to make a hanging wall garden. It will not survive for a long but can be a cool piece of attraction as long it's up there.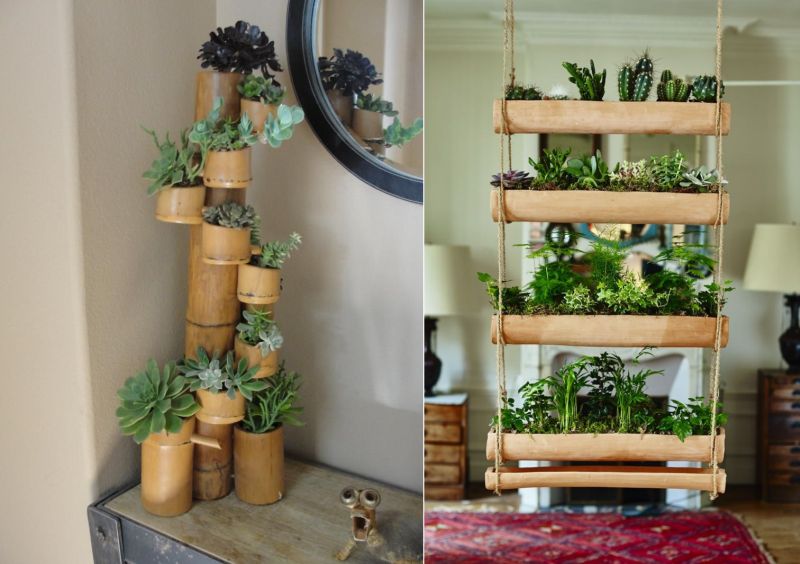 Designer Indoor Vertical Gardens
For those who don't have time or materials for a DIY can find a variety of designer indoor vertical gardens in the market. Check out some impressive indoor vertical garden systems below:
Herbe Mirror
Designed by French Jean-Jacques Hubert for Compagnie, this wall planter is made in stainless steel with a shiny mirror finish. It has a carefully thought out form to support automatic water flow system. More than one units can be combined together to make the garden bigger. The mirror finish reflects greenness of plants which lends a unique essence to space.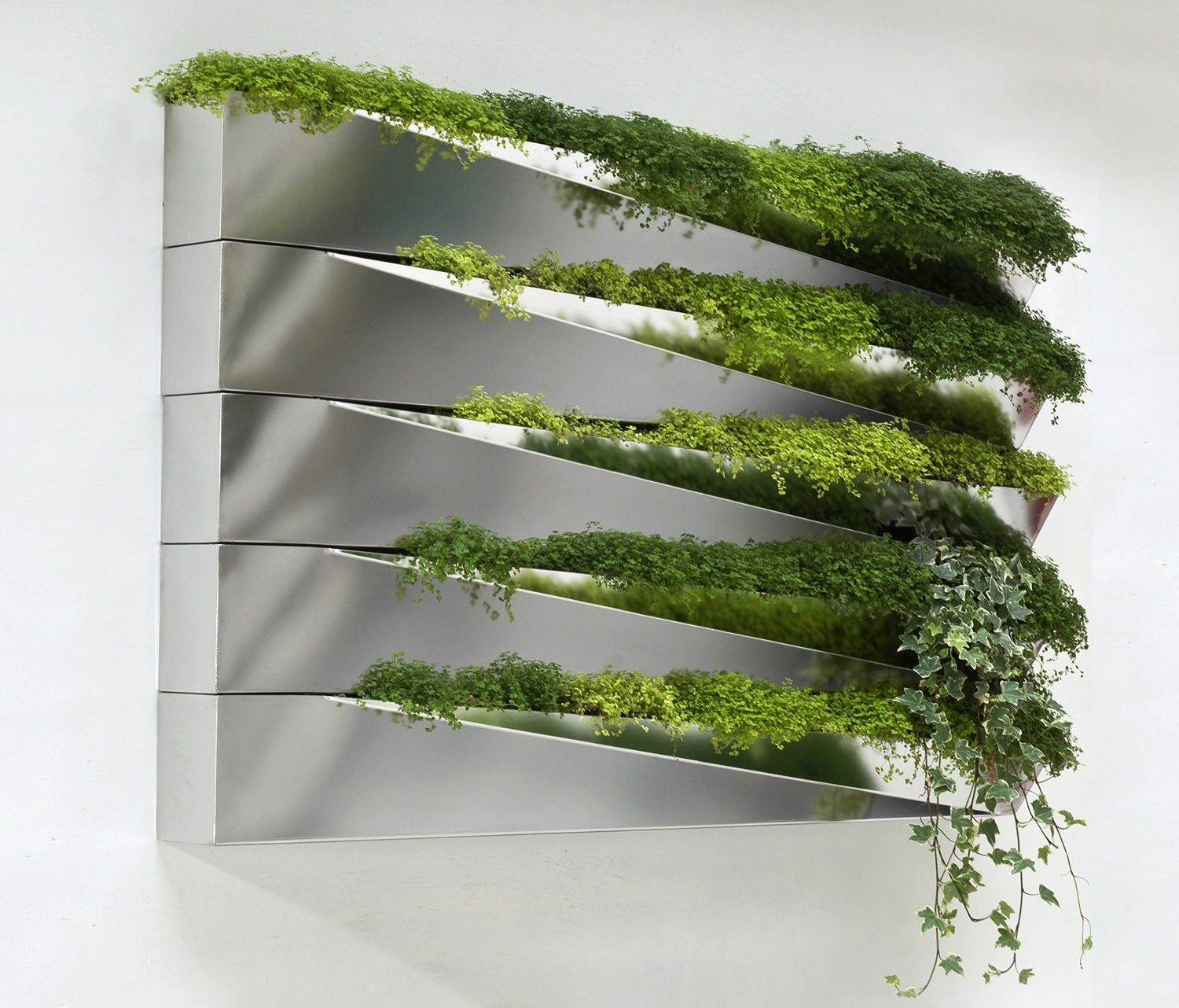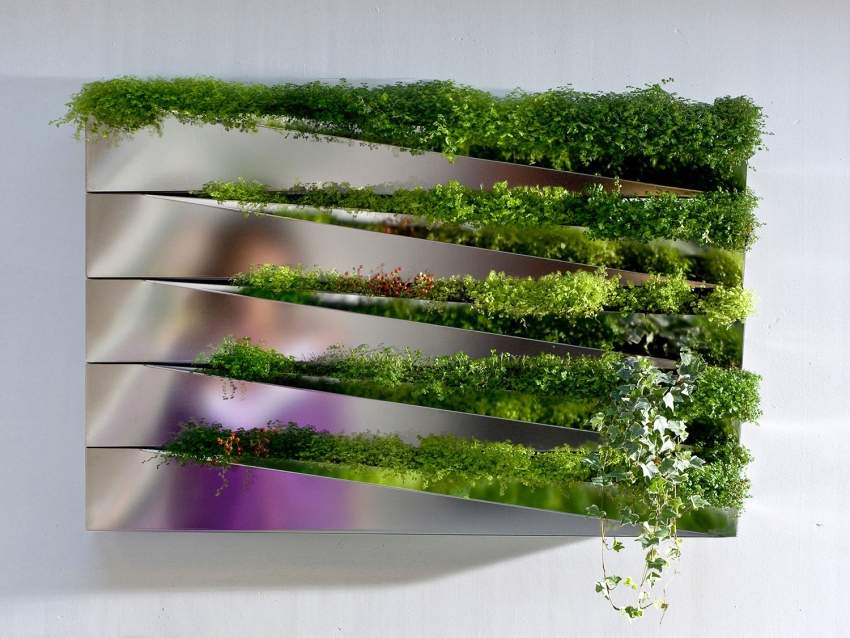 Citysens
Made of 100-percent recycled and recyclable polypropylene, Citysens offers a self-watering, vertical planter with Wi-Fi timer for delivering water and plant nutrients at set intervals. The planter can be programmed for 16 different irrigation methods, which give the user a multitude of options. Monitor the self-watering system from your smartphone.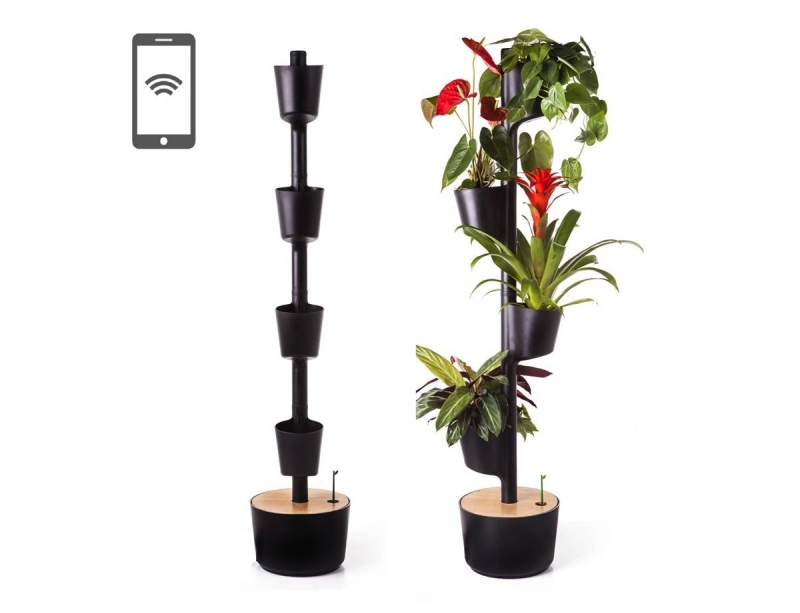 Quilt Garden
Designer Carolijn Slottje has come up with a new way to create a natural green wall with hexagon-shaped quilt tiles that are handmade from wool. The modular planting system sports a unique aesthetic which will add character to any space.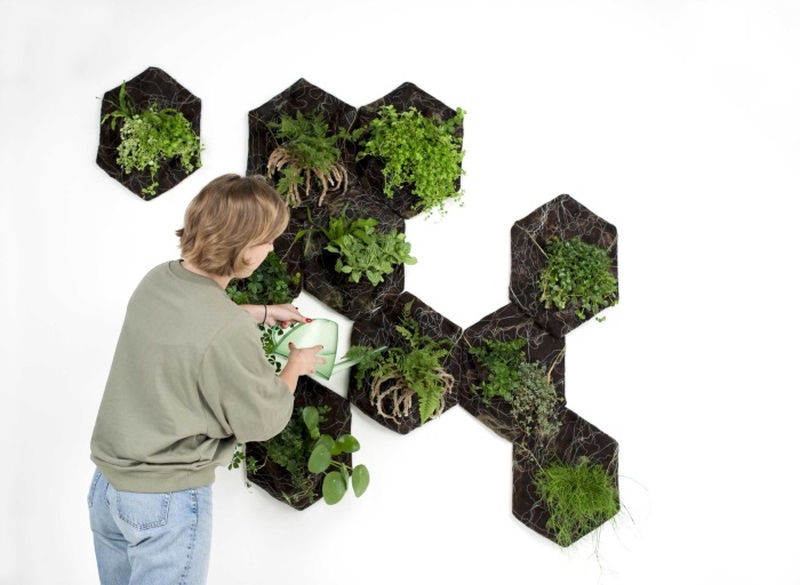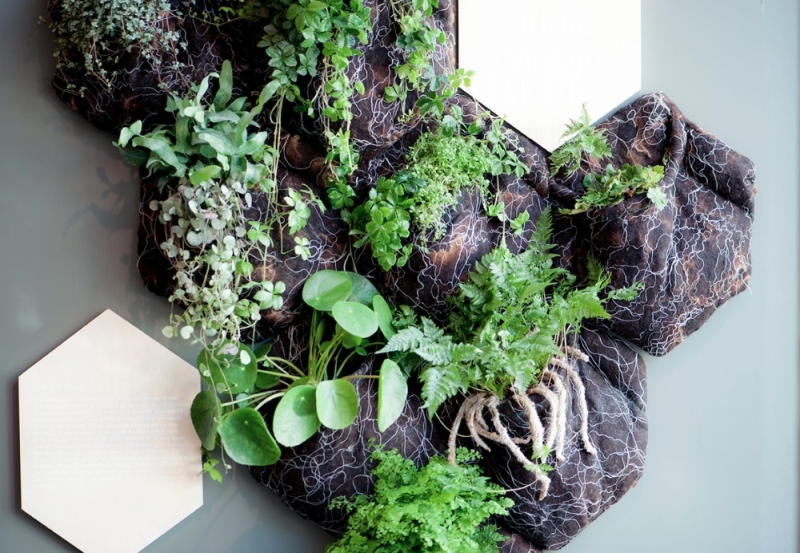 Chalkboard Wall Planter
This vertical wall-mounted planter in pine frame has 10 planting cells. Its irrigator and collector are made of HDPE recycled with 26-percent jute and coconut fiber. In addition, moisture mat technology ensures even distribution of water throughout cells.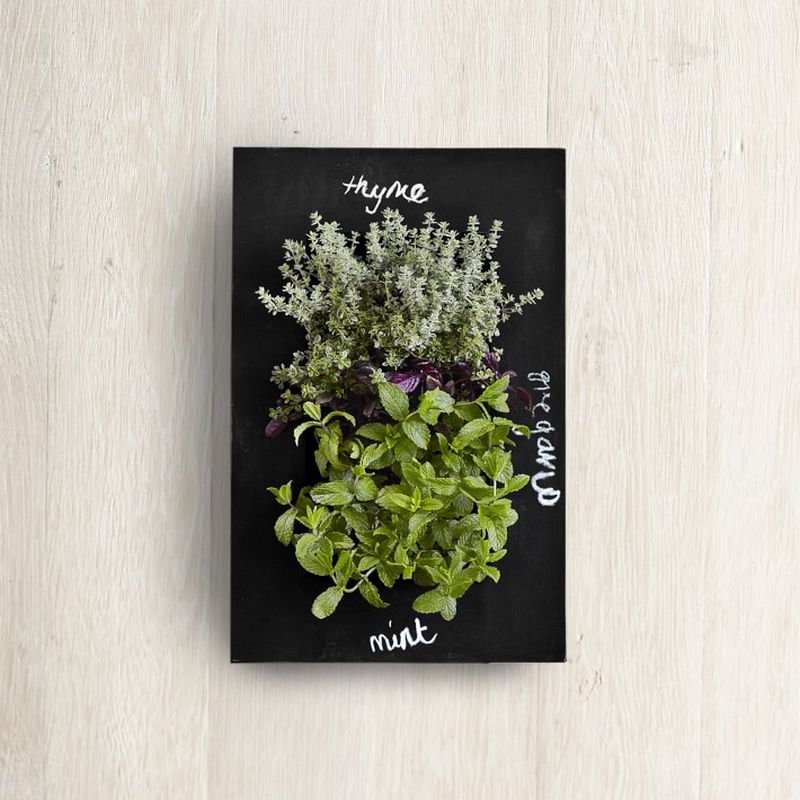 Living Wall Art
Made specifically for airplants, the living wall art by Josh Rosen is a vertical garden system that's 100-percent recyclable. This small vertical garden is like a photo frame, with live growing plants sitting on the wall of your living room. Isn't that cool?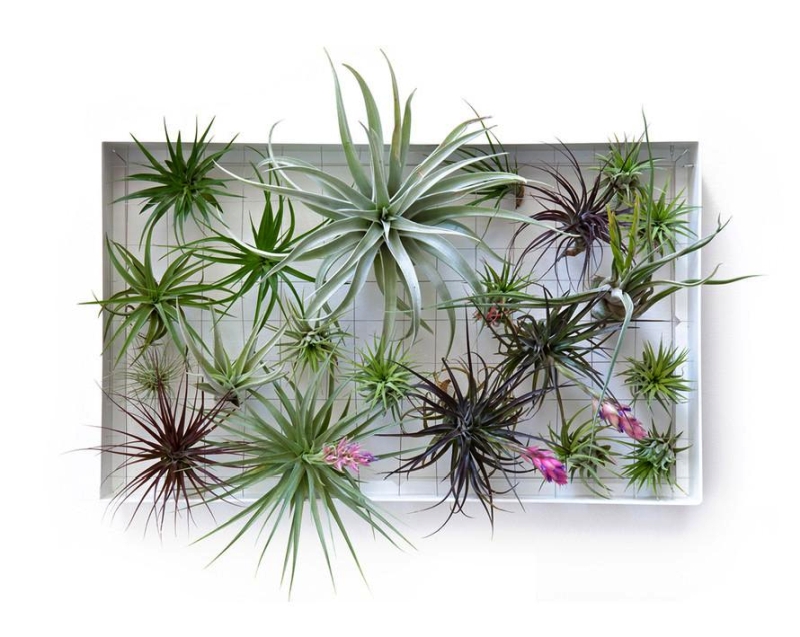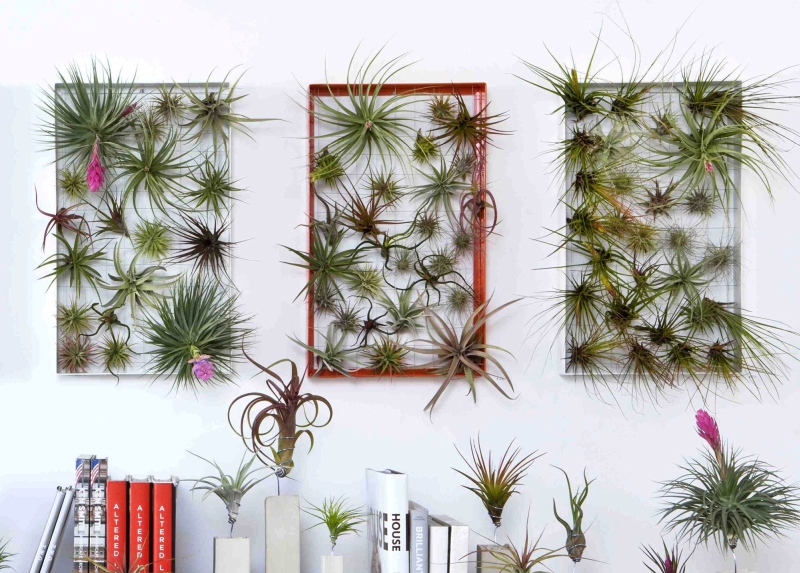 Living Wall Tower
It is a DIY living wall of plants built using Florafelt wall-mounted living wall system by Plants on Walls. The planter has eight planting pockets that can hold 1-3 plants each. There is a built-in irrigation tube to ensure water supply. Just add plants and see the plants grow.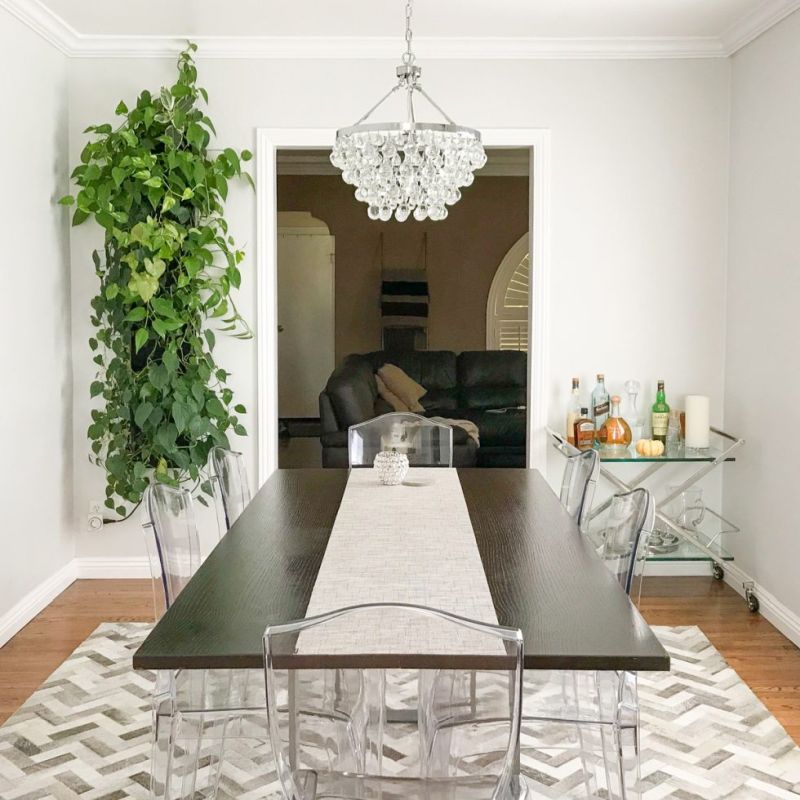 Indoor Wall Garden
It comprises a black board with buckets stacked for plants. Handmade with solid reclaimed wood, this wall planter hangs on the wall just like a picture frame. Combine multiple units together to create a wall garden. Buy from Etsy.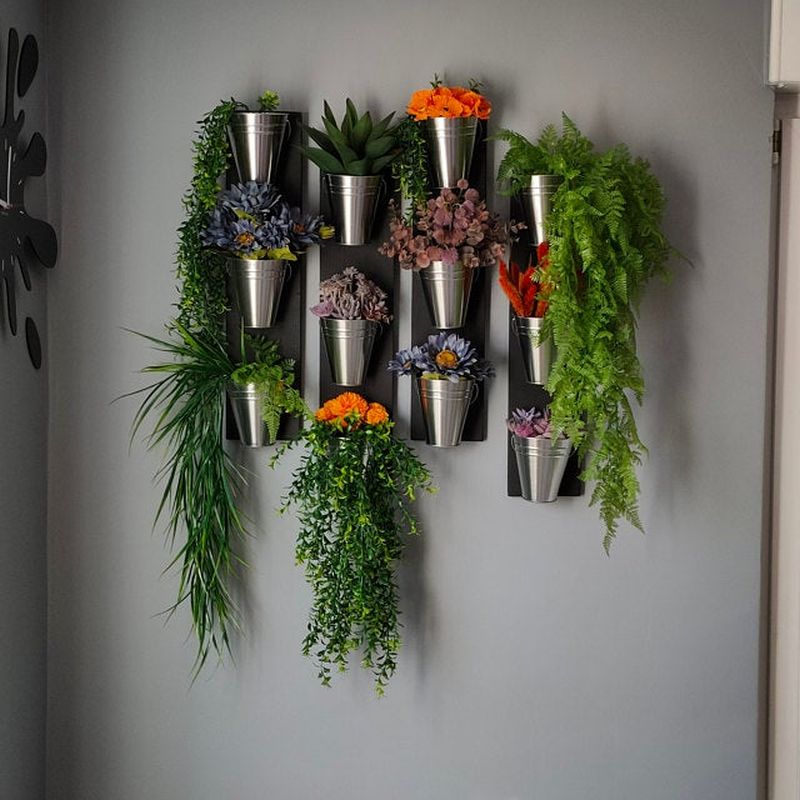 Metal trellis planter
It is a honeycomb planter made from high quality steel with a thickness of 2mm. It functions as support for vines and creates an amazing wall art. A simple way to decorate wall of your home with plants. You can buy it from Etsy.