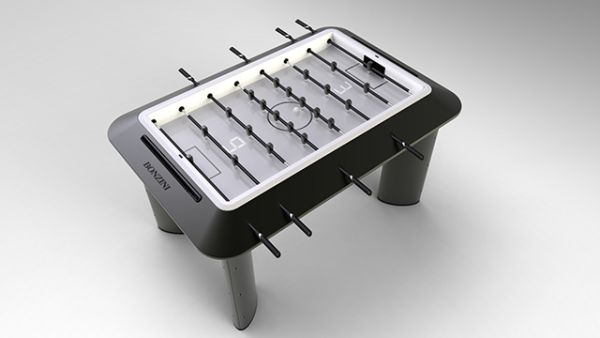 Indoor football tables (better known as foosball tables) have long been a hit among fans and enthusiasts of the 'beautiful game'. But, how about transforming the very scope of foosball with futuristic technology, elegant visuals and evolved gameplay? Well, designer Michael Imbert has conceptualized exactly that with his brilliant B99. Visually striking with its impeccable minimalism, the modern looking table is also integrated with dollops of 'smart' technology to entice its users.
Aesthetically, the thick black edges of table, along with the similarly hued support legs and handles exhibit a high level of soberness that would impress the foosball purists. The minimalism is also carried forth by the equally black draped 'players', contrasting against the glistening white board.
However, it is the rampant use of technology that really changes the ambit of the whole conception. In this regard, the table will incorporate Bang & Olufsen speakers, which would be controllable via Bluetooth of smartphones. These speakers would emanate stadium sounds to replicate the ambiance of original football matches.
And, if you thought that was dandy; well, the B99 also has its own system of multi-player features. Comprising of a specific smartphone app, the foosball contraption will allow you to remotely communicate with other players around the world. Furthermore, the B99 cloud would also generate real-time gaming statistics, thus notching up the heat of the competition for the best foosball players around the globe.
Via: DesignIndex