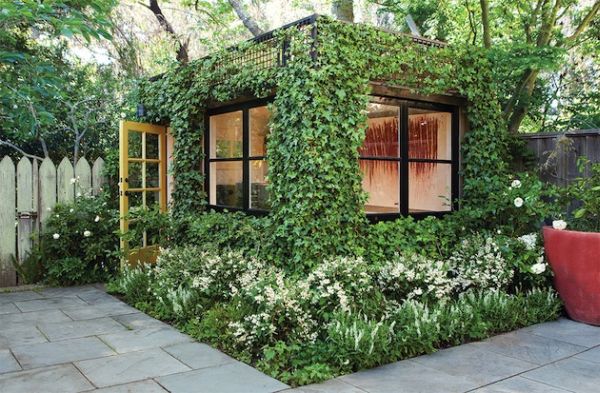 Backyard extensions always have their way of pleasantly enticing us, especially with the current direction some architectural studios are adopting. This contemporary trend alludes to the amalgamation of the backyard space with the original house structure, thus creating a seamless yet expanded environment that forms a 'true' part of the home's compound.  Scott Lewis Landscape Architects have followed this direction by creating a backyard art studio that naturally bonds with its surrounding. Located in a San Francisco home, this extended space is draped in a lush foliage of ivy, while aptly bordering a wooded park within the confines of the city.
The verdant umbrage of the green ivy leaves almost works like a paint job over the external facades of the art studio. This improved level of concealment plays its part in seamlessly blending the space with the green surrounding of the park and the inside garden. Moreover, the cover also accentuates the rustic essence of the studio, which is pretty evident from the wood shingles and the simplistic nature of the building.
Of course, all these talk of bucolic design is limited to the external skin of the structure. The interiors of the art studio on the other hand exhibits a plush contemporary decor expected from a San Francisco residence. This modernism of the furnishings and the rooms epitomizes in many ways the importance of  function (which in this case is creating art). In a nutshell, it alludes to the efficiency of the function that is achieved with the help of the sheltered natural setting of the studio within an urban area.
Via: Inthralld