Lesley Ross, who runs a bakery shop in Scotland, has made a life-sized Chucky doll cake just in time for Halloween. She has made a 32″ cake of the tiny serial killer from the film Child's Play released in 1988. The creepy doll is shown wearing blue dungarees and a striped t-shirt, while it's red hair, blue eyes, and freckles creep out an onlooker.
43-year-old Ross, a mother of two, took about 40 hours to make this edible replica of the mysterious doll with a layer of fondant and a frame covered with vanilla genoise cake underneath. The finishing touches were done with an air gun.
Also Read: 15 Halloween Food Hacks You can Whip Up in a Jiffy
The creepy Chucky doll cake is drawing a lot of attention in the front display window of her shop. Ross, who has been making Halloween cakes, informs "last year I made a life-size Pennywise, from the film IT."
Ross has also made another cake, a giant Slime, from Ghostbusters, which measures about 20″ and took around 30 hours to make. It stands shoulder to shoulder with the Chucky scaring off all passersby.
Interestingly, Ross's six-year-old son Jay refuses to enter the shop because he is terrified by the giant cake. Explaining how she has to keep her Halloween ideas subtle, she said,
We are all horror fans, but we have to be careful because there's a lot of kids walking past. We have to think of something which is horror, but not too scary."He's (Chucky) frightening but I think we can get away with it.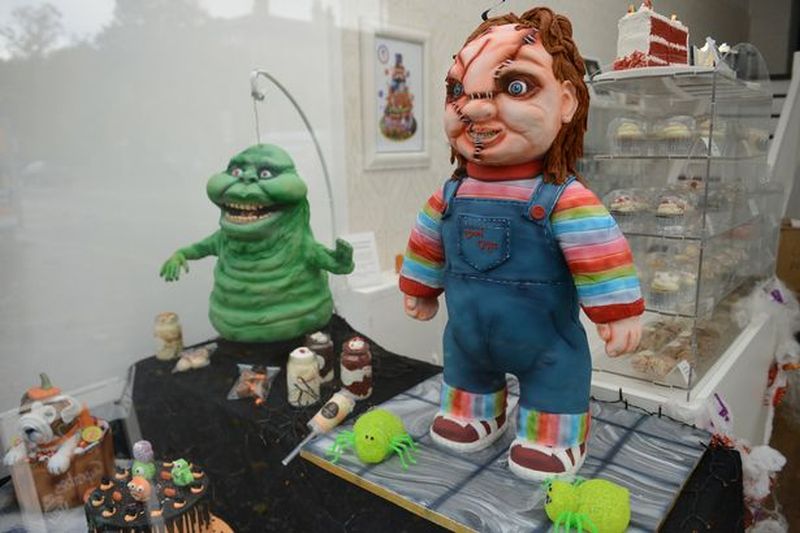 Via: DailyRecord