Laetitia, a Parisian designer with a perspective to invest her money in something useful, has designed Baluchon, a tiny house on wheels, and also started a company with the same name. She spent approximately $18,000 for the materials of the house but spent nothing for the labor. Some of her friends helped in building the Baluchon tiny house including Vincent who had also built one for himself.
These friends jointly started Baluchon to bring their creations in front of the world. They have designed standard models like the 215-square-foot Odyssee and the 185-square-foot Escapade for fulfilling the requirements of willing people. The price for these models is a bit on the higher side because they include the labor cost too.
This mobile home made by Laetitia has 150-square-foot ground floor with two upside lofts to provide 65-square-foot extra space in the whole design. Loft bedroom and dormer windows under peaked roof provide ideal space for relaxation. Furthermore, a complete kitchen and a built-in shelf with bar stools in front of big glass window make the dining experience lively. The entire house, including bathroom and toilet shows prolific use of wood.
Overall wooden furnishing in the tiny house is an excellent example of skilled craftsmanship of these designers. Additionally, storage boxes on the upside loft and built-in sofa cum cabinet on the ground floor shows optimum utilization of space in the whole design. Her skills and expertise can also be seen in the tinier house she made for her dog.
The Baluchon tiny house on wheels offers enticing features at quite a reasonable price. It has brought the tiny house movement within reach of common people willing to travel around the world. Through this design Laetitia had shown that a small house can have more features than you expect!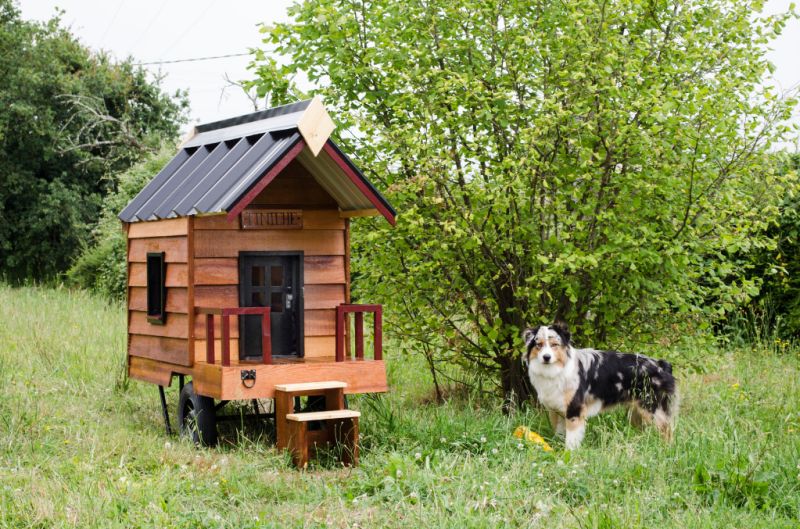 Via: TinyHouseForUs