Bathtubs are simply the best feature in a bathroom. I don't know about you but I love to soak away my worries in a bubble bath after a long, hard day at work. A dip in the bathtub relaxes the mind, body, and soul. While we spend a lot of time deciding what type of bathtub to get, rarely much thought goes into bathtub placements. Mind you, where you place the bathtub is as important as the tub size and material.
A strategically placed bathtub is not only a stylish bath feature but also adds to the décor of your home. Whether placing it indoors or outdoors, the position of the tub is crucial as it affects the layout, is impacted by space and budget considerations, and can significantly affect your mood. From conventional to unique and smart bathtub placements, read on to know more about chic places to put a tub around the house to increase the luxury and natural appeal, and bring a spa bath-like experience to modern homes.
Center Stage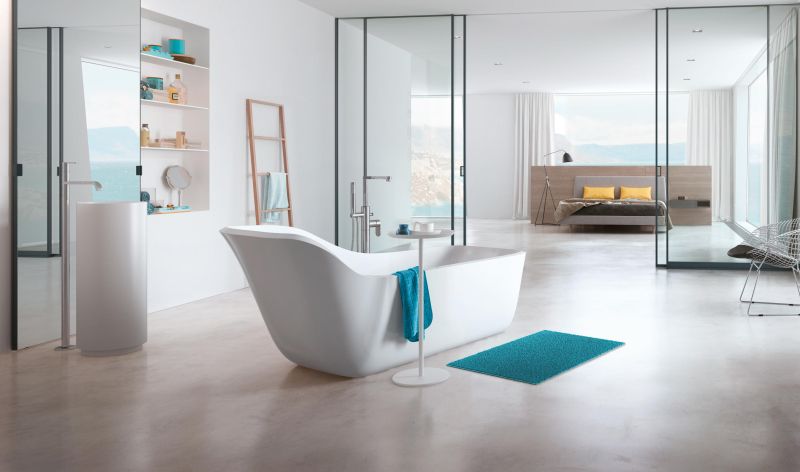 This only works if you have dispensable space in your bathroom and you are getting a freestanding tub, as sunken tubs in the middle of the bathroom can get risky and you would want to avoid that. Placing a tub in the middle of a bathroom creates an aura of royalty or replicates the luxurious bathroom of a suite in a plush hotel. It will become an element of décor and allow you to bathe in style.
Open-Floor Plan/Ensuite Bathroom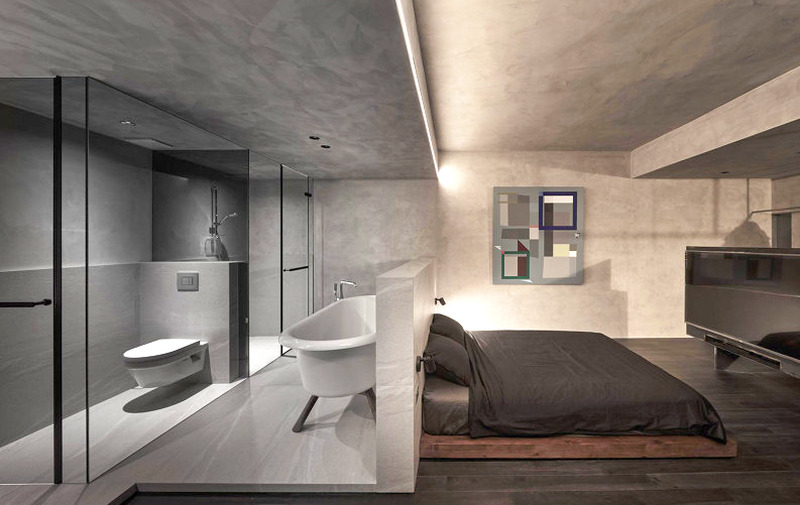 You may not be a fan of open-floor plan, but this layout has an alluring vibe. Imagine a bathtub in your bedroom, with half a wall or without any enclosure. You can't resist the charm of this bathtub placement. It will make you want to take a bath before going to bed and early in the morning and will leave you refreshed. Not to mention the convenience and character it will bring to your room.
Against the Wall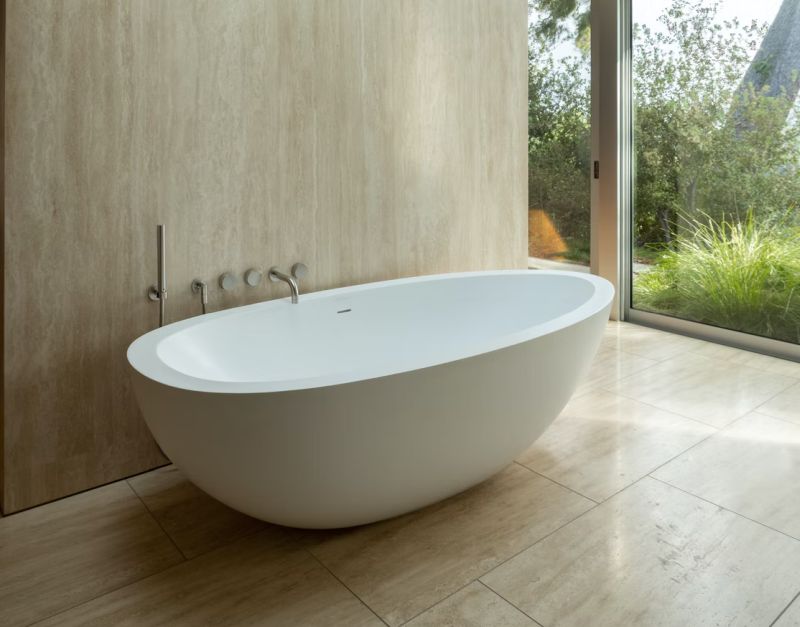 Instead of shoving your tub in a shabby corner, you can place it against the primary wall, making it a center of focus. It will add depth and will go well with your conventional plumbing. Or if your space allows it, you can add an extra internal wall that separates the bath area. One side can include the shower and your bathtub can neatly be placed against the other side of the wall, creating a new zone.
With a View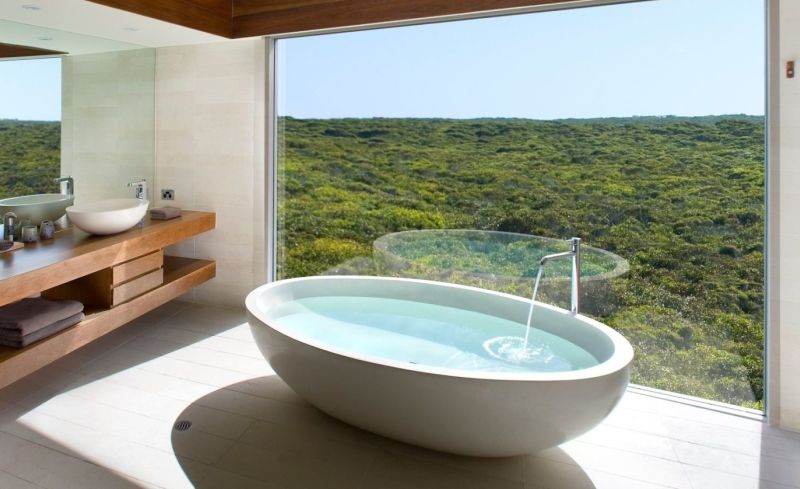 Nothing beats a bath with a gorgeous view, be it of a garden, lake, cityscape, or a forest. Think of a freestanding tub with an incredible view. It won't just offer a relaxing soak but deepen your connection with the surroundings as well. You can place your bathtub next to a floor-to-ceiling glass window overlooking a garden or a wooded area.
Embrace the Outdoors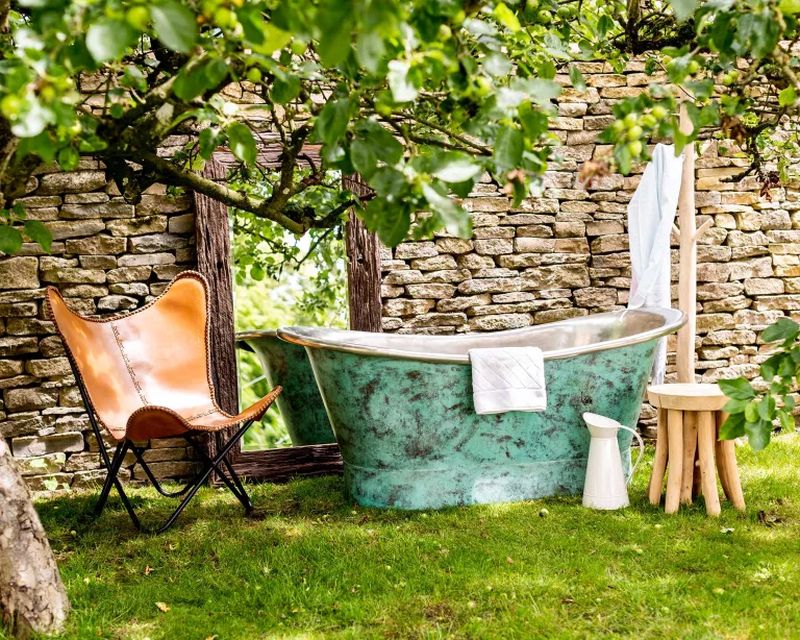 An outdoor bathtub is the ultimate luxury as it helps you create a spa-like setup similar to that in one of your favorite holiday retreats. An open air tub allows you to experiment with tub material and type. You can place a freestanding tub overlooking a view or a sunken bathtub on a rising platform surrounded by garden flora. It will offer a relaxing experience of bathing out in nature.
Under a Skylight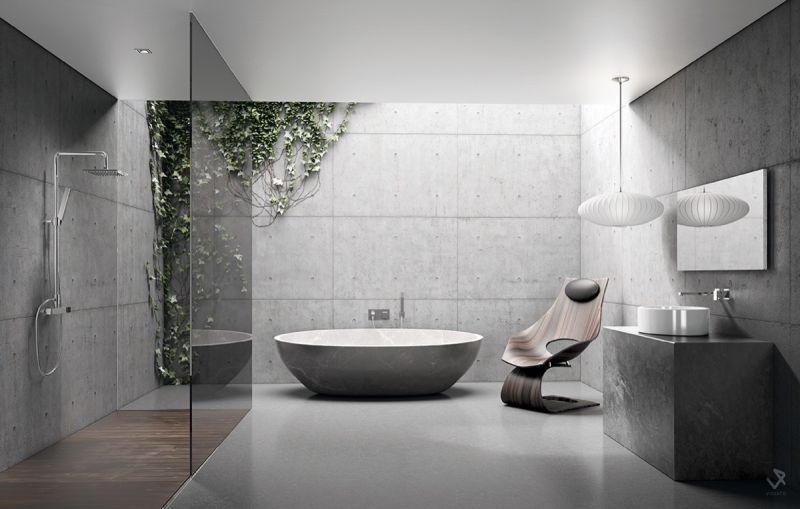 If you are lucky enough to have a skylight in your bathroom, put the space under it to good use by adding your bathtub there. This way you will have a fabulous view of the sky overhead whenever you get in your tub for a pampering bath.
Under-Utilized Nook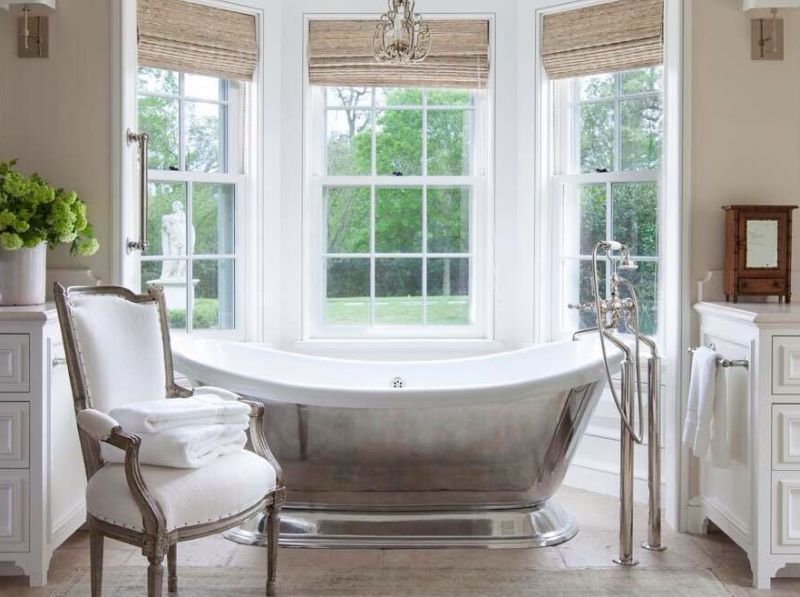 Understandably a corner seems like a good place to put a bathtub to free up floor space, however you can use some other under-utilized area for your tub. For instance, if you have a bow or bay window in your bedroom, you can create an en-suite space by putting a classy clawfoot bathtub there. This is one of the best bathtub placements. It will offer plenty of light, outside views, and use up an awkward, empty space.
Lounge Style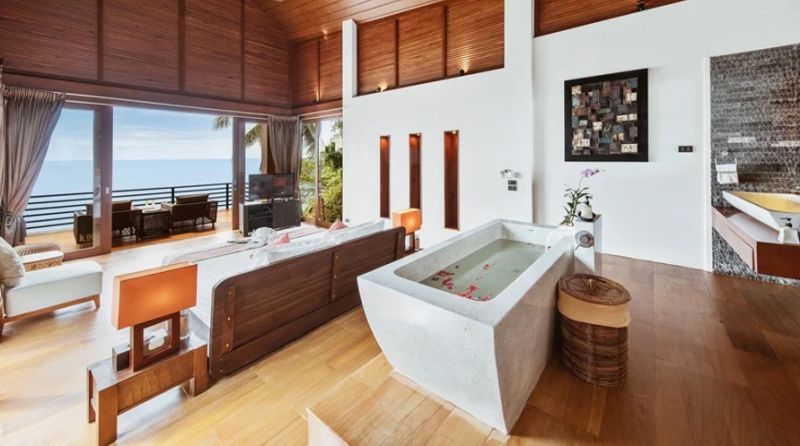 Many hotels and resorts offer a lounging area alongside a bathtub; why not opt that idea for your home as well? By combining lounge and tub, you can create the perfect place to hang before, during and after your bath. It can be in an enclosed space or facing the great outdoors. Add some throw pillows and you have got yourself a luxurious area.
Garden Tubs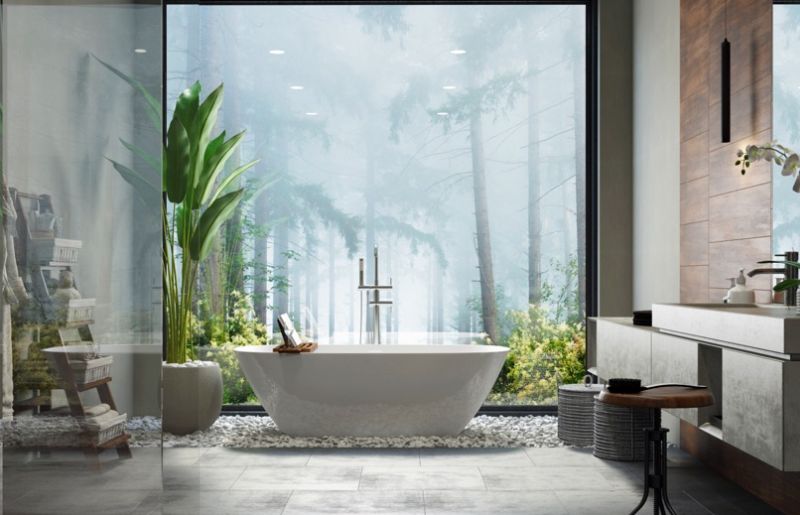 Garden tubs/courtyard tubs are more about the size of the bathtub rather than their placement. However, I am talking about a mini trend that requires a bathtub to be placed in the garden. With larger water capacity, these tubs are better placed in a garden to curate a relaxing, spa-like ambiance. They create a sculptural focal point and are becoming increasingly popular among modern homeowners.
Floating Tub by the Window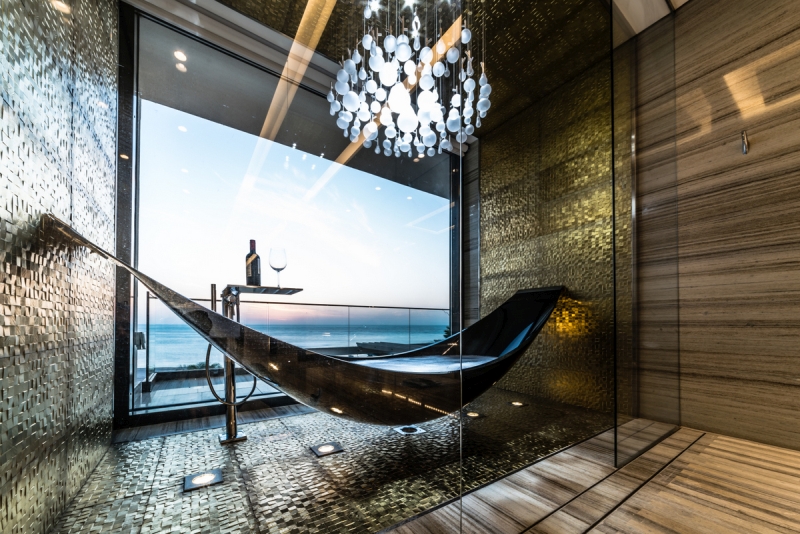 When I first came across a hammock bathtub, it certainly was bizarre to me. But the idea grew on me. Its continuous curved bottom envelops the body as a hammock and enhances your bath experience. You can install this floating tub by a window, and as it is suspended from the walls, it appears to be floating.
Overlapping/Interlocking Layout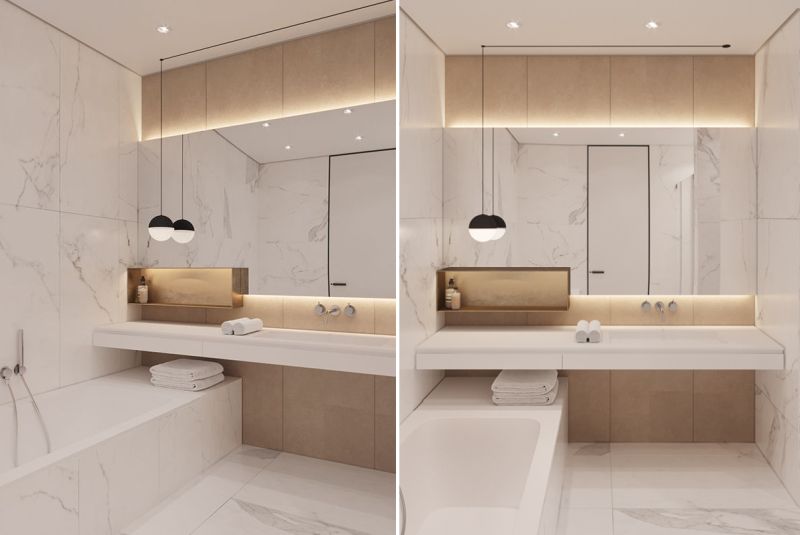 The design elements of interlocking and overlapping add a fluid character to your bath space. If you have a long vanity sink along a bathroom wall, consider placing your bathtub in that unused space under the sink. You can create an extension of the tub that goes under the sink, where you can displace your bath essentials in style.
Under Sloped Ceiling/Under the Eaves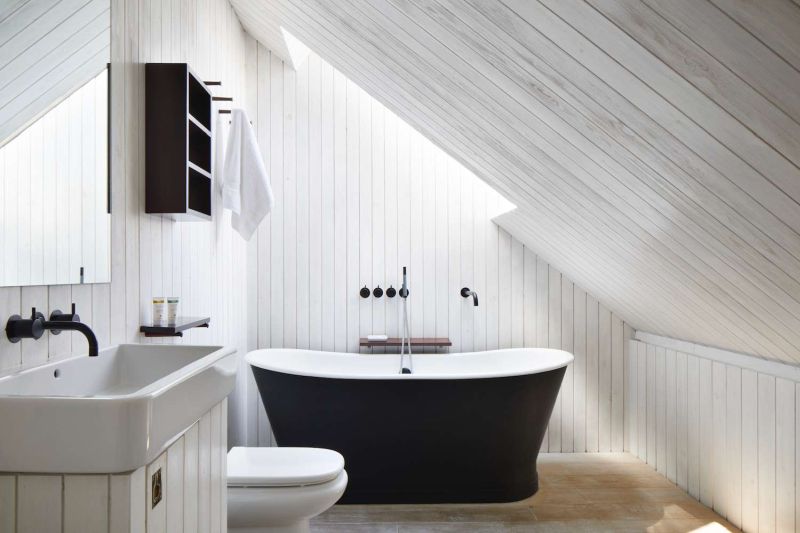 The space under sloped ceilings or under the eaves is often ignored because there is nothing much that can be done under it. This area can be utilized by placing a bathtub there. Here, the sloped ceiling creates a deep nook that can perfectly house a luxurious tub. This way, you can utilize the unused space with a purpose.
Under the Spotlight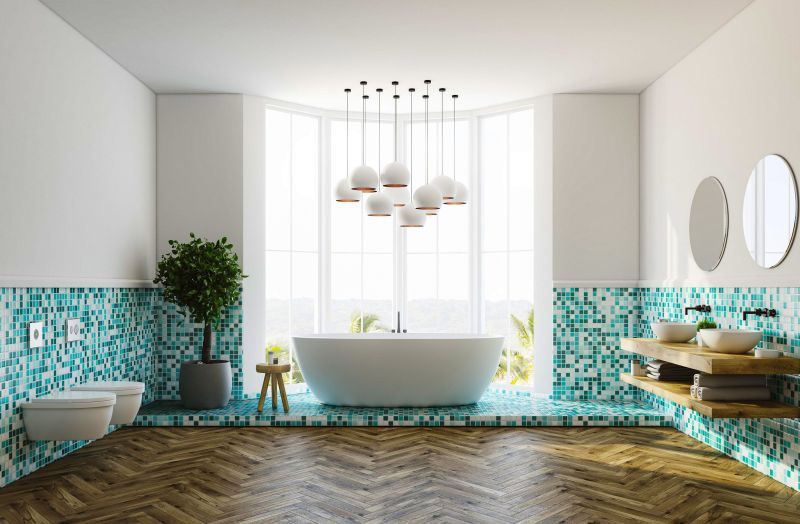 Often bathrooms are dark and dingy. But if you like drawing a bubble bath at the end of the day, I recommend you liven things up a bit in the bathing area. Natural light is great, but if you don't have much access to that then place your bathtub right under the main lighting source. You can install a stunning chandelier or a stylish fixture to create a luxurious aura for you to enjoy your bath.
On a Platform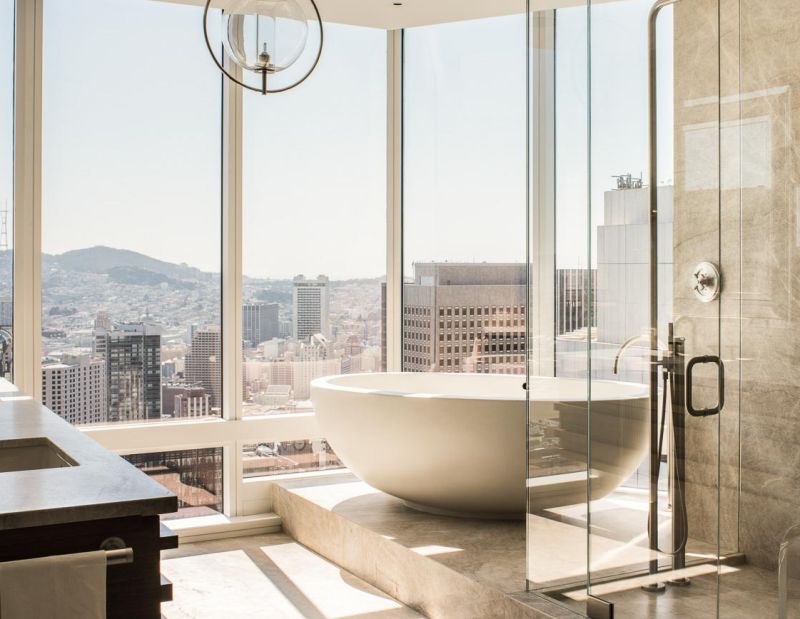 If none of the other bathtub placements appeal to you, try putting it over a raised platform. It can be placed indoors or outdoors, in a corner or in the middle of the room, either way it will spruce things up and give your tub a spa-like elegance.
Beneath Inset Arch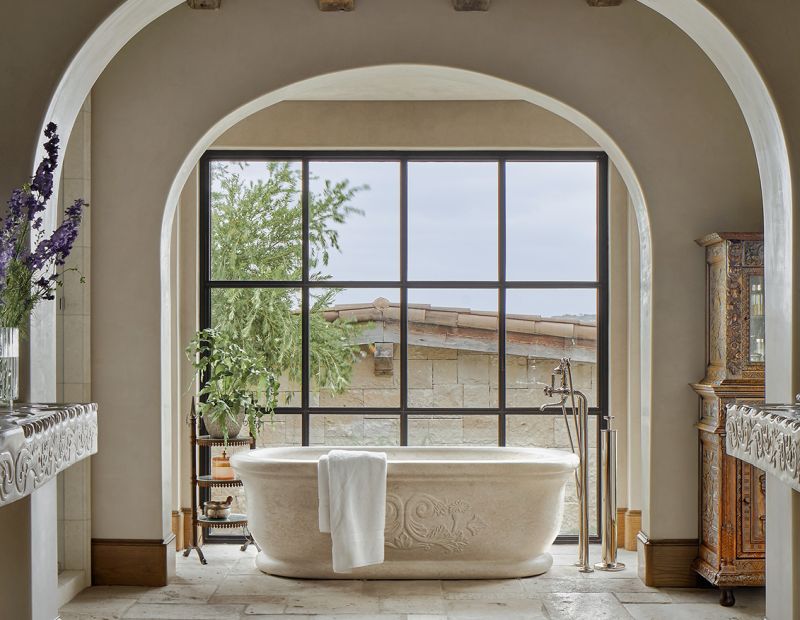 Inset arches in your home can be a letdown when it comes to utilize those gorgeous architectural features. You can place a marble tub beneath an inset arch whether it's in your bathroom or bedroom. This way, you will utilize the space and add an elegance to the layout.
In the Living Room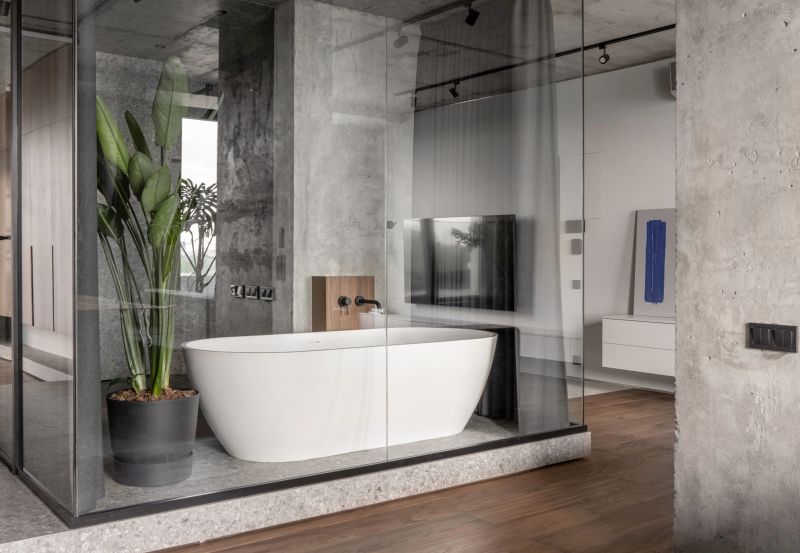 If you are looking for a quirky place to put your bathtub, how about smack bang in the middle of the living room? You can place a glass enclosure for the bath space in the living area, and have it hidden or revealed behind a fabric curtain. It is beyond intriguing and kind of crazy at the same time. But it never hurts to try something new and weird, right? So give it a whirl.