Ukraine has a number of well-developed design studios and immaculate furniture designers who work for different firms from around the world. In recent years, they have proven their mettle in design, but as the war in Ukraine rages on, many of us wonder how it will impact the design industry in the country?
While sitting at a desk, in the safe confines of my office, it is difficult to comment on the war. However, like the entire design and architecture fraternity, standing in solidarity with the innocent victims of the war, we also pray this tragic time passes on quickly and our favorite artist, designer – and just about every individual – in Ukraine can resume life normally.
Ukrainian designers are passionate about fine design and you can see it for yourself in the list below. In this roundup, we introduce you to the most popular furniture designs from Ukrainian designers in recent memory.
Elephant-Like Furniture by Sergey Makhno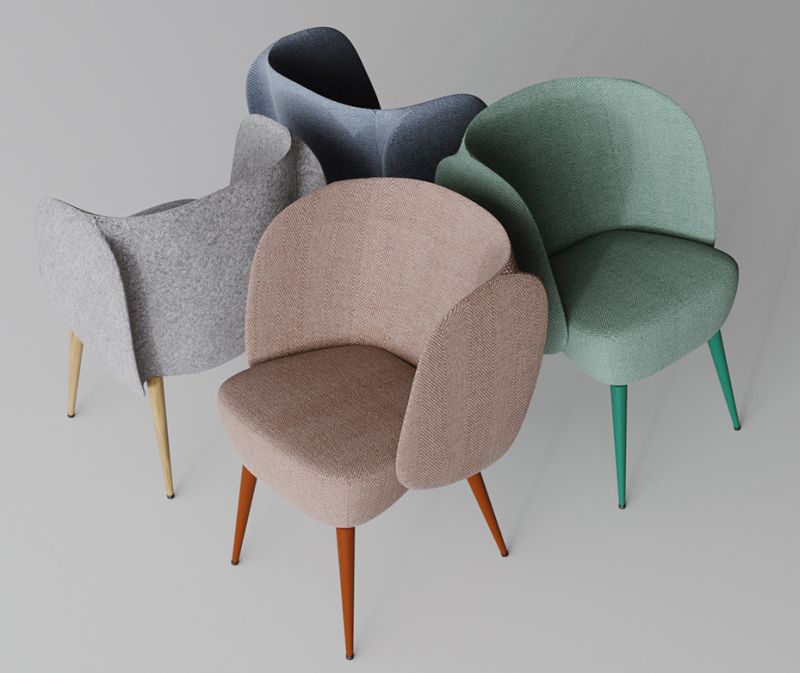 The "Elephants" series is designed by Sergey Makhno in collaboration with Ihor Havrylenko. It comprises three furniture pieces – a sofa with matching armchairs and lounge chairs. All the pieces feature an engulfing backrest that creates a sense of calmness and privacy.
The furniture pieces are constructed from wood and upholstered in textile for a plush look. There are different color choices and upholstery prints from Twiggy's dresses and the softest New York nights.
Tottori Collection by Kateryna Sokolova for Driade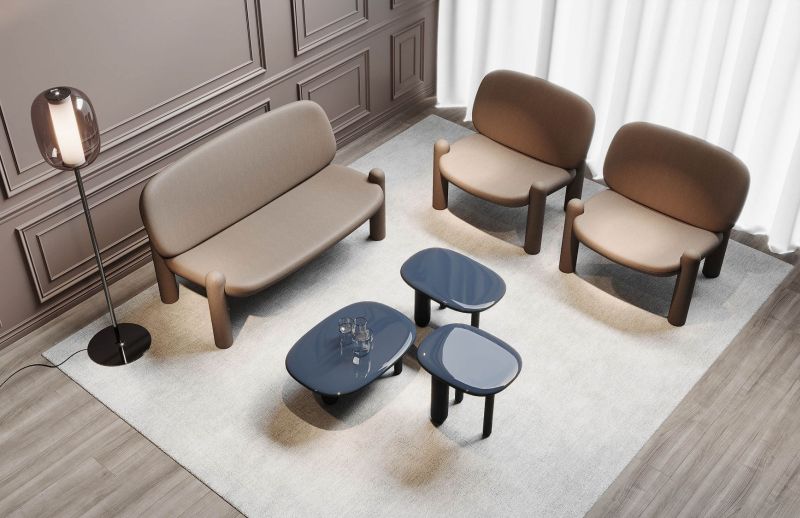 The Tottori seating and coffee tables collection is characterized by rounded shapes, soft silhouette, and bold character. These furniture pieces not only ensures maximum functionality but also aesthetic appeal and comfort. The chairs are cozy and the tables sport a chic appeal.
Kateryna Sokolova said "When I was creating the Tottori collection, I aimed to design objects that resemble imaginary friends some children have. They are friendly creatures that envelope you with warmth and care." The upholstery is fixed and can be chosen in leather or fabric.
Bamboo Furniture by Pavel Vetrov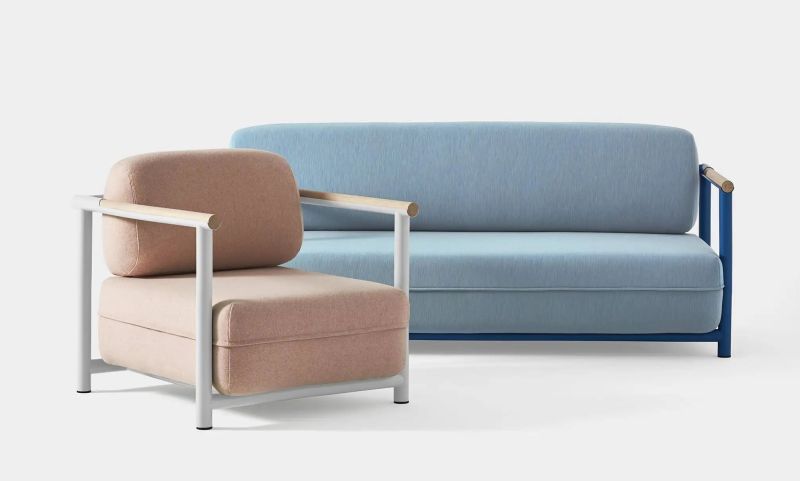 True to its name, this furniture collection imitates bamboo furniture. It was designed by Pavel Vetrov for the Spanish furniture brand Missana in 2021. The series comprises an armchair and a sofa – both featuring a wood-like base and a spongy seat.
The bamboo-esque furniture pieces have a base made from pinewood and particleboard while beechwood is used for the armrests. The cushions are filled with CMHR foam that ensures comfort.
Fiber Recycled Chair by Aleksej Iskos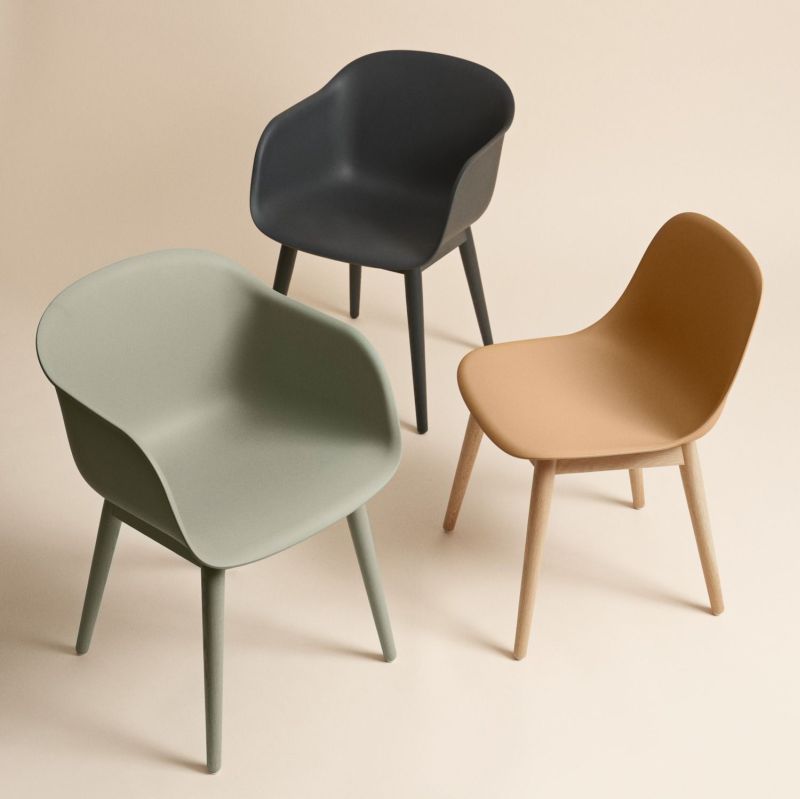 Firstly introduced in 2014, the Fiber Chair Family designed by Aleksej Iskos for Muuto got a new update. The company is now producing a recycled version that is made using a minimum of 80-percent recycled plastic, mixed with up to 25-percent FSC-certified wood fibers.
The Fiber Recycled Chair features a simple design and tapered wooden legs. This chair design puts a dramatic take on the archetypal shell chair. The designer explained "If I had to describe the Fiber Chair with just one word it would probably be harmony. It is a harmony between aesthetics and comfort. Between modern and timeless. Between high-tech and tradition." Its iconic form marries soft, embracing curves beautifully. Designed with a conscious perspective, it is fully recyclable.
Also Read: Ukrainian Architects and Designers Share Their Sentiments Amid 'War' and 'Error 404'
Totem Table by Artem Trigubchak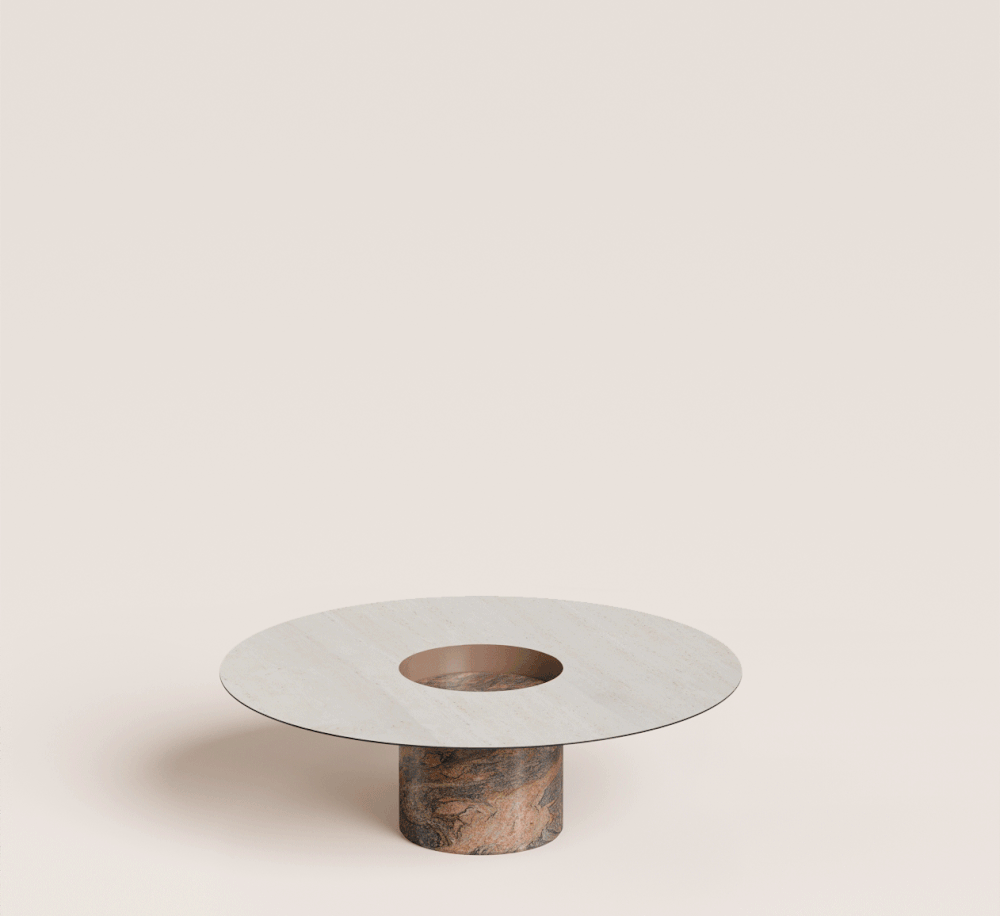 It is a modular round table that can also be used as a storage unit. You can stack up several of these tables together to create more space. Each table has a spherical base crafted from marble and a wooden top. There are varied color choices for the base to ensure your furniture can match the overall aesthetics of your living room.
Mushroom Table by Rina Lovko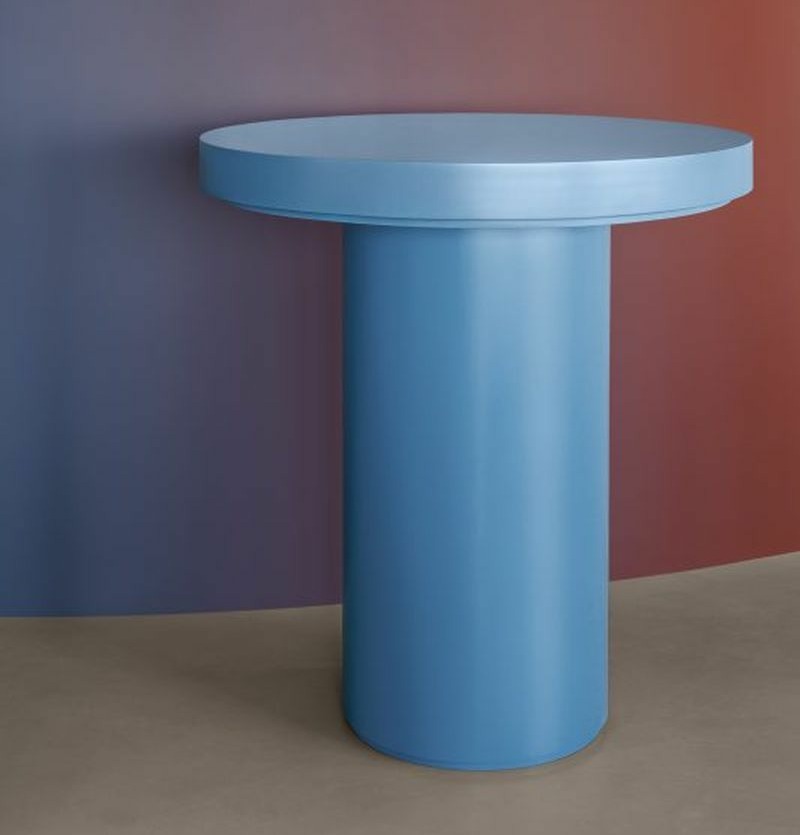 It is a bar-height table crafted from painted and varnished MDF. Stealing the attention with its simple and geometric form, this table sports clean, rounded lines. Customers can choose from different heights and colors; however, the blue hue is an accent color.
The Mushroom table can be used as a bar stool, or as a table for glasses, during a party. It is designed to become a decorative element in the home.
Loop Pouf by Dmytro Kozinenko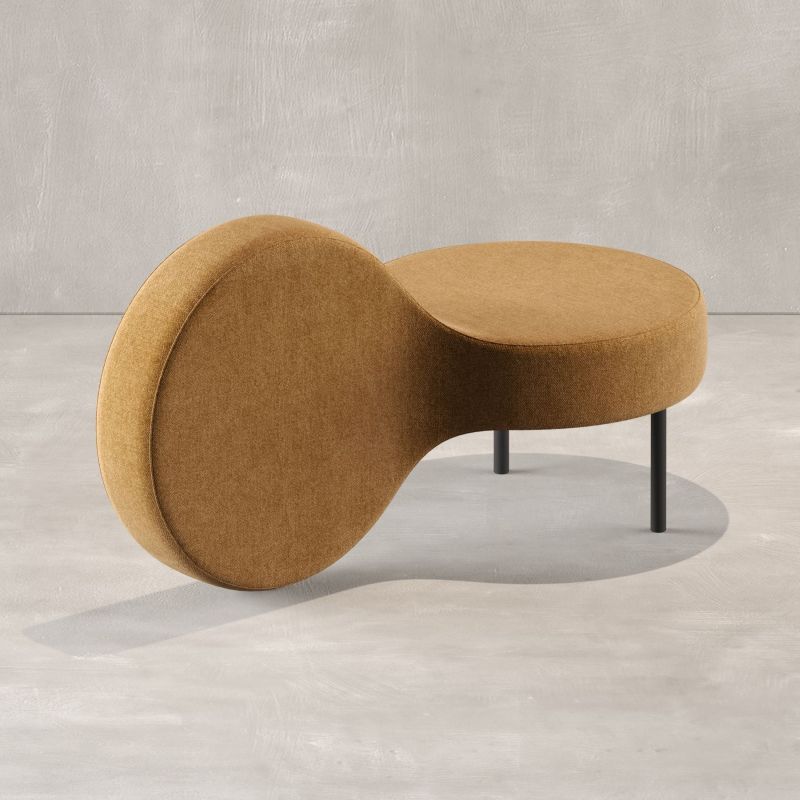 This unique furniture unit is designed by Dmytro Kozinenko for Woo Furniture. It is a pouf featuring a curved shape and textured finish. Its frame is made of plywood with polyurethane filling for a comfy feeling. There are multiple choices for fabric for upholstery.
Created in the form of a continuous loop, the Loop Pouf comprises rounded shapes that are juxtaposed to each other blurring the boundaries between floor and ceiling. This results in endless variations in seating.
TAU Table by Serhii Hotvianskyi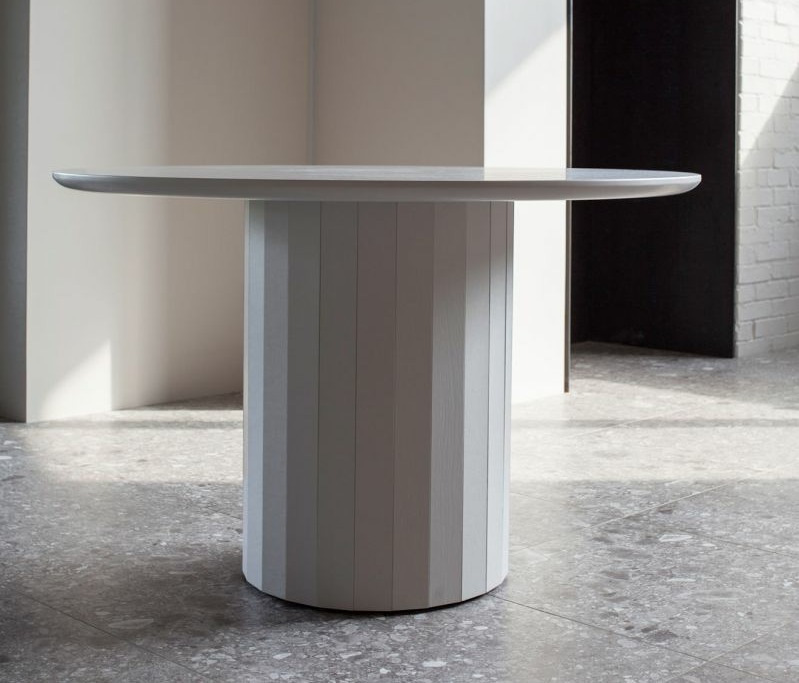 Ukrainian designer Serhii Hotvianskyi, founder of Nott Design Studio has designed this beautiful table for Texas-based Donna. It features a large base and is finished in white for a simple, classic look.
Ripples Coffee Table by Svoya Studio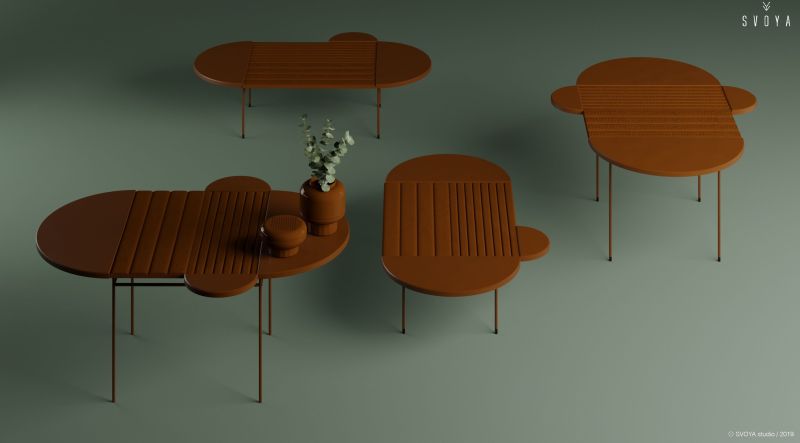 Designed by Denis Sokolov for Svoya Studio, this table stands out with its textile and wooden top. Its top is not flat instead it features a lined pattern. The table is made of three materials: textile and wood for the top, and metal for legs. It takes care of both, aesthetics and functionality.
The Planet by MZPA Studio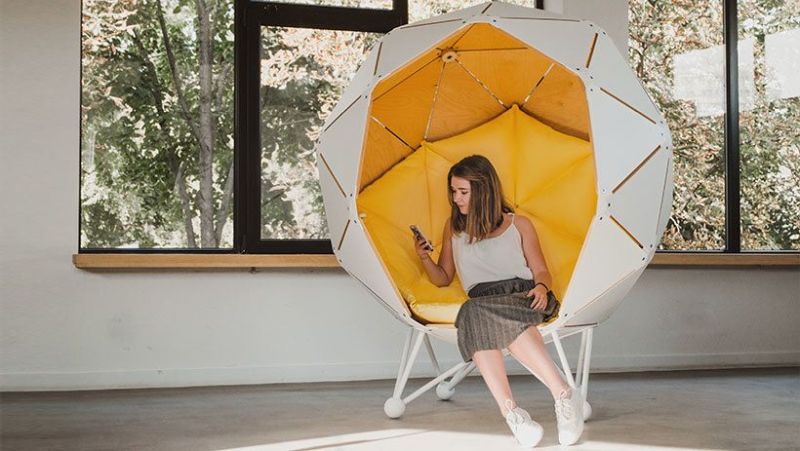 This pod-like furniture is designed to provide private space in offices, shopping malls, hotels, and other places with noisy environments. It can be used for private calls or just to discuss a project with your client.
The Planet chair is made of 51 triangular plywood segments that attach with onboard steel elements. You can shift or remove these elements to change their shape and the amount of the covering.