What's a home like without soothing music? Yes, we are talking about speakers which are audiophile's best friend. It is one thing having ordinary speakers, but to increase your style quotient a notch further, you'll need something extraordinary. How about owning levitating speakers which look absolutely cool and sound great? Yes, speakers that float in mid-air while booming surround sound audio to fill your living space with ear-pleasing music. Let's not waste another moment and have a look at the best levitating speakers out there.
# Ice Orb Floating Bluetooth Speaker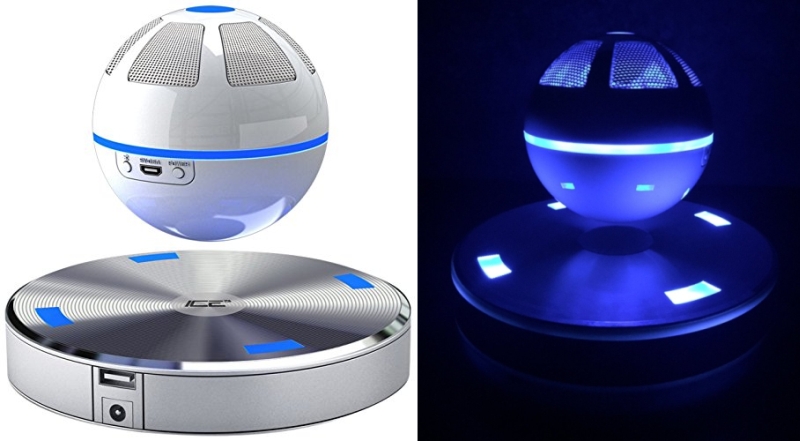 Levitating speakers are all about the looks, and this Bluetooth speaker which connects to your mobile devices is ideal for a bedroom. Resembling the Death Star from Star Wars series, this speaker won't disappoint you with its sound. Moreover, this accessory makes for a good gift item to your audiophile family or friends. The only thing that could have been better about this speaker is its sound quality. That said, it will definitely turn eyeballs when anyone haves a look at it.
Buy: $149.99
# ASWY Spaco Levitating Speaker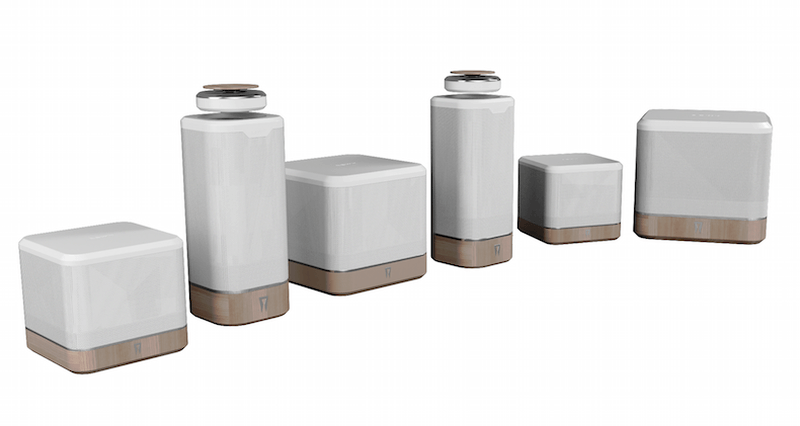 If you are a serious audiophile like me who takes the audio quality very seriously, Spaco will be your ideal choice. Developed by Taiwanese company ASWY, this levitating speaker unit is made for delivering multi-room surround sound. Apart from its cool looks and the mid-air floating factor, the speaker connects wirelessly to compatible devices via Wi-Fi or Bluetooth. The audio system has a total of six speakers, out of which two front tweeter speakers have a levitating tower base with the main speaker floating above it.
Buy: Available Soon
# OM/ONE Levitating Bluetooth Speaker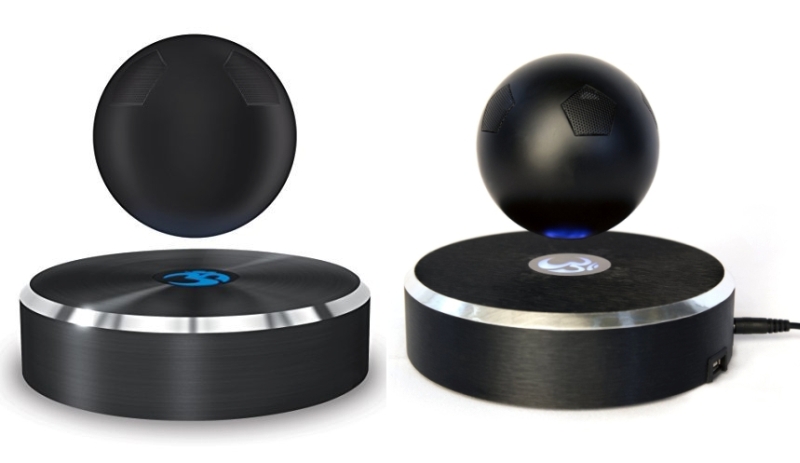 This is a compact levitating Bluetooth speaker which is beautifully designed, and adds to the charm of any living space. OM/ONE Levitating Bluetooth Speaker connects wirelessly to your device and controls music from a distance of 33 feet. The speaker can go for 10-12 hours non-stop which means little less charging woes. Although the sound quality is not of the highest quality, but still it should get you through on normal usage.
Buy: $192
# Air 2 Wireless Floating Sound Bluetooth Speaker
Yet another geeky looking floating speaker that you can buy right away. Just like the other levitating speakers present out there, it has a base fitted with magnets which makes the speaker float in mid-air. It looks like a flying saucer in the air beaming sound in your room. Bluetooth connectivity means that you can connect it to virtually any compatible device with ease. The speaker comes in cool colors including black, blue, pink and red.
Buy: $109 – $181.93
# Star Wars Death Star Levitating Speaker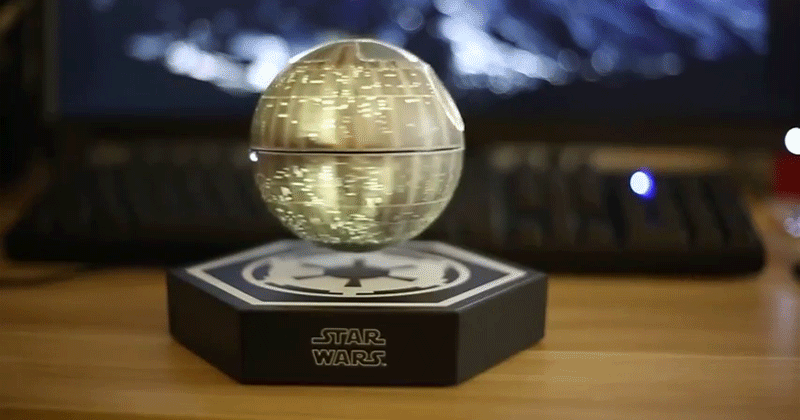 As the name suggests, this speaker inspired from the Star Wars Death Star, and tops this list for its sheer looks. To complete the effect, this levitating speaker glows in the dark and actually looks like a desk accessory that's irresistible. To top it off, this speaker sounds much better than all of the above mentioned speakers. The 1000 mAh battery of this speaker ensures 6-8 hours of playback for non-stop fun. Since we are talking about levitating speakers, this one is perfect for techies and nerds.
Buy: $225.88
# Amorus Wireless Levitating Speaker
The Amorus Wireless Levitating Bluetooth Speaker is perfect for Apple and Samsung devices, since it has NFC support. On its magnetic base, the orb like speaker levitates while beaming surround sound in the room. You can also use it without the base as any other normal speaker. It has a signature red band running across the middle and red LED lights on the top to exemplify the spinning effect.
Buy: Price Currently Unavailable
# CrazyBaby Mars
If you are an audiophile who likes thump in the music, this levitating speaker is made for you. CrazyBaby Mars is a levitating speaker with it magnetic base having a bass tube to produce the punch. The design is good and it is perfect for any modern home. To top it all, the speaker is water-proof and the levitation is also much convincing than other options that you have. Probably I have saved the best for the last, enjoy!
Buy: $329