When one talks of luxury safes, a little opulence goes a long way. Especially when you've got a fat bank account to spare the luxury. Keeping your most prized possessions safe is paramount, and if there is an added essence of luxury and style, then it's even better. So, let's take you on a ride into the larger than life world of luxury safes that take security to a whole new level. And, of course, they are all head turners too!
Boca Do Lobo Baron Luxury Safe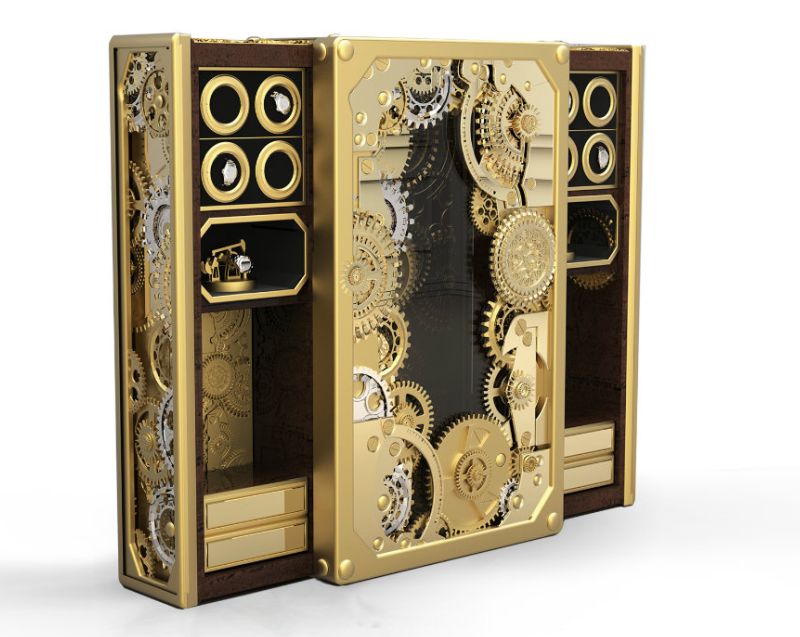 The Portuguese luxury design company has redefined the meaning of luxe appeal with Baron luxury safe. This Fort Knox-inspired safe is the most secure fortification for your priceless belongings. This limited edition luxury safe has eight watch winders, four drawers, cigar humidors and two upholstered exhibition stages in black velvet. The exterior of this safe is made from wood and finished in polished brass. The mechanized opening system (works with an automatic engine) can also be operated with a remote. Baron luxury safe comes in two color themes – Polished Brass and Black Lacquer.
The Oomph Factor
Draped in steampunkish-theme (to be more precise, in Victorian furnishing style), Baron safe adds eye-popping exclusivity to your interiors. The working mechanism of the brass gears is visible from outside which is something you won't find in other luxury safes out there.
Pricing: The steampunk safe has a starting price of €59,160 (approx. US$74,000) with customization options available for the buyer.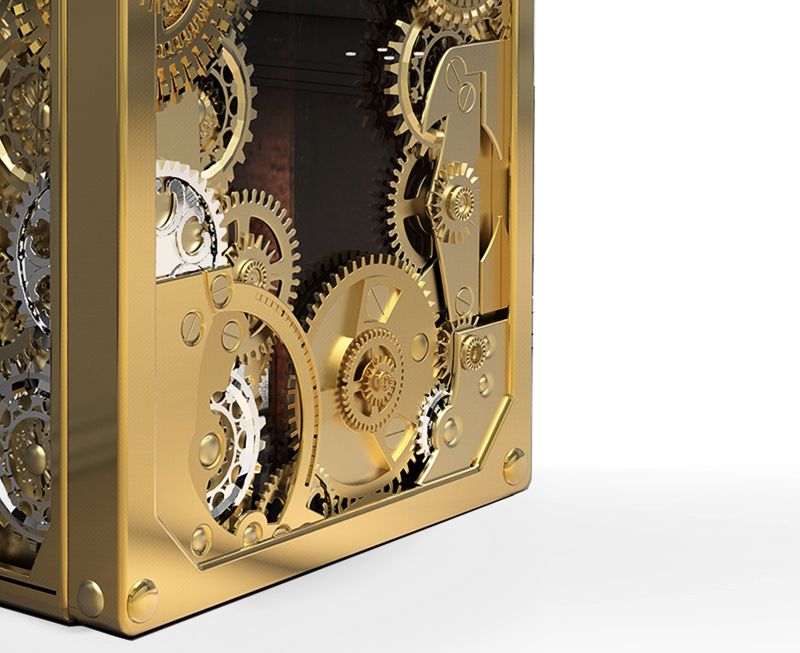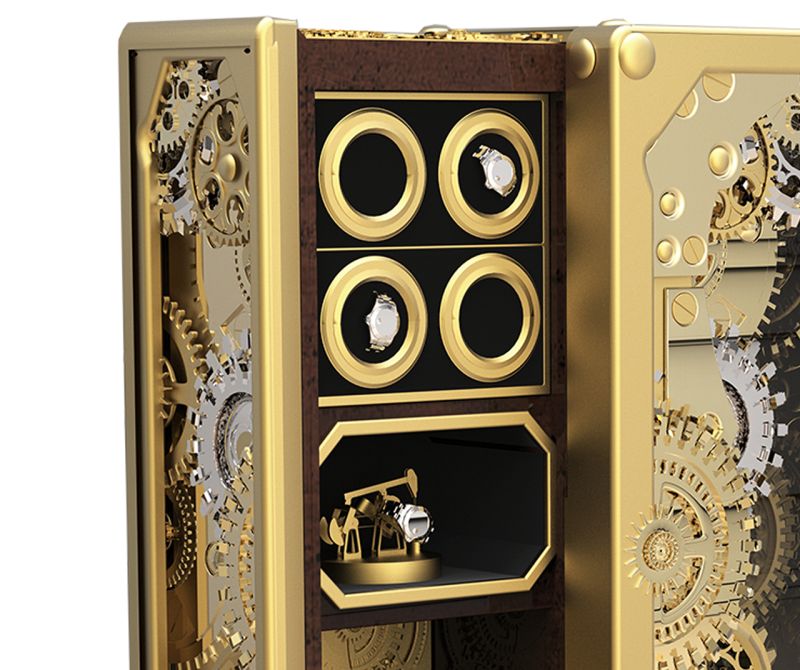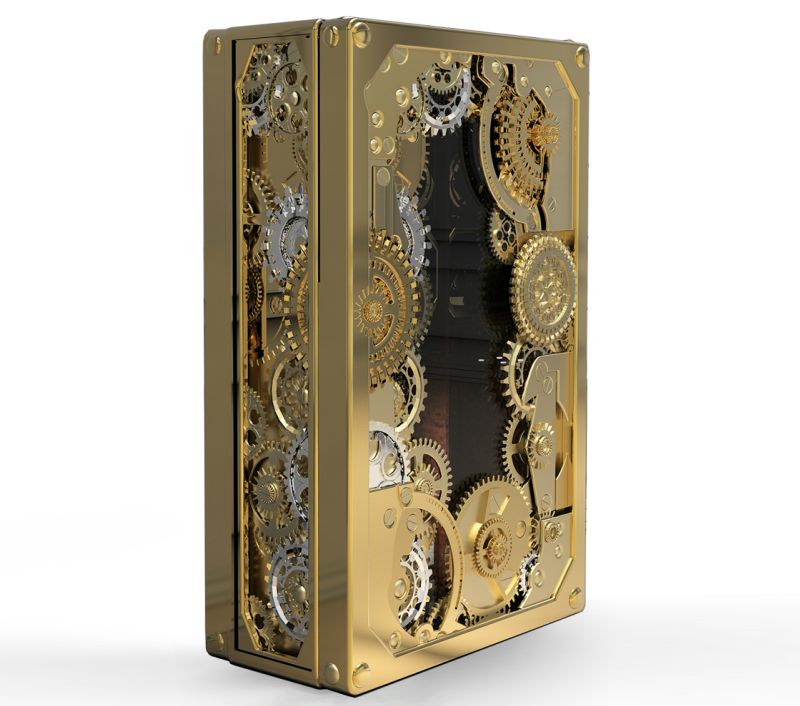 Brown Safe Pearl & Pink Limited Edition Safe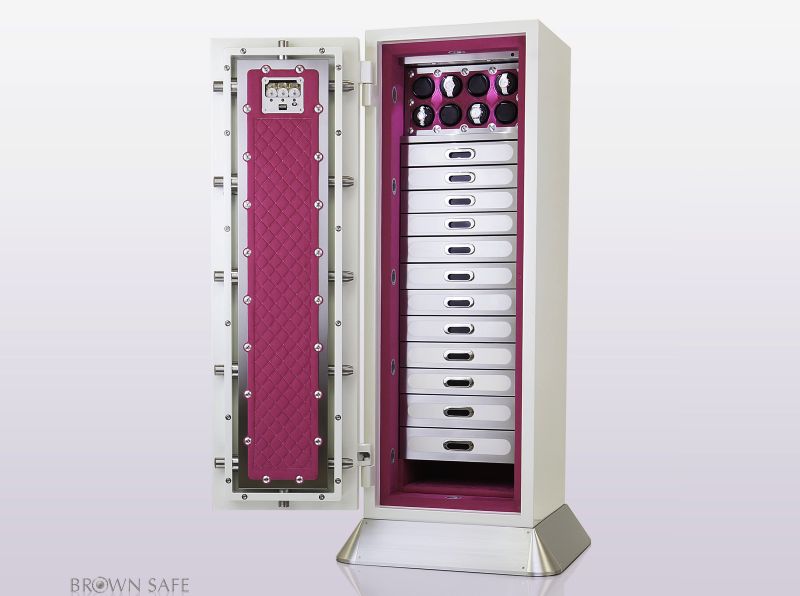 Looking for a safe that is a bit different from the rest in terms of bold use of colors? Then, Brown Safe's Limited Edition Pearl & Pink Chronos luxury safe is the one to go for. Designed to house your Chronos watch and jewelry, this luxury safe is one of the heavily fortified options for demanding millionaires out there. It is made from military grade ballistic armor mixed with the company's concrete amalgamate mixture.
The contrasting use of colors for the shell and interiors gives this safe that x-factor. The exterior is clad in the bright white finish and sleek stainless steel accents, while the interior is draped in opulent pink Ultrasuede. Exemplifying the refined quality are the glossy pearl surfaces on the inside which can be accessed via a biometric lock.
The Oomph Factor
Brown Safe Pearl & Pink clearly has that oomph factor owing to its use of subtle colors for the exterior and bright accents on the inside. Moreover, the safe is quite compact with good use of the vertical space. This makes it ideal for any type of space, be it your living room or bedroom.
Pricing: Starting from US$106,870. Depending on the customization options, it can go up a tad.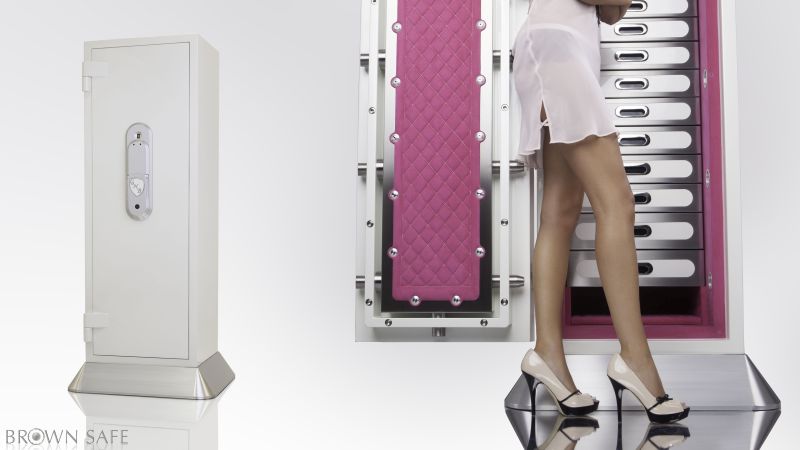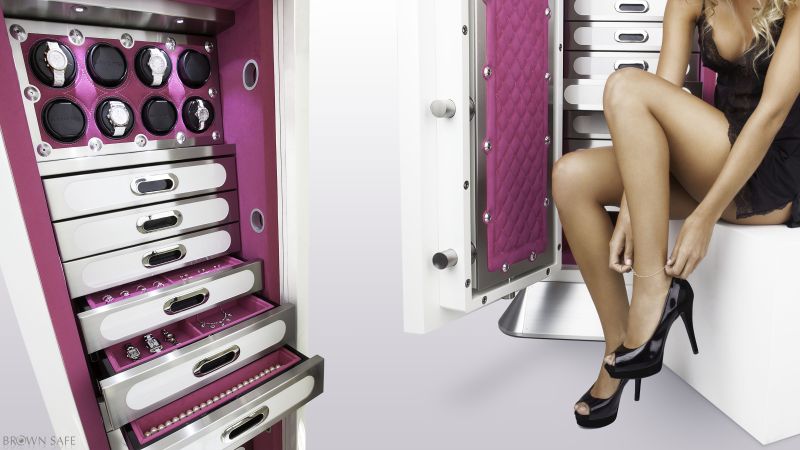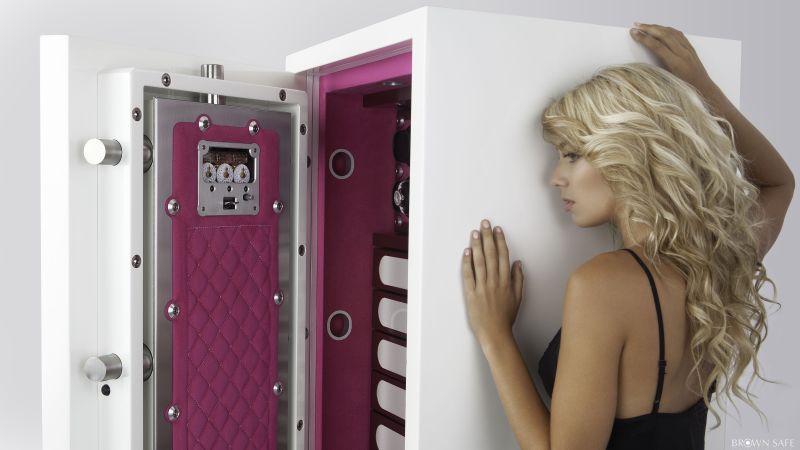 Döttling Opus 1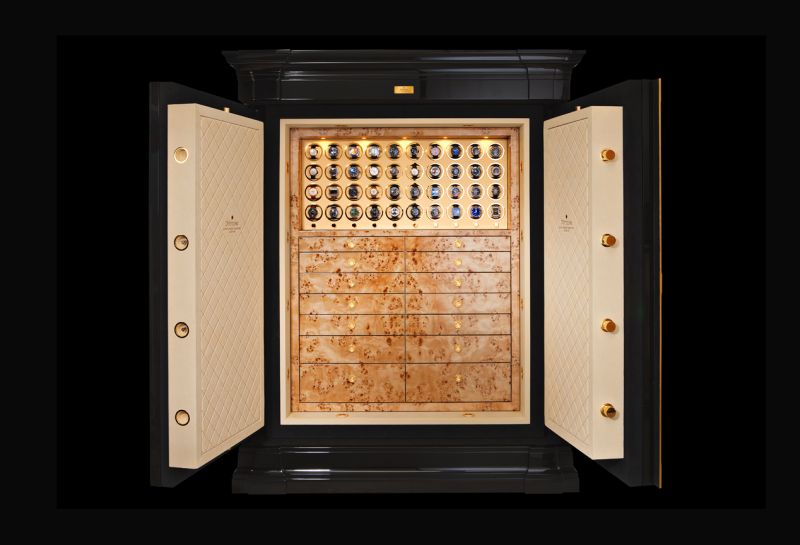 A safe needs to be as unassuming as possible, so that it doesn't attract unwanted attention. Döttling Opus 1 luxury safe is eye-catchy, but invisible at the same time. Why I say that is because it actually looks like a high-end furniture piece, but what's in its guts is of importance. Opus 1 has state-of-the-art technology inside which is highlighted by high-gloss finish and gilded decorative items, reflecting a bit of historic style.
The safe has space for 40 precision watch winders, 12 drawers and a couple of extendable tables. If you are an avid watch collector, this luxury safe gives you the leverage to store 250 watches inside. Other than that, it can be connected to the alarm system to get instant notification whenever there is unwanted access.
The Oomph Factor
Opus 1 cleverly hides elements like the high-security lock behind a small secret flap disguised in one of the decorative items, giving it a sense of magical feel. It looks like a classic furniture piece, but hides something much more than that.
Pricing: On request on the official page.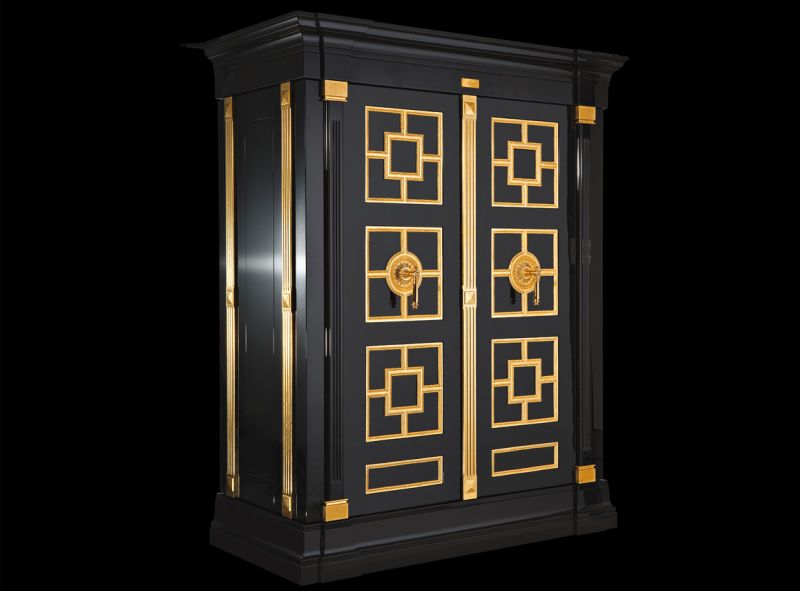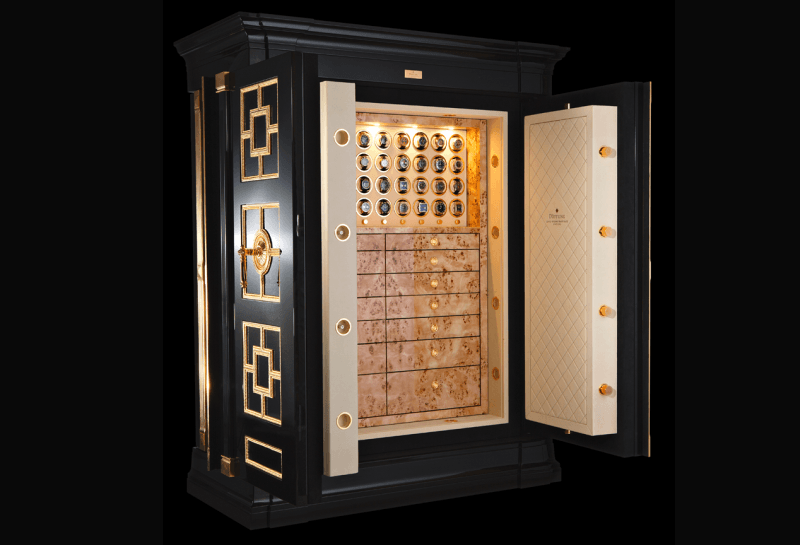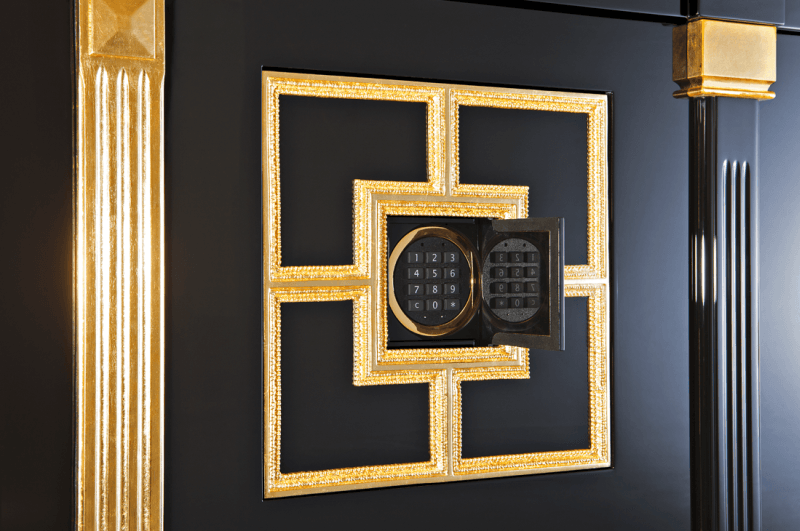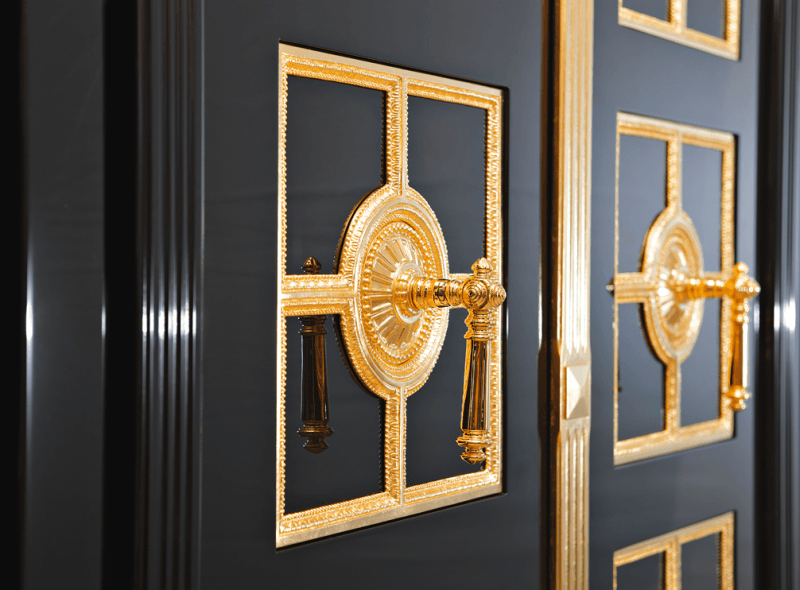 Coleccion Alexandra Traveler Safe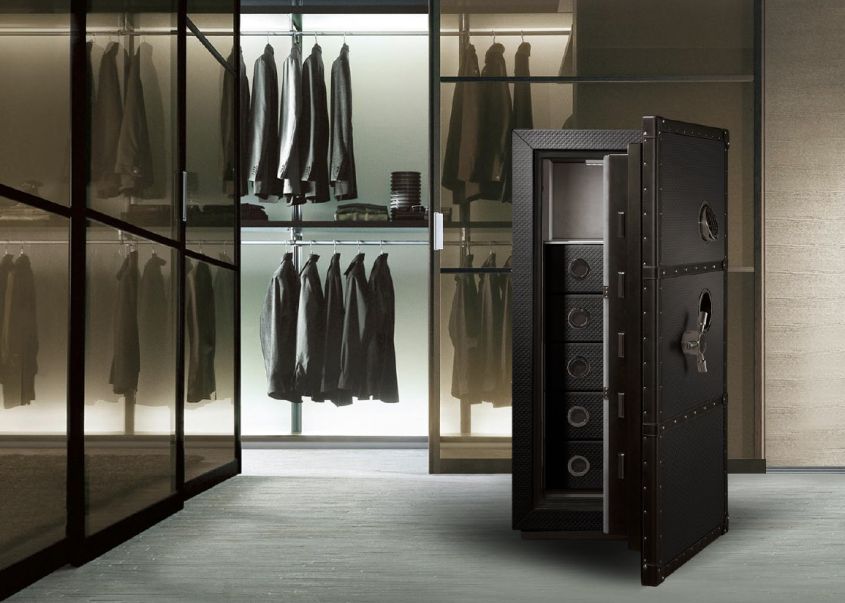 Clinging on to the era of luxury travel, Traveler safe by Coleccion Alexandra is one of the plushest safes you'll find out there. It has an advanced locking system along with electronic lock and double bitted keylock mechanism for full-proof security. The luxury safe boasts luxurious interior and exterior components which give this safe a very high-end feel.
The Oomph Factor
This luxury safe comes with the option to choose from over 100 colors for the interior and tweaking of the exterior metal finish along with the various color configurations. The user can choose from luxe veneers like Macassar Ebony or Walnut, and also the softness and depth of suedes and velvets. This gives the buyer the freedom for ultra-customization, depending on personal preferences.
Pricing: You can confirm the price for this luxury safe by placing an email inquiry at the official webpage.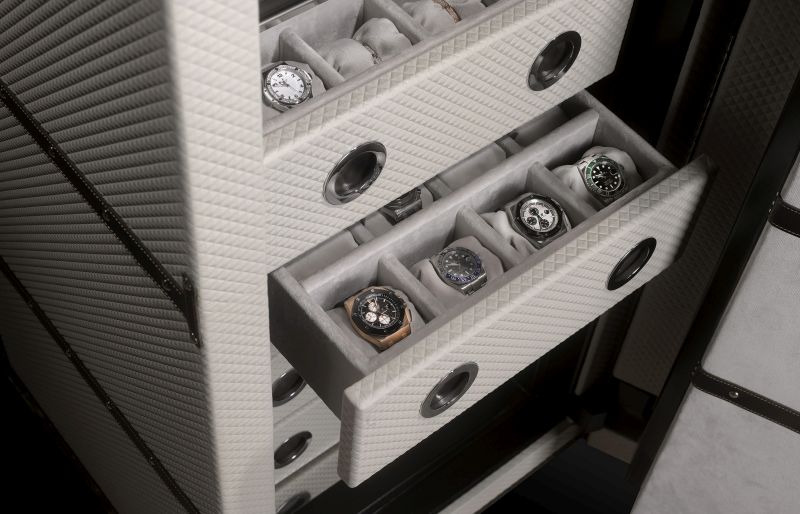 Buben & Zorweg X-007 Safe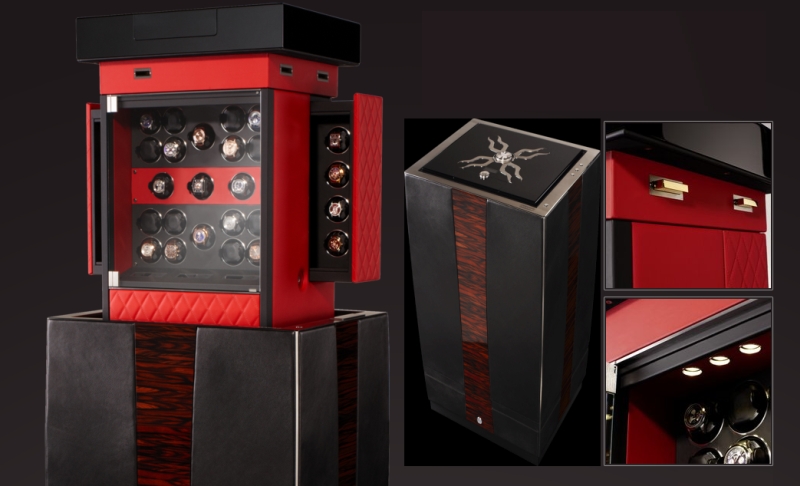 A true example of fine German handcraftsmanship, the Buben & Zorweg X-007 luxury safe is powered by the PAXOS high-security system which is found in many Swiss bank vaults. The fortification of this safe is made from the advanced material which is way lighter than traditional armoring materials used in most luxury safes, making the total weight of this safe around 580 kg. X-007 can store 21 watches in the main section, and also jewelry and other valuables in the front and side drawers. The safe has an electronic locking system, and when there is a power outage it can be opened with an emergency crank.
The Oomph Factor
The safe has a motorized vertical opening system as opposed to the traditional front locking mechanism. This permits the user to open/close the luxury safe without bending down.
Pricing: Price on request.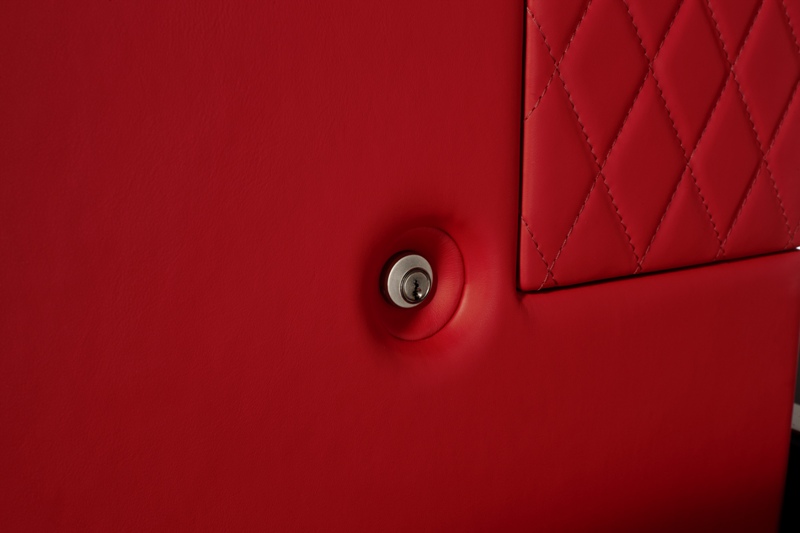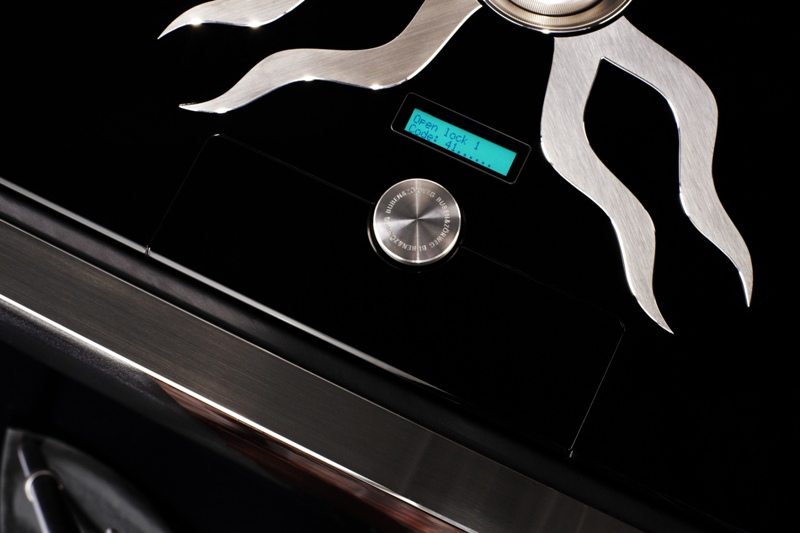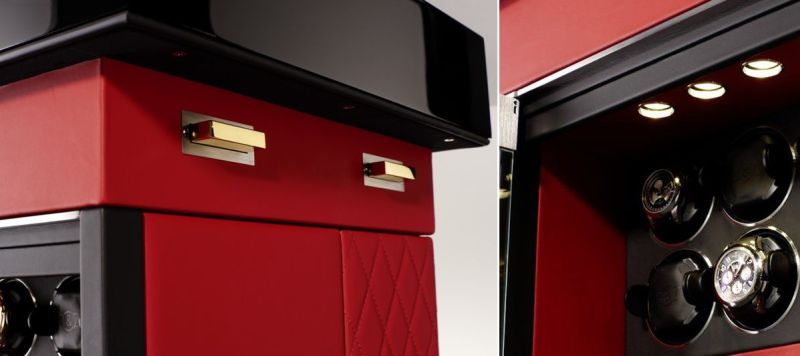 Stockinger for Bentley – Arnage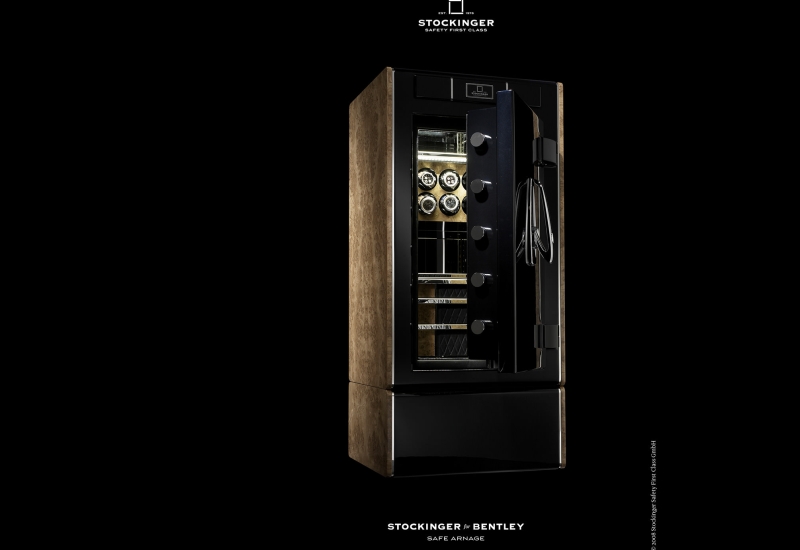 This limited edition luxury safe (only 200 to be made) dubbed "Arnage" coming from the home of Stockinger is themed around Bentley. So, in a way, it is the apt security safe from ones who own the iconic luxury supercar, as the safe itself has been developed in collaboration with Bentley Motors. The luxury safe is a watch winder that houses 8 watches, and comes in three different drawer sizes with the option for different wood veneer panels.
The Oomph Factor
Fact that it is themed on the Bentley supercar, this luxury safe takes the watch winding technology to a new level.
Pricing: Again a high-end luxury safe targeted for the elite carrying a hefty price tag of €125,000 (approx. US$155,000).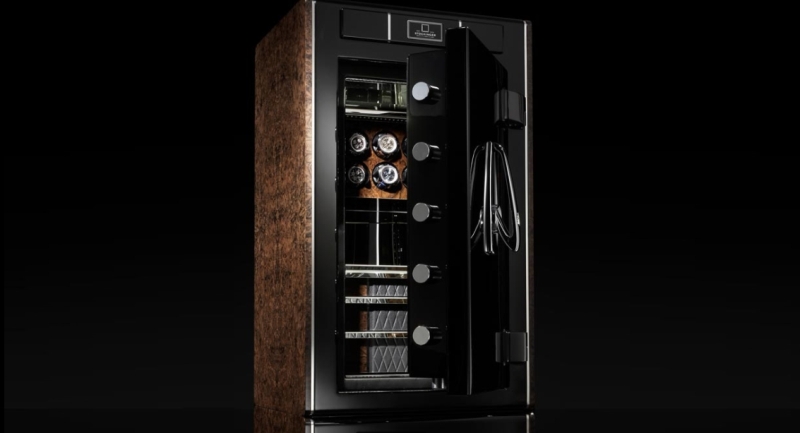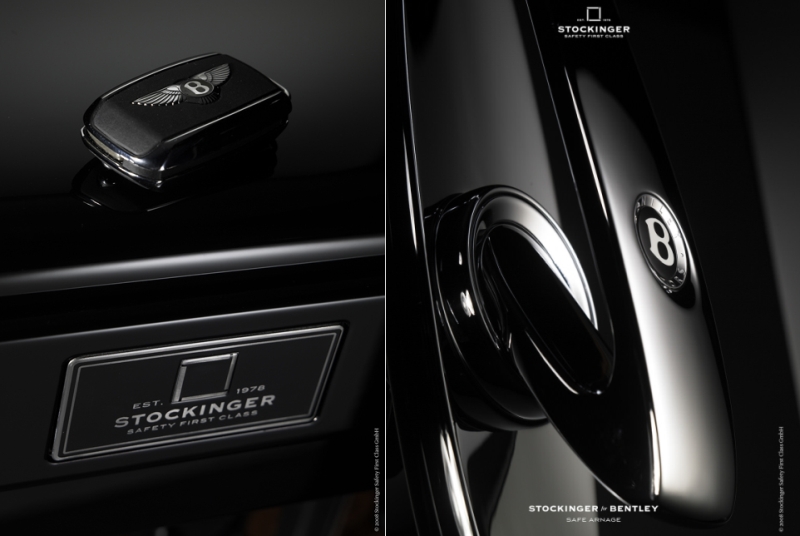 Traum Heirloom safe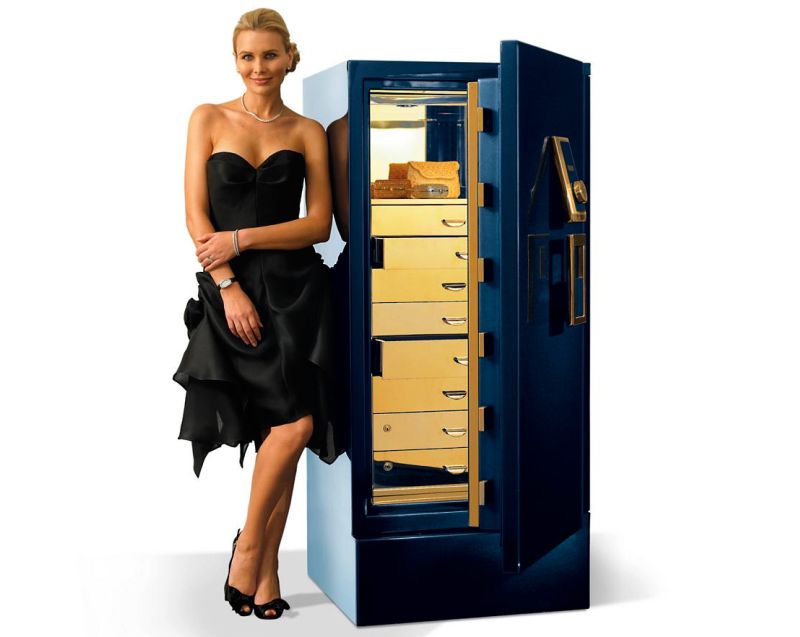 Another Swiss-made luxury safe which hones supreme security thanks to its impregnable Relastan armoring. Traum Heirloom luxury safe's invincible protection is further safeguarded by the dual electronic locking system. This luxury safe can also be customized according to preferences depending on the storage needs, and preference of materials used. Also, the lighting inside the safe can be customized.
The Oomph Factor
Fact that this luxury safe can be customized totally from inside gives buyers flexibility to choose number of drawers, and patterns/colors they require. Also the ultra-secure features make it one of the most reliable safes out there.
Pricing: It is priced steeply at US$180,000 which is targeted at the high-end of the lot.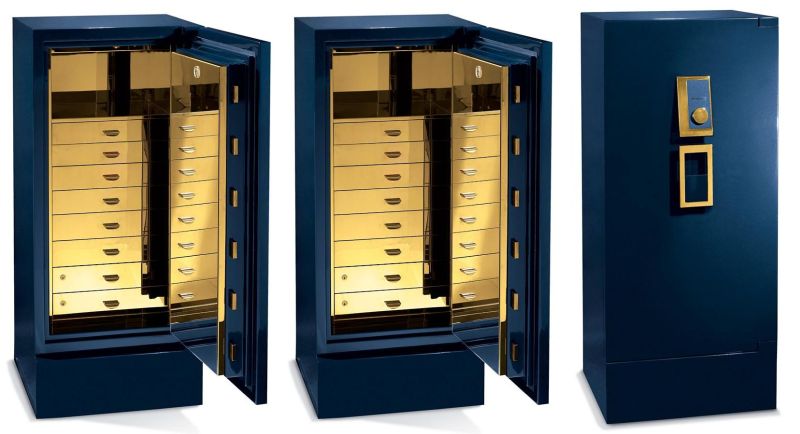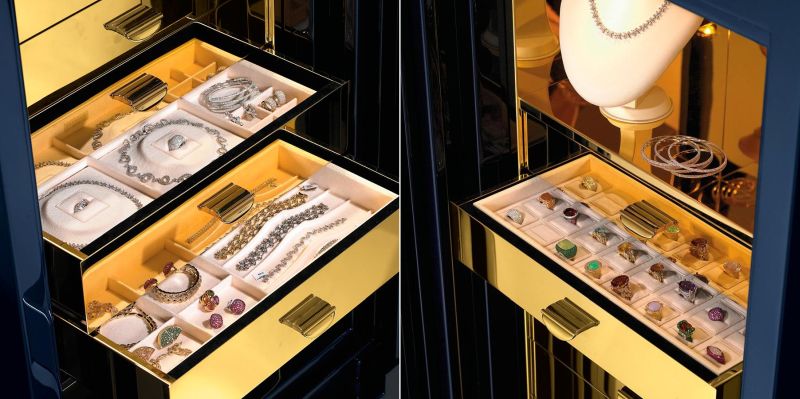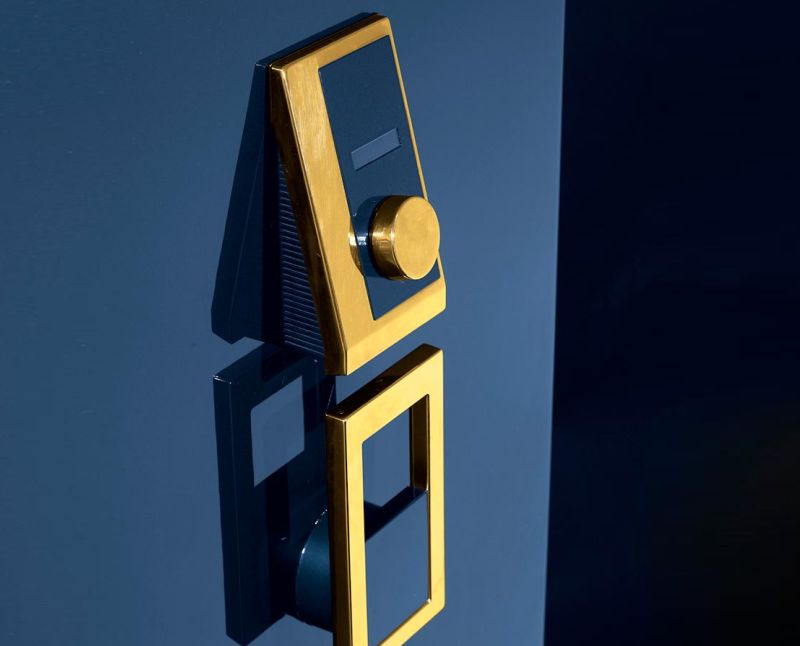 Döttling GrandCircle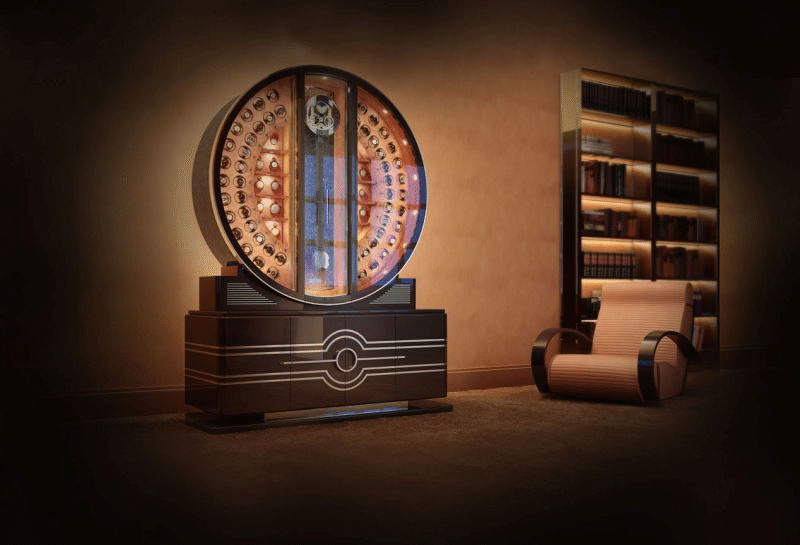 Another impeccable safe which is a safe haven for all your valuable timepieces. GrandCircle by Döttling is handcrafted to perfection, and it offers exactly what demanding users wish for. This watch winder safe houses up to 52 watches which are displayed inside the huge unit in a circle. Not only does it look stylish, but it also adds a whole lot of functionality and storage space for your other belongings. It measures more than 2 meters in height, and is made from high-gloss lacquered wood, stingray's tail skin, Alcantara and rhodium-plated components.
The luxury safe watch winder is limited to just 20 pieces, and all of them are going to be hand numbered and signed.
The Oomph Factor
As we said, this safe is much more than a watch winder with space for storing your valuables securely. Right in the middle of the circular design is a handcrafted Naeschke pendulum clock which goes for four weeks on one winding routine. Also, it has a climate-controlled humidor, Jewelry drawers and a hi-fi subwoofer by Elac. This subwoofer is apparently the world's smallest.
Pricing: On request from Döttling with an approximate price being €195,000 (approx. US$241,000).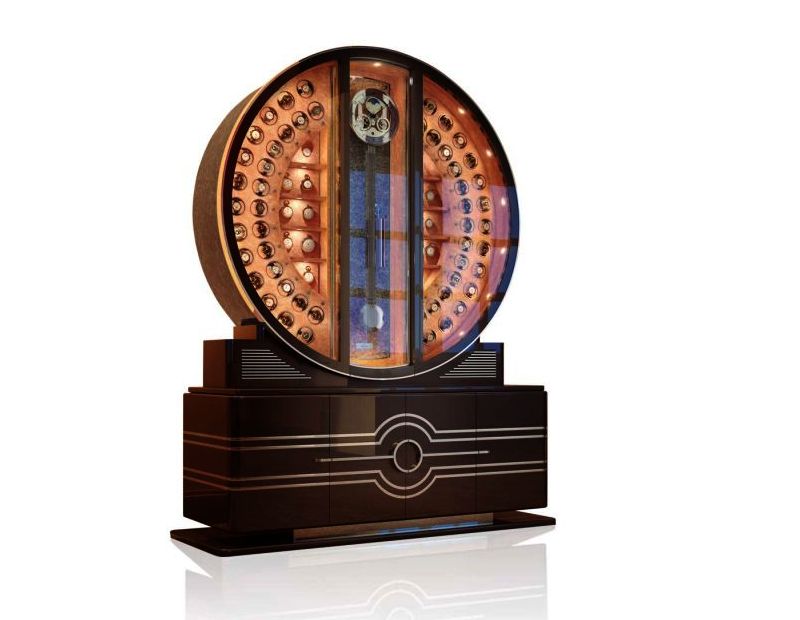 Agresti Jewelry Armoire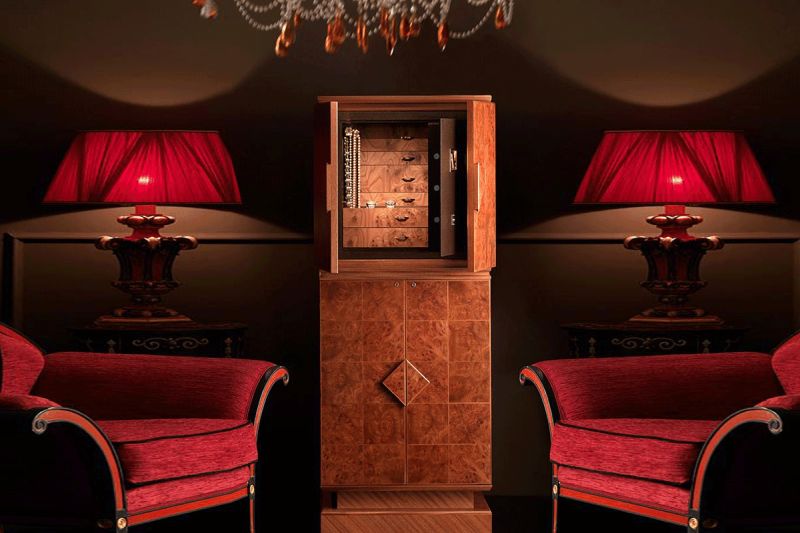 Florentine-based fine furniture crafter Agresti has come up with a jewelry safe which compliments your modern home interiors like none other. Dubbed as the Jewelry Armoire, this handcrafted jewelry safe also keeps your watches and other valuables secure thanks to the advanced biometric locking mechanism. It has two lockable bottom drawers with additional 11 storage drawers, all lined with ultra-soft fabric and a 24-karat gold-plated handle.
The Oomph Factor
Its uniqueness lies in its simple yet resourceful design which comes very handy to securely keep your valuable watches and other belongings.
Pricing: Agresti Jewelry Armoire is priced at a modest (compared to the other safes) US$32,500.