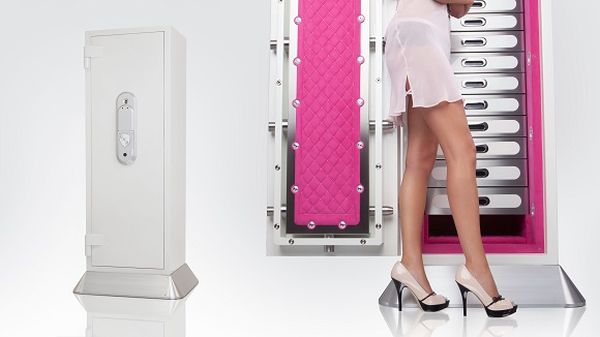 Safes are all about showcasing their boisterous credentials of hardened steel locking bolts and plates of sturdy metallic armors, right? Wrong! A far cry from all the 'masculine' designs of luxury safes, we have come across Brown Safe's Chronos Pearl & Pink luxury safe for safekeeping watches and jewelry. Basically a customized version of the standard Chronos (which is Brown Safe's premiere collection of watch safes for men), this conception line was specifically created to meet the demands of an A-list client.
From the outside, the Chronos Pearl & Pink exhibits an elegant form, which is constructed from laser-cut plates of military grade ballistic armor clad in 2.5-inches of a concrete amalgamate mixture (a proprietary invention of Brown Safe). However, once we open the this imposingly sturdy safe, we are witness to a flurry of iridescent pearl white finish which complements the hand-stitched bright pink sections. The storage units comprise of Orbita automatic watch winders and separate jewelry drawers (finished in Ultrasuede).
And finally, as is the convention with modern luxury safes, the Chronos Pearl & Pink is infused with a slew of technological features that notch up on the safety factor. These include a biometric fingerprint reading lock that allows the owner to decide on who gets access to this safe; a multi-sensor mechanism that warns you if you keep the door unlocked; and a tracking device that remotely alerts you in case of any unauthorized entry attempts. So, at the end of the day, this Chronos version from Brown Safe adroitly combines the essence of sheer beauty and utter impregnability.