Lighting fixtures contribute a great deal to your home décor and nothing is better than epoxy resin lamps to elevate the ambiance of your interior. These lamps are perfect for people who admire beautiful, unique pieces of art. Epoxy resin lamps are elegant and competent in providing delightful lighting.
Resin has amazing qualities, which is particularly helpful in making lamps. It is solid, malleable, and offers plenty of scope for vibrant color tones, making it an ideal choice. Resin lamps emit dim, soft, and relaxing light, creating a soothing atmosphere. Read on for the best options on the market in 2022.
Color Changing Resin Wood Lamp by DanestVN
A testament to professional craftsmanship, the handcrafted lamp has a unique design and delicate shape. Made of naturally shaped wood encased in crystal clear resin, this unique decorative lamp has 16 different LED colors, suiting your space amicably. It will invite a warm, classy ambiance to your home.
Buy: $246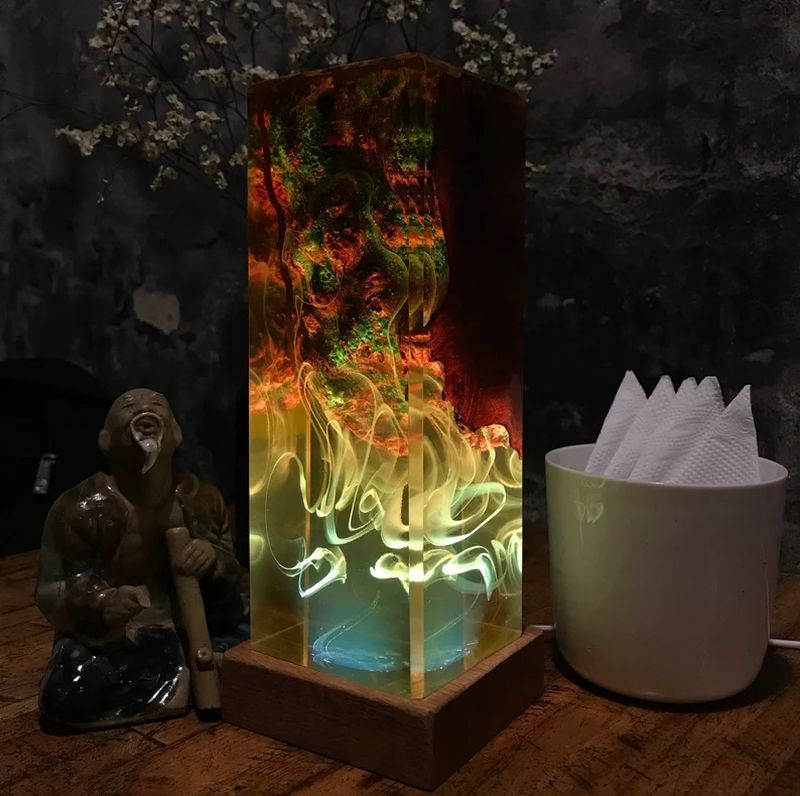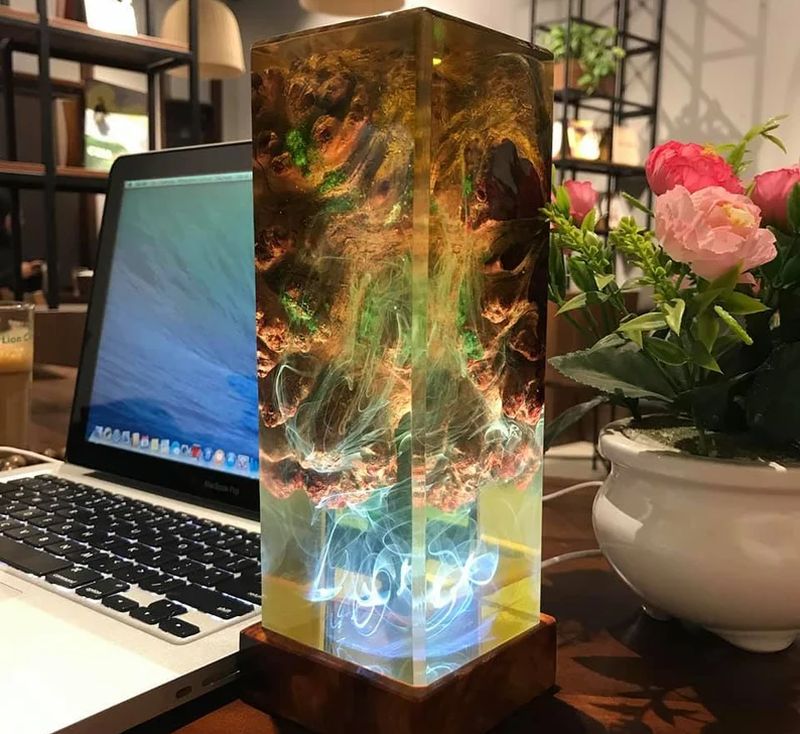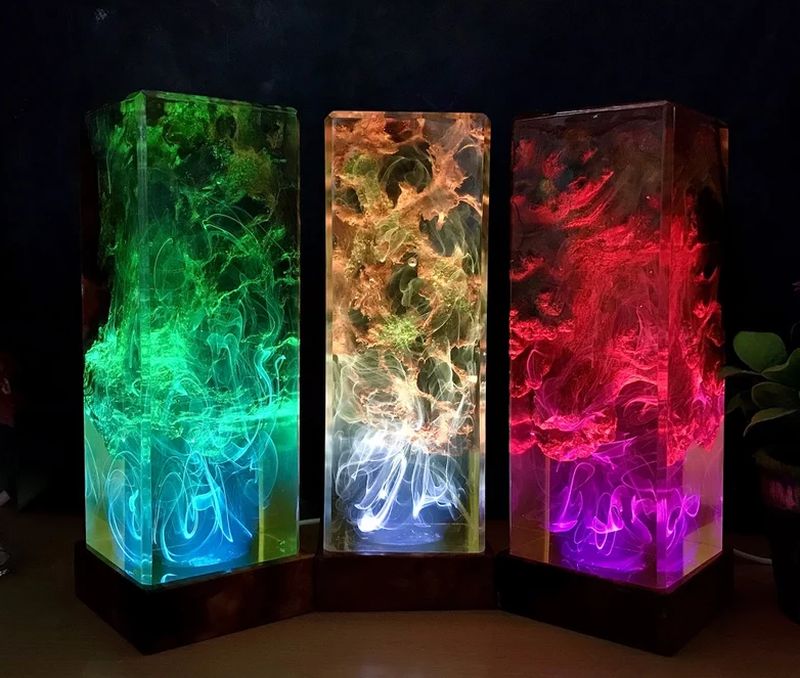 Customized Resin Lamp with Floral Twist by JenResinArtGifts
Standing on a 9×6 cm wooden base, this customized resin lamp features beautifully placed dried flowers that add a distinct charm to the piece. By capturing the allure of the colorful floral piece, the lamp illuminates interiors with a soft light that can also work as a night light. It can be made in various geometric shapes with flowers of your preferences. Sound brilliant, doesn't it?
Buy: $54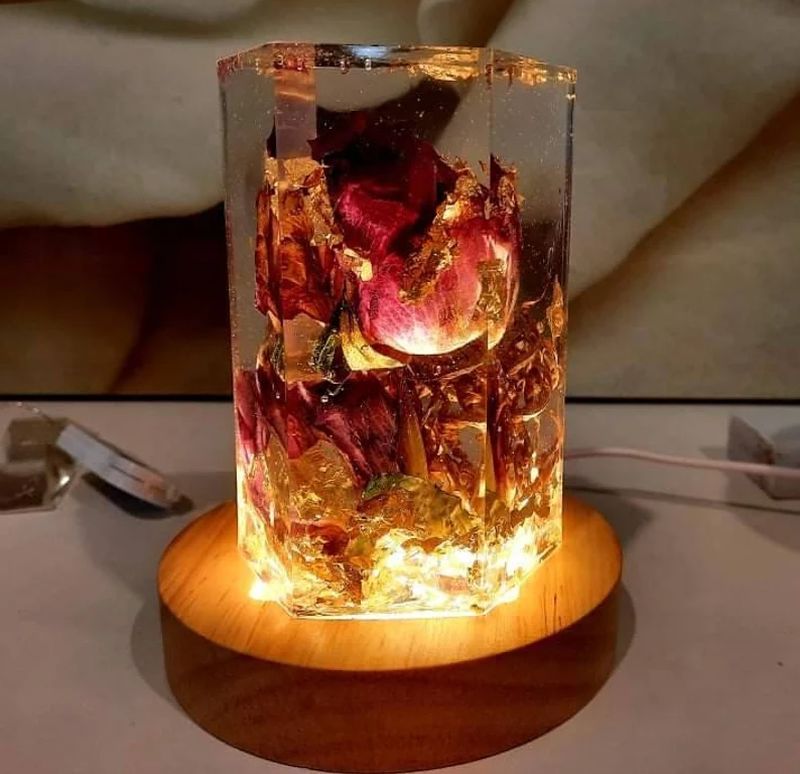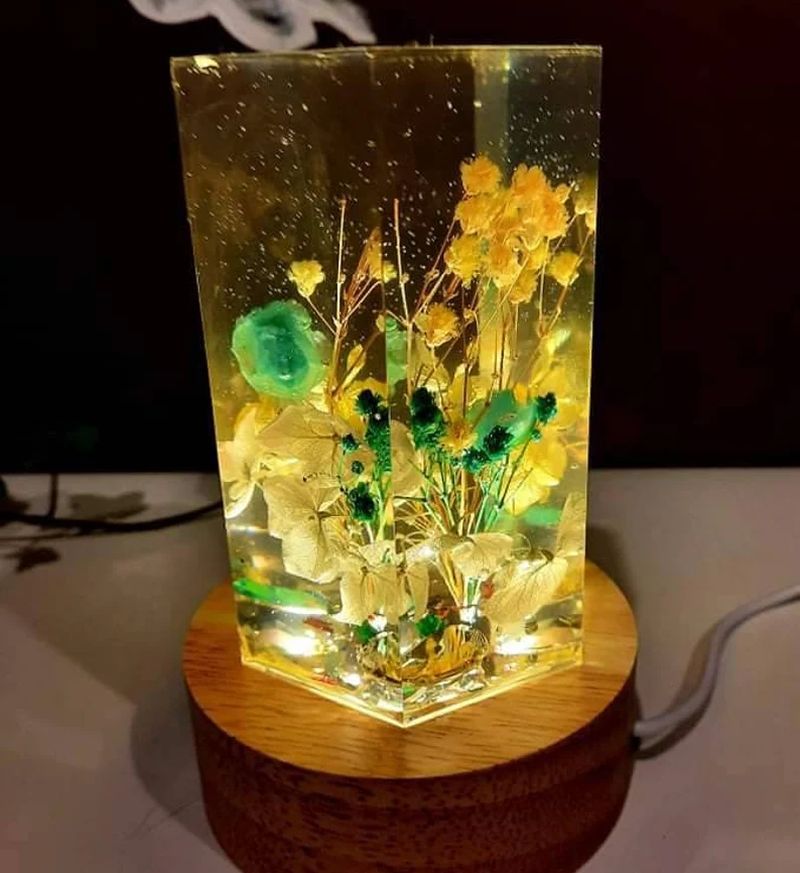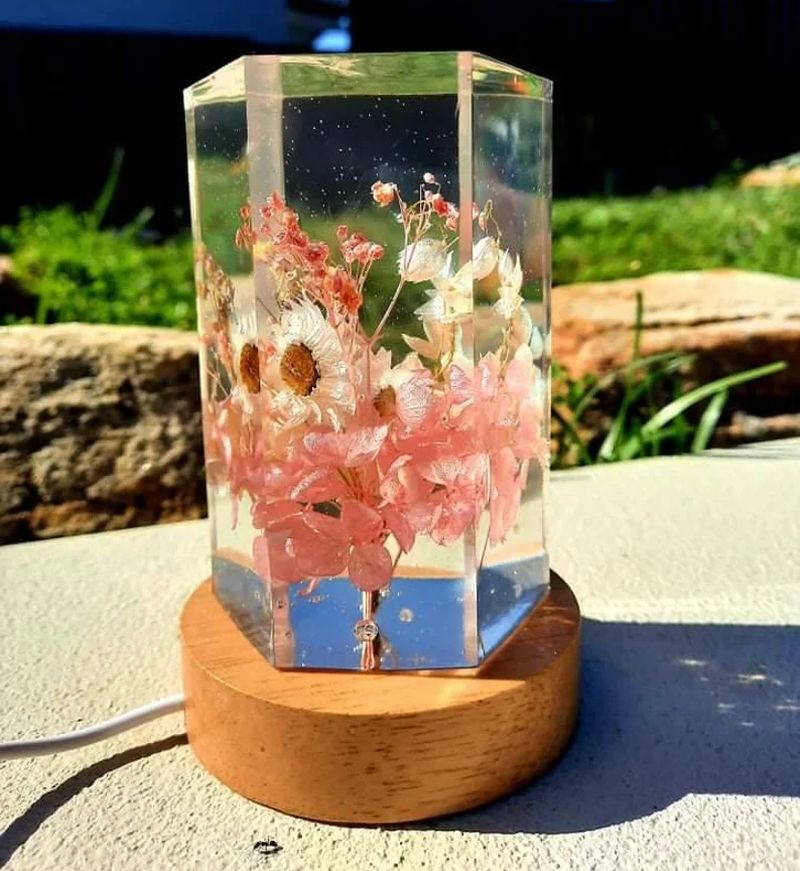 Epoxy Resin and Wood Night Lamp by YourLightUA
There is something alluring about a wrecked vessel sitting at the bottom of the sea, which is why this epoxy resin night lamp is a popular accent piece. The handcrafted lamp portrays the scene of underwater with trenches and a ship sitting on an ocean rock. The lamp emits one color of light that is connected via USB or plug. There are a few advanced models available as well.
Buy: $136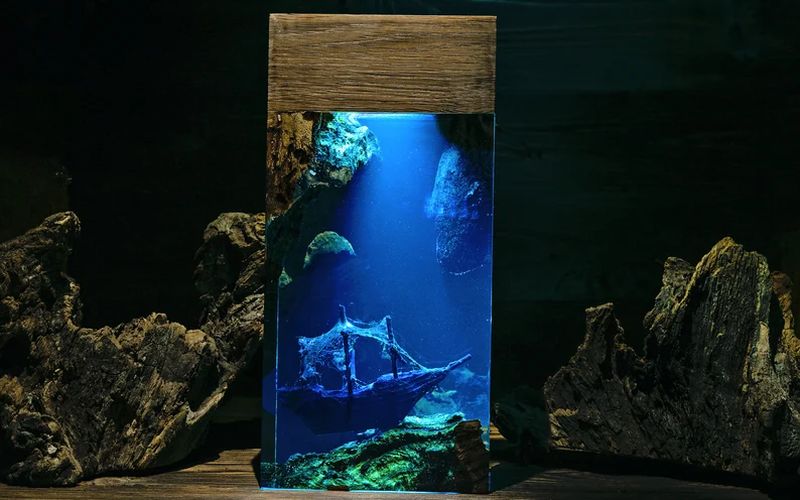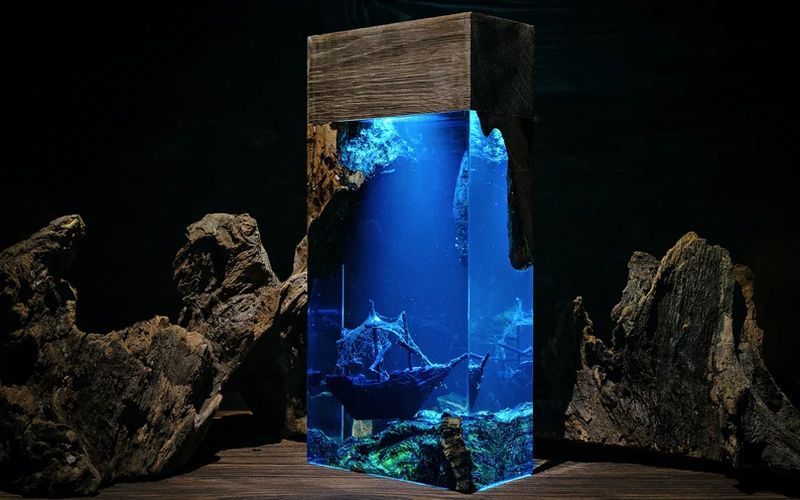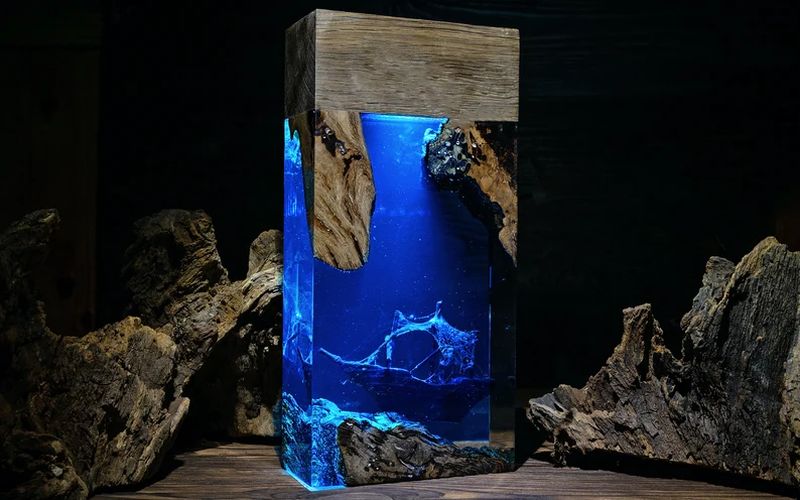 Snow Mountain Resin Lamp by YourLightUA
This beautiful lamp features a man standing on a mountain and it is snowing. The handmade piece combines natural materials and amazing things that will bring an exquisite decorative feature to your interiors. Connected via USB or plug, the lamps also make a wonderful gift as well.
Buy: $128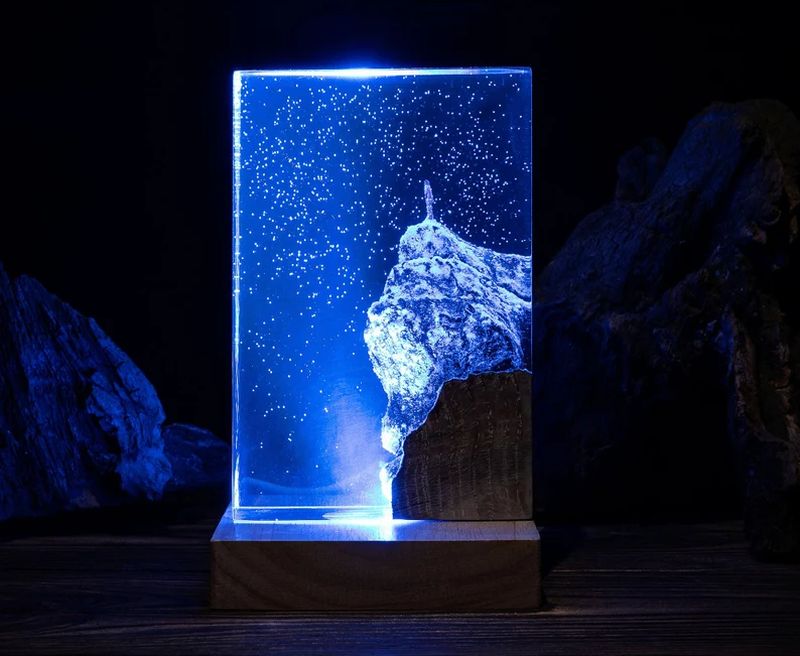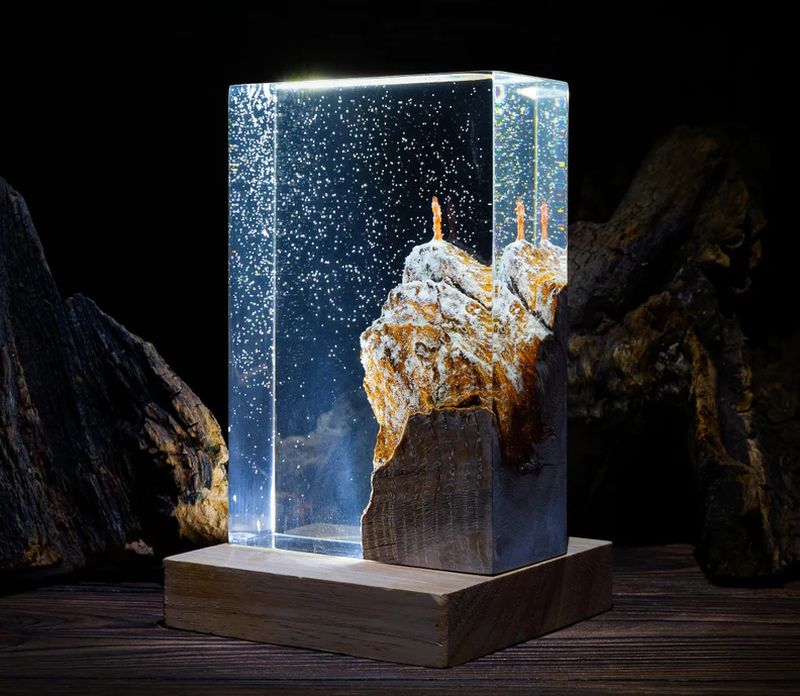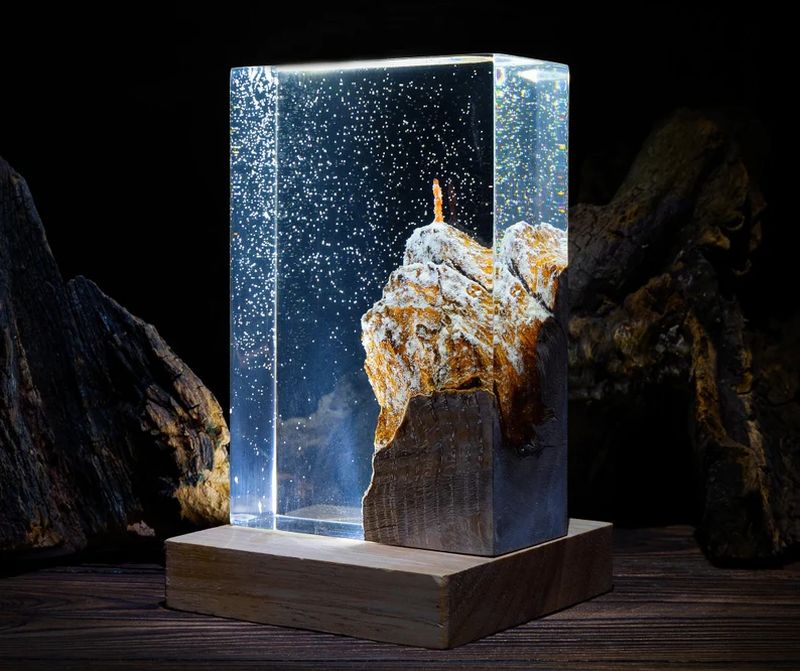 Night Light Lamp by ThunderWoodStudio
Illuminating your space with warm light at night, this beautiful lamp creates an illusion of the soft glow of the moon over a secluded forest. It is made from natural wood and transparent colored epoxy resin with a wide array of colors of RGB LED strip. This fascinating and stunning handmade LED lamp flawlessly decorates your home, office or public space with a soft light that creates a soothing ambiance.
Buy: $309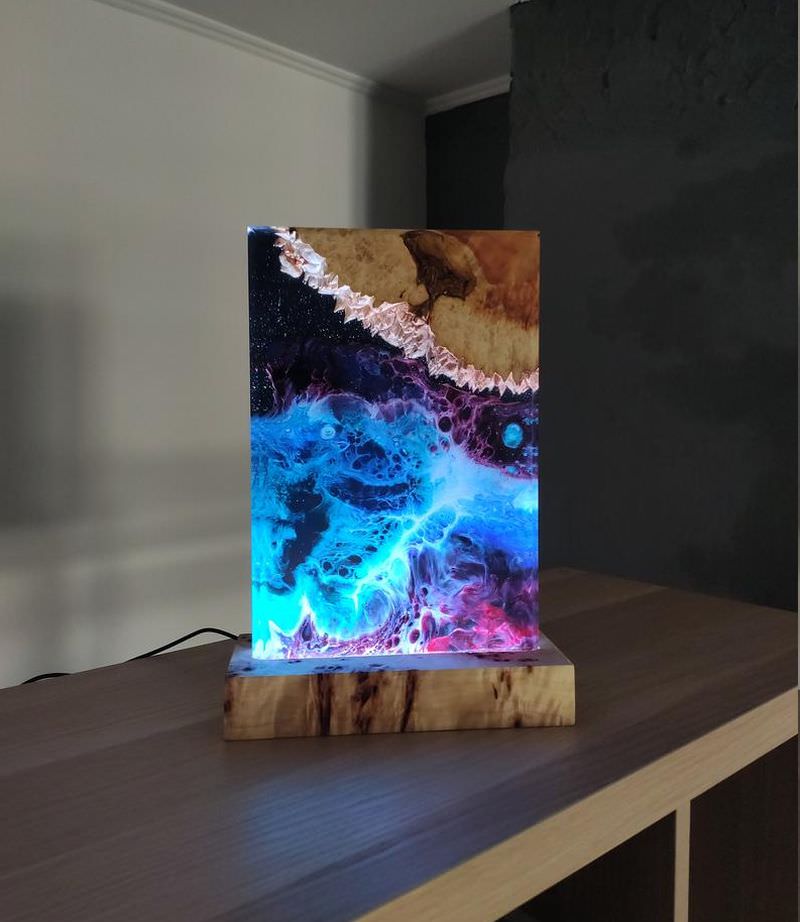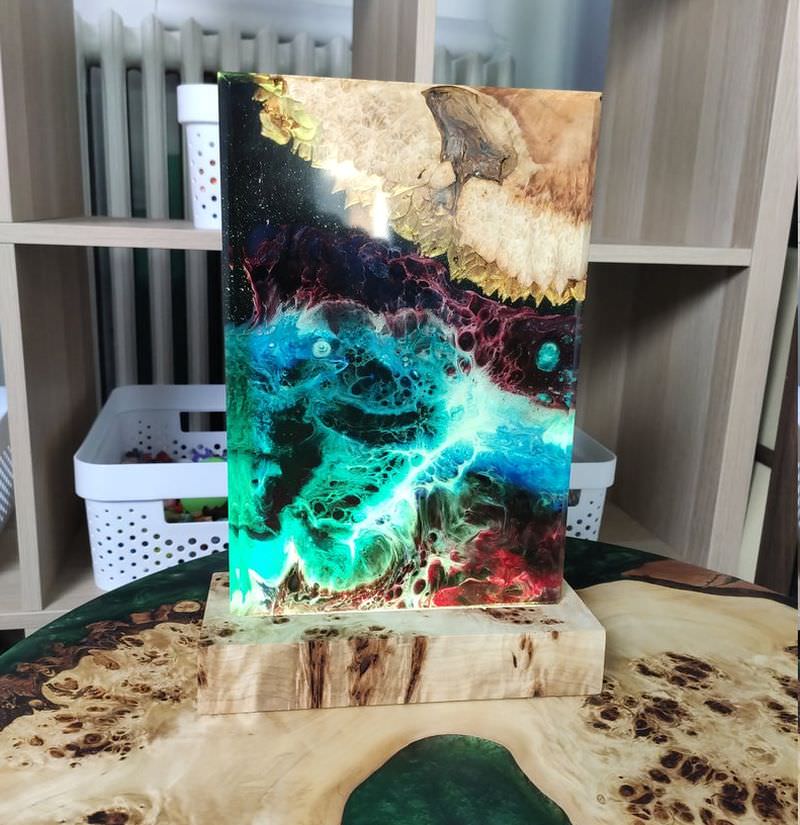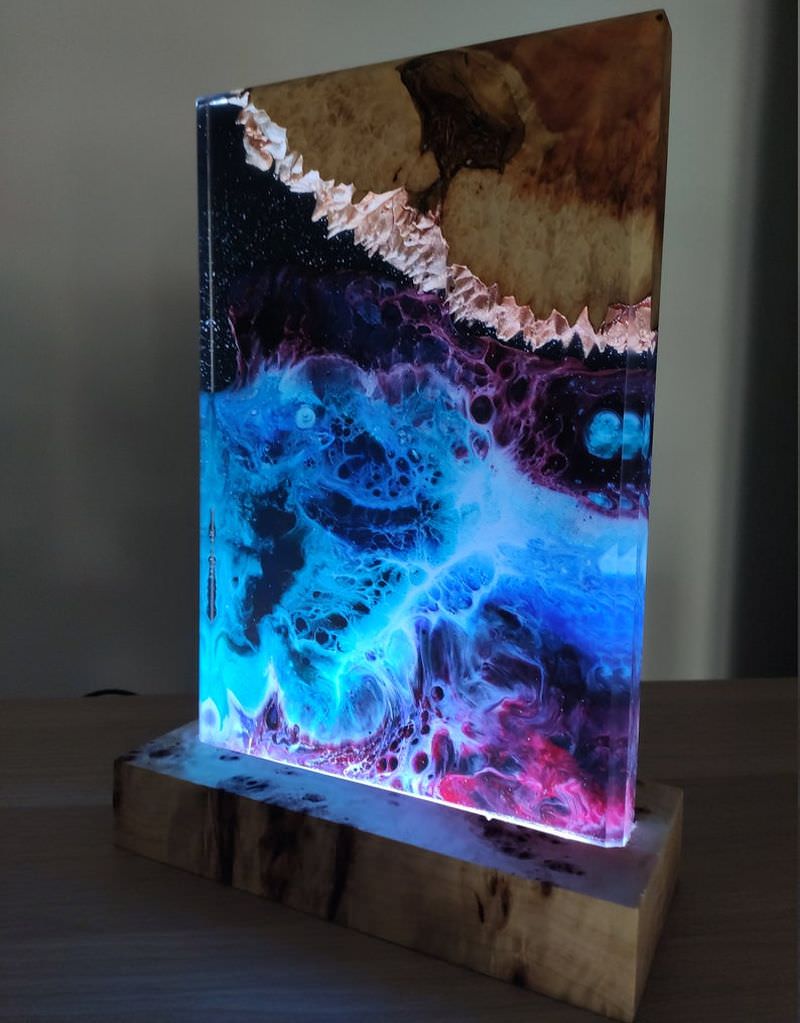 Deep-Sea Cave Diving Night Lights by ResinArtYPCShop
Exhibiting a realistic deep-sea cave diving scene, this night lamp is made of natural wood and resin. Featuring wood, resin and toy figurines, the lamp is a brilliant addition to your room. The light is released from the bottom, and you can use the remote control to select the desired color. Each lamp is handmade and makes for a unique and imaginative gift.
Buy: N/A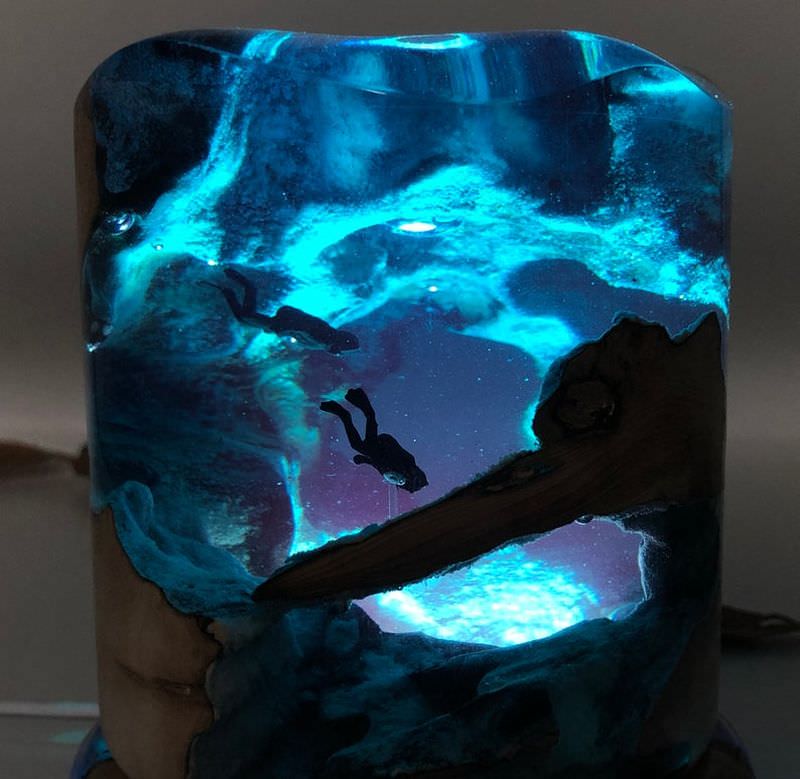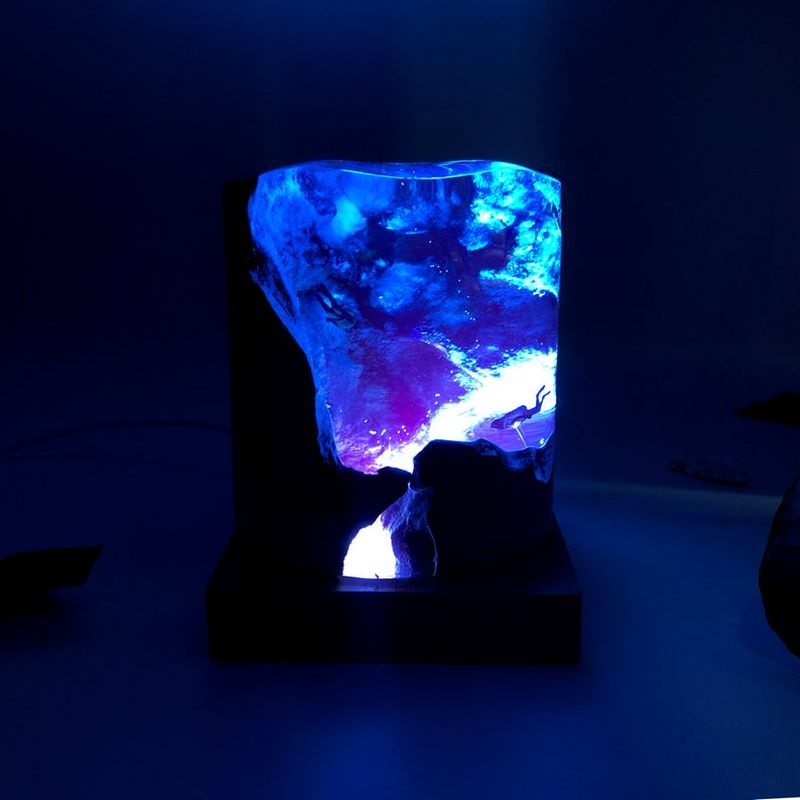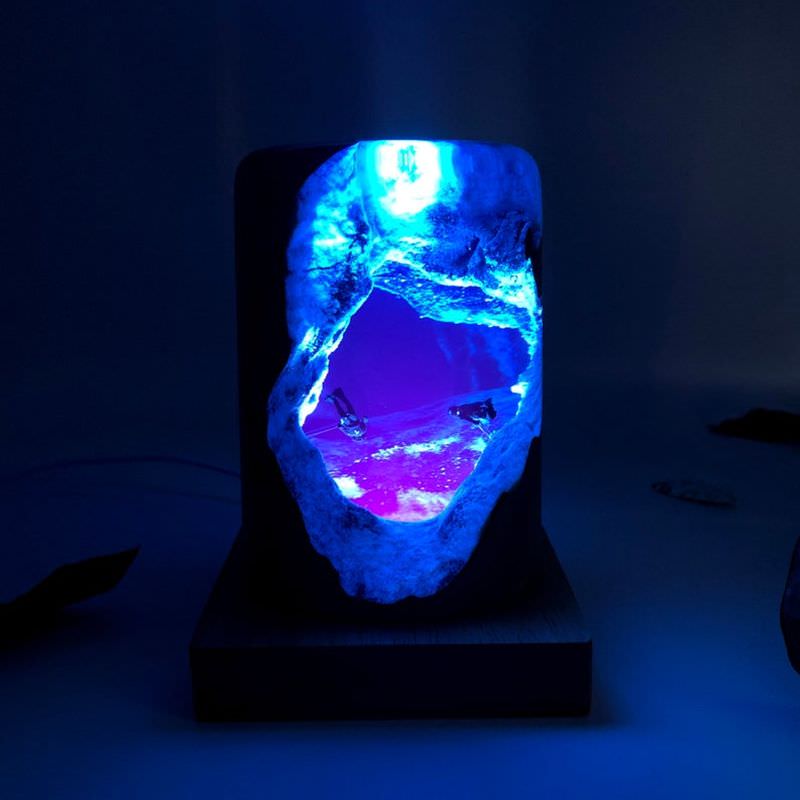 Epoxy Resin Wooden Cube Night Lamp by SunartWoodworks
The cube-shaped wooden epoxy resin night lamp makes a cute little addition to your interior. It has adjustable 20 different colors and 20 different modes Adjustable speed and dimmer. Made from cedar wood, the lamp has a radio frequency remote control and its battery is included in the parcel.
Buy: $115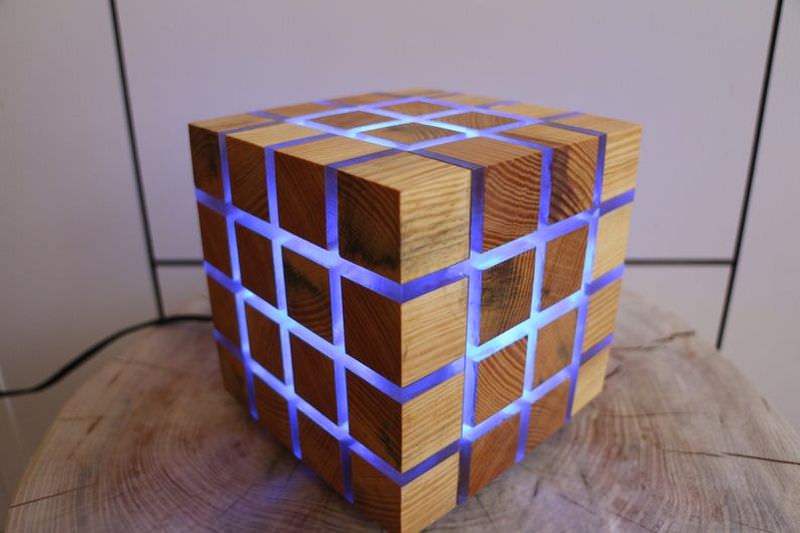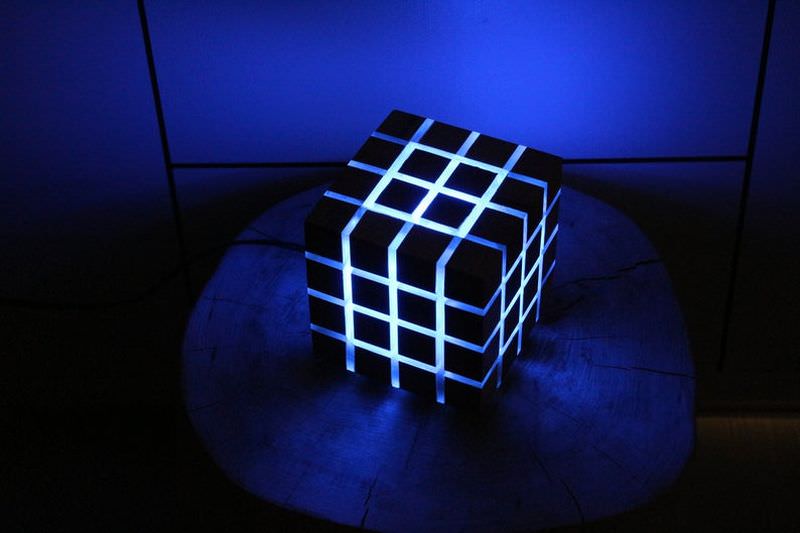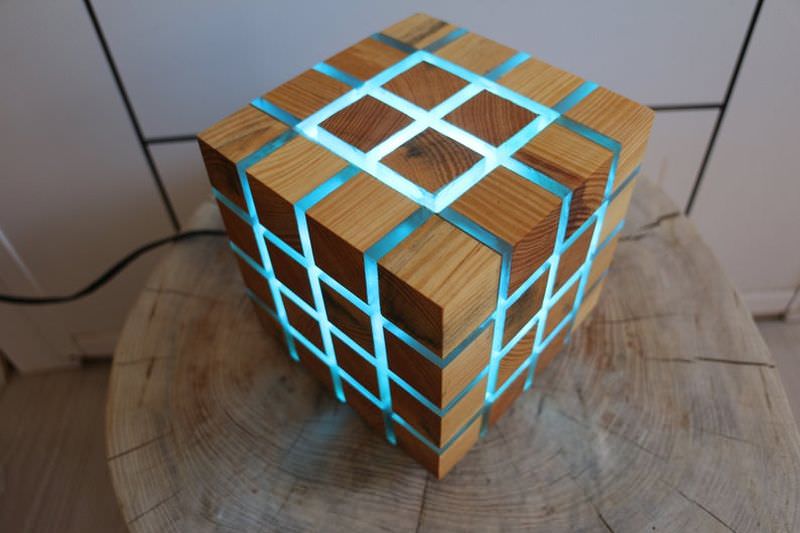 Also Read: Most Unique Lamp Designs to Light up Your World in Style
Willow and Resin Light Sculpture by RachelCalderDesign
This lamp is made from willow collected from the shores of Lough Neagh, Northern Ireland and resin cast with long-life LED bulbs on a fine copper wire. The LEDs have a lifespan of 50,000 hours, meaning the lamp can operate for 12 hours a day for 11.4 years. As it is handmade, there could be a few imperfections and no two pieces are identical.
Buy: $374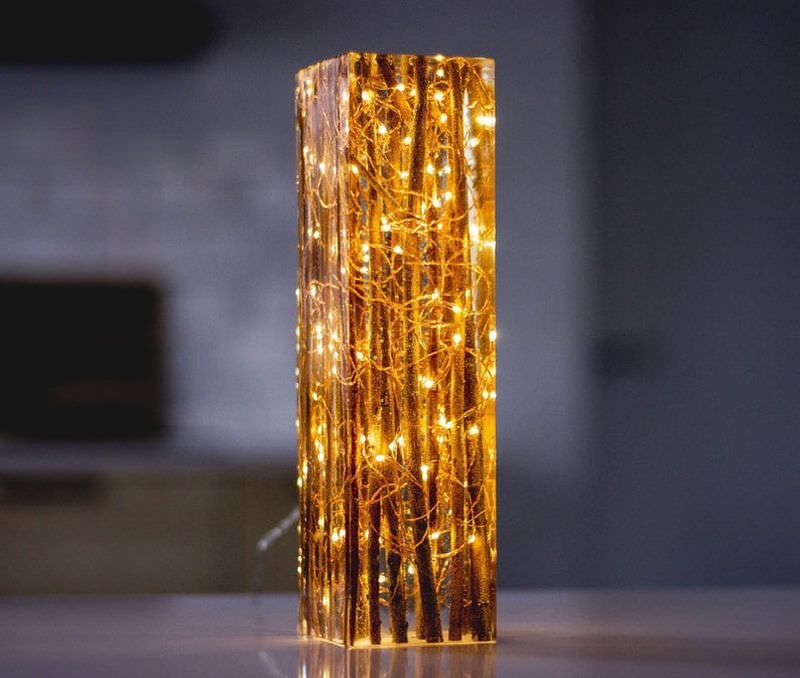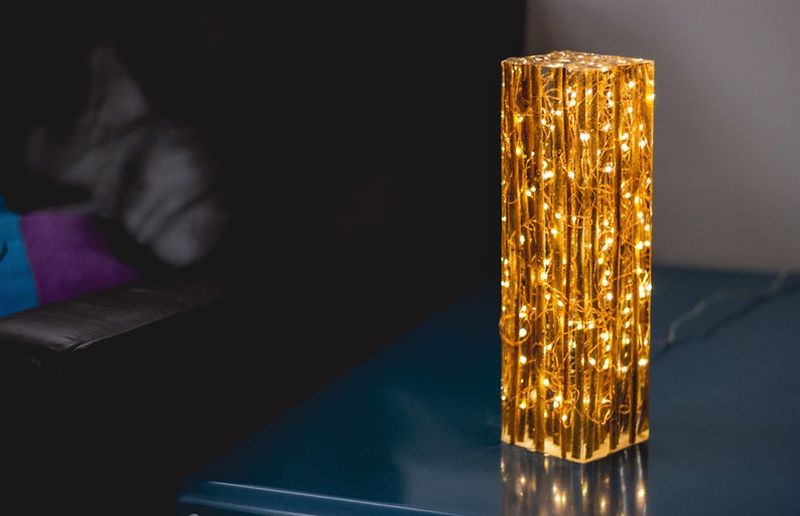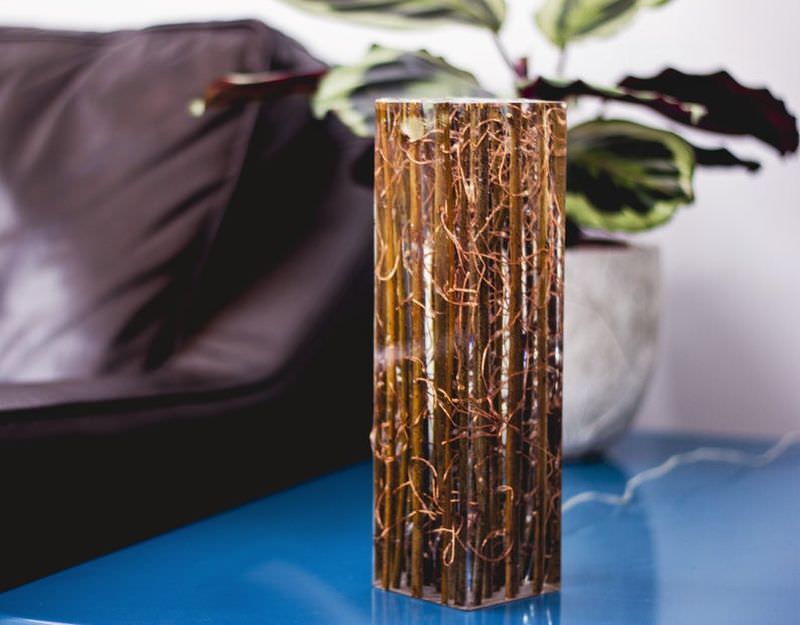 Resin Light Lamp by KorchiStore
Old tree roots and epoxy resin create this beautiful lamp. It is a customizable lamp, with a variety of sizes, colors and contents. It roughly takes 10-15 days to make the lamp, depending on its functioning capacity. You can also order a small inscription on the wood of the lamp. Each piece of art is handmade and may vary slightly.
Buy: N/A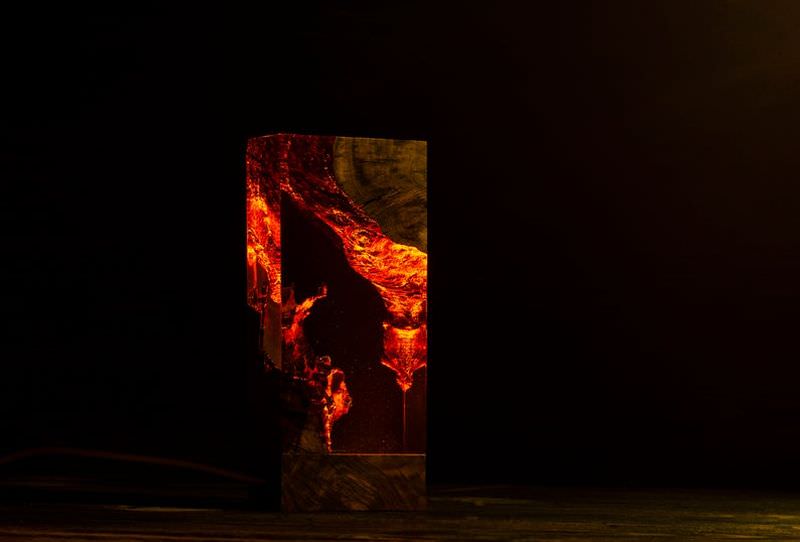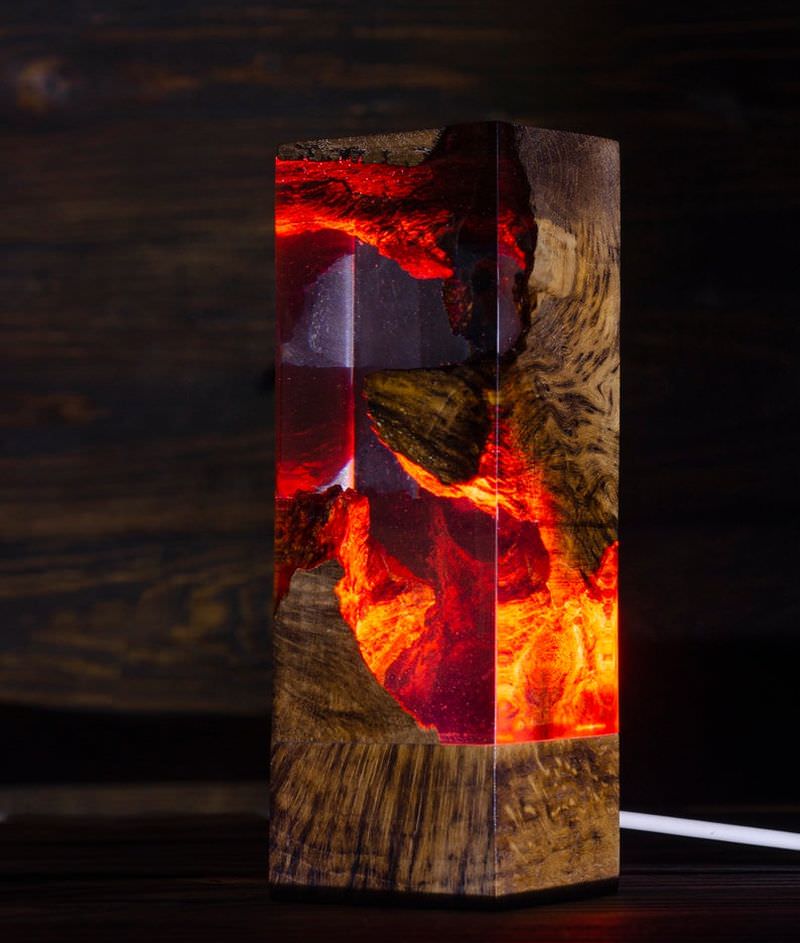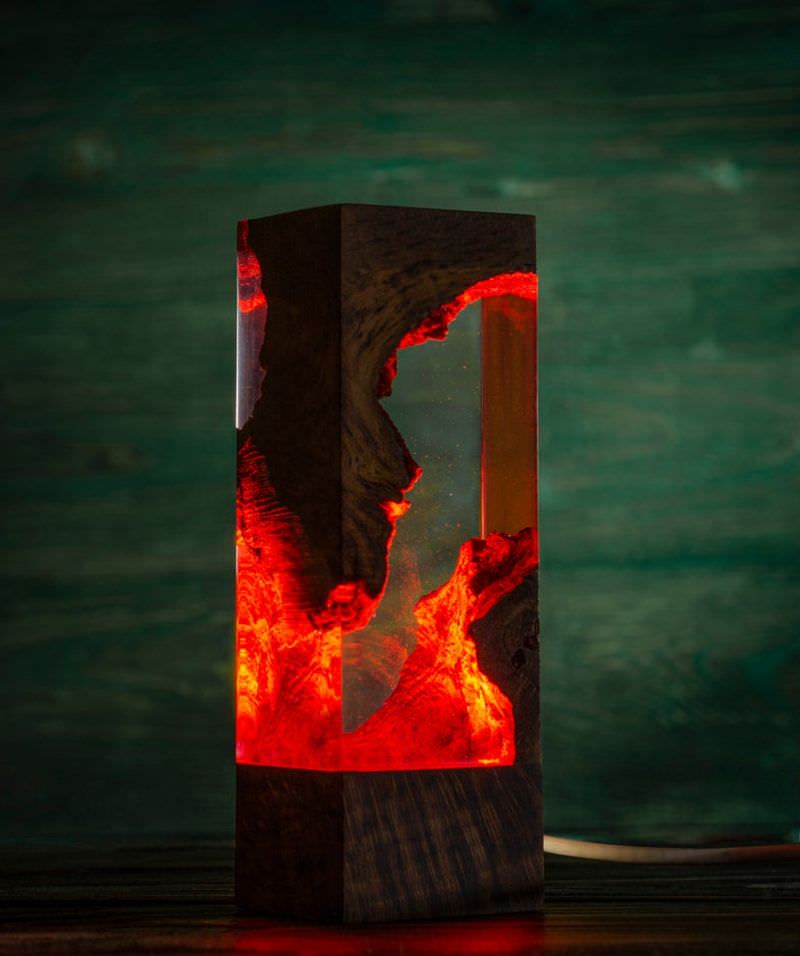 T-Rex Skull and Gold Wood Epoxy Resin Lamp by MAResinArt
If you are a fan of dinosaurs and Jurassic World, chances are you will like this T-Rex Skull and Gold Wood Epoxy resin lamp the most on this list. The lamp works with any USB port and offers different colors during the day, with a beautiful blue light illuminating the space at night. The handcrafted item is also a wonderful gift for a dinosaur person in your life.
Buy: N/A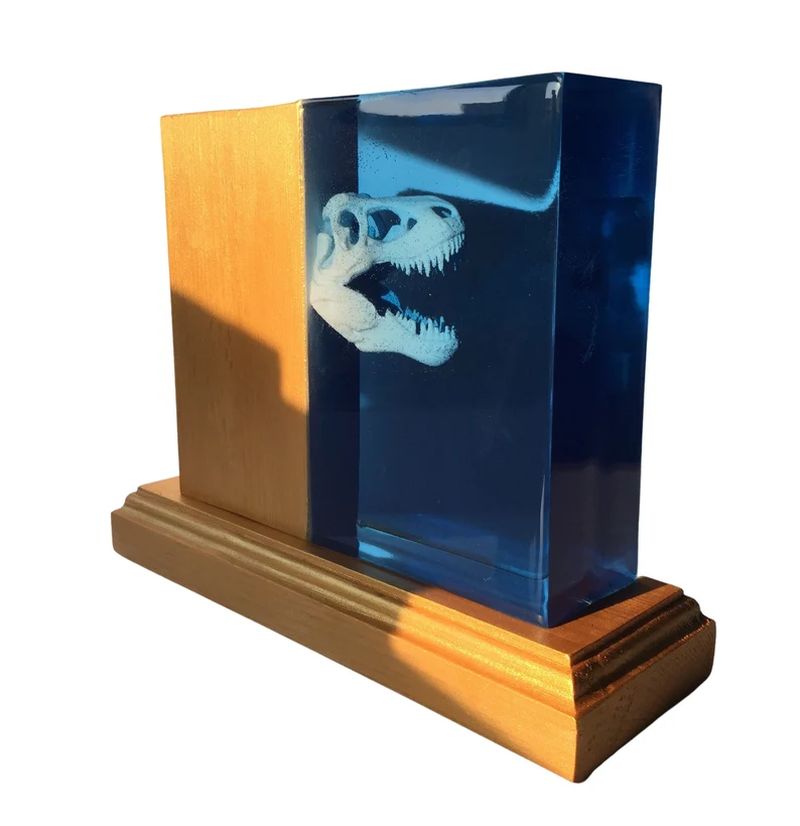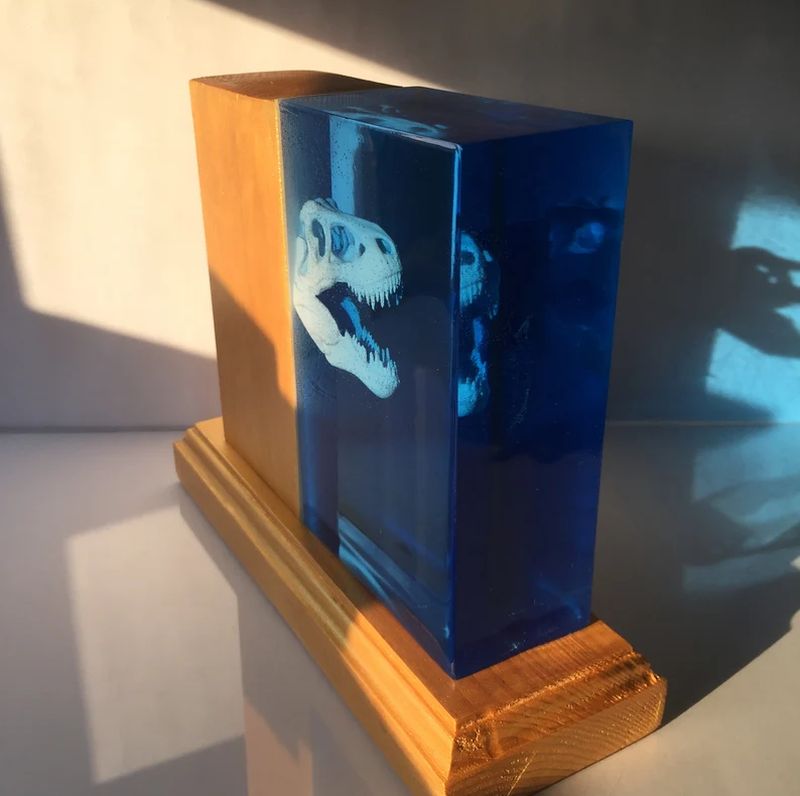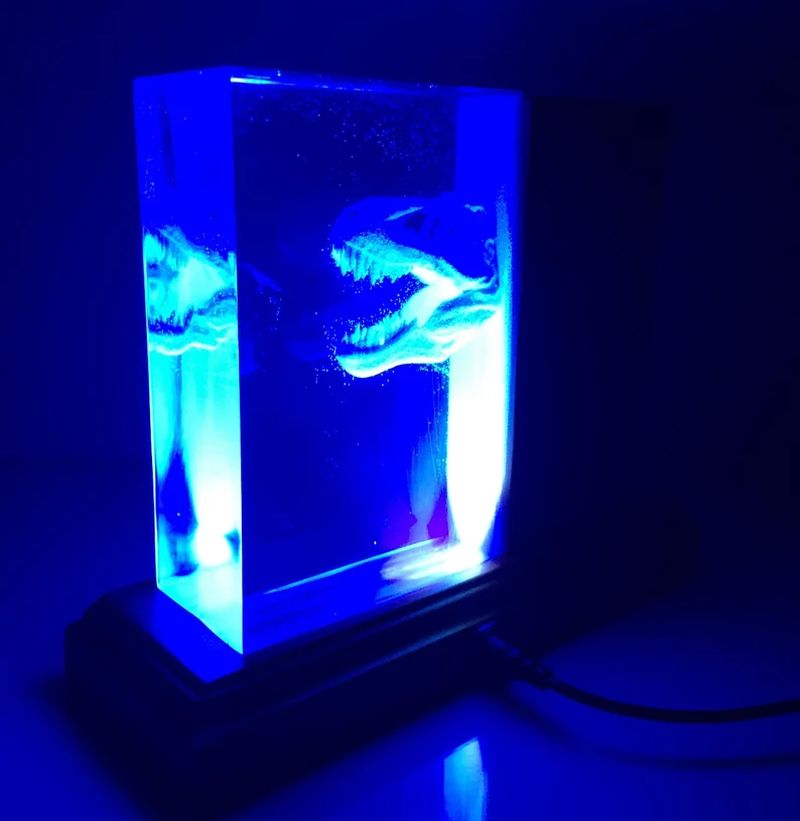 Epoxy Resin Wood Lamp by Wood Spirit Tables
This handmade Wood and Epoxy Resin lamp is absolutely beautiful. Featuring high-quality Epoxy Resin and walnut wood, the lamp is a perfect addition to any farmhouse, loft, boho, contemporary or any other interior. Bringing a cozy, warm light into your room, an epoxy resin wood lamp looks great by the bed in the bedroom or near the couch in the living room.
Buy: N/A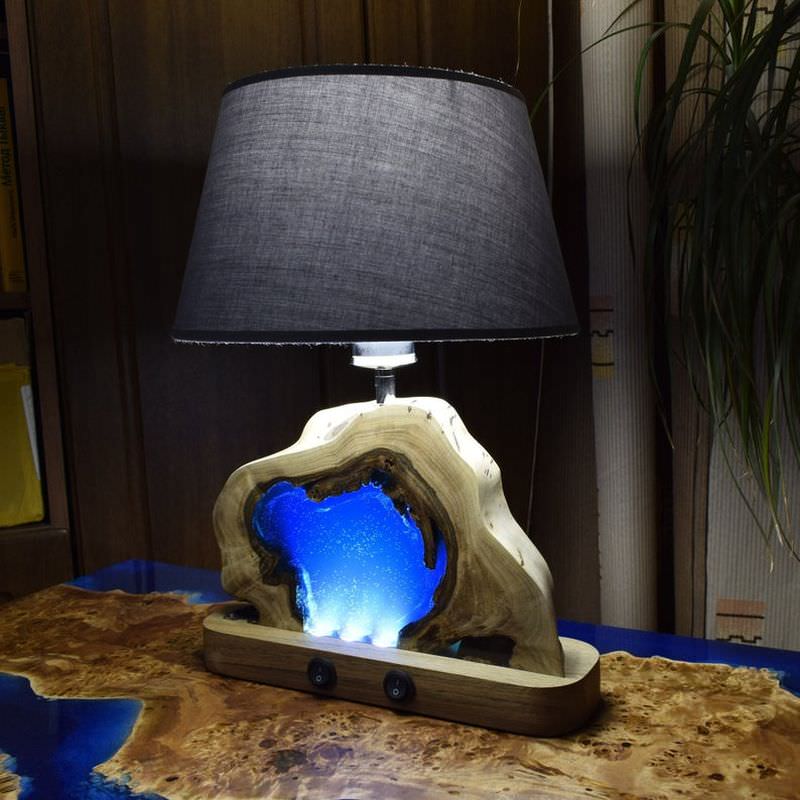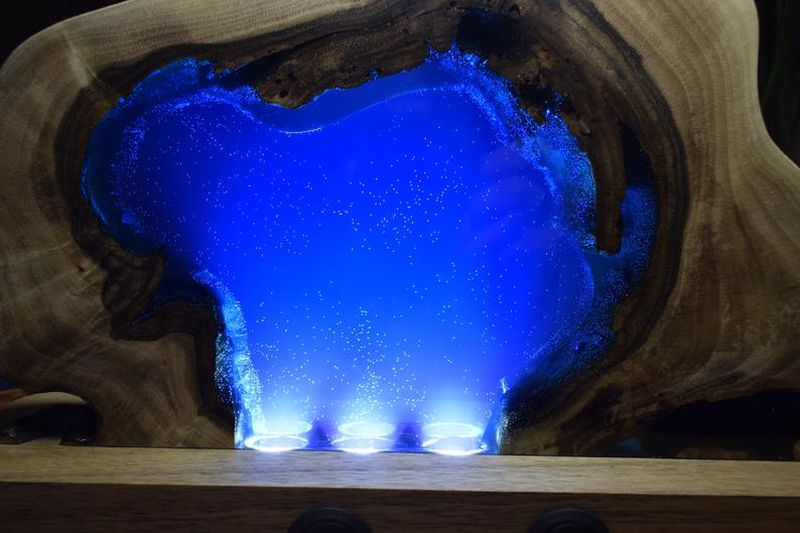 Lamp Epoxy Wood Loft Lighting by WoodResinGifts
Perfect as a personalized gift, this oak wood and epoxy resin lamp look like a mountainous region on a starry night. Possessing unique wood breakage and epoxy resin texture, each lamp is made to order. It fits perfectly into any interior, becoming a bright accent. The lamp is battery-operated and easy to charge.
Buy: N/A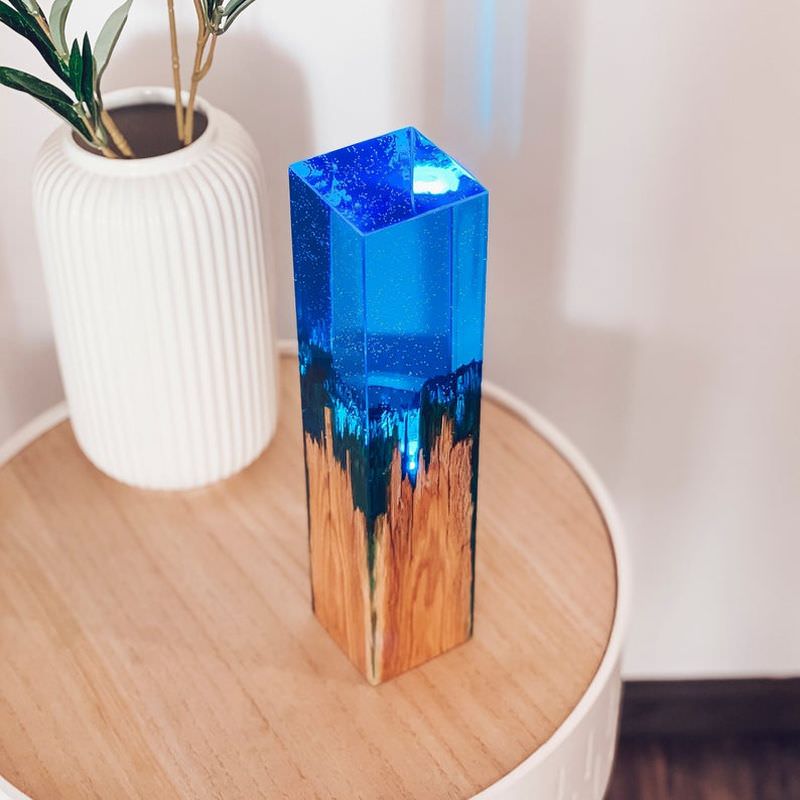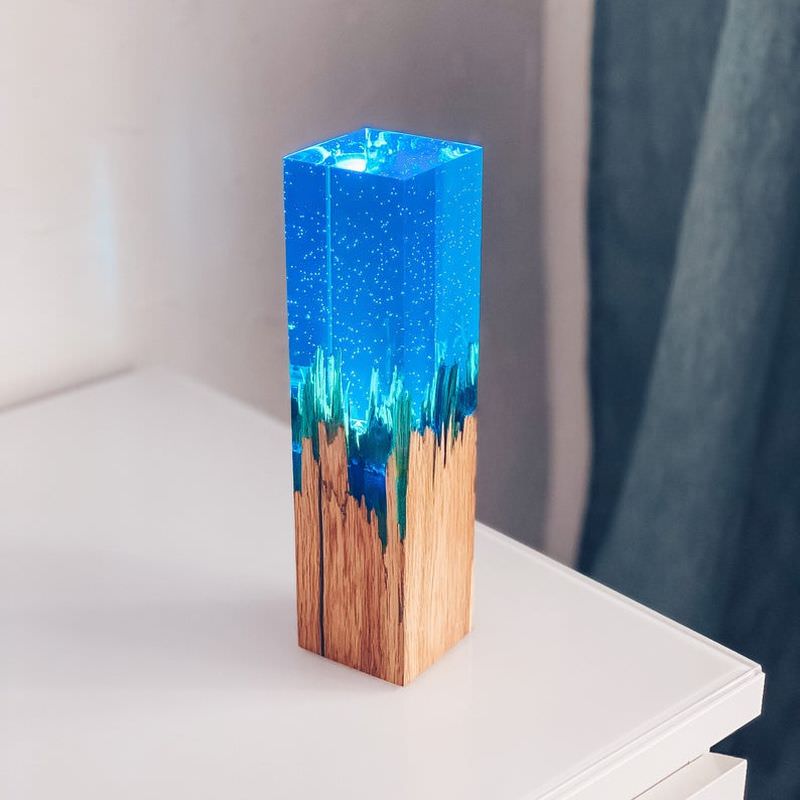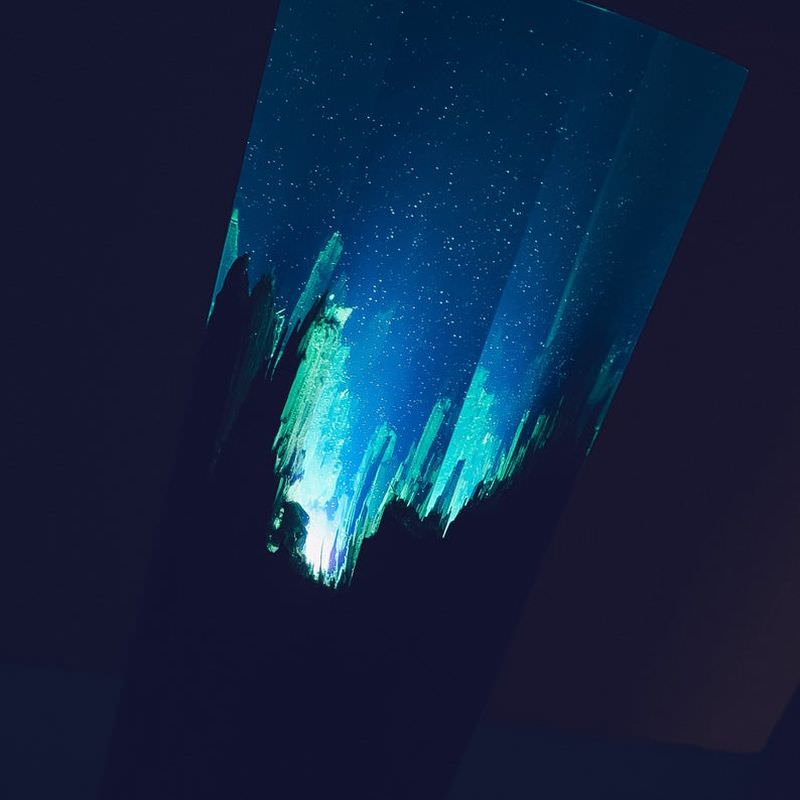 Epoxy Resin and Wood Lamp by DirakDesign
This unique resin and wood lamp is designed to resemble an underwater cave. It is polished by hand to attain a perfectly smooth surface with a transparent and mirror-like finish. Featuring a long-lasting an approximate 6-foot long cord with an in-line switch, the device is used to connect USB to 12V power so it can be positioned anywhere near an outlet.
Buy: N/A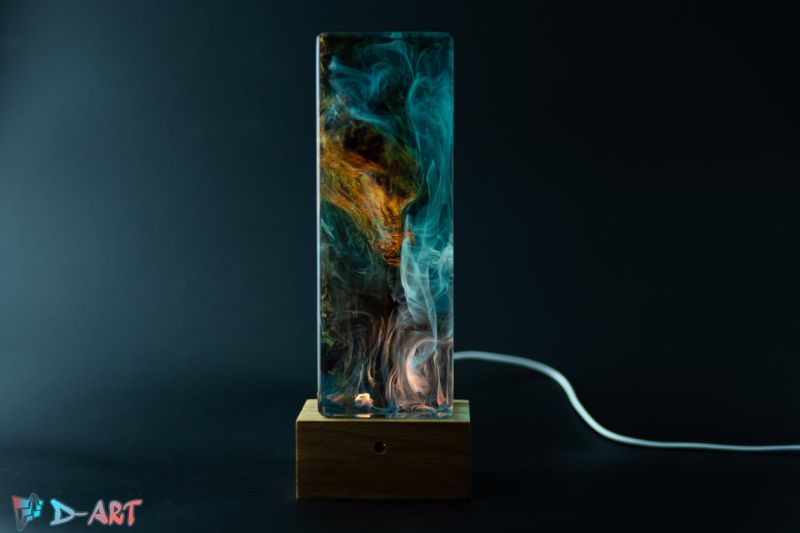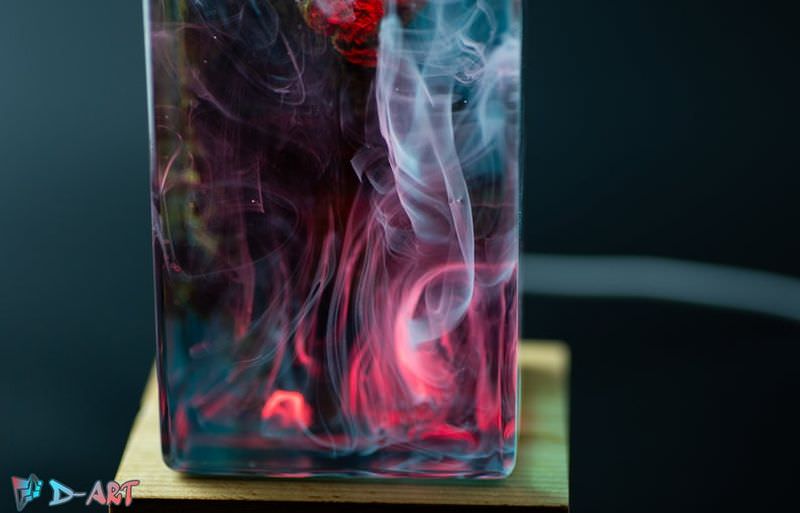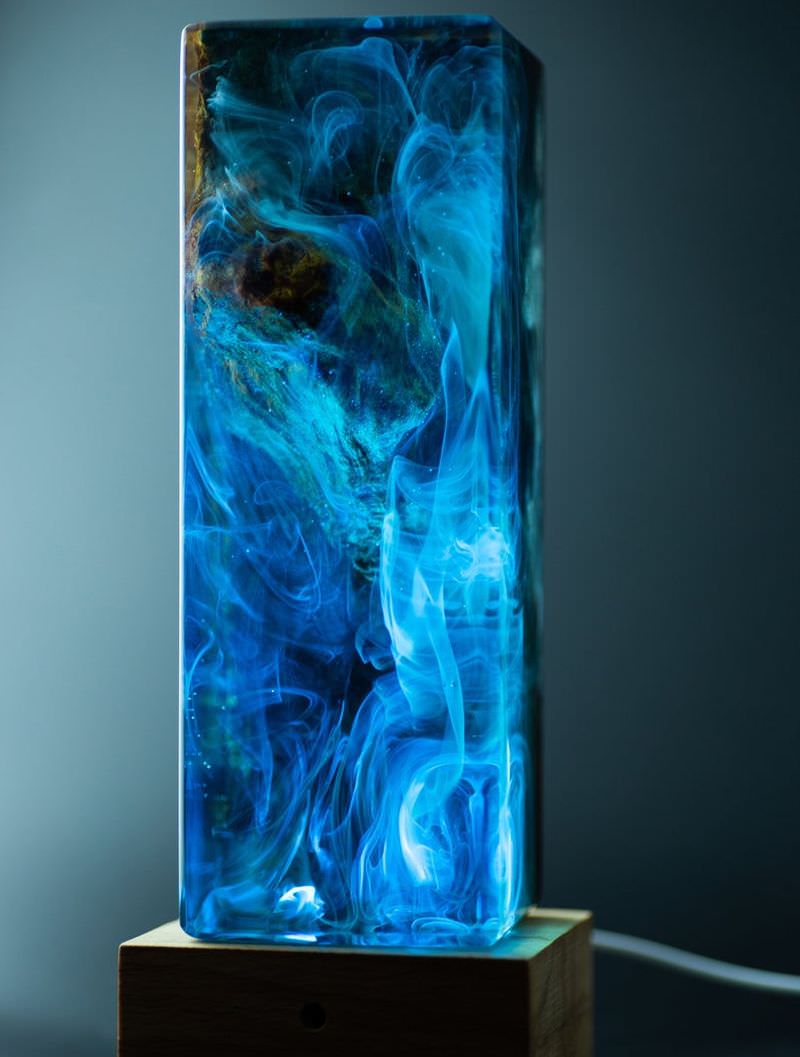 Wood and Epoxy Resin Lamp by DirakDesign
This wood and resin night light lamp looks like it is filled with smoke. Creating a soothing luminescence in any space, this lamp is handmade and can be customized with engraving to make a sentimental sense to the person. You can power it with a 5v power supply, USB connector suitable for any backup battery charger or other electronic devices.
Buy: N/A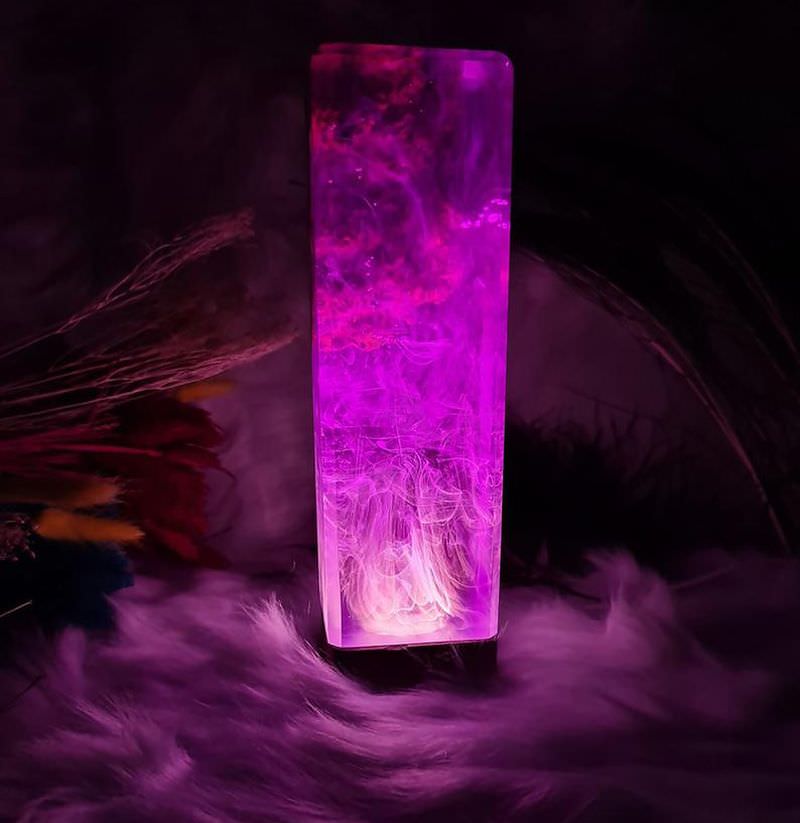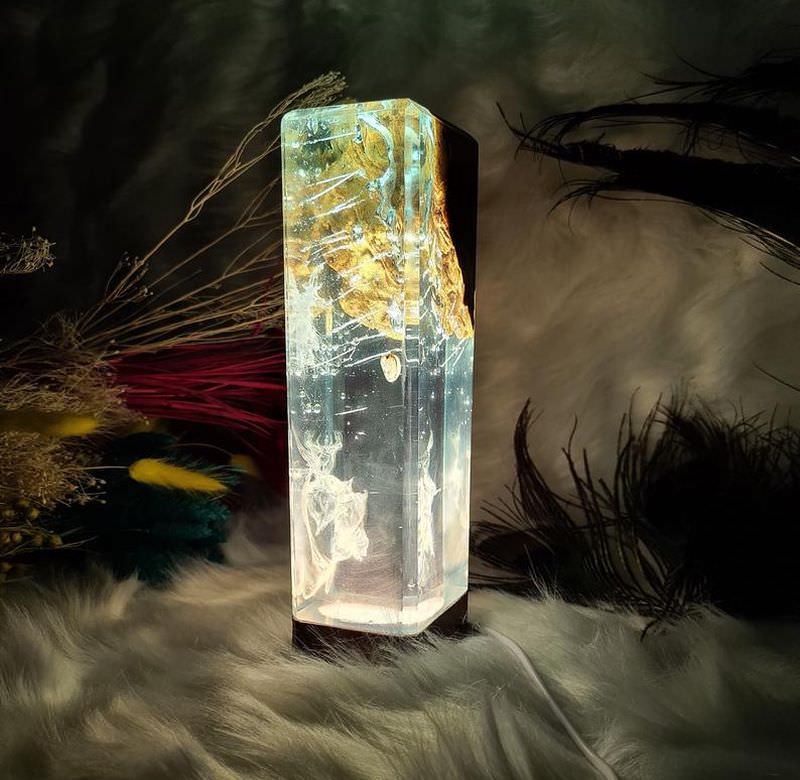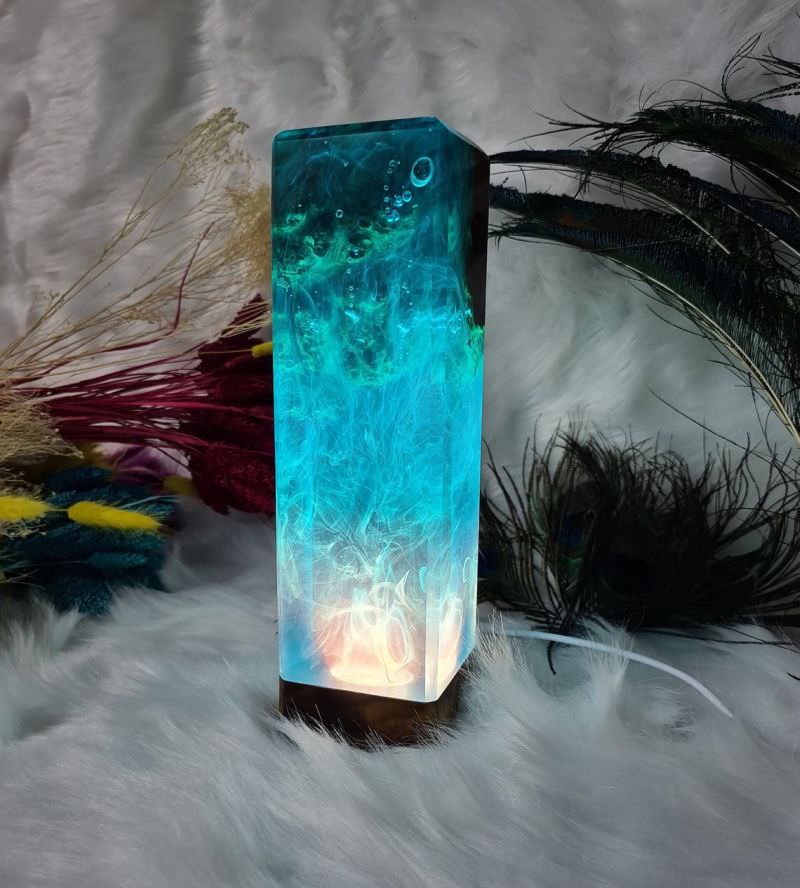 Wood Radio Sculpture Light Lamp, BAROCCOCO
This radio sculpture light lamp is an absolutely exclusive product. This sculptural light lamp is a handmade radio made with oak wood and resin. The unique custom design features a radio, USB, aux and flashcard connector. It works at 220V or with a battery and delivers a soft light.
Buy: N/A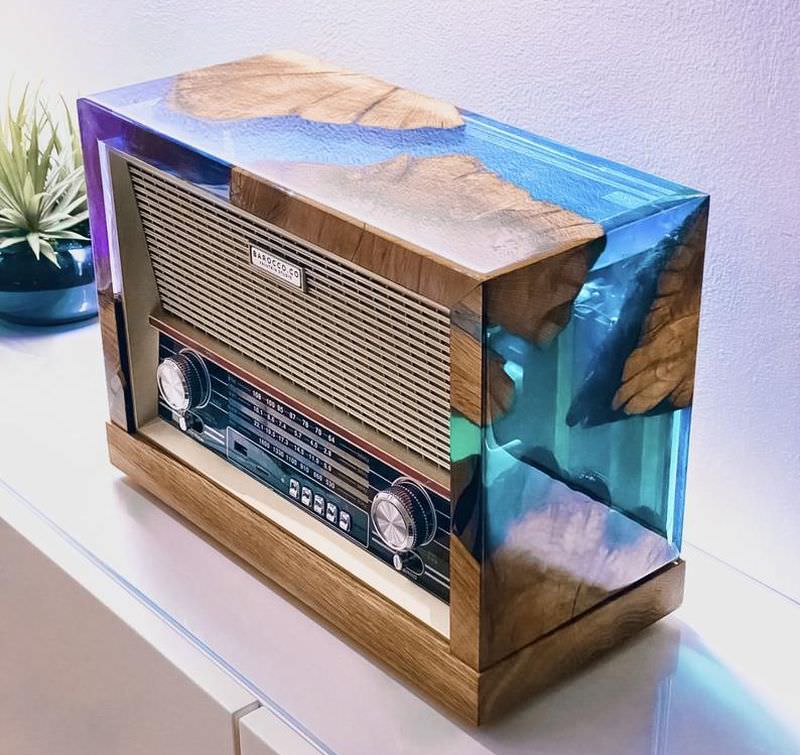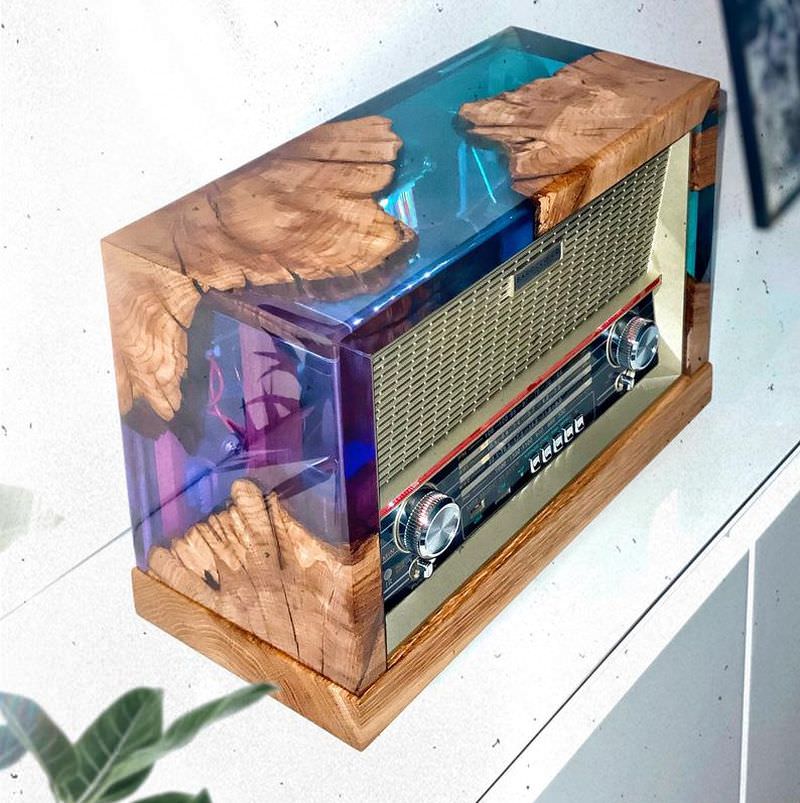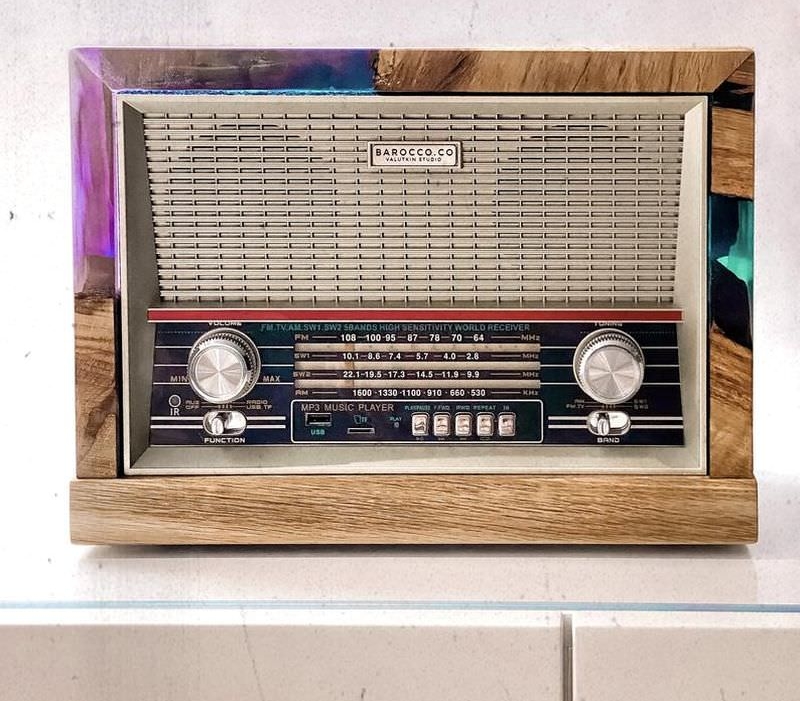 Wood and Resin Lamp by Bsbdesignn
This beautiful wood and resin lamp is completely handmade. It has a stunning wooden base and connects to the wood and resin lamp structure. The maker used the wood mold to shape the lamp, poured resin into it and waited for it to freeze. You can use any USB power source to provide a connection to the UV lights.
Buy: N/A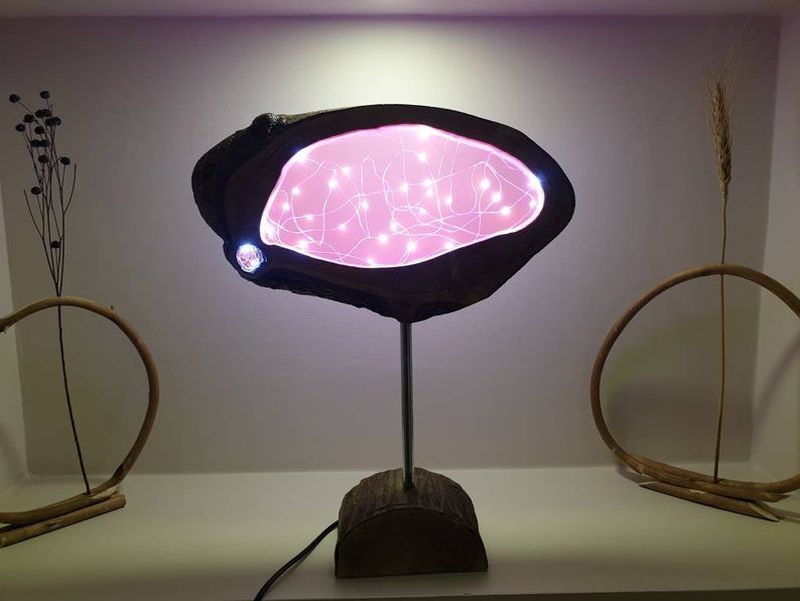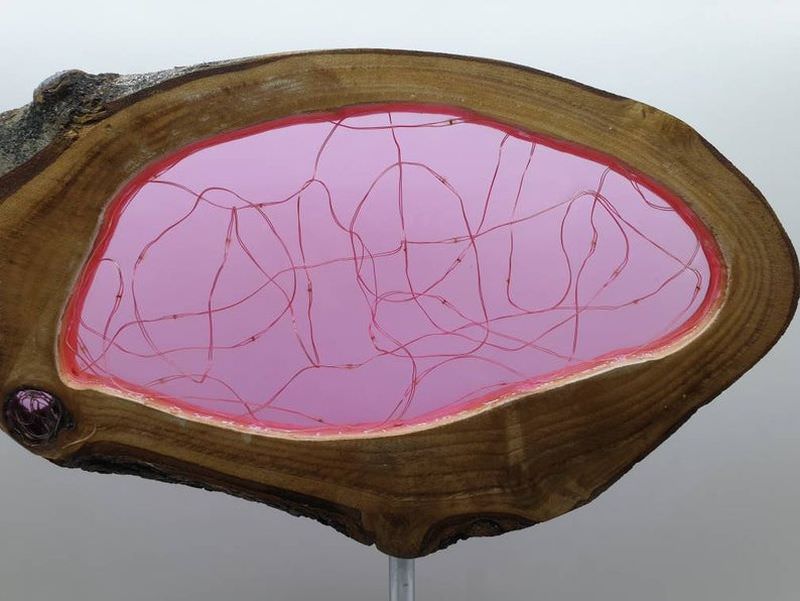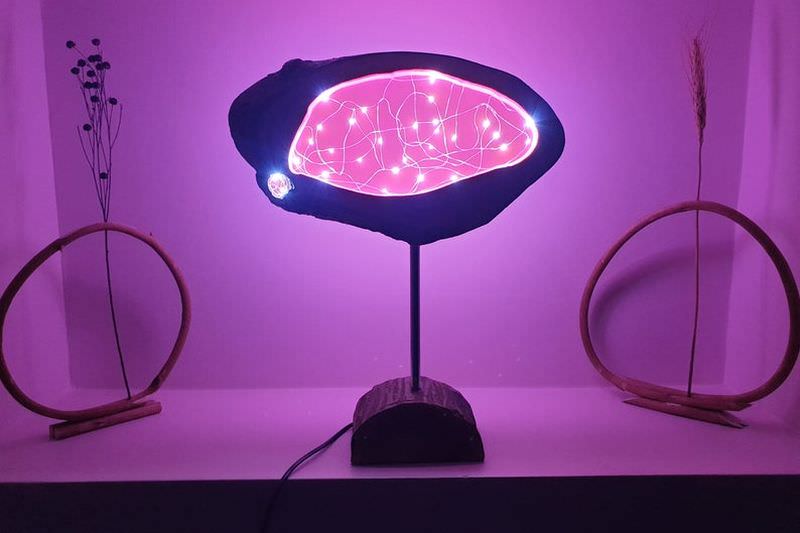 Resin Diver Lamp by VALILUX
This large resin wood night light features a light entering from the bottom, illuminating the diver in the cave. It will introduce an element of peace and tranquility to your home. You can also use it as a table lamp, a decoration, or as a gift. The high-quality resin material makes it extremely durable.
Buy: N/A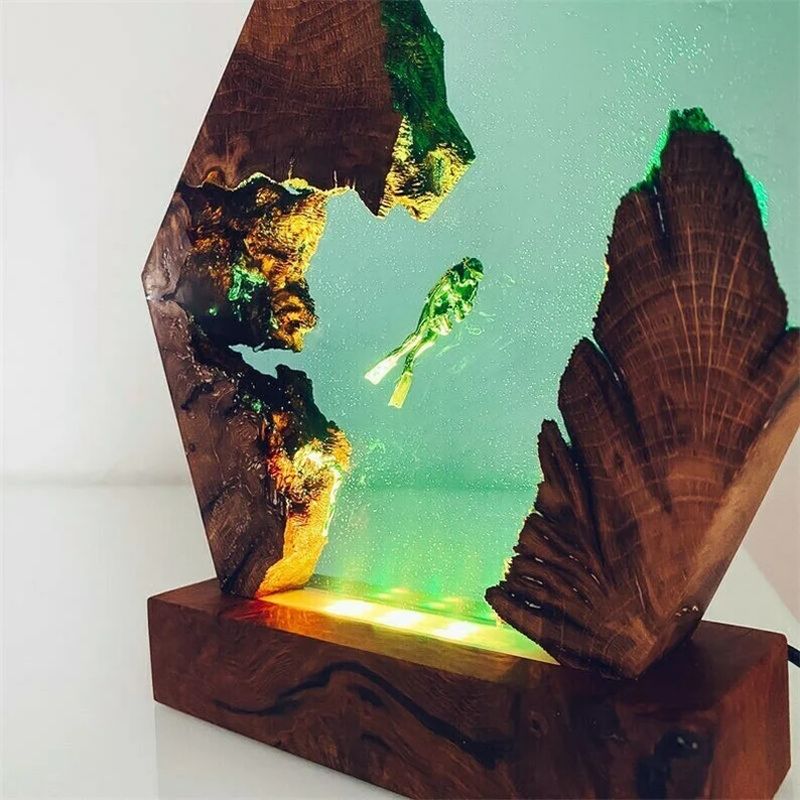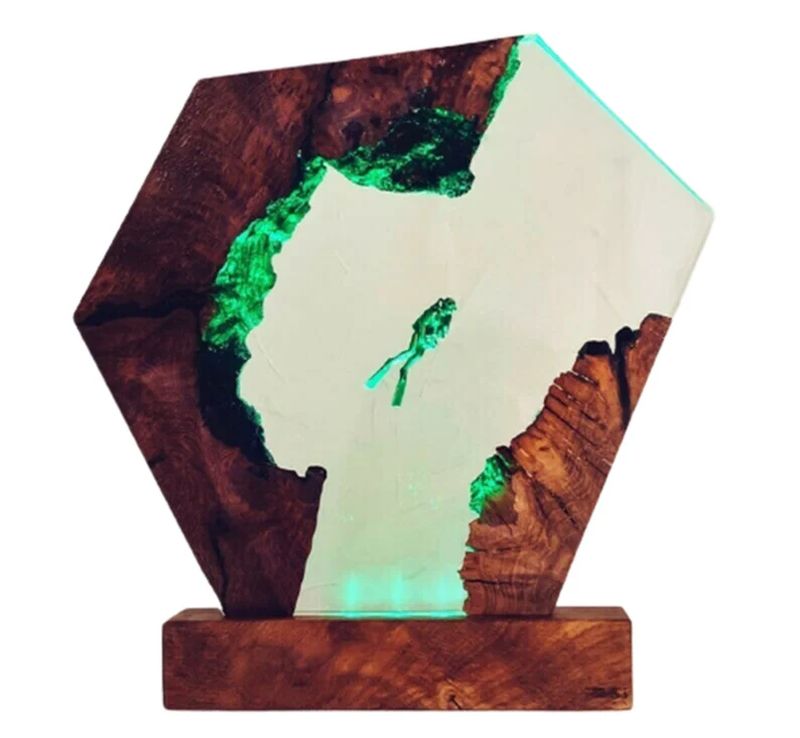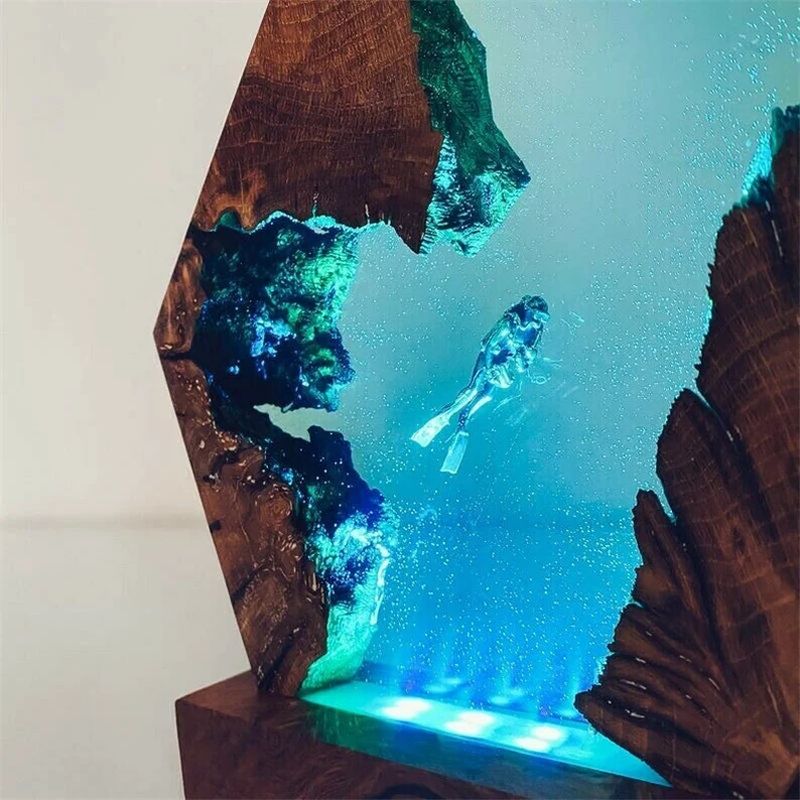 Large Epoxy Resin Wood Light Lamp by ResinArtYPCShop
The large resin wood night light is a beautiful sculptural design. The light is shot from the top of the lamp, lighting the divers and whales in the underwater cave. It creates an alluring and mysterious vibe through its color and fanciful design. The lighting adopts a monochromatic LED, which is controlled by buttons on the lamp.
Buy: $148