Some people travel to broaden their social media timeline, not their minds. Well, my philosophy is quite the opposite. The only kind of traveling I prefer is driving in the countryside to meet new people and explore the cultures and customs of the new land. Had it not been for the pandemic, I would've been wandering in the wilds instead of being cocooned inside my home or office.
If you are cooped up in your apartment and desperately searching for a break, hit the road with these best teardrop trailers that will keep you socially distanced from people and in proximity with nature.
What is a Teardrop Trailer?
The 'Teardrop' trailer gets its name from its teardrop shape. Being round on one side and tapered on the other end, the teardrop is a compact and lightweight trailer, which is easily towed by smaller vehicles, trucks, SUVs, and family vans. It is a perfect alternative for big-sized RV campers and a minimal solution for outdoor adventure.
Most teardrop trailers you'd see on the internet sleep up to two people and often feature a basic kitchen in the rear. However, we bring to you some of the teardrop trailers that broke the notion of a single kitchen and limited amenities.
Offering two kitchens, storage space, and expandable bedrooms, these best teardrop trailers not just change the way you perceive traveling but also minimize your footprint.
| S.No | Model | Manufacturer | Dimension (L) | Weight | Base Price |
| --- | --- | --- | --- | --- | --- |
| 1. | Ultimate Camper | Ultimate Toys | 15.3 ft. | 2500lbs | On Request |
| 2. | Campravan RAPTOR XC | Hunter Nature | 15.7 ft – 22.6 ft (Stretched) | 2777lbs | $43,900 (approx.) |
| 3. | MINI | Tiny Camper | 13.7 ft. | 1366lbs | $18,000 |
| 4. | Switchback | Off Grid Trailers | 10.8 ft. | 1300lbs | $19,900 |
| 5. | Black Bean | Bean Trailers | 15.2 ft. | 2500lbs | $37,900 |
| 6. | P17A | Polydrops | 13.6 ft. | 1200lbs | $26,990 |
| 7. | EXP-8 | Bruder | 19 ft. | 5732lbs | $177,000 |
| 8. | Model Bruno | Kuckoo Camper | 14.5 ft. | 1168lbs | $19,150 |
| 9. | Summit | Colorado Teardrops | 10.5 ft. | 1750lbs | $31,200 |
| 10. | The Tuco | Vintage Overland | 8 ft. | 600lbs | $18,000 |
Below we would be discussing each of these campers in detail.
1. Ultimate Camper by Ultimate Toys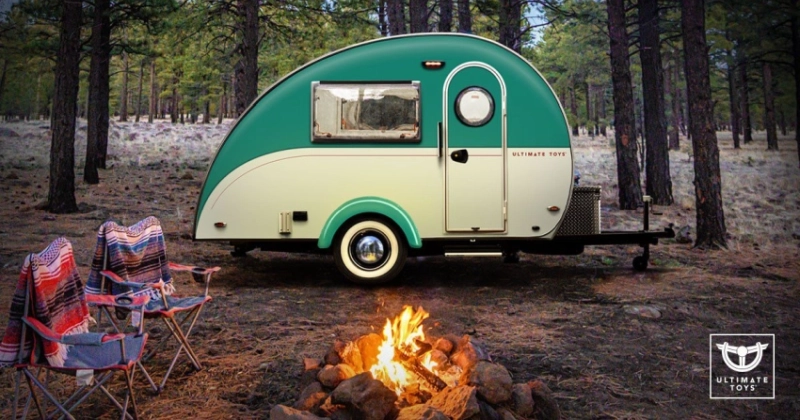 Featuring two kitchens and a cassette toilet, it would be foolish to not add the Ultimate Camper teardrop trailer to the list of best teardrop trailers we have seen in the last year.
The interior kitchen is located toward the back and is equipped with a two-burner stove, refrigerator, microwave, and a steel sink while the outside kitchen at the rear end of the camper includes a stovetop, storage, and an HDTV to keep you entertained.
2. Campervan RAPTOR XC by Hunter Nature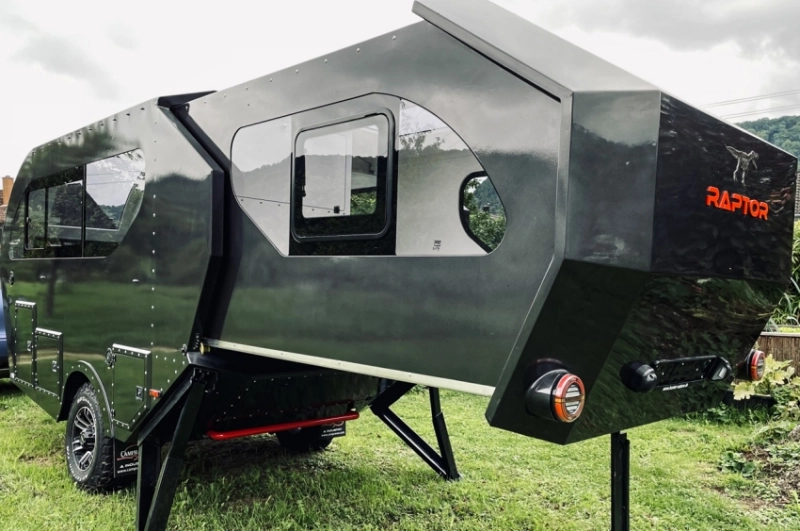 Boasting a stylish exterior and featuring a long slide-out compartment, the Campervan RAPTOR XC teardrop trailer is for people who love off-road adventures. Easily towable by any mid-size SUV or 4×4 off-roader; RAPTOR XC rear expansion allows the trailer to be more spacious by adding an entire room that could accommodate up to four people.
Once fully stretched out, the size of the camper increases from 15.7 feet to 22.6 feet.
3. MINI by Tiny Camper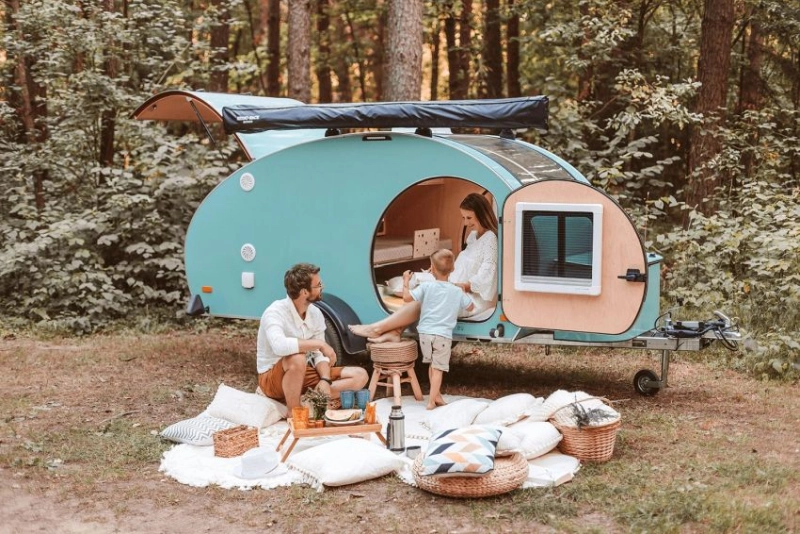 Comfortable for three people, (two adults and a child), MINI is a compact teardrop trailer with a kitchen in its rear and additional storage space on the front. The trailer has a roof vent with a fan and thermostat, panoramic blinds, porthole windows, and doors on both sides to maintain a comfy environment.
In addition, there is a water shower inlet and outlet, and a gas inlet for cooking. The trailer also features a 50Ah lithium-ion battery and intelligent meter, as well as a number of USB, 12V, and 220V sockets to facilitate the journey of a digital nomad.
4. Switchback by Off Grid Trailers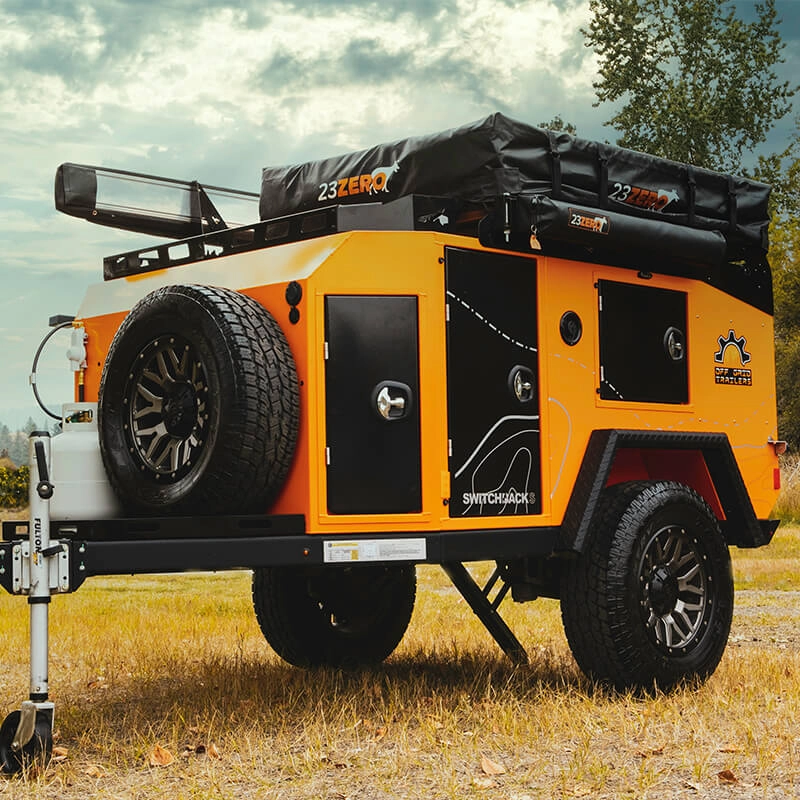 Switchback swanks an aluminum body and offers a drop-down side kitchen with a dual-burner stove. It comes equipped with 12-inch electric brakes and a battery backup breakaway system for more control during off-road travel. Additional features include solar panels, slide-out BBQ, and jeep-matched wheels.
5. Black Bean by Bean Trailers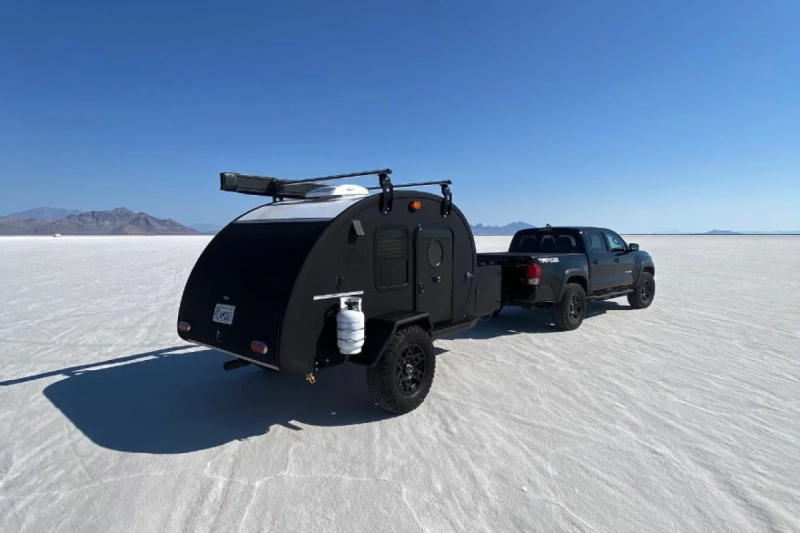 Boasting a stylish blacked-out exterior, along with increased ground clearance, larger galley, upgraded off-road, and power capabilities, the Black Bean teardrop trailer is capable of navigating tough terrains. It also allows people to stay off-grid for a longer period of time.
The trailer has a dual lithium battery system, a 2000 watt inverter, a backup system, and a curved solar panel to support off-grid living.
Also Read: Nine Best Luxury Motorhomes With Built-in Garages For Cars
6. P17A by Polydrops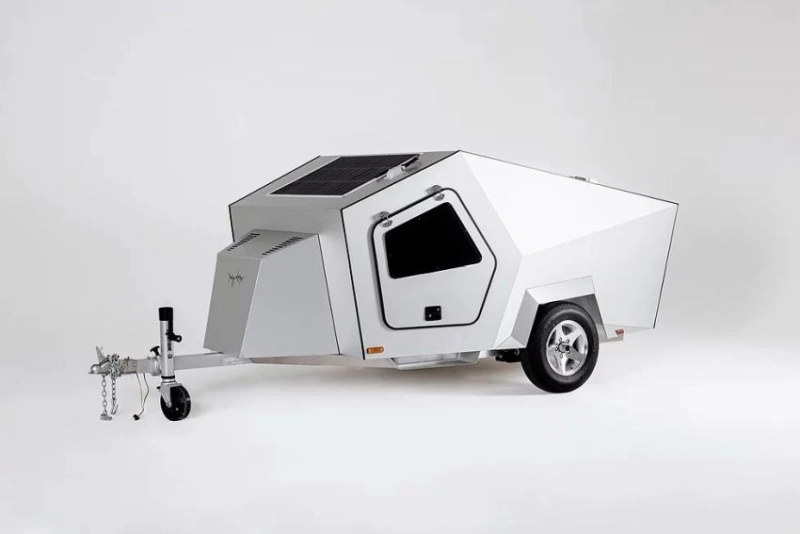 Supporting off-grid living with a powerful solar-charged lithium battery bank, the Polydrop P17A model comes in aerodynamic shape and has a pair of gullwing doors for easy two-person entry and exit.
In addition, the teardrop trailer is an all-weather, battery-powered option with an HVAC system and a kitchenette.
7. EXP-8 by Bruder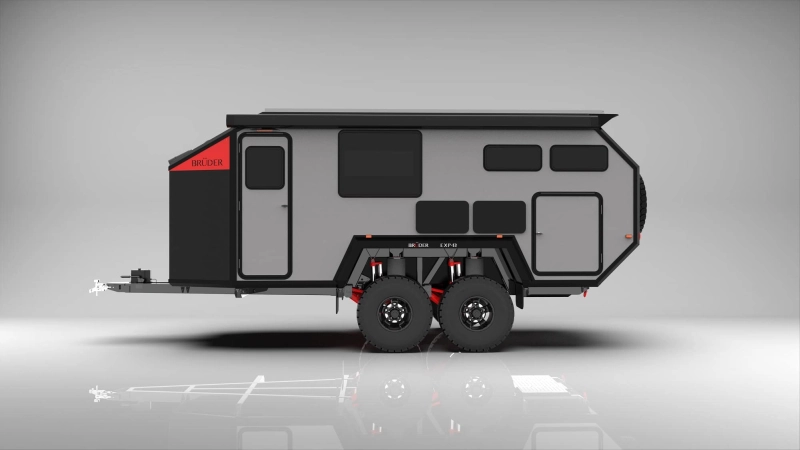 Bruder, an Australian company, has been making off-grid trailers since 2016. After releasing EXP-4 and EXP-6, the company has now created an EXP-8, which includes 1,600 watts of roof-mounted solar power to help keep its 1,000Ah battery charged for off-grid living.
Packed with every necessary facility, the teardrop trailer comprises a main lounge area that doubles as well-equipped kitchen with a sink, storage, and adjoining refrigerator. The bedroom is located at the rear end of the trailer while the bathroom is in the front.
8. Model Bruno by Kuckoo Camper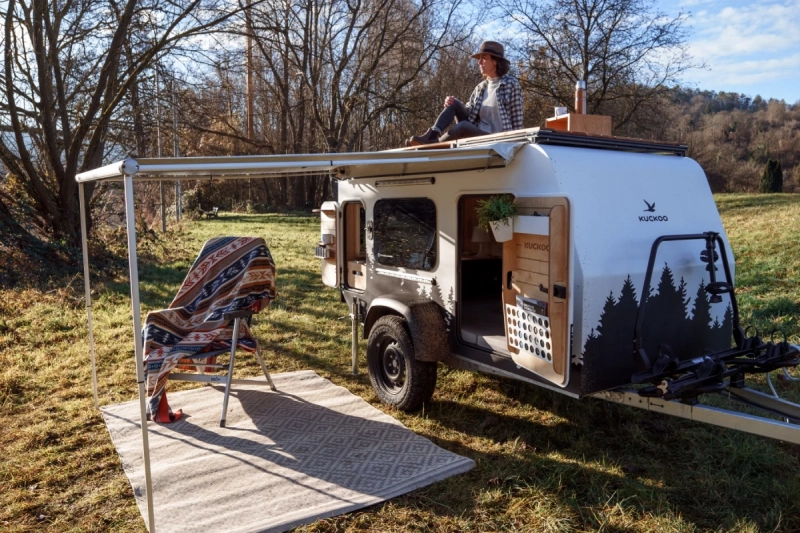 In case you are looking for a trailer that includes features of an RV, Bruno is your gateway to fun. Featuring windows with roller shutters and mesh screens, it keeps insects at bay. You can either cook inside or outside as Bruno lets you slide out the cooking area along with the shelves.
A 12V battery system powers the interior and exterior lights, but you can also add optional solar panels if you like.
9. Summit by Colorado Teardrops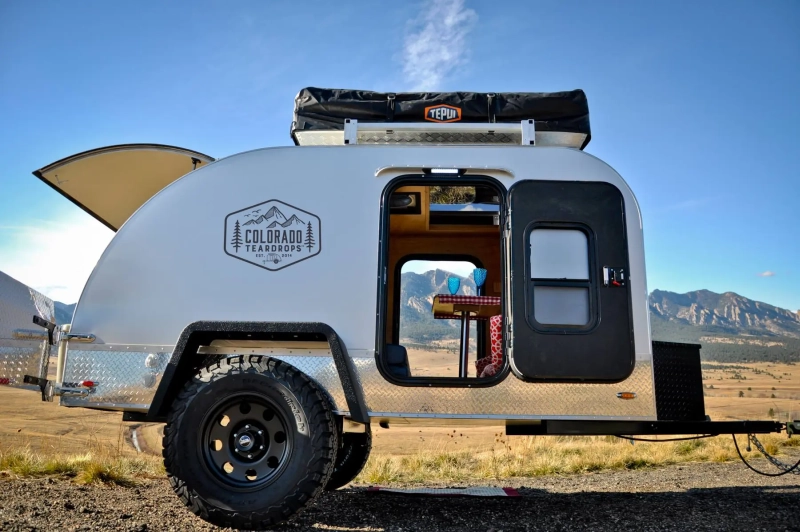 The Summit is a rugged, high-clearance 4-person off-road adventure trailer designed around a queen-sized mattress and two bunk beds that convert into a couch for four with a table.
Skinned with aluminum, the cabin frame is triple-insulated from floor to ceiling with rigid foam. The interior is finished in maple or hickory hardwood laminates.
10. The TUCO by Vintage Overland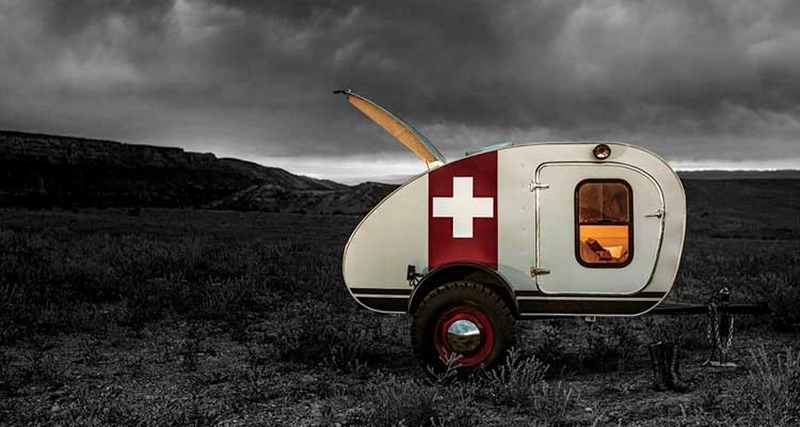 The teardrop trailer derives its name from a famous character portrayed by Eli Wallach in 'The Good, the Bad and the Ugly," a 1966 Italian epic spaghetti Western film (not to be confused with Tuco from the Breaking Bad series).
Looking great inside and out, it comes with a solar panel and memory foam mattress. Perfect for adventure lovers, The TUCO is light enough to be towed by almost any vehicle and allows occupants to add racks to instantly turn the trailer into a real gear-hauler.