Toilets are different around the world and so are our habits. Some use bidets while others rely on toilet paper. The latter is getting pretty scarce as people are stocking it in lieu of Coronavirus these days. There is news of toilet paper crisis from everywhere except the regions already familiar with bidet toilets.
There are mainly three types of bidets – standalone bidet, built-in bidets, and handheld bidets. A standalone bidet is like a separate basin with faucet to wash your bottom with water. The built-in variant is an attachment to the toilet seat that sprays water. Finally, the handheld bidet is fitted near the toilet seat. Using bidets is easy and safe!
The standalone bidets require installation while the other two are ready to use. Whether portable or fixed, bidets are a thoughtful alternative to toilet paper in the bathroom. There are different kinds of options available in the market, however, we have rounded up the fixed and handheld bidet attachments you can buy online from Amazon while staying within the security of your home.
SmarterFresh Handheld Bidet Sprayer
It is a self-installation kit comprising a brass T-Valve adapter, bidet sprayer head, wall mount/holder and 4-feet of bidet hose. The bidet hose uses a PEX inner tube and the outer casing is stainless steel. This bidet sprayer can also be used as a cloth diaper sprayer or for rinsing and cleaning toilet seat and cover. It has a thumb trigger that lets you adjust the water pressure. Available in brass and steel models.
Price: Starts at $80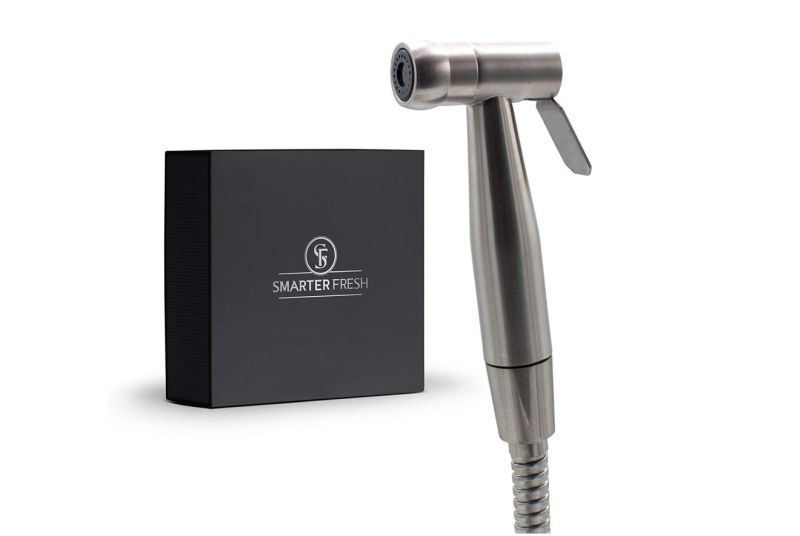 Aqua Nexis Bidet Sprayer
This handheld bidet sprayer is made from stainless steel and brass to last longer. It comes with 4-feet of hose and all essential parts to plug it into the existing plumbing. With a self-controlled and 360 degree-pivoting sprayer head, it ensures cleansing. Both warm and cold water can be used with this attachment. It easily attaches around the toilet bowl or the sidewall.
Price: Starts at $70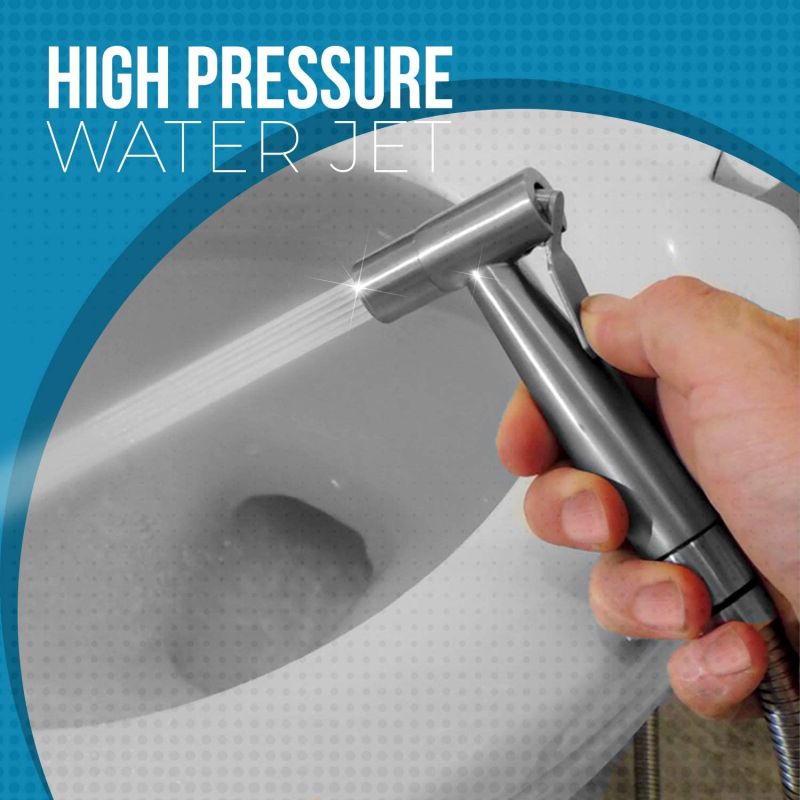 GenieBidet Handheld Sprayer
GenieBidet sprayer is made of corrosion-free ABS material. Ergonomic design, hybrid T Adapter, stainless steel hose and adjustable thumb knob with a brass valve are standout features of this bidet sprayer. Its spiral hose is pressure tested up to 500 PSI and comes with a 4-feet stainless steel hose with a nylon braided EPDM inner tube. Users can slow the streamflow with the knob.
Price: $32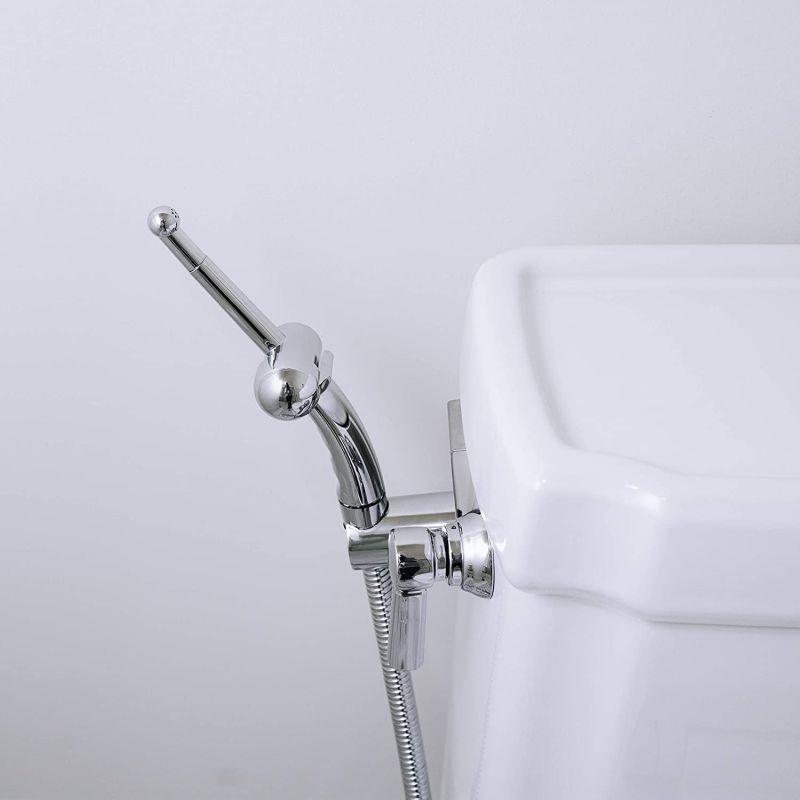 Also Read: Smart Bathroom Products and Emerging Trends from CES 2020
Pugrwei Bidet Sprayer
Pugrwei is easy to install. Just screw the parts of the bidet attachment together with minimum tools. The spray head is adjustable and is made from stainless steel. There are two water pressure modes – Jet spray and Soft spray. With 4-feet water hose, this lightweight bidet can be used by anyone easily. It is perfect to use with a tank's water inlet diameter of 7/8 inches.
Price: $40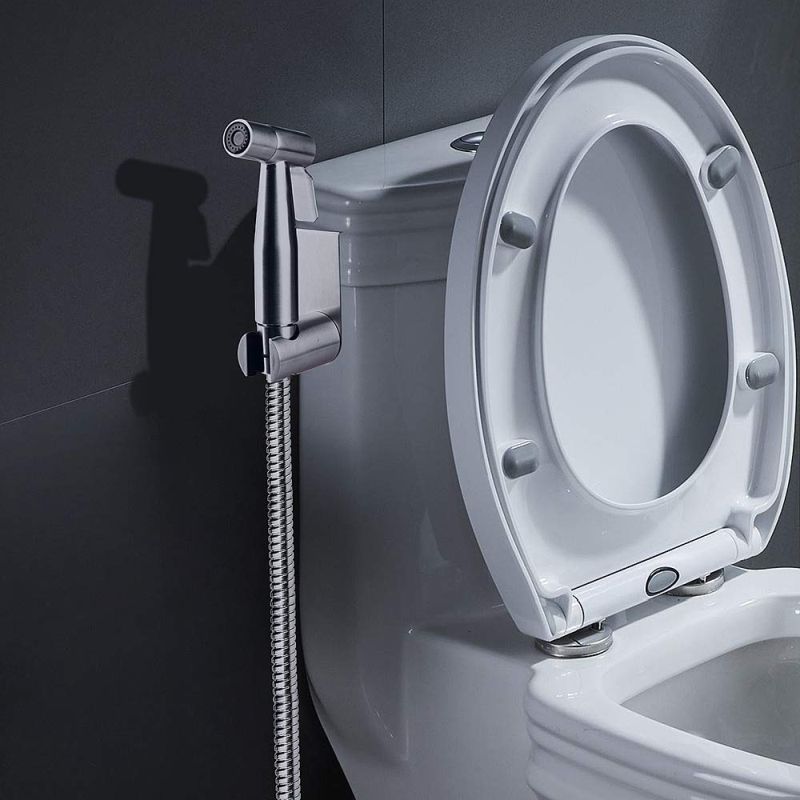 Brondell CleanSpa Sprayer
This stainless steel bidet sprayer features an ergonomic design and an all-metal T-valve with water pressure controller for spray adjustability. It comes with a 47-inch metal spiral bidet hose with an inner woven core. You need to hold the trigger down for the water to spray. In addition, the lightweight sprayer's shut-off valve cuts off the water wastage.
Price: $113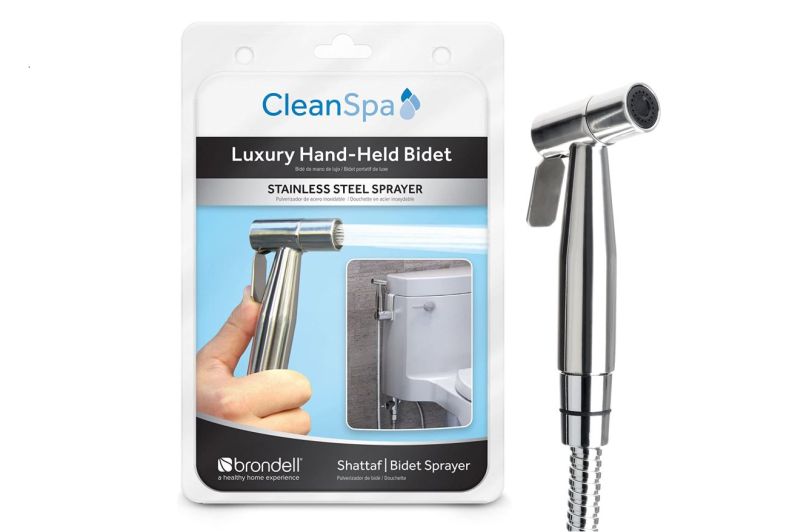 Joyway bidet Sprayer
Joyway's attachment kit includes a stainless steel sprayer head and a 47-inch hose, plus a brass T-valve and hook. It installs easily – you just need to screw up the components together. There is a variable pressure trigger to adjust the water pressure. The faucet is easy to hold and spray with. It is compatible with 7/8 inch water inlet to the toilet tank.
Price: $38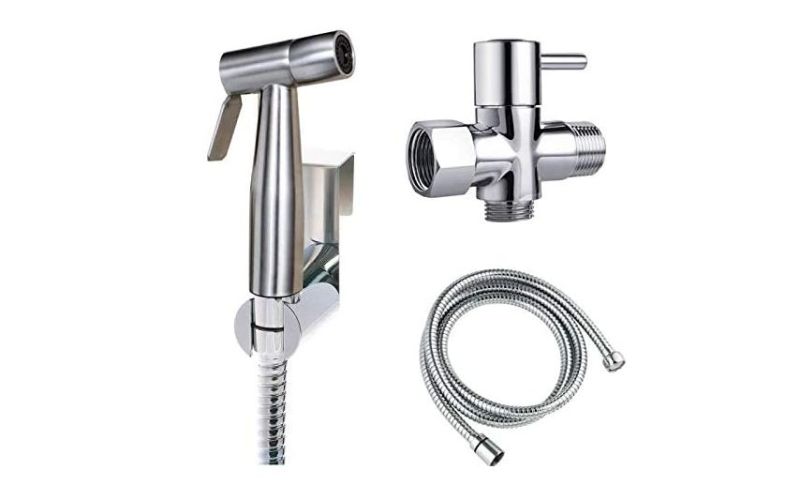 Abedoe handheld Sprayer
Abedoe is a stainless steel sprayer with two adjustable pressure modes for convenience. The bidet sprayer supports steady on mode which doesn't require the user to hold down the thumb knob continuously. The electroplated ABS sprayer head,  brass T-adaptor, and 1.2m hose are main components of this contraption. Given its robustness, it has a service life is more than 30,000 times.
Price: $32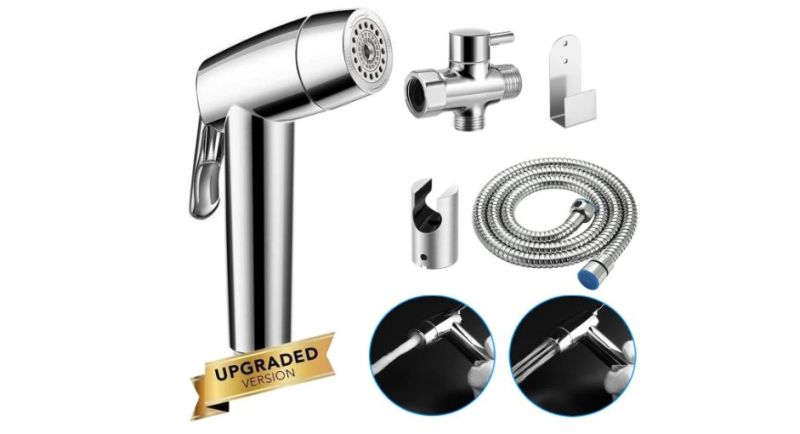 Achiotely Bidet Sprayer
Like a shower for your rear, the Achiotely sprayer is best selling handheld bidet sprayer on Amazon. It has an adjustable pressure sprayer, which can be adjusted via the thumb knob. Gently press the handle to flexibly control the water pressure. It comes with a metal T-adapter and a 47-inch hose. The ends of T-valve are 15/16 inches, and the bottom is 1/2 inch. It can also be used as a diaper sprayer or to clean the toilet seat or its cover.
Price: $90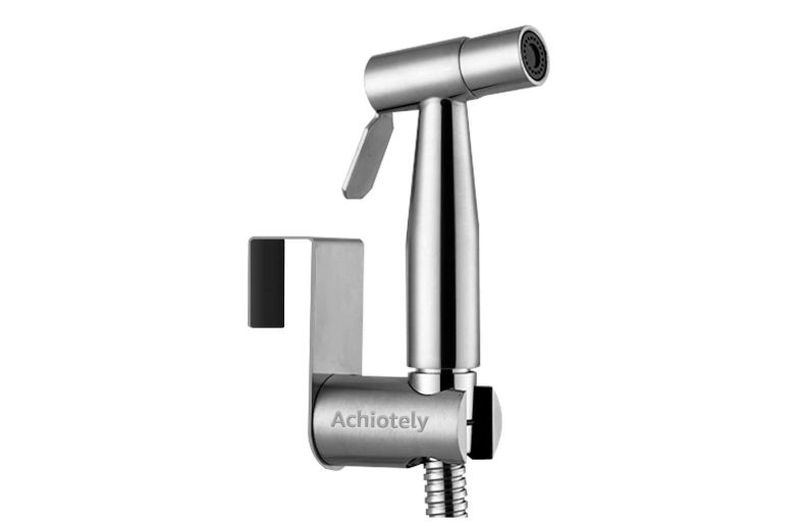 Also Read: Sonny Battery-Powered Bidet can Go Wherever You Go
TUSHY Bidet Attachment
If you are not interested in handheld bidet sprayers, then the TUSHY add-on bidet is the right alternative for you. You need to attach it to your toilet seat and your bidet toilet is ready instantly. Made of ceramic material, it comes with all necessary parts for DIY installation and is compatible with the most standard two-piece toilets. You'll need at least 1.5 inches space between the toilet seat mount holes and the tank for the TUSHY bidet attachment to work. It is designed to match modern bathroom interiors. This bidet attachment features a nozzle adjuster and pressure control knob that controls the self-cleaning nozzle spray angle and water pressure.
Price: $80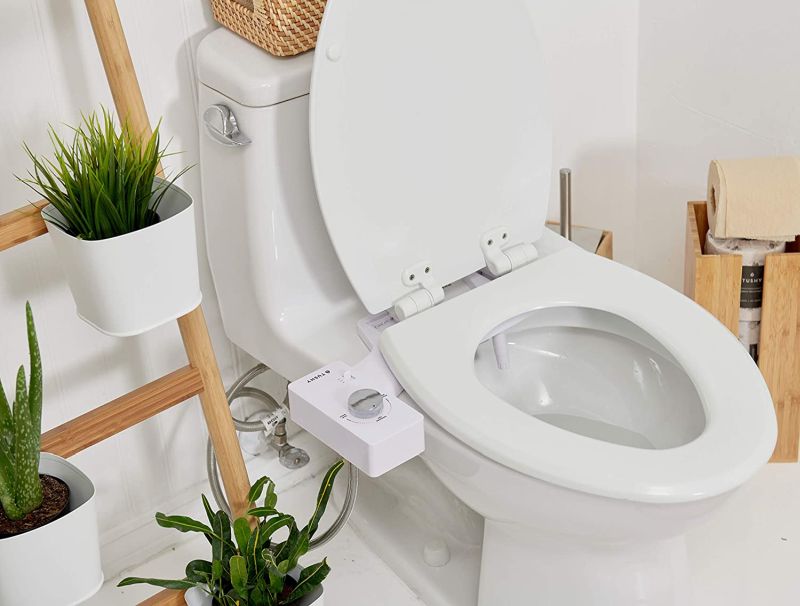 GoBidet Chrome Attachment
With a dual function support bracket, it is fit for one and two-piece toilets. Made of solid brass with a high-quality chrome finish, this bidet attachment will last long in the bathroom. It comes ready with connections for cold water, but an optional hot water kit can be added to supply warm water from the sink. Use the rear lever to swing the arm into position underneath your bottom and then use the larger control level to adjust both the spray pressure and the spray temperature. There are seven holes on the spray head for larger coverage.
Price: $190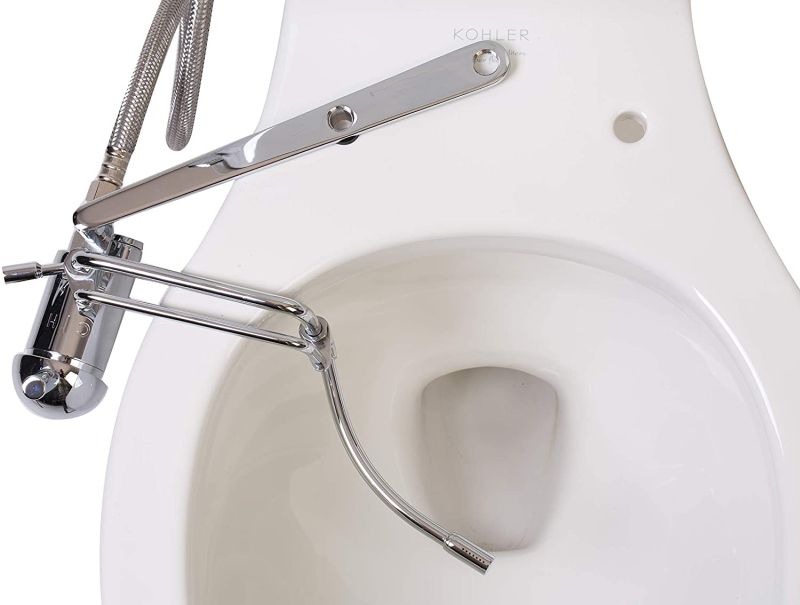 Luxe Bidet Neo 120 Attachment
It is one of the most popular bidet attachments you can buy online. Its main features are a stylish design, self-cleaning nozzle, dual control knobs, metal T-adapter, faucet quality valves with metal/ceramic cores and braided steel hose. The Neo 120 features an innovative self-cleaning sanitary nozzle that rinses itself with fresh water. It automatically retracts behind the guard gate after each wash to ensure hygiene.
Price: $60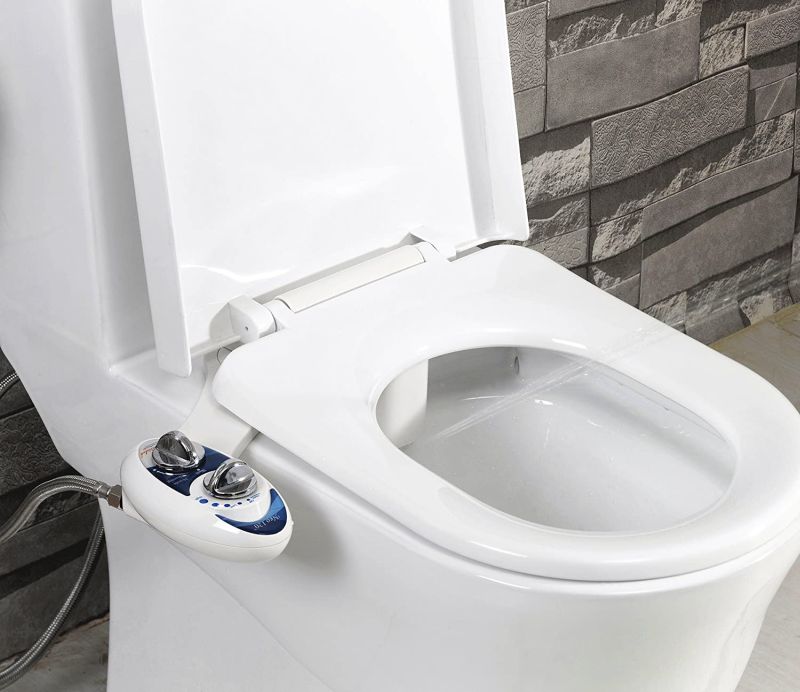 Astor Brand Bidet Attachment
This easy-to-install bidet attachment features an adjustable control knob that allows users to control water temperature and pressure easily. It attaches to an existing toilet seat and does not require electricity for power. There are internal brass valves for adding longevity to the product. The white and chrome finish will be a great addition to any bathroom.
Price: Starts at $25