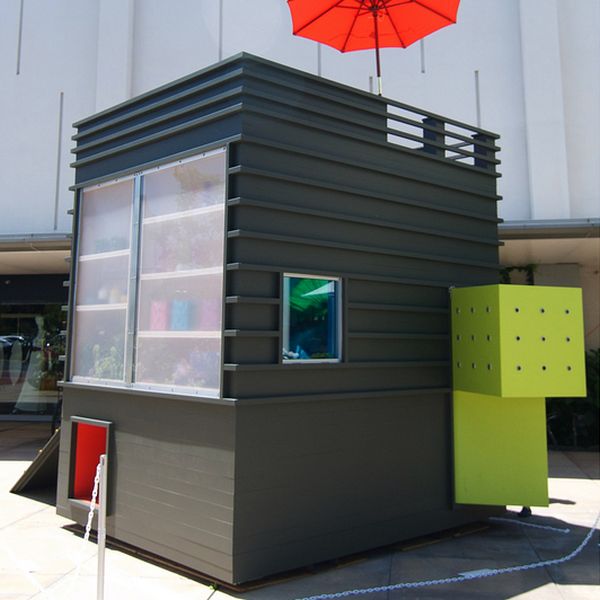 In the limited scope of architectural spaces for children, playhouses do come in a close second to the arguably more 'fantastical' treehouses. However, with the trend of neo-modern architecture, some of the modern-day playhouses conform to a more contemporary style with linearity of form defining their simple structures. The 'Box.O.Matic 3000' (created by Ana Williamson Architects and Mediterraneo Design Build) is an apt example of this spatial evolution, with its elegant grey-scale finish and perfectly modular nature.
This grey finish of the Box.O.Matic 3000 is achieved by cement fiberboard and complemented by galvanized metal bands. In stark contrast to this 'austere' composition, the vibrantly hued entrance door is made from two sliding Lexan plastic components. A detachable aluminum trellis hangs over this access point, which smartly doubles up as the exterior space to keep potted plants. There is also an additional yellow 'popped out' window, which creates a sunken seating zone inside of the playhouse, while notching up on the vivacious quotient from the outside.
Coming to the interiors of the Box.O.Matic 3000, the walls are paneled with maple veneer plywood, while the decor (comprising of pillows, curtains and plastic crockery) is highly reminiscent of the colorful scope displayed by the access points. And, to serve as the 'mysterious zone' for children, there is a  blue sliding door on the bottom left side of the floor, which is actually a hidden entrance-way from the outside. So, overall, the design does deftly balance the ambit of simplicity and curiosity, which according to the architects would allow the children 'to grow' with the playhouse.
All images are courtesy of AWArchitects.
Via: AWArchitects