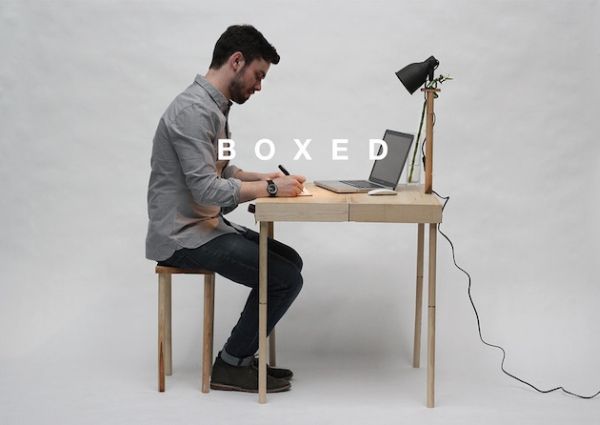 What about a furniture item that allows you to fold up your table, chair and even lamp and then carry them as a suitcase? Now, before most of you could brand us as crazy; yes, it is possible with the Boxed furniture collection! Envisaged as an adaptable furniture by designer Tyrone Stoddart, the conception comprises of modular components that are the core working pieces of the entire collection. Crafted from ash wood, these pieces can be utilized by the user to arrange any item in any location, like – a table that can be easily assembled in the middle of a garden, or a pair of chairs that could put together in your dormitory. The very same pieces can be dismantled and 'folded' into a portable wooden suitcase.
The practical ambit of the Boxed furniture collection doesn't stop with this nature of adaptability. In fact, the arranged items have their very own degree of multi-purpose credentials. For example, the table boasts of adjustable height, thus allowing you to convert it into a board with pedestals. Similarly, the chairs can be transformed into smaller stools to meet your decor demand. Even the suitcase has additional storage space for your smaller accessories, such as journals, books, lamp cords and mobile devices.
Finally, there is also a clear conscientious side to the whole Boxed furniture collection. Beyond its value of reuse and recycling, the conception brings attention to 'ash dieback' epidemic, a common disease that results in tons of ash trees dying each year. In this regard, each Boxed set comes with a packet of ash seeds for promoting the planting of ash all over the world.
Via: Inthralled