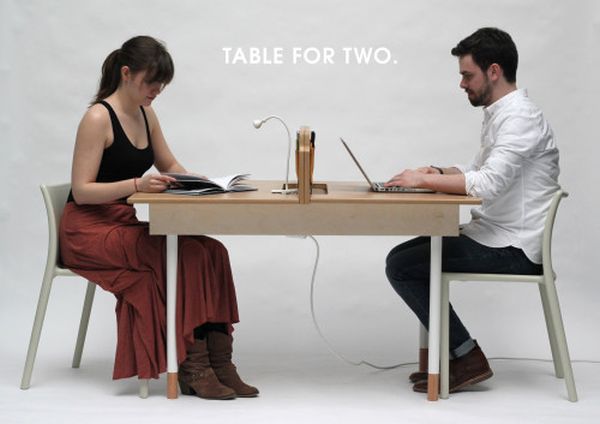 Multi-purpose furniture systems have always enticed us with their sheer degree of innovation. But this time around we are utterly bamboozled by the simple scope of 'Table for Two', ingeniously designed by Daniel Liss. The practicality of the whole conception is pretty genuine – during daytime, the table poses as a conventional work desk for two; however as night comes, it wondrously transforms into dining table for six!
In this regard, the work desk 'avatar' of the Table for Two consists of a central 'divider', which basically is a slightly elevated panel that segregates the table space into two separate compartments (for two people). It also has two spacious drawers on the flanks, each catering to an individual user.
Now, this divider can be folded down (in an inverted V manner) to extend the overall surface area of the Table for Two. This simple mechanism converts the work desk into a full fledged dining table, thus conveniently notching up on the usability factor. So, in other words, it is the perfect furniture solution that positively alters the spatial dynamics of your cramped living room.
Via: ShoeBoxDwelling