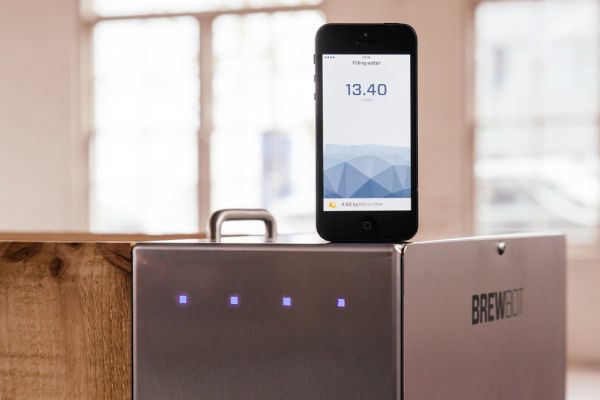 Remember when we talked about a coffee brewing robot? Well, now it seems the tables have turned for caffeine, with alcohol taking the center stage with the Brewbot. So, what exactly is this Brewbot? According to its ingenious designers, the device is a smart and 'aesthetically pleasing' contraption that brew beers, while being controlled and monitored via your ever trusty iPhone. Simply put, you can gleefully brew your own homemade beer even if you don't have any clue of how to brew one. In fact, this is where the Brewbot really shines (not moonshines!) with its integrated easy mechanism that helps inexperienced amateurs along the process of beer crafting.
We have harped enough about the device's advantages, but what about its usability? Well, in this regard, the working scope of the the robot just entails your buying the beer recipes from any local establishment or online ordering. You can set-up these recipes in accordance with the specialized Brewbot app (only available for iOS) and then connect your smartphone with the contraption via Bluetooth LE. And voila; the magic begins!
As for the commercial scope of the Brewbot, the product is currently undergoing crowd funding in Kickstarter, with fortunately 80 percent of the £100,000 goal (around $160,000) already pledged with 14 days remaining (at present). More importantly, the designers are looking forth to improve upon a few things from the prototype after the successful production criteria have been met, Some of the them include – changing the copper piping for a more durable stainless steel alternative, improving the user interface for the app and even extending the compatibility of the Brewbot for other mobile platforms like Android.
For more details, please check out Brewbot's Kickstarter page.