In today's busy lifestyle home is one place everyone looks forward to rush to after a long hauling day. Peace and tranquil settings definitely add a relaxing routine to get fresh for the next day in a positive mood. How your home interiors look to play a determinable role in creating a positive environment for everyone. Those who believe in Buddhist culture and its connection with nature is going to love this collection of Buddha home decor ideas that are perfect add vitality and a serene feel into your abode.
# Pacifico Coffee Table And Beato Pouf
This Buddha-themed table and pouf designed by 21st Living Art have a very calm feel to it. Dubbed as Beato Pouf And Pacifico Table it comes in cool white color. It goes perfectly with light-colored interiors and if you want to get more inventive, use it for your garden area too. The furniture pieces have a strong symbolic significance and you can make them a part of your Zen (your home) by heading straight over to the official designer's website.
Buy: N/A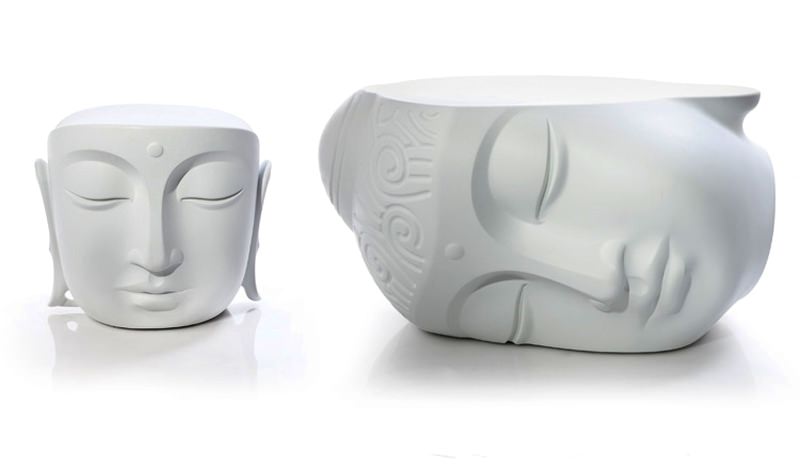 Also Read: 7 Must Try Music-Themed Home Decor Ideas
# Small Buddha Head Planter
This planter by Etsy Shop owned by Lisa is perfect for your interiors as it has a Buddha head as the main planter pot. It measures 3" in width and 3.25" in height, making it ideal for indoor plants that don't need much space for expanding roots. Other than that, you can also keep it in your outdoor garden to create an eye-catchy look and maintain your Buddha-themed look all around the house. Since each of the planter is made by hand, each one has its own unique look.
Buy: SGD 34.99 ($25.66)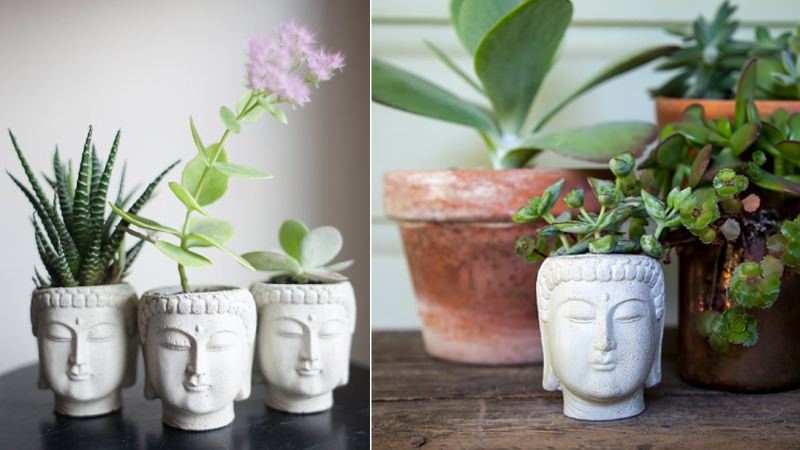 # Sereno Armchair
This armchair by 21st living art called Sereno is perfect for blokes who want to be close to nature, and still chit chat with buddies on a cool summer evening. Made completely from recyclable polyethylene material this chair is a depiction of Lord Buddha in his meditation posture which gives an eternal touch to this chair. The sitting area of the Sereno chair is very wide, comfortable and envelops you in a cozy position so that you can enjoy the night sky.
Buy: €622 ($700)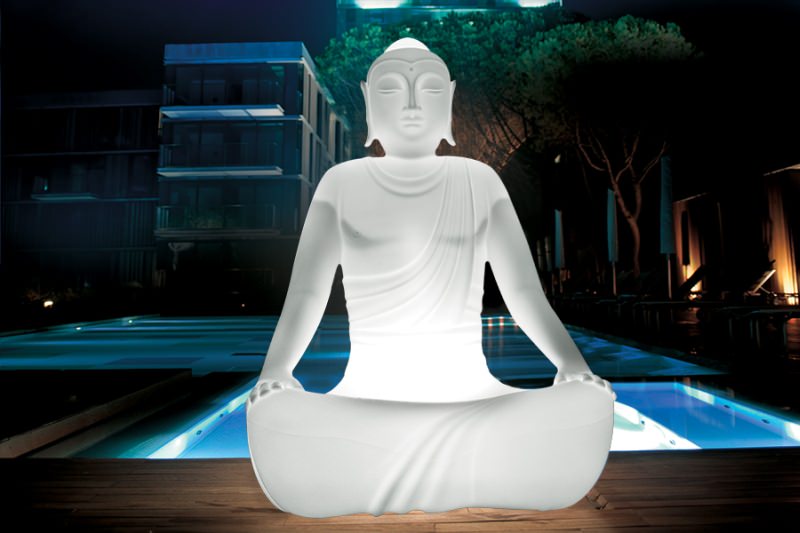 # Floating Buddha Speakers
We have already seen the magic of levitating speakers. So why not have a meditative Buddha seeming to float in mid-air play relaxing music during a golden sunset in the spring season? This is Buddha Speaker system by Ton Art draped in 23k gold leaf and made from fiberglass, plywood, galvanized metal and fabric material. This unique speaker system will definitely turn your den into a spiritual Zen, giving you the needed mental relaxation. That said, the accessory comes with a steep price tag.
Buy: $43,000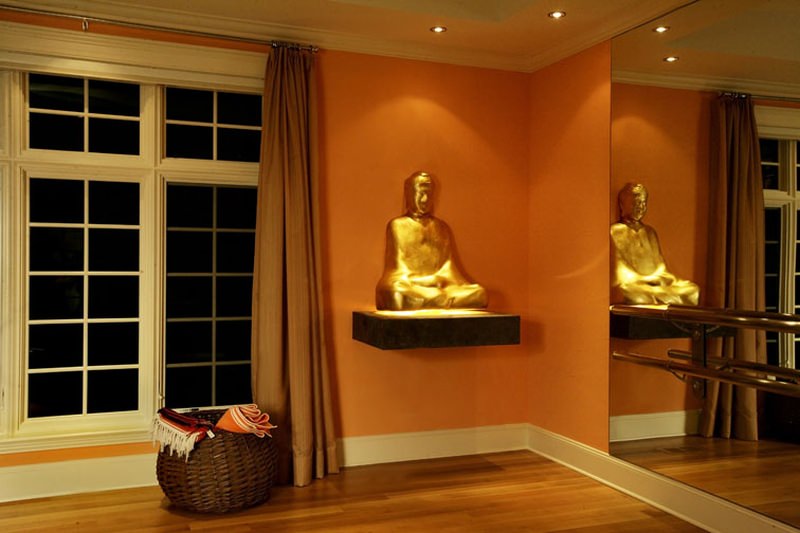 # Buddha Butter Dishes
As we go on acquainting you about all the décor items for your living area, rooms or garden the dining area should also have the same feel. This Buddha Butter Dish by Gama Go will get you into the eating mode with a touch of spiritualism. Alright, that was a bit too dreamy, but you got to have this kitchen accessory to complete your Buddha-themed home décor cravings. It is made from ceramic material and is dishwasher safe.
Buy: $24.56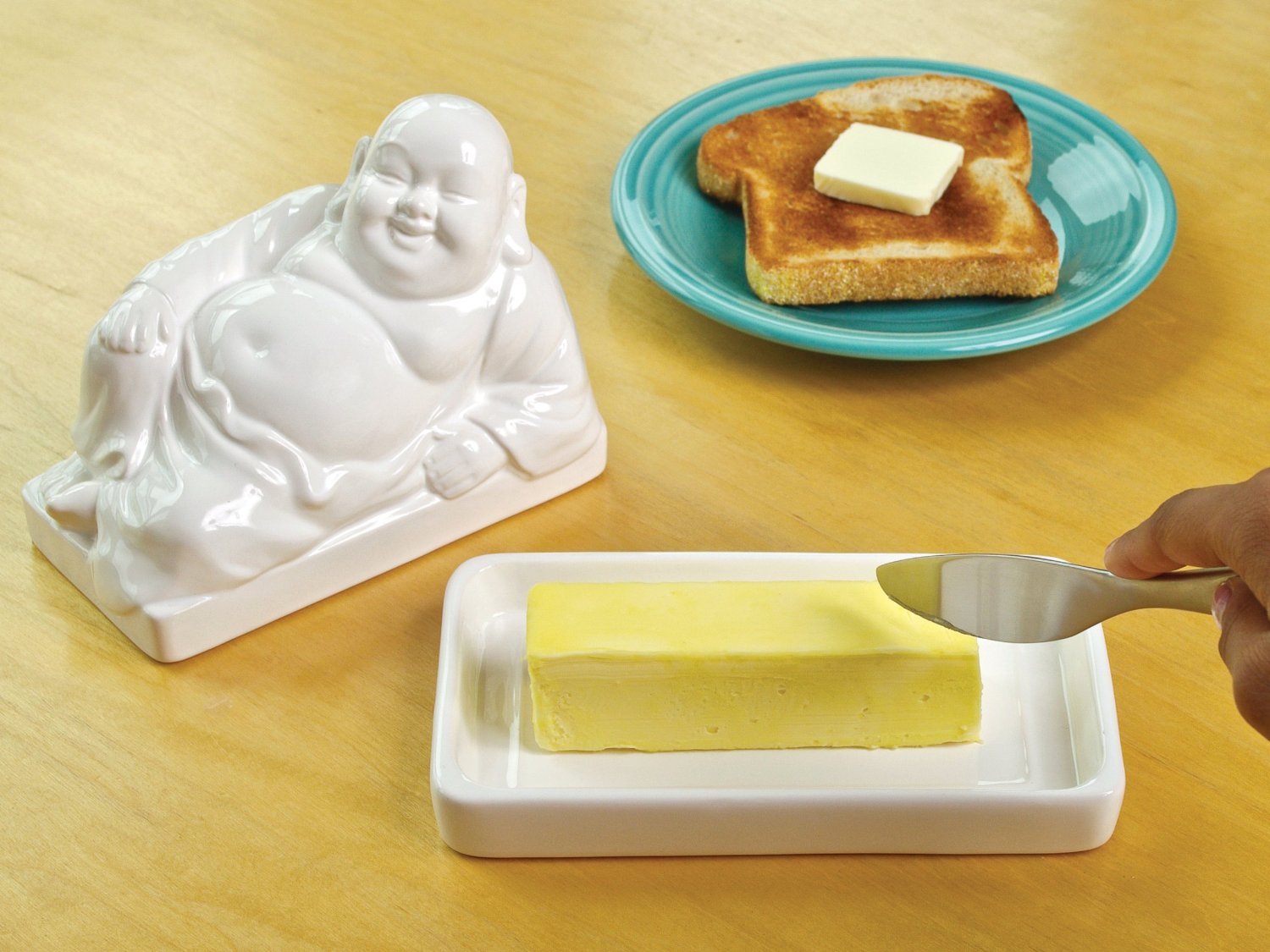 # Buddha Porcelain Tableware
Sao Paulo based design studio Estudio Manus by Caio de Medeiros Filho and Daniela Scorza has come-up with beautifully designed tableware in Buddha theme. The collection includes teapots, cups, and bowls made in beautiful Buddha inspired look. The ceramic tableware is perfect for Buddha-themed homes and you can go for it.
Buy: N/A

# Buddha Headboard Sticker
If you want to decorate your home in Buddha-themed look on a budget, then you need to give a serious a though about stickers and decals. It will completely overhaul the look of your room and convert it into meditative heaven for ultimate peace. Apply these wall decals on your walls or even on furniture to give the space a unique look.
Buy: $101.81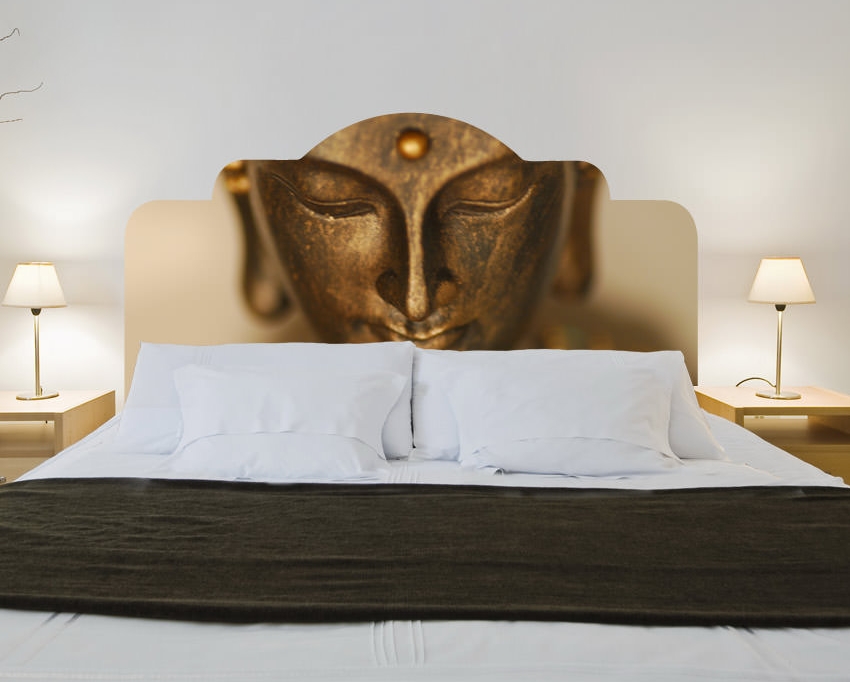 # Sitting Buddha Table Lamp
Want to add Zen spirituality to your home with a stylish lamp? Then you are in luck as this Sitting Buddha Table Lamp brightens your interiors in the best way possible. It has a natural ivy colored shade and three sitting positions of Lord Buddha as the base of this lamp. The lamp is made from metal, polystyrene, and fabric which all give this accessory a calm feel overall.
BUY: £49.98($66)