Even in the age of high-tech microwaves and stoves, professional chefs and home cooks are still stuck with traditional cooking tools. But Samsung wants to change that with its refreshing influx of Wi-Fi connected ovens. At CES 2016, South Korean electronics giant has unleashed its new lineup of Wi-Fi-enabled cooking appliances, including an electric oven that features the world's first 'virtual flame,' according to the company.
The flame is nothing but an array of blue LEDs that reflect off the base of your pots and pans. This so called virtual flame is only for electric stove-tops. Apparently, we've already seen this blue flame technology at CES 2015 in Samsung's induction top.
The hotter the real heating element gets, the bigger and brighter the LED lights will appear. It helps you to find out how much heat is being produced by those clean-top electric burners.
Furthermore, Wi-Fi capabilities are also integrated into the latest range of cooking appliances. Samsung's Wi-Fi Slide-in Range with Soft Close Dual Door is able to connect with any standard home router. Over the Wi-Fi connectivity, you can potentially monitor, preheat and adjust the oven's temperature via your computer or any Android/iOS device.
These smart appliances even feature Samsung's Flex Duo technology, which can split the oven into two usable compartments, i.e. 2.4-cubic-feet on top and 3.3-cubic-feet on the bottom. Using your smartphone, you can keep a check on both the sections and turn them off immediately when not in use.
Even the preheating feature can be controlled with your smartphone, but its limited to a certain range. As, no one would control the oven from thousands of miles away. The Wi-Fi stove models start at $2,999 and will ship later this year. However, you can catch more details at the Consumer Electronics Show2016 from January 6 to 9.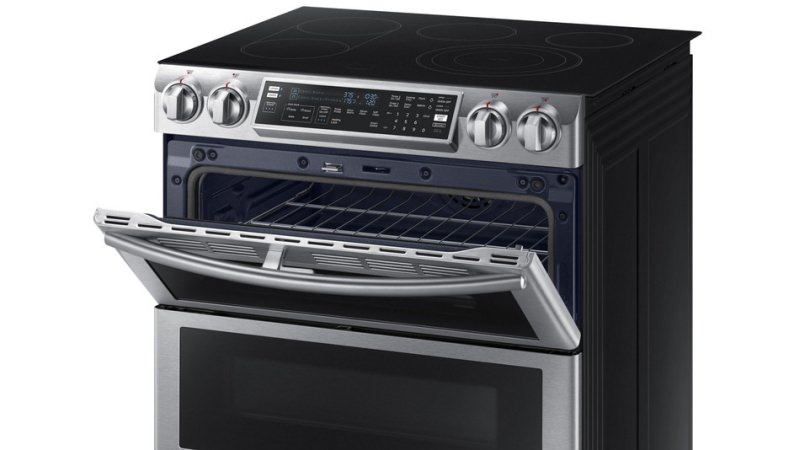 Via: Cnet