If we talk about the digital world, a smart home cannot do without cool home devices. No matter where you fall on the smart home products spectrum, you got to check out these smart home gifts for Christmas.
We have mentioned some amazing appliances and accessories that you can control via smartphone or voice command and other products utilizing wirelessly connectivity. So, whether it's cooking something in the kitchen or managing your lawn, you can control and monitor everything from afar.
If you cannot wait to find what our gift guide includes, let's quickly jump over to the list. We're certain that our recommendations will help you choose a thoughtful Christmas gift this year.
Without further ado, let's find out what all you can gift to your family and friends on Christmas.
Dreo Nomad One S Alexa Tower
Fan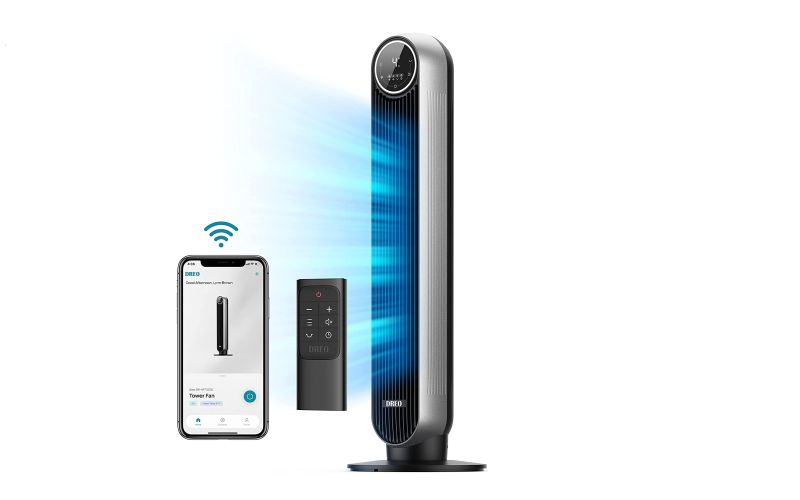 Have a look at the Dreo Wi-Fi tower fan. It is an easy-to-use, versatile, convenient, and fast appliance that can help you main indoor temperature. You can control the fan from anywhere with your smartphone and also control using voice commands to Alexa and Google assistant. There are four Modes, four Speeds, and 8H timer for user convenience. With 90-degree oscillation and calibrated airflow path, this oscillating fan covers more areas in a room.
Price: $80
Amazon Echo Dot (5th-gen)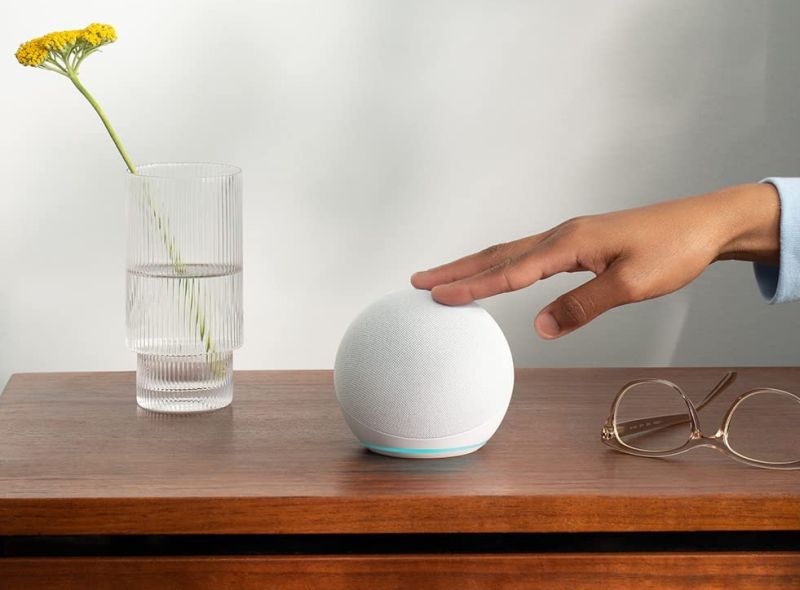 Amazon Echo Dot 5th gen is one of the latest smart speakers that come with built-in Alexa. It boasts a compact, sleek design that delivers crisp vocals along with balanced bass for better output. The speaker can stream songs from Amazon Music, Apple Music, Spotify and other apps or via Bluetooth. All you need to do is give a voice command to play audiobooks, music, and podcasts of your choice all day long or whenever you want to change your mood.
Built-in Alexa can answer your questions, tell a joke, play the news, play music, set an alarm, check the weather, and much more. Or simply use your voice command to turn on lights, lock doors (with compatible devices), and adjust thermostat.
Price: $28
Sengled Smart Bulb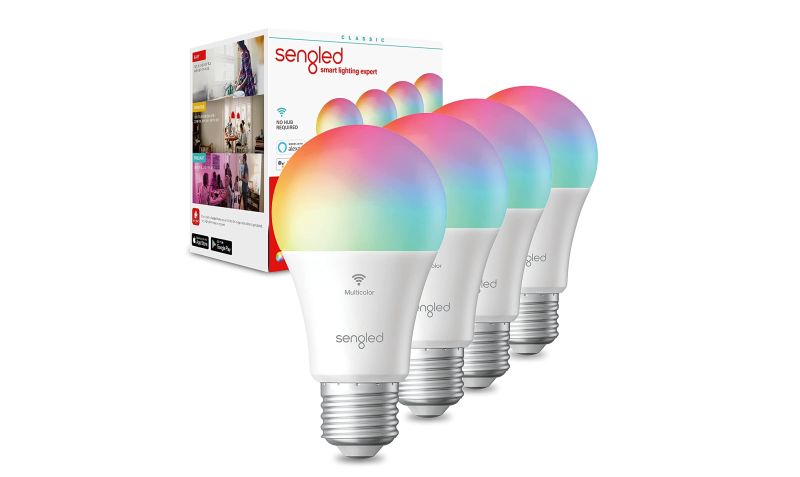 This pack of four Sengled Wi-Fi light bulbs offers you a completely effortless experience. You can easily control the lighting using a mobile app and even with your voice. The bulb requires no hub and is easy to set up. It is designed with 16 million colors and tunable white Amber to Cool White, from 2000K to 6500K. You can also program timers and routines to automate your smart home.
Price: $25
LEVOIT Air Purifier with Alexa Control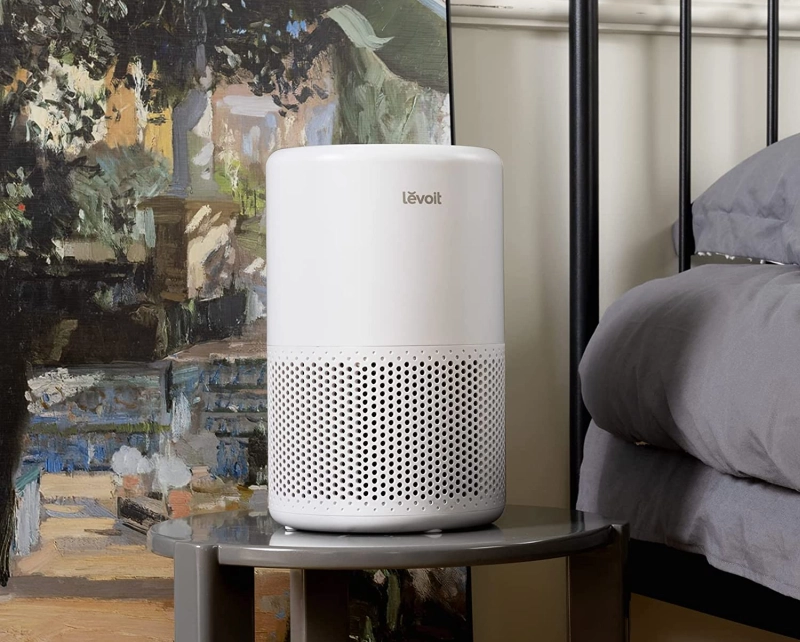 Levoit Air purifier Core 200S model is easy to control remotely. You can do things like adjusting fan speed, setting schedules, etc., using a smartphone app. The device includes genuine replacement filters for best performance and a longer lifespan. You can use the in-app feature for monitoring life of your filter. If it's time to replace the filter, you can search online for "Core 200S-RF."
Another good thing about this air purifier is its effective purification. It boasts a 360° design and compact frame to help the device purify indoor air. It can refresh indoor air 5x per hour in any room – even a room that's as large as 17-square-meter.
Price: $90
Kasa Smart Plug
Kasa Smart Plug HS103P2 adds a voice control feature to any outlet so you can enjoy a total hands-free convenience of controlling your home electronic devices using your voice. You can give voice commands to the smart plug via Google Assistant or Amazon Alexa.
Using voice control, you can easily turn on/off compatible electronics from anywhere via smartphone using the Kasa app. Whether you are in the office, at home, or on vacation, you can keep track of your devices using the smartphone app. Also, you get to schedule the device at your convenience.
You can use the timer or device countdown schedule for automatically setting a smart plug to turn on/off any home appliance like fan, lamp, Christmas lights, humidifier, etc. The smart plug needs a 2.4 GHz Wi-Fi connection. All you need to do is plug it in, open the Kasa app and follow the simple instructions to enjoy smart controls.
Price: $13
Also Read: Christmas Gift Ideas for Pet Lovers
VSITOO Smart Coffee Mug Warmer
VSITOO smart coffee mug offers better performance in staying temperature. It includes high-quality food-grade ceramic acrylic paint and stainless steel. Due to the materials used and better insulation, the smart mug can quickly heat a beverage to its perfect temperature.
This smart coffee mug can keep a drink at the desired temperature for up to 4-8 hours when you're moving. You can change the settings to all day, but you need to keep it on the charging coaster.
If you turn it to "off" mode, it can offer you a powerful cold preservation feature. This feature helps keep cold beverages nicely cool.
Price: $120
ASAKUKI Smart Wi-Fi Essential Oil Diffuser
ASAKUKI Smart Wi-Fi Essential oil diffuser uses the latest technology to let you perfectly control it using the app. All you need to do is download the Tuya smartphone app. The app lets you control the diffuser without any hassle. The diffuser is also compatible with Amazon Echo to let you operate it with Alexa.
It is ideal for offices, homes, and studios to create a soothing atmosphere. You can purify and humidify the air using this device. The diffuser creates a perfect environment to let you sleep better, relax, and breathe easily.
Price: $36
eufy by Anker, RoboVac 15 C Max
Made by Anker Innovations, eufy is a perfect vacuum cleaner for smart homes. The company has kept the primary focus on technology while developing this product. The vacuum cleaner has built-in voice assistant, intelligent navigation, and smartphone compatibility to ensure an effortless and smart lifestyle. Since the device is compatible with Alexa and Google Assistant, you can sit, relax and let eufy do the work.
Price: $250
Google Nest Smart Thermostat
Google Nest is a smart thermostat with Energy Star certification. It means that it can help you save energy while offering maximum comfort. This thermostat works without any C wire. But for certain functionalities such as cooling only, heating only, heat pump systems, and zone control, you may need a C wire or any other compatible accessory to power it.
Nest Thermostat turns down itself when you leave so that there is no wastage of energy on cooling or heating an empty home. Since it's a programmable thermostat, it helps you create an energy-efficient schedule on your smartphone or Google Home app.
The remote control allows family members to change temperature settings of the thermostat from anywhere using a phone, tablet, or laptop.
Price: $91
Wyze Outdoor Security Camera
Wyze Cam v3 is the third generation security camera by the company. It boasts a waterproof design, enabling outdoor installation with a proper IP65 rating. The security camera lets you see and record videos in 1080p.
Furthermore, Wyze Cam v3 makes the most of the new Starlight Sensor for better low-light performance. Meaning the camera can show clear details in low light or dark. With color night vision ability, the nighttime video recording seems as if it's recorded in daylight.
The device also comes with free cloud storage so that you don't lose your data. You also get access to recordings of the past 14 days within the app.
Price: $36
Kasa Smart Light Switch
This Kasa smart light switch is easy to install. On the app, you get step-by-step instructions on how to install the switch. The smart switch needs a 2.4 GHz Wi-Fi connection for better operation.
The device is also easy to control from anywhere using the app. No matter where you are, you can easily monitor your light status. It also includes a voice control feature to offer hands-free controls via Google Assistant or Amazon Alexa.
Price: $32
Arlo Essential Wired Video Doorbell
Arlo wired video doorbell with a camera makes your home smarter. Built-in camera enables you to see the person from top to bottom with a 180-degree view for clear visibility in HDR. It ensures you can see everything clear in low or bright light conditions.
The Arlo doorbell is weather-resistant and offers easy installation for a perfect camera view throughout the year. It lets you know who is at your doorstep, even at night. So, never miss out on an opportunity to capture a video with every motion. Smart sensors start capturing videos as soon as they sense motion.
This doorbell enables you to receive a video call on your phone to hear and talk to visitors at the door. You can reply to the call right away or respond with pre-recorded replay messages if you're busy.
Price: $80
Also Read: Best Gifts for Home Decor Lovers
August Smart Door Lock
August smart lock is perfect to replace your traditional lock. This makes your existing deadbolt much smarter and more secure. This smart lock enables you to conveniently lock and unlock the door.
No pockets for the keys? No issue. You can lock and unlock the door using the August app on a smartphone, tablet, or Apple watch. So, you may leave the keys behind and lock/unlock the door with the app.
If you need to share your keys with your family member or friends, you can share them virtually. You can share your virtual key with your family members, dog walker, best friend(s), and housekeeper with unique codes that work all the time. Or you may set the schedules for more convenience. The app sends real-time notifications about who came in and when.
Price: $127
Toshiba Smart Countertop Microwave Oven
Toshiba smart microwave oven comes integrated with Alexa. Using an Alexa device offers you the convenience of hands-free operation using voice commands. The appliance includes 23 popular present food menus such as pizza, popcorn, vegetable, and more.
It even includes a built-in humidity sensor for automatically adjusting the cooking power so that you can set optimum temperature for cooking. Plus, the sound on/off button enables you to stop annoying beep after the food is ready.
Price: $178
Google Nest Protect – Smoke Alarm
Google Nest Protect is a smart smoke and carbon monoxide detector. The device speaks in a friendly voice to give you an instant warning whenever there's smoke or CO in your house. It features a split spectrum sensor that takes care of smoldering and burning. Plus, it tells you about the danger beforehand.
The companion app sends you phone alerts if there's anything wrong. So, even when you're not home, you'll be aware of any fire hazard at your house. Moreover, using the Silence app, you can silence the smoke alarm when there is little smoke. Built-in light sensor illuminates when someone is under the path light.
Price: $113
Rachio 3 Smart Sprinkler Controller
Rachio 3 smart sprinkler controller is a perfect device to save water and money. You'd notice up to 50% savings on monthly water bills. The device is compatible with both Android and iOS so you can control it via smartphone. The mobile app helps in connecting the controller to Wi-Fi for easy functionality. For operation, you need to connect the Rachio controller to an AC power adapter, but it does not support DC transformers.
The sprinkler comes with an exclusive weather intelligence feature. This feature enables it to sense when it's raining so it skips watering that day. Since it's a smartphone-controlled device, you can use it easily from anywhere. If you have a gardener in your life, this is a perfect Christmas gift for him/her.
Price: $165